Set against a beautiful seaside village is the town of Vodice Croatia. You can find this just a mere 12 kilometers from its better-known neighbor, Šibenik.
In the past, this has been a quiet fishing village that was home to a few locals, but lately, it has been bustling with tourists that are eager to explore the place.
And who's to blame them – with plenty of quaint nooks and crannies, this harbor-side town is just the right getaway that most people seek.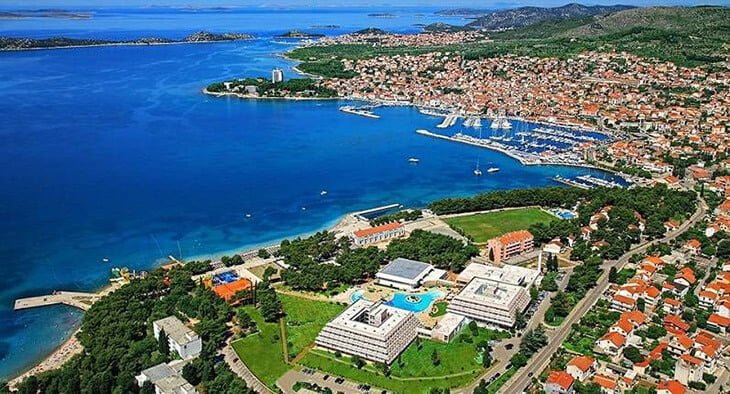 Bordering the Adriatic sea, this quiet town of Vodice only has less than 10,000 people in its population.
It is a fairly young place, with its first mentions only dating back to 1402.
Compared to its other Croatian neighbors, Vodice Croatia is actually pretty young in terms of history and culture.
Still, we think that this seaside town is worth exploring.
Of course, even in its infant stages, it still hasn't managed to evade Venetian rule.
This is probably why the town is littered with monuments and reminders of a town that had been once under the regime of the Venetian Republic.
On top of its history, you can also enjoy beachside activities around Vodice beaches.
As one of Croatia's summer destination, you will notice the population suddenly blow up during the heated season of summer.
Get ready to know more about Vodice Croatia.
Croatia in the guide that we have prepared for you below.
Best 17 Things To Do in Vodice Croatia
Okit -Our Lady of Carmel Church
Sitting at its hill throne, the Okit church of Our Lady of Carmel stands tall over the town as it peers down the town of Vodice Croatia.
This was where the first church of Vodice was erected, some time in the 17th century.
It is speculated that this church was built over a much smaller chapel, simply expanding from this original foundations.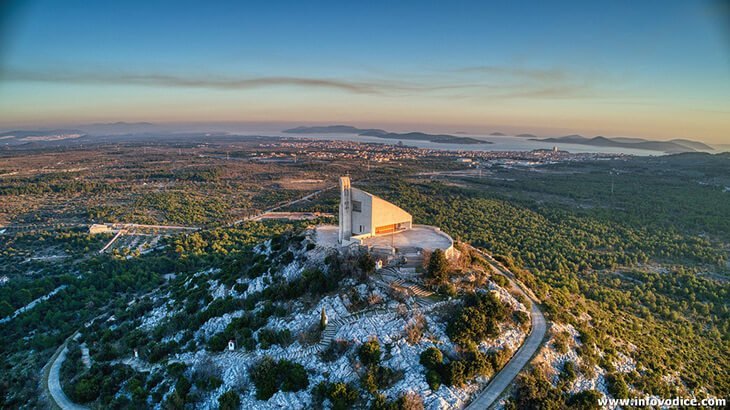 Fast forward to the 20th century, the townsfolk began their construction of the Way of the Cross.
From the foot of the hill, all the way to the edifice at the top, they painstakingly created steps for the churchgoers.
With each "way" is designated a small chapel. This brings it up to a total of 14 ways for the 14 small chapels.
How did the Lady of Carmel Church fare during the war, namely World War 2 and the Croatian War of Independence?
Well, for starters, let's just say that there have been several renovations done to its architecture to build it back up.
However, locals still give praise to its main architect, Nikola Bašić from Zadar who spearheaded its design.
To enjoy this grand architectural design, make sure to include this in your trip to Vodice Croatia.
Parish Church of St Cross
Built by the famous Dalmatian Baroque master Ivan Skok, this parish church of St. Cross is one of the most famous sites to visit for tourists passing through Vodice.
The architect began his work in 1725, starting his design inwards from the altar and then making his way to its external facade.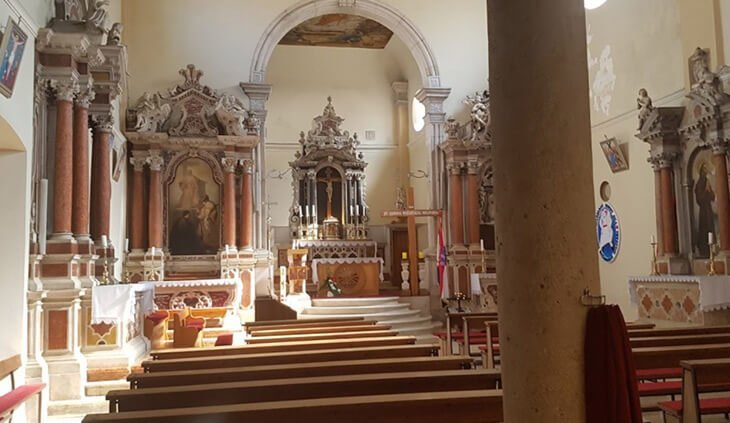 This much attention to the creation of the altar had paid off because it is considered as one of the most beautiful pieces of Baroque art today.
Eventually, the church facade was built in around 1746 to 1749.
Sidewalls and oval windows that respect Baroque tradition were also eventually added to the space.
Some pieces of art by Eugenio Moretti Varese were also added to the altar.
As the church eventually took shape, these separate pieces eventually molded together to form a harmonious design.
At its bell tower, the master Micko Macanović Dubrovčanin was commissioned.
With all of its parts complete, the Parish Church of St Cross was consecrated in 1760.
Want to bear witness to this majestic structure in Vodice?
Be sure to visit this chapel turned church when you're in town.
Aquarium & Museum of Maritime Tradition
This recently opened marine and aquatic life sanctuary is also one of Vodice's main attractions.
Of course, this also makes sense because the town is nestled in the pristine waters of the Adriatic sea – the marine life is sure to be thriving.
To share just how vast life in the Adriatic sea is, the Aquarium & Museum of Maritime Tradition opened in 2006.
You can find this in house 123 if you want to get a glimpse of all that the sea near the area has to offer.
In this museum, over 16 aquariums are house covering a total of 150 species that are native to the Adriatic Sea.
There also some interesting archeological artifacts that divers have discovered around the island.
Models of ships, vast collections of amphorae–these are just some of the things that you and your travel buddies will enjoy.
Of course, here you will learn all the ins and outs of creating model ships too.
Just as sailors and captains of these once magnificent ships had painstakingly built their ships, so too have the ones commissioned for these model ships.
Ready to explore life aquatic over at Vodice? Make sure to visit Aquarium & Museum of Maritime Tradition on your visit – it is a place that both children and adults will be sure to love.
Prvić island
As a small island right in the Croatian side of the Adriatic Sea, you can visit Prvić.
You can drive to here for half a mile from your jump-off point at Vodice Croatia.
With so much lush greenery and a beautiful beachside, it is no wonder that this is protected by the Croatian Ministry of Culture.
It is a cultural heritage both particular to the country.
So what is the history and Prvić?
First of all, it is believed that its name was derived from the Greek Proteras, a pre-Christian god that wad worshipped in the region.
Another alleged source of its name is the claim that Prvić (which means first or "prvi" is one of the first islands discovered around the Šibenik archipelago.
This island had once belonged to a noble family who lived in Šibenik Croatia.
However, this island was eventually opened to the public, especially to refugees, during the Ottoman Conquests in the 16th and 17th centuries.
It also served as a stronghold to antifascist movements during World War 2. Despite the Nazi occupation, Prvić island has managed to keep its people safe.
To date, you will notice a handful of antifascist monuments all over the island as a reminder of this time.
Moving on to the state of religion and culture of this island, you will notice that despite its diminutive size, Prvić island managed to build not one but three Roman Catholic churches in it.
If this isn't a testament of faith in the residents of the island, then we really don't know what is.
So what do you say – ready to explore Prvić island?
Then be ready to add this to your itinerary.
Tijat island
What's interesting is that Tijat island does not have any inhabitants, yet it is often visited and photographed.
This offshore islet at the Šibenik archipelago spans a total area of 2.78 km, or roughly 1 sq. mi.
So what can you expect when you visit this little island of Tijat?
There you will find various lighthouses for each of its neighboring islands.
In the summers, tourists and yacht owners fill up the area to enjoy rest and leisure under its shades and its beaches.
To get to this islet, you need to hire a water taxi who can ferry you into the island.
There, you can spend an afternoon enjoying the peace and quiet that only a remote islet can provide.
It's the perfect place for when you need a rest from the bustle of Vodice's town center.
Kaprije island
Another island in the Šibenik archipelago is the Kaprije island, a small but stunning island that only spans a mere 10 sq. km.
It is home to just one village, the Kaprije, that is where a small number of 160 residents live.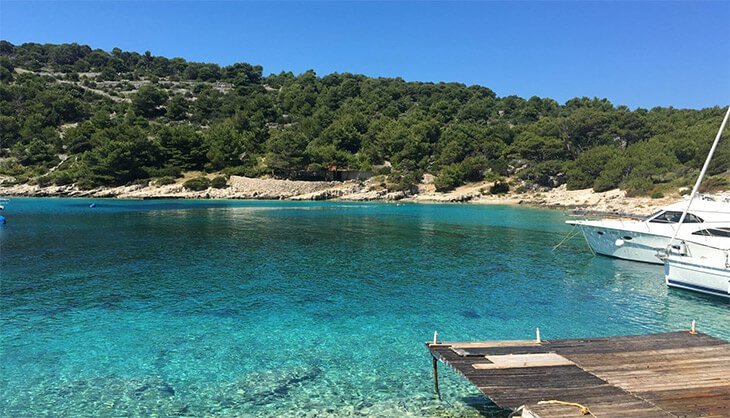 Most of the trade in this island involves fishing, producing olive oil, and growing wine.
So what is the history of this small island in the Šibenik archipelago ?
Well, it is believed that settlers moved here during the 16th century.
They moved here to find more work for their wine and olive oil business.
As a visitor, you can expect to enjoy a stretch of the clearest and cleanest Vodice beaches, as well as an impressively unspoiled coast.
There are no roads in Kaprije island so be ready to trek the place by foot or with a rented bike.
Donkey race in Tribunj
Now, this is something that you shouldn't miss while you are in Vodice Croatia.
Every year, the residents and guests of Tribunj gather together for a simple event: to race donkeys.
This is an activity done in August, so be sure to book your trip to Vodice Croatia around this time.
So how exactly does this donkey racing work?
All a contender has to do is to ride a donkey and finish the race.
Although, this is easier said than done because donkeys are extremely willful and will fight tooth and nail to get what they want.
Of course, at the sidelines are hundreds of people cheering the contestants on as they attempt to move their defiant beasts.
Vodice Beaches
Plava
Plava roughly translates to Blue, thus Plava Beach simply means Blue beach to the locals.
It is a beautiful coast alongside the Adriatic Sea near Vodice Croatia.
At its coast is a combination of pebble, sand, and rock – all conducive for lying in the sand and getting a good tan.
Is the Blue Beach really as crystal clear as its name?
Well according to the Blue Flag, it is. This prestigious international organization has awarded Blue Beach with a Blue Flag.
As for its size, the space covers up to 4km long.
You can enjoy this from the Punta hotel where you can choose to stay all the way to Tribunj.
Of course, you can also enjoy activities other than sunbathing in this seaside marvel.
Diving schools and sailing schools line the area, and you can get yourself certified from these places.
Other water sports such as jet-skiing, parasailing, and banana boat riding are available within the vicinity as well.
As for getting comfortable in the are, you can easily rent a beach chair and umbrella and spend the day lounging around.
If you want to enjoy a happy hour, you'll be glad to know that there are a dozen of bars around Plava beach as well.
Make this the perfect getaway while you are in Vodice Croatia.
Hangar
From Vodice, you can also reach Hangar beach, probably one of the most complete Vodice beaches in terms of equipment in the area.
Here, you will never be short on supplies for enjoying your time under the sun.
Right near the shoreside, you easily have access to up to 4 beach side restaurants and cafes.
There are dozens of outdoor showers available here too, and changing rooms as well.
Of course, same as Plava beach, you will be able to learn how to dive and sale, complete with full certification.
As with other beaches near Vodice Croatia, Hangar beach allows you to rent your own umbrella and beach chair too.
Near the place is Hookah bar where you can socialize and enjoy a drink or two with the DJ playing in the background.
This bar is often a host to a number of parties such as techno parties and foam parties.
If you want to socialize and spend a night out in the town, then this is a destination that you shouldn't miss out on.
Zamalin
Equal part pebbly and rocky, the Zamalin beach is another popular getaway for most locals and tourists that stay in Vodice Croatia.
It is a mere stone throw away from the center, easily reached by car or by bus.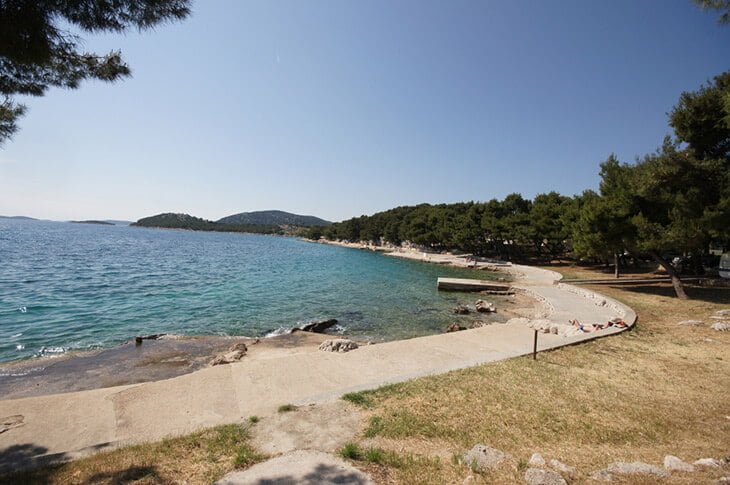 When you visit, you can expect this place to be full of tourists that are looking for a quick getaway from the city of Vodice.
Right near it is a pine forest that will provide shade for you once the sun's rays become too unbearable as well.
Of course, you cal also rent beach umbrellas to mitigate burning under the harsh Adriatic sun.
So what's to see and eat around this area?
There are actually dozens of bars and restaurants all around Zamalin beach.
If you have a sweet tooth, then you will also be happy to know that there is a pastry shop right near the shoreside, and they even serve ice cream too!
Despite the waves becoming too harsh in the afternoon, this is still a great place to spend a day or two in.
Male Vrulje
Near Vodice is a pebbly lagoon that many tourists and locals frequent.
It has a lovely cove that gently delivers swimmers to the sea.
At its back is also a forest of pine trees that can give visitors their much-needed refuge from the sun.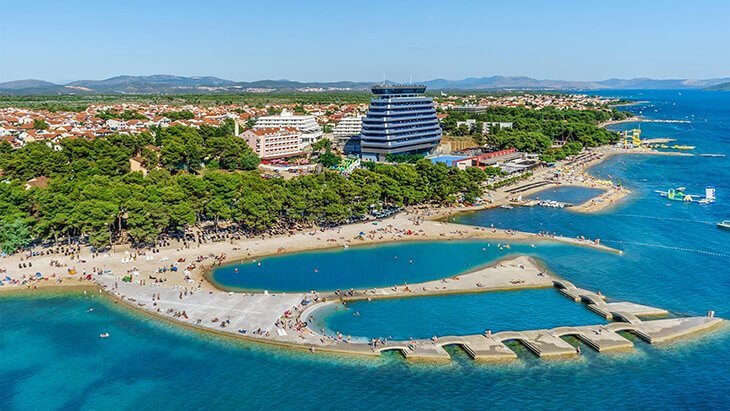 In this beach, families, even those with children, can have fun under the Croatian sun.
Plenty of sports and water activities are offered in the area – from sailing to jet skiing.
For those who are on the lookout for a party scene, then you'll be happy to know that the beach has plenty of raves at night too.
Dance along to the beats of their local DJ here at Male Vrulje Beach.
Srima
In a little coastal town in Srima, just about 3 kilometers from Vodice, you can enjoy the Srima Beach.
It wasn't always so popular with tourists, but there has been a boom in its tourism in the past years.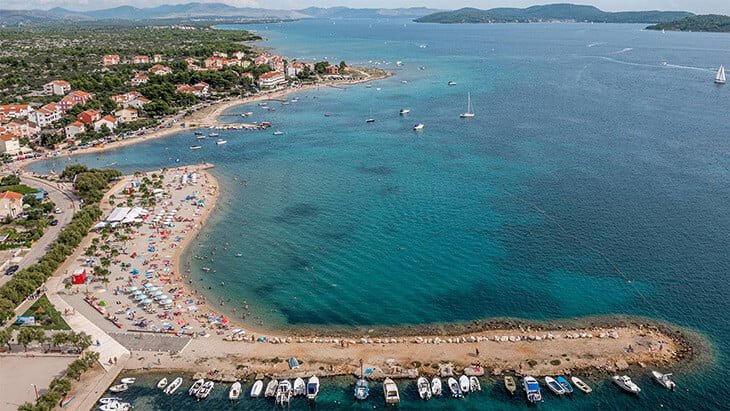 This beach is perfect for those who are searching for clean and sandy coastal areas.
If you're looking forward to a vacation near a booming beach with plenty of fellow tourists, then this is a beach worth going to.
Be sure to add this to your itinerary when you travel over to Vodice Croatia.
Accommodation In Vodice Croatia
A picturesque town with a dozen beaches right around the corner, it is no wonder why Vodice has started to gain the attention of travelers worldwide.
As a response to the growing demand for accommodations in the area, a lot of new and newly renovated hotels have opened for business.
There are dozens of recommendations for hotels that you can find for your stay in Vodice, but these are two of our favorite stays in the area.
Hotel Olympia Vodice
Just a few meters away from the beaches in Vodice, you can book your stay at this magnificent Croatian hotel.
It is nothing less than a luxury stay, with the hotel offering you a complete experience.
Here you can stay to be pampered, enjoy the great view, dine in its beautiful restaurant, and so much more.
This is every vacationer's paradise, and you might want to check it out.
The rooms are fairly contemporary, but the service is authentically Croatian.
Hotel Punta Vodice
Another beachside option for you is the Hotel Punta. By staying here, you will be sure to experience the Šibenik Riviera differently.
Complete with amenities and other equipment for water activities, this can be a home to you and your family for a few days.
Restaurants In Vodice Croatia
Much like its other Dalmatian neighbors, the food in Vodice is heavily influenced by Mediterranean flavors.
When you dine here, you can expect the familiar taste of olive oil, meat, fish, and even red wine.
There are plenty of street vendors that you can choose from, and a dozen restaurants that you can dine in.
Here are some restaurants that we recommend so that you can enjoy a truly authentic gastronomic experience in Vodice Croatia.
Konoba Adriana
With a team of friendly staff and great food, this is a stopover for many tourists and locals in the little village of Marina, just at the outskirts of Vodice.
Here, you can order dishes of seafood that are perfectly cooked and satisfies the palate perfectly.
Restaurant Fortuna
An affordable option right in the heart of the city, Restaurant Fortuna offers hefty portions at surprisingly low prices.
It is a great place to partake of food that is arguably truly Croatian.
The owner was even there to make sure that our orders were delivered correctly and on time.
Aquila Restaurant Vodice
Another budget option for you while you are touring Vodice is the Aquila Restoran Vodice. The atmosphere here is just right too, cosy and friendly.
The portions served here are large despite the reasonable prices on the menu.
If you're looking for a pleasant evening with good food and great service without breaking the bank, then Aquila Restoran Vodice is the perfect place for you to eat in.
Getting To Vodice Croatia
Vodice Croatia, despite being a small town, is actually very well connected.
It has opened its arms to tourists in the past years, and we have been given access to its places by taking the car, the bus, the train, the plane, or the boat.
Of course, choosing a travel option will be purely subjective, but here are more details about each mode of transportation.
By Car
If you would like to take your private vehicle with you going to Vodice, the fastest route to take would be through the highway A1 Zagreb – Split.
On the other ha,d if you will be coming in from the opposite direction, then the A1 exit Pirovac will take you to your destination faster.
Another option is for you to come in via A1 exit Šibenik if this is where you are coming from.
Of course, if you are not familiar with the traffic rules in Croatia, it is best that you read up on the basic laws of traffic first.
For example, be prepared to drive from the right if this is not a practice in your home country.
Be sure to stay within speed limits of 130 km/hr on highways and 50 km/h on residential areas too.
By Bus
There are major bus stations all over Croatia that you can ply from to get to Vodice.
Once you get to the bus station in the heart of the town center, then you can take a taxi to get to your hotel.
Be sure to check in with your station what time the bus leaves and how often.
If you will be coming from Šibenik or Zadar, then you won't have to worry about the scheduling as a bus arrives and leaves every 15 minutes.
By Train
The nearest station, if you are taking a train, is through Šibenik.
From the station in this neighboring city, you can take a bus straight to Vodice.
By Plane
If you will be flying in by plane, you can set your airport of destination to Zadar. From here, you can simply take the bus for 60 km to Vodice.
Another airport near the vicinity is the Split airport.
This is 80 km from your destination, getting you there longer than if you had taken the Zadar route.
By Sail Boat
With the city of Vodice near a vast waterscape, it also makes sense for you to enter it by way of a boat or a ship.
With 290 berths and space for 60 boats, daily trips can be taken to and from this seaport town.
If you're coming from another country, then you can still enter this city by way of international ferry lines.
Be sure to check nearby destinations