The village of Milna on the island of Hvar is located just 4km away from Hvar Old Town, on the southern coast of Hvar Island.
Nestled in a lovely little cove, this quiet little village is best known for its wonderful beaches.
Just like all the other places on Hvar Island, even though it's tiny, Milna Hvar is a centuries-old village, with a history that dates back to the 17th century.
In fact, if you go to the western part of the cove, you will find the loveliest example of Baroque-Renaissance rustic pastoral architecture.
Built in the 17th century, this beautiful house was built by the Ivanić family. The most famous member of this family was Matija Ivanić.
He was the leader of the Hvar Revolution in 1510, when the people of the island fought for independence from the Venetian Empire.
Today, you can experience a little bit of that history, since this beautiful house has been converted into a boarding house.
The one thing that stands out about this little village is the hospitality and warmth of the villagers.
Everyone who has visited Milna Hvar Island has come back with a positive experience with the locals – they are friendly, accommodating and many of them speak multiple languages!
Things To Do In Milna on Hvar Island
Enjoy the sun on Milna Beaches
There are 4 stunning beaches in Milna Hvar, which is why it is such a popular place, despite being off the road and a quiet little village.
Most of the Milna beaches are shallow, and have stunningly clear waters in the most beautiful shades of blue.
However, they are pebble beaches, so it would be a good idea to come prepared with beach shoes.
The restaurants are located on the beaches, so it's a perfect combination of sun, fun and food!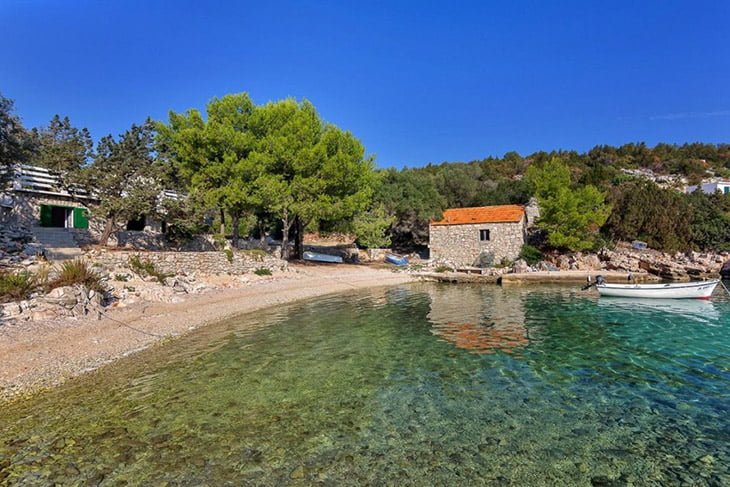 Milna Beach is the most popular among all Milna beaches.
In fact, it is also one of the most popular beaches close to Town Of Hvar, so expect a lot of visitors from the main town of the island during the day!
Another true gem among Milna beaches is Velo Borče beach.
Parking is on the main road, from where you need to walk a short distance down to the beach.
You can even get there by boat.
Many people just take the scenic route and walk down to Velo Borče beach!
Walking Tours In Milna Hvar Island
There are wonderful walking tours organized to the villages of Malo Grablje and Velo Grablje.
Malo Grablje
Malo Grablje, now uninhabited, is a perfectly preserved village that is open to walking tours.
The entire village was abandoned in the 1960s, with every villager moving to Milna.
The move was so thorough that even some of the graves were exhumed and moved with them!
An interesting fact is that every single village from Malo Grablje had the family name Tudor, leading to stories that this village was linked to the English monarch Henry VIII!
Velo Grablje – Milna Hvar
Right next to this village is Velo Grablje. It has not been completely abandoned yet, but it has only 5 permanent residents.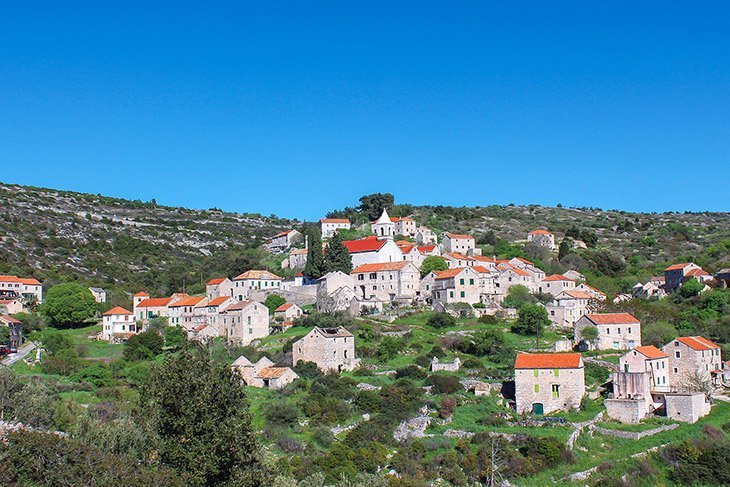 This village was once the center of the lavender trade in the entire region of Dalmatia.
Lavender oil produced in the village was exported all the way to Paris for the making of expensive French perfumes in the old days.
Today, the youth of the village – who are scattered across Split, Hvar Town and other cities in the region – have formed an association to revive the lavender traditions of Velo Grablje.
And their efforts have yielded results, with the Lavender Festival being held every year in June.
The air is heavy with the wonderful scent of lavender and this is when the village comes alive as if awakened from its quiet slumber.
Activities in Milna
While at Milna, you can indulge in some recreational activities, such as playing tennis (there is a tennis court in the village), rent a small boat and tour the surrounding coastline, go on island-hopping tours, and go scuba diving or snorkeling.
There are some stunning diving spots just outside the bay of Milna Hvar.
You also have the option of treks, hikes and biking.
Donkey Riding
One really fun attraction in Milna Hvar Island is taking donkey rides! It's a fun way to get around the beach and the village, and don't worry, the animals are well taken care of – the locals love them and it shows in the spirit of the friendly animals!
Day Tours from Milna Hvar
Village of Milna is the perfect place for a quiet family vacation.
However, if you are looking for a little more excitement, but still want to come back to the serenity of this lovely little village, then you can take day trips to Town Of Hvar.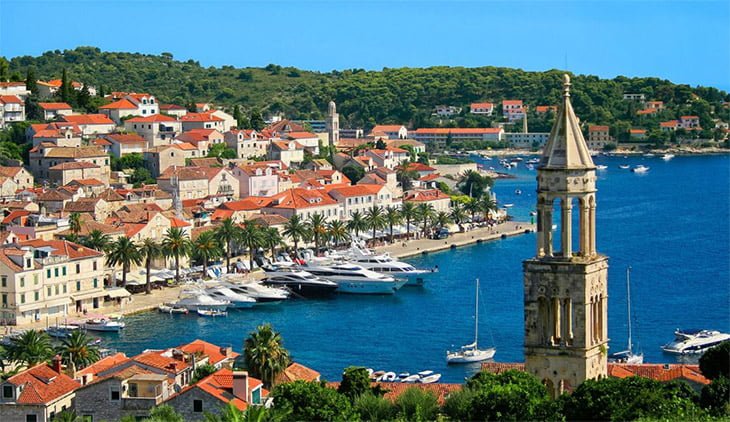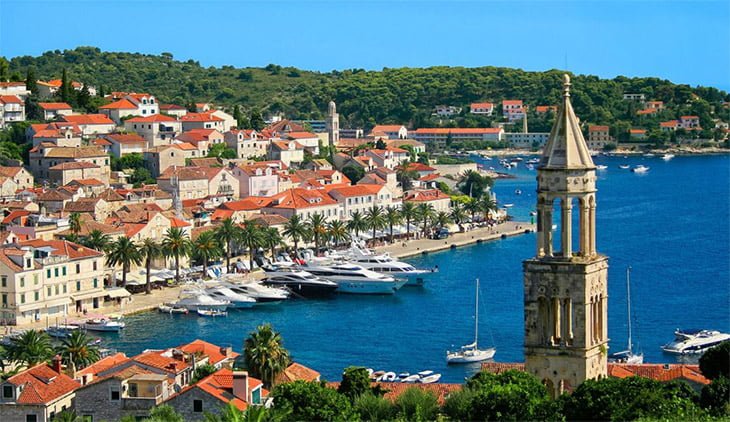 Town of Hvar is the tourist center of the island, and is just 4 km away. Many people simply walk down to the town for the day and come back later.
There are tons of things to do in this town, from historical tours, world-famous parties, to island tours – it will keep you busy for hours.
Milna also arranges for day trips to the nearby islands of Vis Island, Mljet national park, Korčula Croatia and Biševo island tour to the Blue cave.
You can even hire a scooter or a car if you plan to make Milna your base as you explore as much of the island as you can.
Gastronomic Delights in local restaurants
The restaurants in this tiny village are definitely worth writing home about! In fact, many visitors come to Milna just for the food.
You can get fresh-caught fish every day, along with some of the island's wonderful home-made olive oils, and traditional specialties of Dalmatia.
Konoba Lambik is the most popular restaurant in the village, followed by Kod Barba Bozjeg.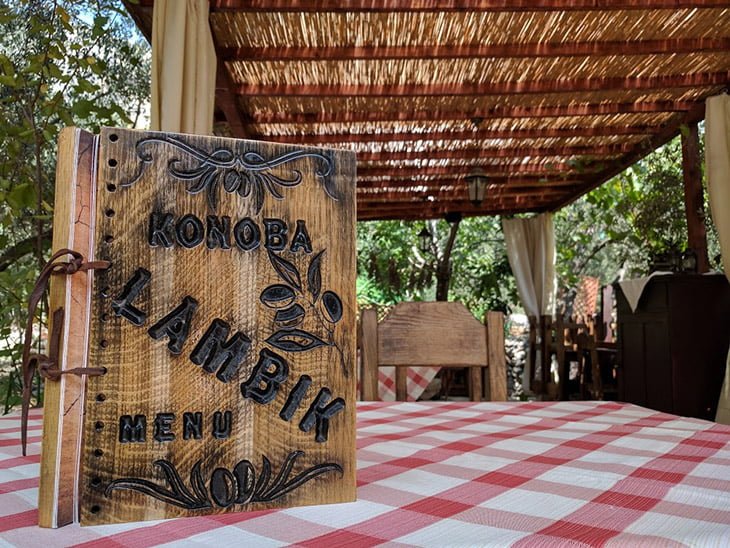 The other restaurants in the village are Moli Onte, Taverna Milna, Mala Milna, Oaza and Restaurant Fortuna.
You would be surprised that every single one of these restaurants has been given almost 5-star ratings by visitors to the village!
The food is that good – across the board!
You can even get vegan meals in these restaurants, with the freshest organic, home-grown vegetables!
Getting to Milna Croatia
Getting to Milna on Hvar island quite simple.
If you're flying down, then you will first arrive either at Split or Dubrovnik airport.
Split is the closer of the two, being about an hour away from Hvar Island by boat.
From Split, you can either take a catamaran or ferry to Hvar Town. From there, you can either take a bus, or drive down to village of Milna Hvar.
If you're traveling light, you can even walk down – it's a scenic 1-hour walk away from Hvar Town.
You can even get to Milna Croatia by motor-boat; it's a 25-minute journey to the village.
If you're traveling by car, then you will need to take a car ferry to the town of Stari Grad and then drive down to Hvar Town, and then on to Milna Croatia.
Remember: there is also a villages called Milna on Brač island and island of Vis, you ensure that you check which Milna village you're headed to!
Where to Stay in Milna Croatia ?
There are a number of lovely apartments, rooms and even villas for visitors. The best hotel in the village is Hotel Fortuna.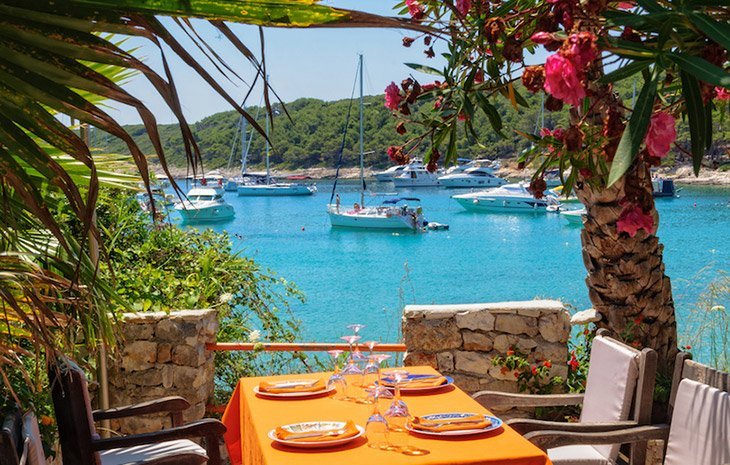 It is best to pre-book your stay, since you'd be surprised how fast accommodation goes in the summer months, when it's the peak tourist island.
If you wish to buy groceries in the village, there is a small shop that will sell you the basics, however, most visitors prefer to eat at the restaurants rather than cook.
Other nearby holiday destinations