Croatia Travel Guide To Zagreb
Those who have discovered this gem of a city, the capital of Croatia – Zagreb, have found that its richness in culture and arts among other things would stay with them for a very long time.
When people talk about their dream destinations, they often mention places like Greece or Rome or Paris, and maybe other beautiful places in Asia.
Some but not a lot talk about Zagreb. But as a real travel enthusiast, you should know that Croatia has a lot to offer and Zagreb should definitely be on your bucket list.
But where to start?
There are so many things to see and it can be challenging to pack them all up for the length of your trip.
Well, here is a detailed guide on the best attractions in Zagreb Croatia so you can decide which places you want to prioritize.
The Best of Zagreb Croatia: Attractions and Entrance Fees
Here are the attractions that you must not miss in Zagreb Croatia.
Ultimately, you decide which ones you think are worth your visit but we've listed the places where most tourists think they've made the most of their stay and have gotten their money's worth.
Visit Maksimir Park and Zoo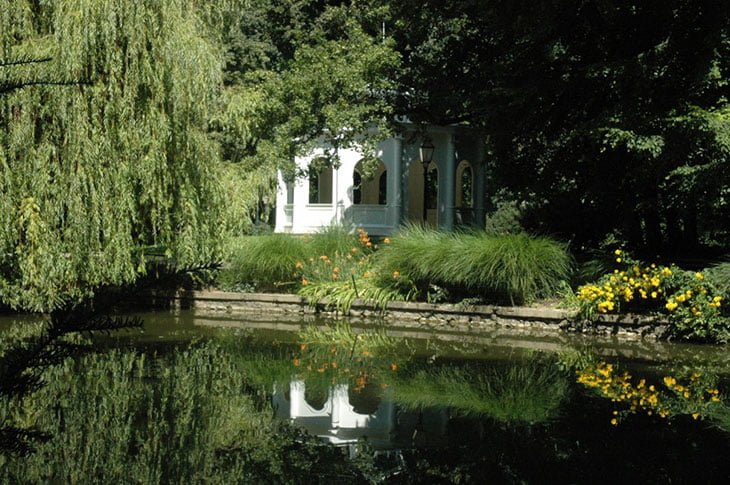 The zoo inside the Maksimir park is perfect for a half-day stroll where you will encounter colorful lovebirds and other fascinating animals.
Whether you are traveling with kids or on a lover's trip, taking a walk down the park and zoo is a great way to revitalize your tired soul.
It's a good idea to put this on the first day of your Zagreb itinerary when you are still tired from your flight.
It will be a relaxing first glance of the city. Here, you will see lots of greens and lakes on a stretch of well-manicured grass below blue skies and fluffy clouds.
The place is completely isolated from noisy cars so it's a great escape!
If you like plants, take some time to stop by the Zoological Garden of Zagreb which is also inside the park.
Entrance Fee: Strolling through the park is free but admission to the zoo costs 30kn or Croatian Kuna for adults and 20kn for kids aged 7 to 14.
If you are traveling with a child below 7 years old, they are free to enter.
There is also a special discount during Mondays where instead of 30kn, adult visitors only pay 20kn.
How to Get There: Different trams can take you to the park and zoo. Take tram numbers 4, 5, 7, 11, and 12 to Bukovačka. It will be a short work from your stop to the park.
Hours and Best Time to Visit: The park is open 24 hours daily but the zoo opens at 9am and closes at 5pm. There are really no special days to best visit the park and zoo but if you want to save on entrance fees, you should definitely go on a Monday.
You will avoid the larger weekend crowd as well.
Zagreb Botanical Garden
Talk about more greens and captivating fragrances!
Even if you're not a nature lover, this place will transform you and make you appreciate the natural beauty that abounds in Zagreb Croatia.
The Zagreb Botanical Garden is a nice place to relax and the best part is that it's in the heart of the city.
You can enjoy the natural scenery without being away from the action.
After a few hours in the garden, you can step right out and proceed with your shopping and other activities in your Zagreb itinerary.
See rare species of plants such as prehistoric trees all around the area.
The irresistible turtles playing and swimming in the little lake is a fun sight for people of all ages.
But it's so much more than just a garden.
The Zagreb Botanical Garden is the oldest in Croatia so it will truly give you a feel of how the city and the country has been transformed through the years.
Watch out for special exhibits that may be going on during your visit. The garden does several exhibits throughout the year and it will be different for each season.
Currently, the Lost Worlds for Archaic Gardens exhibit is being featured and it showcases prehistoric imaginary gardens of the dinosaur age.
Make sure to check the botanical garden's site for special exhibits.
Entrance Fee: The Zagreb Botanical Garden is free admissions for all. There are also no fees to see the featured exhibits.
How to Get There: The garden is located in the center of the town so it's easily accessible by foot from whichever part of the city center you are coming from. Simply follow the parks and squares of the green horseshoe to the south.
Gundulićeva street will lead you right to the garden's entrance. If you're coming by car, you may have difficulty parking but you can use the public garage in the Hotel Esplanade.
Hours and Best Time to Visit: Zagreb Botanical Garden is open from 9am to 2:30pm on Mondays and Tuesdays, and 9am to 7:30pm from Wednesday to Sunday.
Plan a visit to Nature Park Medvednica
Standing tall and proud above Zagreb's roofs is the Medvednica mountain.
It features beautiful slopes and breathtaking views that make it an ideal spot for outdoor leisure.
The mountain rises north of Zagreb Croatia with its highest peak reaching 1035 meters above sea level.
The nature park lies to the west of the mountain.
There are five things in the Medvednica Nature Park that you absolutely must not miss.
One of them is the Veterina Cave. It is the 5th longest cave in Croatia and it is a spot for dense archeological and paleontological research. You will discover sand dunes and vortex forms, among others.
There is also the Zrinski Mine that according to urban legends is filled with secret passages, the Medvedgrad that gives you a spectacular view of the city, and the Sopot Waterfall which is the largest in the mountain.
It's a great spot for taking photos and it's quite romantic for couples. Lastly, there is the 500 Horvat's Steps which is an architectural marvel.
Entrance Fee: Prices vary for each attraction inside the nature park. The Medvedgrad, for example, is 15kn per person and 25kn for a guided tour. The mine is only 23kn for adults and the cave is 40kn.
How to Get There: Accessing the park depends on which attractions you want to see inside. It's a huge area so you have to plan your itinerary and decide the order of things you want to see first.
If you want to start at the Veternica Cave, you can reach it by riding the bus 124 from Crnomerec station.
Hours and Best Time to Visit: Allot at least one hour for each spot in the park that you want to visit. The town gates open at 11am and closes at 7pm every day but hours vary per season so check the park's website prior to your visit.
It's best to visit the park during the warmer seasons.
Main City Square of Ban Jelačić
If you want to be in the middle of all the hustle and bustle, make sure to spend some time in the Ban Jelacic Square which is the central square of Zagreb Croatia.
It's where you will see lots of big events especially those relating to sports. A lot of concerts also happen in the square.
Since this is a central location, you can squeeze this place at any time in your Zagreb itinerary.
It's also close to the Dolac market where you can shop many local items.
The square is truly the heart of Zagreb.
It's a simple but notable area in this Zagreb travel guide.
Entrance Fee: None
How to Get There: The square is located just below the hillside settlements of Kaptol and Gradec. It's a central point so almost all buses stop by the Ban Jelacic Square.
Hours and Best Time to Visit: The square is accessible 24 hours a day throughout the year.
Zagreb Cathedral and Treasury
Lovers of architecture will give their senses a treat inside Zagreb Cathedral and Treasury.
The cathedral is the most impressive Gothic-style structure southeast of the Alps.
Everything about it from top to bottom is a beauty to behold from the floor plan to the roofs.
This sacral building features slender cross-ribbed arches with narrow windows that will remind you of French architecture.
Some of the details also resemble German architectural patterns. It truly is a magnificent structure and being able to go inside it is an experience of a lifetime.
It was formerly known as St. Stephen's Cathedral and now dedicated to the Assumption of the Blessed Virgin Many. Even the nonreligious will appreciate the building for its beauty and history although it does not totally represent the original structure today.
You will also see the Zagreb Cathedral Organ which produces romantic sound characteristics. It's considered to be one of the finest organs worldwide.
The Zagreb Cathedral Treasury which is also inside holds important collections that are worth seeing. It includes the Plenarium which is made out of ivory and the gift of Pope Ivan Pavle II.
Entrance Fee: None
How to Get There: Zagreb Cathedral and Treasury is accessible from Ban Jelacic Square. It's walking distance from there though you will have to climb a short distance.
Hours and Best Time to Visit: The cathedral is open from Monday to Saturday from 10am to 5pm and 1pm to 5pm on Sundays. If you want to attend mass, it's being offered several days a week including holidays.
The Museum of Mimara
Zagreb Croatia is also not lacking in the arts department and the The Museum of Mimara is packed with archeological artifacts and a majestic collection of Old Masters.
But that's just a fraction of what you will see. The building itself is one of the most majestic in the world.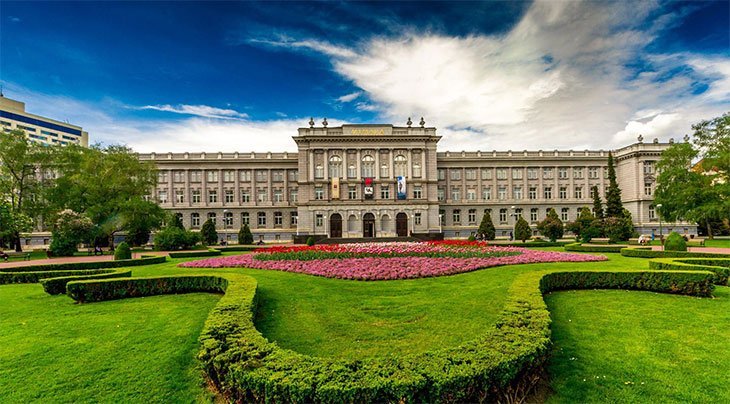 If you haven't been to any of the royal castles in Europe, going to this museum will make you feel like you're walking into one.
It's truly a grand structure and the content you will see inside will more than just entertain you. There's a lot to learn and discover.
Locals and visitors alike love the place and there is always something new and interesting to see.
Fronting the building is a huge patch of grass that blossoms with flowers in full bloom during spring. But of course, that's not the main attraction and you can enjoy the museum even in the winter months.
Entrance Fee: Admission is 40kn for adults
How to Get There: The Museum of Mimara is accessible by trams 12, 13, 14, and 17. You should get off at Marshall Tito Square and walk from there.
Hours and Best Time to Visit: The museum is open from Tuesday to Sunday from 10am but closing times vary per day. It's best to visit the museum when there are special exhibits going on which you can check on their website prior to your trip.
The Art Pavilion and the Mestrovic Gallery
Aside from the Museum of Mimara, you will not run out of places to visit that will enrich your creative soul.
The The Art Pavilion and the Mestrovic Gallery is another magnificent and stunning structure, surrounded by greens and a quaint village.
Fronting the building is a big fountain amidst a bed of flowers.
The interior is creatively designed and gives you a romantic feel. The lighting is perfect for appreciating the captivating displays and installations.
What's special about this art gallery is that it's secluded from all the noise of the city yet it's so easily accessible.
It's like disappearing into another world right in the middle of everything. Most importantly, they feature beautiful and timely art installations.
This is truly a playground for artists, art critiques and art lovers.
Entrance Fee: An adult ticket costs 30kn. You can also get discounts for families. 2 adults with 2 children will be a total of 60kn and a group of at least 10 guests would only pay 20kn each instead of 30kn.
How to Get There: The Art Pavilion and the Mestrovic Gallery is quite close to the Lower Town area, north of the King Tomislav Square.
You can take any bus or trams that will lead you to the Zagreb Central Station and you can walk from there.
Hours and Best Time to Visit: The pavilion opens at 11am from Tuesday to Sunday and closes at 8pm except Friday when it closes at 9pm, an hour later than the rest of the week.
If you want to avoid crowds and large group tours, it's best to go on weedays.
Do a morning shopping Dolac Green Market
You've most likely been to a market before but if it's your first time in Zagreb, be prepared to be awed by the market in Dolac. Imagine a burst of colors coming at you from each corner.
Dolac Market is an open-air farmer's market that is abuzz with life and happy people. It's a vital place to mention in any Zagreb travel guide.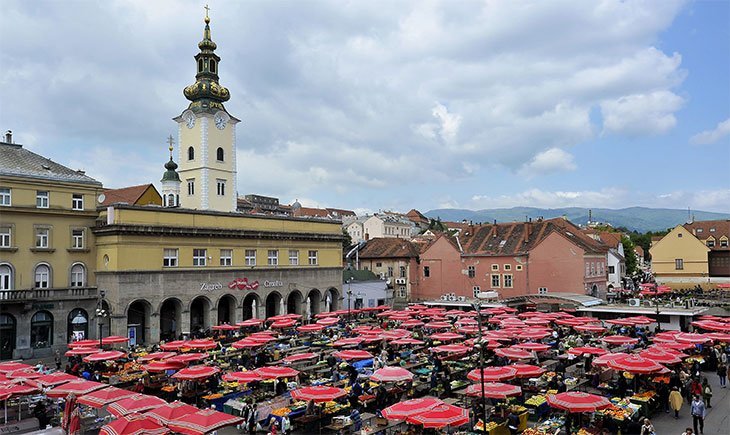 This place is not just for tourists. A lot of locals go to this market to buy their food.
You'll find a lot of fruits and vegetables both common and unusual ones.
Though you may not have originally planned to cook during your trip, it's still a great experience strolling through the market.
It's free and you don't have to buy anything that's not of interest to you!
This is one of those places where you truly get to interact with the locals and try to talk to them.
The market is a tradition of Zagreb that has been preserved for over 80 years!
Aside from local produce, you may also find some items that would serve as souvenirs, maybe something to add to your travel collections.
Entrance Fee: None
How to Get There: Dolac Market is easily accessible from Ban Jelacic Square by foot. Beware that you may have to climb stairs but for those with disabilities, they can use the elevator on the north.
Hours and Best Time to Visit: It's best to visit the market in the morning when the produce are freshly delivered, although it is open until 3pm.
Still, you may want to be as early as possible because other stores may run out of products by 1pm.
The market is open from Monday to Saturday 7am to 3pm, and up to 1pm on Sundays.
Zrinjevac Park – Oasis of peace in Zagreb center
Your visit to Zagreb would not be complete without a stroll through Zrinjevac Park, the same way you would want to go to Central Park if visit New York.
It's a park in central Zagreb and is the oldest square in Zagreb.
The park served as a cattle market and fair when it was first transformed to a square.
It used to be just an unsightly field. It had entertainers and fortune tellers among other types of vendors. Today, the park is a favorite among locals and tourists alike.
But the best thing about Zrinjevac Park is that it's like an entrance to the history and art of Croatia because it is surrounded by buildings like the Zagreb Archeological Museum, The Croatian Academy of Sciences and Arts, and other government offices.
These structures have been there for a very long time and the park gives you easy access to them.
Entrance Fee: None
How to Get There: Zrinjevac Park is five minutes away from the Main Square in Zagreb or Ban Jelacic. You can walk through Praska Ulica Street or walk from the Main Railway Station. It only takes about 5 to 7 minutes to get to the park.
Hours and Best Time to Visit: The park is beautiful no matter what the season is so choosing when to visit absolutely depends on your preferences.
If you like the cold, it's beautiful under the snow and is equally stunning during spring.
There are also many festivals during the summer.
Visit Mirogoj Cemetery
You may be wondering why you should include a cemetery in your Zagreb itinerary.
After all, it's just a resting place for people who passed on, right? Think again.
The Mirogoj Cemetery is more than just a place for those who have been laid to rest. It's an incredible structure and the experience is breathtaking.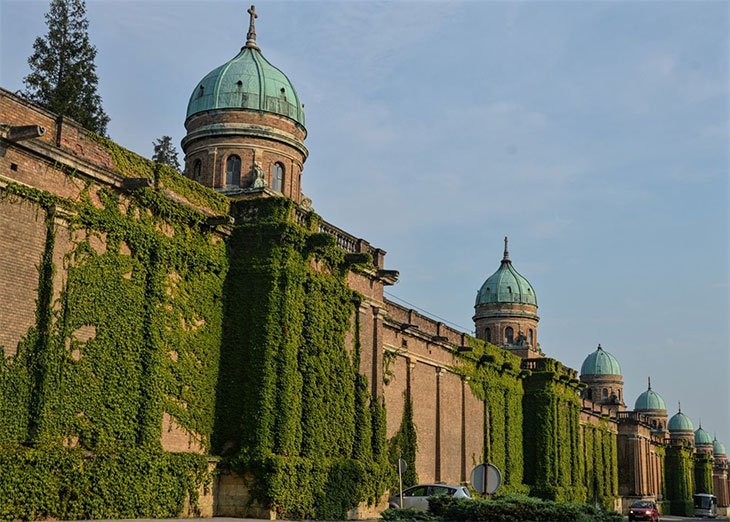 From looking on the outside, you will know right away that this is no ordinary cemetery that's why it's included in this Zagreb travel guide.
The place looks like a castle, its walls covered in a rich carpet of green plants.
It's a central cemetery in Zagreb that features posthumous architecture.
When you walk through its many pathways, it's like going through a huge outdoor art gallery.
A lot of prominent people in Croatia have been buried here so it also has a historical significance.
Entrance Fee: None
How to Get There: The easiest way to get to Mirogoj Cemetery is to go from Zagreb Cathedral. From there, you can take the bus 106 or 226 on the bus station which is outdoors so it's easy to see.
Hours and Best Time to Visit: It's best to visit Mirogoj Cemetery during All Saints' Day which is the first of November. That's when you will see the cemetery in its full glory.
The place will be filled with flowers and candles from people who are remembering their dead.
St. Mark's Church – Crkva Svetog Marka
Whether you are religious, spiritual, undecided, or a freethinking folk, it's worth paying the St. Mark's Church a visit if you truly want to experience Zagreb.
This historical building has been standing since 1880 and is one of the city's most emblematic buildings.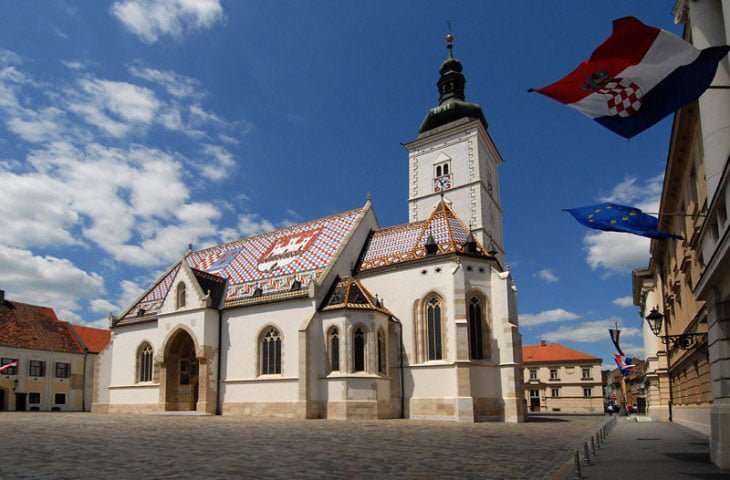 The 13th Century church is designed with tiled roofs featuring medieval coat of arms.
It's unique because not many churches are as colorful as this one. You will find sculptures in the Gothic portal and other interesting historical items in the anteroom.
Entrance Fee: None
How to Get There: You can reach St. Mark's Church from the Ban Jelacic Square by walking through the Stone Gate. Another fun way to get there is by taking a funicular ride.
Hours and Best Time to Visit: The anteroom is only open to the public during opening hours and the church is only open during mass. The mass usually starts at 6pm on Mondays.
There is a morning and evening mass during Saturdays and Sundays.
Museum of Broken Relationships
Zagreb is not just filled with historical structures, you will also find a lot of modern art like the Museum of Broken Relationships.
If you've ever had your heart broken, surely you will appreciate this place and its genius collections.
Plan your visit to the museum in between your outdoor activities in your Zagreb itinerary. It will be a refreshing break from your nature escapades.
The place looks quite modern with predominantly white walls and lots of natural light. A good way to remind the heartbroken that there still is beauty even after a tragedy.
It started with Croatian artists Olinka Vistina and Drazen Grubisic who used to be in love.
When they ended their relationship, they didn't want to part with items that had sentimental value to them so they opened the museum so that these things could stay together.
People started donating their own heartbreak reminders and the museum grew.
Be prepared to see a fascinating collection of tokens of past loves. There are stuffed toys, letters, and some really unusual ones like a bottle filled with tears. There is even a prosthetic leg!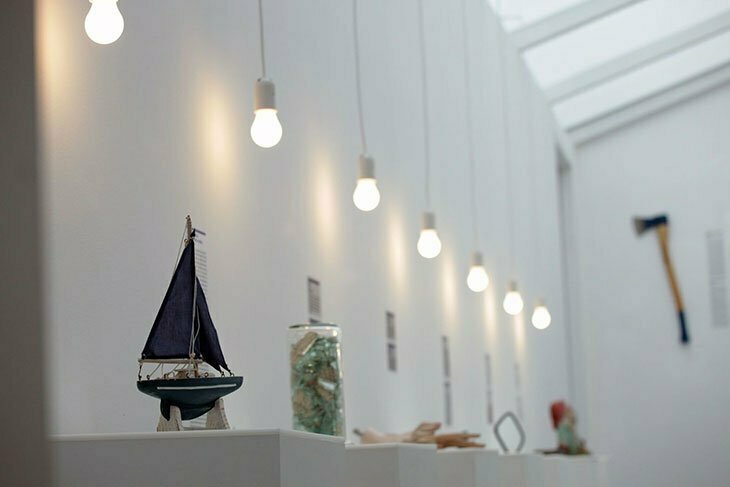 Entrance Fee: Admission to the museum is 40kn for adults. Students pay a discounted rate of 30kn. There is also a discount for groups of at least 15 people but they must book in advance.
How to Get There: The museum is in between St. Mark's Church and Zagreb's upper town so it's easily accessible. You can also take the train or a bus from the central station.
Hours and Best Time to Visit: The Museum of Broken Relationships is open from 9:30am to 10:30pm every day and is closed on most holidays.
Though there may be a larger crowd, it's more fun to visit on weekends because you get the chance to see newlyweds posing for photos outside since it's right beside the church.
The Stone Gate – Kamenita Vrata Zagreb Croatia
Anyone who needs a little boost in their spirits would find that a trip to The Stone Gate is a rejuvenating one.
Flickering candlelight will greet you as you go in and you will come out filled with a little more hope than when you entered.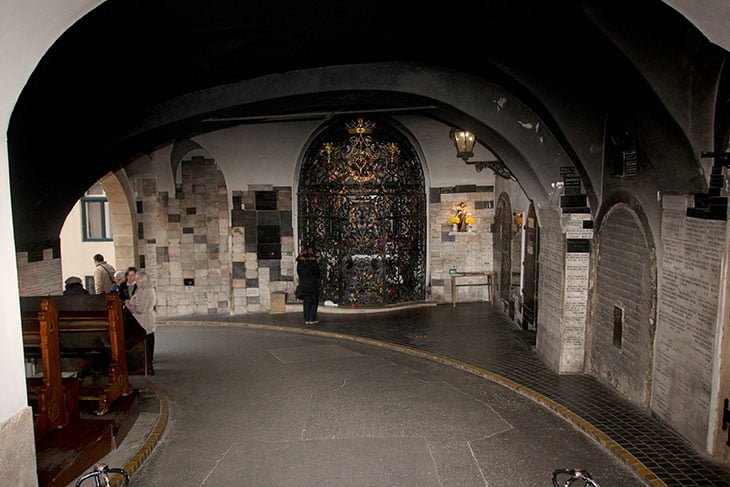 If you're confused what this place is, it is literally a gate.
It is historically significant because it was built during a time when all the surrounding structures were made of wood. This was done as the city's commitment to build stronger walls when it was made a free royal city in 1242.
Legend has it that when a fire destroyed the gate in 1731, one painting remained and it was of the Virgin Mary and the child Jesus by an unknown artist.
Citizens believed that it has some magical powers so they came to the gate to pray by lighting candles. They also engraved prayers of thanks on stone slabs.
Entrance Fee: None
How to Get There: Stone Gate is the entrance to Zagreb's upper town which you can reach by bus from the Ben Jelacic Square.
Hours and Best Time to Visit: The gate is open for anyone to visit any time during the day or night but if you want to watch people lighting candles and praying, you may want to pass by in the middle of the day.
Sljeme – Zagreb Ski Resort
Winter sports enthusiasts will love Sljeme in the cold season. Zagreb has many surprises and Sljeme is just one of them.
This spot is unique in this Zagreb travel guide because it's specific to winter attractions but it's a great thing to know even if you're planning to visit Zagreb Croatia in the spring or summer.
It is composed of professional ski slopes so it's perfect for your winter outdoor adventure.
During the warmer seasons, you can still visit Sljeme to take a ride on Zagreb heights that will give you a great view of Zagreb.
If you want to include Sljeme in your Zagreb itinerary, it's best to go there on the day that you will visit the Medvednica mountains.
We've featured the nature park above and the ski resort is also inside it.
Take note that it can get really cold in its peaks so be prepared with warm and protective clothing.
Entrance Fee: A day ticket to Sljeme costs 10euros for adults on weekdays and 14euros on weekends. Kids can enter for only 6euros.
How to Get There: The ski resort is about 10km away from Zagreb city. You can access the location by going through any of the entrances to the nature park. Take the bus 124 from Crnomerec station to get to the park.
Hours and Best Time to Visit: Sljeme is open from 10am to 4pm. It's best to visit during the winter if you want to experience the ski slopes.
Take a walk on shores of Bundek and Jarun Lakes
Watersport fans would find the Bundek and Jarun Lakes a fun and exciting attraction.
It's a big leisure center where you can row or just take a relaxing swim. Even if you don't like watersports, you can still enjoy the park by taking a walk or even roller skating.
Jarun Lake is surrounded by pebble beaches that provide a captivating view of the greenery.
Make sure to check the weather on the day that you plan to visit.
It's ideal to go swimming or boating at 24 degrees Celsius. Bundek is a little smaller but you can do the same activities.
Entrance Fee: There is no fee to enter the parks but you can borrow boating equipment and other sports gear for a fee.
How to Get There: You can get to Jarun Lake by taking the trams 5 and 17 going to Precko. Get off at Jarun stop and the lakes are walking distance from there. You can reach Bundek Lake by taking the bus 220, 221, 234, or 268 from the Main Railway Station.
Hours and Best Time to Visit: Any sunny day is a perfect day to visit Bundek and Jarun Lakes.
Tortureum – Museum of Torture in Zagreb
Get ready for an out of this world experience at the Tortureum – Museum of Torture.
If you really want to make the most of your trip to Zagreb Croatia, you may want to squeeze this place in your Zagreb itinerary.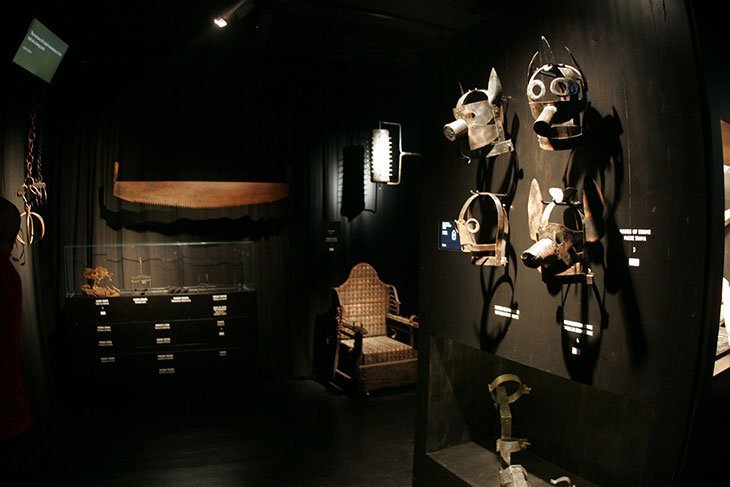 The museum features various instruments of torture and execution and these are things that have really been used by people through the ages.
You don't have to like violence to appreciate the museum, it's actually very educational, providing insights about violence throughout history.
If you're feeling brave, you can even touch or try some of the instruments.
Of course, the museum takes safety measures so you don't have to worry about getting seriously hurt.
People who like scary or horror movies will definitely enjoy inside but it offers so much more than just amusement.
Entrance Fee: A standard ticket to the Tortureum – Museum of Torture costs 5,20euros per person and 4,00euros for students. Group visits or family tickets are priced at 13,00euros.
How to Get There: Tortureum – Museum of Torture is right in front of Dolac Market. You can go there from the Ban Jelacic Square by foot.
Hours and Best Time to Visit: The museum is open from 11am to 7pm from Monday to Sunday.
It takes only 30 minutes to an hour to explore the museum so you can easily squeeze this any day of your trip in your Zagreb itinerary.
If you don't like big crowds, it's best to avoid visiting in the weekends.