Paklenica National Park: Great Things To Do, Attractions, Hiking Trails & Pitches
Among all the national parks in Croatia, the one that is really made for the serious outdoor adventurer is the Paklenica National Park.
It is literally a mountain by the sea and not just any mountain, it is a massive natural rock tower interlaced by two large canyons so imagine all the outdoor activities you can do!
It is the ultimate destination in Croatia for rock climbers but there are so many more activities for all types of outdoor adventure seekers.
All around it is the lush vegetation and a flora and fauna that is bursting with color and life so even the more laid-back personalities will have a great time just hanging around here.
The mountain and its trails are suitable for walking and hiking in all levels.
Whether you've never hiked before or you are an experienced climber, exploring this park will be an exciting endeavor.
There are plenty of excursions and you can also enjoy a fresh cold drink from the small lakes in and around it.
Paklenica National Park is an ideal place to challenge yourself to new heights and test out your outdoor skills.
But it is also a great place to relax and just enjoy the beauty of nature that is uniquely Croatia.
Where Is Paklenica National Park ?
Paklenica National Park is on south south of the Velebit range of mountains, its highest peak standing majestic and tall just outside the seaside village of Starigrad.
It is the largest mountain in Croatia, covering an area of 92 square kilometers.
Its limestone cliffs are perfect for climbs of varying levels.
Both beginner and experienced hikers would find this park quite a fun giant playground.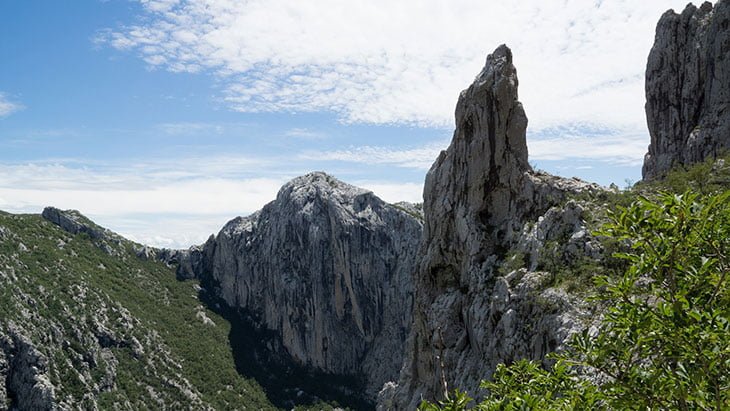 The mountains create a natural barrier between the inlands of Croatia and its coast.
Its rugged peaks are a truly impressive sight! Paklenica National Park is a wide stretch of limestone mountains and features some of the most dramatic alpine vistas in all of Croatia.
The park acquired its national park status in 1949.
It was named after the local black pine called Paklina which has several medicinal properties. The mountains inside the park include the two highest peaks of Velebit.
It is particularly extraordinary because of its rich landscape.
You will not only see cliffs and peaks, but canyons, karrens, rocks, and caves as well. If you get tired from your hike, you can take a drink or splash your face with cold water from plenty of fresh water sources.
The entire area is covered by forests and rich vegetation is covering its rocky grounds and meadows.
Climbing Guide & Things To Do In Paklenica National Park
Aside from being a rock climbing and mountain climbing heaven, Paklenica National Park offers plenty of activities for the outdoor adventurer.
Beginner and expert climbers will find numerous activities after taking on a steep climb.
There is so much to explore and beautiful sights to behold!
Single pitch and multi-pitch climbs spread all around the park and getting to these spots can take anywhere from 10 minutes to an hour.
Some people find that a half a day stroll in Paklenica National Park is quite enough but if you really want to make the most of your effort going there, it is best to spend one whole day and try out various activities.
Another unique thing about Paklenica National Park is that the entrance fee is a lot cheaper compared to the other national parks in the country.
Croatia has 8 main national parks and all of them offer stunning beauty.
But if you are looking for extreme outdoor fun, this is the place to be.
In the main sector of the mountain, you will find the canyon which is a great spot with a friendly atmosphere to just relax and admire the magnificent view.
In peak seasons, you will see lots of foreigners in the park which is a testimony to just how beautiful this place is.
If being active is your idea of a perfect holiday, then pack up your outdoor gear and be prepared for a day of excitement.
It is a great place to help you get away from the boring contemporary life.
But aside from the exciting activities and beautiful sceneries, Paklenica National Park also offers visitors the chance to learn more about the country's cultural heritage.
Take a walk around some of the spots that tell much about the city's past.
History Of National Park Paklenica
The entire mountain where the park is located was proclaimed a UNESCO biosphere since 1977 and the park has gained a protected area status in order to preserve its natural beauty.
UNESCO is the United Nations Educational, Scientific, and Cultural organization.
One of their goals is to support sustainable development.
Places that are listed in UNESCO's heritage sites list are those considered to be of great ecological, cultural, and historical value.
And they try to protect them in order for these sites to survive many more years.
Paklenica National Park Attractions
Its two biggest attractions are the two peaks: the great Paklenica called Velika Paklenica by the locals and the small Paklenica or the Mala Paklenica.
They rise high toward placid blue skies decorated by beautiful bird species just soaring through the peaks.
The hiking trails inside Paklenica National Park are actually part of a longer hiking trail in the Velebit mountains.
It stretches to about a hundred kilometers. An interesting fact in case you are wondering what it would be like to trail all the way through these cliffs.
In the meadows, you will see lots of bluebells, sage, and heather among many others. It is home to approximately 4,000 animal species so you can expect to come across some rare animals along your walk.
Walking and hiking paths all offer stunning views of the sea and the region . It has 400 climbing routes, some of which are the most famous in Europe.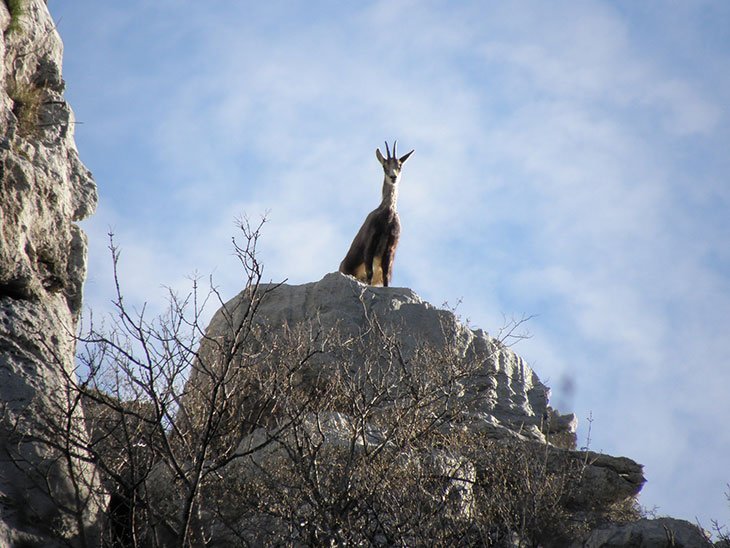 Best Things To Do In Paklenica
Let us take a more detailed virtual tour of Paklenica National Park. Whether you are an amateur or an athlete, you will not run out of exciting things to do within these mountain region.
Explore Hiking Trails
The most popular activity in the Paklenica National Park is of course, hiking.
After all, it is one of the most magnificent mountains in the world.
The best way to to explore the park is on foot so be prepared with your most comfortable pair of shoes. You will need more than an afternoon to hike the park's trails.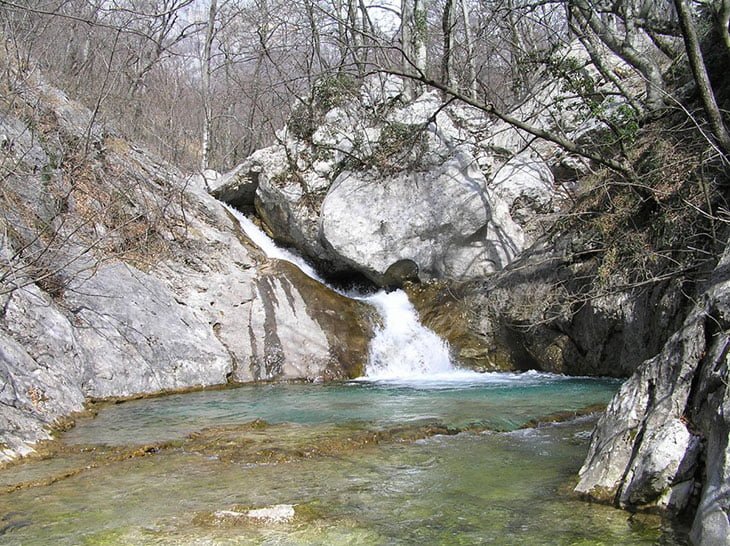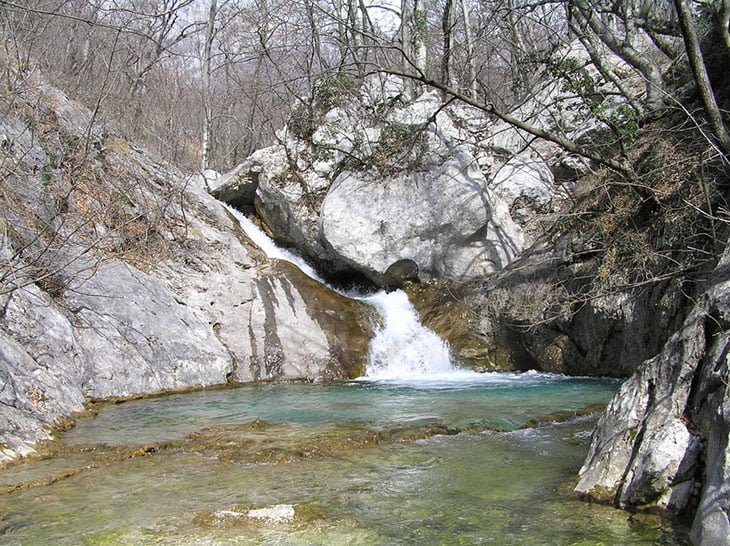 Trails are marked with white dots within a red circle so it is easy to find a trail that is suitable for your level.
Depending on the trail that you pick, it can take you from a couple of hours to six hours or more to complete a hike.
And along the way, you will be constantly surrounded by breathtaking panoramic views and plenty of geomorphological features that are unique to these mountains.
You will also not be disappointed by the cultural sights you will pass by on your walk.
There are abandoned buildings and other old structures that will give you a unique view of the centuries-old life in this region.
There is a network of 150 kilometers of paths and trails, all marked for your convenience.
You will be able to choose a path to take based on the difficulty.
Vela Paklenica Canyon
The most popular way that hikers explore the park is by walking from the canyon of Vela Paklenica all the way through the lodge which takes about 2 and a half hours.
All these paths were once used by inhabitants of the mountain region. They run through the forest, cutting through streams and continuing to the meadows.
After walking a good distance to the mountaineers lodge, you can continue to the peaks Sveto brdo and Vaganski vrh while enjoying all the extraordinary landscapes and views of the sea.
From the entrance of the park, you can take one of the two most popular hikes.
The one to the Paklenica Mountain Hut takes about 2 hours with a total ascent of 400 meters for the entire trip.
And the one to the Cave Manita Pec is about the same plus 30 minutes more with a total ascent of 450 meters.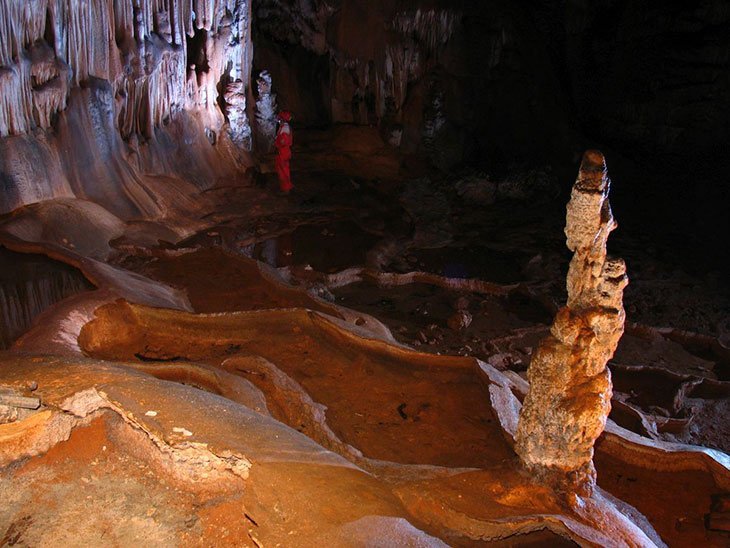 Take note that if you want to access the cave, you have to arrange for it with the park's administration and make sure that it is open for viewing.
Climbing in Paklenica
The next most popular activity in Paklenica National Park is mountain climbing or rock climbing.
You may need a little bit of climbing experience to tackle the climbing spots but some of them are relatively easy.
It is the largest rock climbing site in Croatia.
You can take on the single-pitch climbs that stand atop flat and well-maintained paths.
If you are an experienced rock climber, you can choose to climb the multi-pitch ones.
These climbs are well-bolted so you wouldn't usually need any supplemental trad gear.
You can bring your own climbing gear or use some from the park's facilities.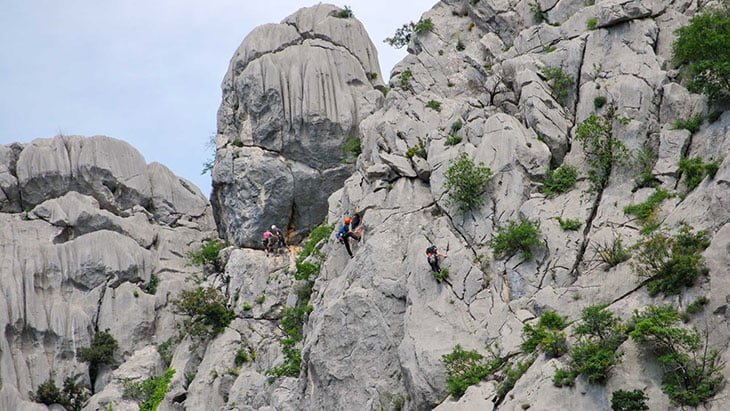 There are over 400 climbing routes with varying difficulties and lengths, including the famous rock Anića kuk which goes up to 350 meters.
Those who really want to challenge themselves dare to climb this rock since it is one of the most difficult in the world and the best climbers are attracted to this site.
Every year, the park holds a competition in rock climbing called Big Wall Speed Climbing which happens every 1st of May. But the climbing season goes all way throughout late fall from early spring.
Climbing Grade Ranges in Paklenica
The climbing grades range from 5.5 to mid 5.13 and one that reached a full 5.14a.
25% of the grades are between 5.5 to 5.9, 40% are graded between 5.10 to 5.12, and the other 30% is between 5.11 to 5.12.
There is only 5% of climbing grades that are 5.13 and above.
These climbing routes can be stiff in comparison to other climbing sites in Europe that is why a lot of highly experienced climbers are attracted to Paklenica National Park.
But even if you have good climbing experience, it is still recommended for you to choose a grade that is one or two times lower than what you are used to.
Then if you feel really comfortable, you can choose a higher grade route.
Climbing Routes in Paklenica National Park
These are the top climbs in Paklenica National Park.
Multi-Pitch
The Centralni Kamin
Is graded 5a and 5.8. It is a full 6-pitch route that goes up to the Veliki Cuk. You can enjoy this moderately difficult climb and finish off with a nice view at the top.
The Slovenski
Graded 6a and 5.10b is a classic route on the Debeli Kuk rock face. It is known to hold some of the more sandbagged pitches so take caution in these parts. Your climb will have a mix of stemming and a touch of crack climbing in this surprisingly varied climb.
The Velebitski
Graded 6a+ and 5.10c and is also a popular climb in Paklenica National Park.
It rises to the Anića kuk rock face and all the way up to the center of the wall. The interesting thing about this climb is that it ends on a cave-like feature on the Klin which is a renowned wedge-shaped formation.
This climb has 11 pitches and goes up to an estimated 1,100 feet.
Single-Pitches
HSV single pitch climb
Has a grade of 5a and 5.8 and is a combination of easy to moderate routes like many of its nearby pitches. It's a great warmup pitch for the experienced climbers and a good and challenging enough start for beginners. But take caution when treading.
The Kanjon Special
Is 6a and 5.10b and is an exciting climb in Klanci region. It is one of the most-used pitches so beware of the slippery characteristic of the rocks but some find this to be a lot more fun.
There is also the Flash Back which is a good 6c and 5.11b. It is great for technical climbing. There are cruxes where you will find some time to rest in between ascends and it is nearly an 80-foot climb.
Those are just some of the single pitch and multi-pitch climbs in Paklenica National Park.
You will be surprised that there are many more and all information are provided to you in the trail map that you can purchase when you enter.
Climb On Velika I Mala Paklenica Peaks
The park's main attractions are the two peaks: the great Paklenica, called Velika Paklenica by the locals, and the small Paklenica or the Mala Paklenica.
The Velika Paklenica Canyon
Which is the great peak is about 14.5 kilometers long, standing atop a watertight riverbed stretching from the spring to the town.
This peak has some very distinct canyon features being both narrow and deep.
You will also see some rocks and boulders around it, blocking the canyon so that small rapids and mini waterfalls are naturally formed.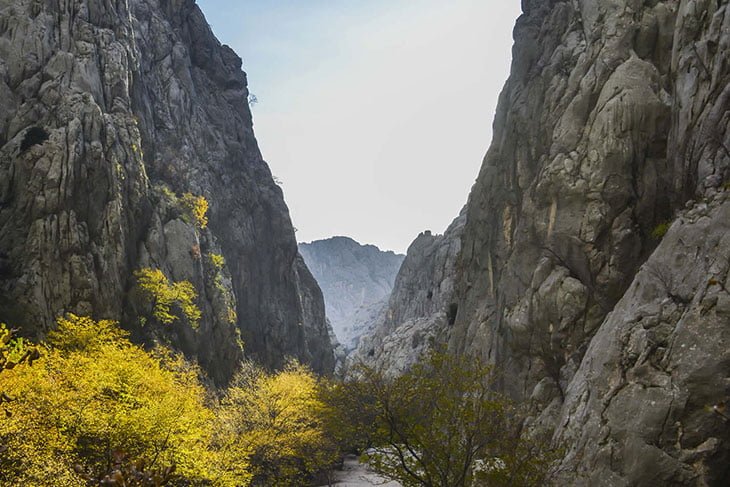 This area is considered to be of exceptional geomorphological value and there is no debate that it is the most beautiful climbing site across Europe and beyond.
The Mala Paklenica
Or the smaller peak on the other hand, is more popular for its wilderness.
You will see the evidence all around that this is a well preserved natural beauty.
Its waters are also smaller but the sights in this area is nevertheless just as stunning as in all areas of the park.
It stands atop a river that rises from Vlaski Grad as well as from other springs.
But beware that during the rainy seasons, the path is impassable when the torrent runs down the gorge.
If you follow the path downstream, you will see the two-kilometer long canyon, its cliffs reaching high up to 300 meters.
And over the years, the water that flowed from its mountaintops have dug out several magnificent caves as well as half-caves. Some of them are filled with drip water.
Paklenica National Park does not have the huge and majestic waterfalls of Plitvice but it is just as amazing to see these smaller natural wonders in such a beautiful mountain region.
Visit Mountain Hut In Paklenica
As mentioned in the above featured hiking trails, the Pakelenica Mountain Hut is one of the sights you will see at the end of your hike.
It takes two hours to walk from the Velika Paklenica Canyon to get to the hut. It is also called the mountaineers' lodge.
The hut offers about 50 beds for hikers and it also has a kitchen and dining room for those who want to spend a few hours and replenish their energy in the hut.
It is open everyday from June to September but for the rest of the year, it's only open on weekends.
You can also bring your own sleeping bag if you want to spend the night in the lodge. Staying at the Paklenica Mountain Hut is not included in the park's main entrance fee.
Manita Peć Cave
Because of the waters down the mountains' steep peaks, natural caves have formed.
The most popular of these is the Manita Pec Cave which is the only one in Paklenica National Park that is open and suitable for tours.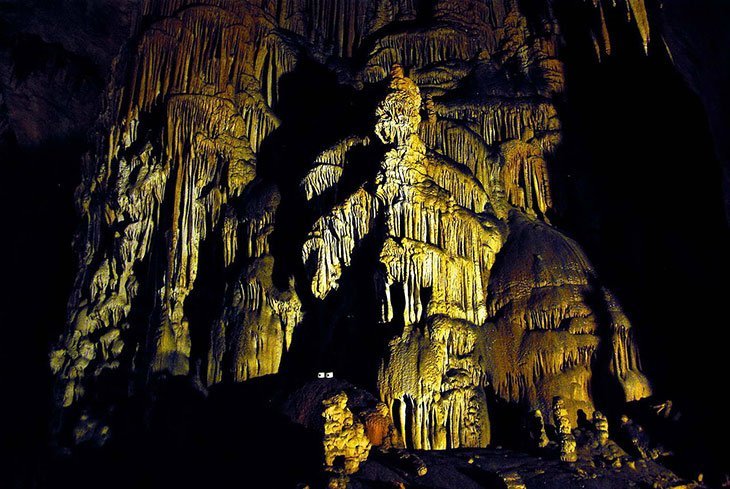 It has broad chambers and it has a unique formation inside that makes the cave an extraordinary sight to behold.
When you've taken a go at hiking some of the trails or perhaps, rock climbing, you can relax and head to the cave and just enjoy the sights.
The cave is rich in cave formations. There are the usual stalagmites, stalactites, and some rarer ones like flowstones.
It is interesting to know that some of these rock formations are named after their bizarre rock shapes like the Helmet formation, the Organ, and the Witch.
This cave is considered an underground fauna where you will discover plenty of bat species.
According to research, there are at least 52 taxa of invertebrates and 20 of those are true cave animals.
These bats would not usually survive outside the cave.
The Manita Pec Cave has been a popular exploration site for many renowned European biospeleologists.
Over the years, they have discovered many species in the cave including the pseudoscorpion and the small crab.
It takes about 30 minutes to explore the whole cave. You will be accompanied by a guide as you learn about the many secrets of this intriguing underworld.
Take note that it can get pretty cold inside the Manita Pec Cave. The temperature inside is around 9 Celsius all year round.
Be prepared and bring appropriate clothing like jackets if you plan to visit the cave even during the warm season.
You cannot tour the cave alone.
It is required that you are accompanied by an official guide for safety reasons.
The cave is open for visitors all year usually from 10am to 2pm.
Visitors who have seen the cave say that it is one of the most beautiful things they have seen in their Croatia trip.
The guides are friendly and they will entertain your questions if you have any. It's a great idea to try to learn about these rock formations as much as you can in this once in a lifetime opportunity.
The walk going to the cave will also be quite a hike so be prepared with your hiking shoes and bring plenty of water to keep hydrated.
Walking toward the cave is also a scenic experience so it is worth the effort. Some of the paths can be slippery so take caution.
If you are visiting the park with kids, it is probably not a very good idea to take them to the caves. But they will enjoy most of the other attractions inside the park.
Camping In Paklenica
The mountains in Paklenica National Park seem like a great campsite.
But be informed through this guide that camping inside the park is not allowed. If you really want to camp out before or after you visit, you can set up your tents in the vicinity of the huts and shelters.
Safety Precautions
As you may already conclude in the attractions featured inside Paklenica National Park in this guide, this place is truly for the adventurous souls.
You can do a lot of heavy outdoor activities in here and some of them are only for the highly experienced athletes.
Take note of these safety precautions when exploring Paklenica National Park.
If you ever get in any trouble while you are inside, wherever you are and whatever activity you are engaging in, you can always dial 112 for emergency. But it's best to just avoid that from happening.
Wear appropriate clothing and footwear specifically for hiking.
It is best to go light so choose lightweight clothing and fabric that does not absorb moisture to repel sweat from all the walking and the sun's heat.
Hiking shoes are a must
Hiking shoes are a must or at least a pair of very comfortable and at the same time, durable walking shoes.
If you are planning to go under the cave, make sure to bring your jacket because it is cold inside the cave all throughout the year.
Check the weather forecast before and during the day of your visit so you can prepare and bring necessary accessories for the day ahead. If it looks like it's going to rain, best be prepared with a rain poncho or raincoat.
This way, you can still walk on some of the paths without getting yourself drenched.
Be equipped with a reliable map of the park and the trails. You can either get the official map from the entrance which highlights the different trails and routes in the park.
Or you can rely on your preferred mobile application for directions and routes. If you are going to hike alone, inform your group, friends, or family of your hiking route and stick to it.
It is highly recommended that you stick only to the marked trails even if you are an experienced hiker.
Bring plenty of water to keep hydrated.
You may also want to bring and apply some sunscreen all over your exposed skin before you hike.
The sun can get oppressive especially during the summer so it's best to be protected. Another good thing to apply is a mosquito repellent.
The park is not known to have deadly mosquitoes but it's still better to avoid bites that could cause itching and scars.
Finally, keep in mind that this park is a protected area and what that means is that the people who are in charge of taking care of the park are doing their best to preserve its natural beauty.
So, please respect that and try not to do anything to intentionally cause damage to the park.
Getting to Paklenica National Park
Paklenica National Park is the mountainous region located in the Zadar Starigrad area.
You can easily access it by road which is a 40-minute drive from Zadar.
You can also include Paklenica National Park in your day tour from other nearby cities.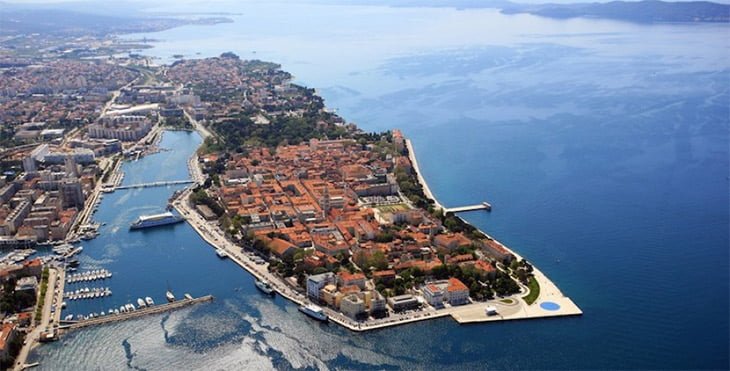 The two nearest cities to Paklenica National Park are Zagreb and Split.
If you are coming directly from Starigrad Paklenica, riding a bus is your only option.
Everything you might need is just walking-distance from the park like restaurants and shops.
There is also a post office and a bank nearby.
Getting to Paklenica By Car
The entrance of the Paklenica National Park is about 1 kilometer away from the main coastal road.
You will already see many signs leading to the park as you drive along. Once you reach the entrance and pay the entrance fee, you can drive a little more to save some walking.
The fastest way to get to Paklenica National Park from Zagreb is to follow the road that leads to Split highway.
You should exit from the highway at Maslenica junction then take the road going to Rijeka that goes on for about 15 kilometers more.
From Rijeka, take the Jadranska Magistrala road going to the national road D8. Another option is to follow Rijeka A6 to Maslenica A1 highway.
And from Split, you can take Split Dugopolje A1 leading the same way to Maslenica A1 highway.
Getting to Paklenica By Bus
Another way to reach Paklenica National Park is by riding a bus.
In fact, if you are coming from Starigrad, it is the only way to reach the park. Ride the bus from the main station and it will stop at the coastal road.
From there, you have to go by foot, about 1.3 kilometers to the entrance where you can buy your ticket to the park.
There are also buses coming from Zadar and Rijeka.
It's best to choose buses that are coming from Zadar and ending in Starigrad Paklenica so you will not miss your stop. Other buses that come from other cities are often delayed especially in the summer.
The bus terminal in Zadar connects to many cities not just in Croatia but also in major European cities.
It is a 55-minute drive from Zadar to Paklenica National Park.
Getting from Zadar Airport to Paklenica
The Zadar Airport Zemunik has many connections to all major Croatian cities as well as other European cities.
If you are flying directly to Zadar, it will be a 30-minute drive to Paklenica National Park.
Ticket Prices For Paklenica National Park
There are different types of entrance tickets to Paklenica National Park.
They vary on the duration of your visit as well as the activities that you would like to do inside the park.
They also differ per season.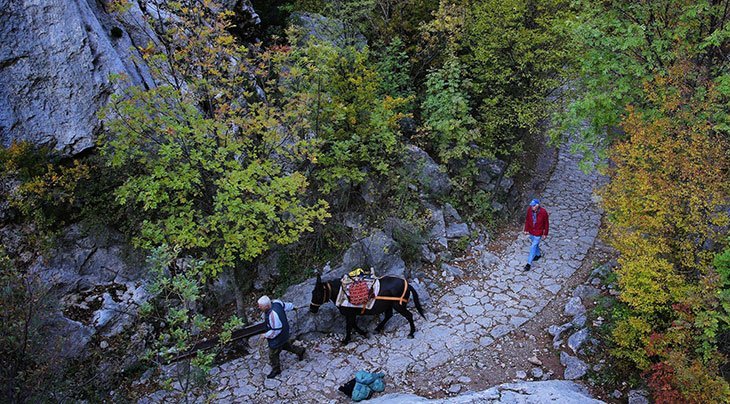 From January to April and October to December
The basic entrance fee for adults is 40 kn which is valid for one day.
Youth or children from 7 to 18 years old as well as students pay a discounted rate of 20 kn.
Students must present a valid ID card.
3-day entrance ticket which includes a climbing permit
It costs 80 kn for adults. Youth or children from 7 to 18 years old as well as students pay a discounted rate of 40 kn.
Students must present a valid ID card.
Five day entrance ticket price
There is also a 5-day entrance ticket to the park inclusive of the climbing permit.
It costs 120 kn for adults.
Youth or children from 7 to 18 years old as well as students pay a discounted rate of 60 kn.
Students must present a valid ID card.
Entrance fee to Manita Pec Cave
Entrance to the Manita Pec Cave is purchased separately. It costs 20kn for adults.
Youth or children from 7 to 18 years old as well as students pay a discounted rate of 10kn.
Students must present a valid ID card.
Ticket Prices In Peak Season: From May to September
The basic entrance fee for adults is 50kn which is valid for one day.
Youth or children from 7 to 18 years old as well as students pay a discounted rate of 30kn. Students must present a valid ID card.
Three day entrance ticket with climbing permit
You can also buy a 3-day entrance ticket which includes a climbing permit.
It costs 100kn for adults. Youth or children from 7 to 18 years old as well as students pay a discounted rate of 60kn. Students must present a valid ID card.
Five day entrance ticket with climbing permit
There is also a 5-day entrance ticket to the park inclusive of the climbing permit.
It costs 150kn for adults.
Youth or children from 7 to 18 years old as well as students pay a discounted rate of 90kn. Students must present a valid ID card.
Cave's entrance fee is the same.
Check Other Croatia National Parks
Check Nearby Holiday Destination