The little city of Trogir should be part of every Croatian itinerary. It is an often-overlooked gem that is just a stone's throw away from the Split Airport.
Originally called as "Trau" by the Venetians, this quaint island is fortified by medieval walls and is linked by bridges to the mainland.
In short, Trogir Croatia is a city that is built straight out of the fairy tales.
Here you can find a rich culture set against a historic backdrop.
What's great about this city is that it can take you hundreds of years back as you walk around its streets.
Packed with scenic views and traditional charm, this should little island is an ideal place for leisure and learning.
Not to mention, being a seaside city means that you'll have access to the best beaches in Croatia that overlooks the Adriatic sea.
The city itself is included in the UNESCO list of World Heritage sites.
With all of its Venetian architecture and plentiful works of art, this should be part of every traveler's agenda when visiting Croatia.
With Roman-Gothic complexes, medieval remembrances, churches, castles, and towers, there is always plenty of things to see, explore, and experience in this city.
Go on and take a walk with us through some of its notable places and best beaches.
Best Things To Do In Trogir Croatia
Trogir Cathedral Of St. Lawrence (St. Lovre)
Built right at the birth of Early Christian cathedral, this St. Lawrence Cathedral or simply known as the Trogir Cathedral is a triple-naved basilica of worship.
St. Lawrence Cathedral is a great example of archaic architecture and construction, with its interior arcade physically elongated and separated into two Gothic-ribbed aisles.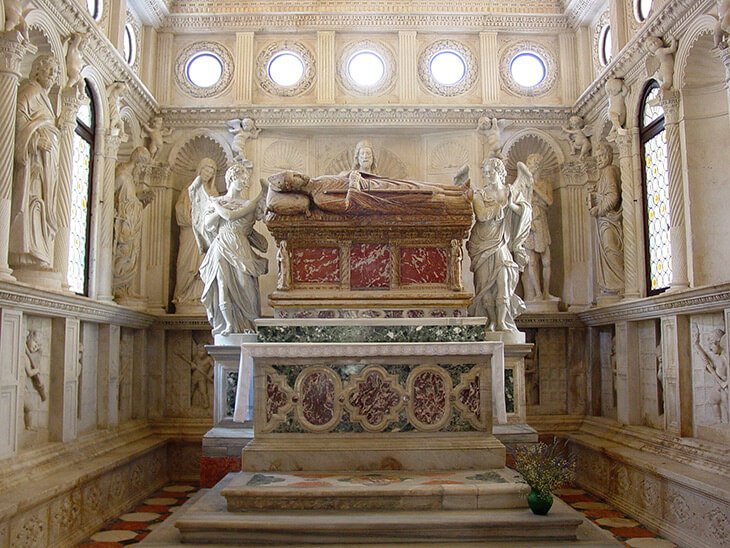 Although it took several centuries for this now proud edifice to stand, it was certainly worth the wait.
It towers over the town, with its cross vaults and display of earlier terraces.
A lot of people visit Trogir Croatia just to marvel at this beautiful building.
As an important example of the different influences that had, at one point or another, governed the beautiful city of Trogir Croatia, the church stands proud despite being handed down from one architect to the next.
For some reason, all the works of these masters just complemented each other, and the result is this beautiful cathedral that we can visit today.
Allow us to illustrate this for you–the work for the bell tower began in the 14th century but was only finished in the latter end of the 16 century.
The floors, on the other hand, had been originally in Gothic style but was eventually demolished by the Venetians.
It was later on restored. Of course, don't just let us walk you through the grandeur that is the Trogir Cathedral – make sure that it is part of your itinerary as well when you visit Trogir Croatia.
Kamerlengo Tower
Serving as both a tower and a fortress, the Kamerlengo was built under the initiation of the Republic of Venice.
It now stands at a preserved site in the city of Trogir Croatia.
This architectural building was built in the 15th century by Marin Radoj as a part of the Veriga Tower.
The surrounding space itself is vast and peaceful. This is a great place for walking around and taking photos.
The walls and the tower itself is mostly made out of limestone, making it almost impenetrable by forces that it had once protected the city against.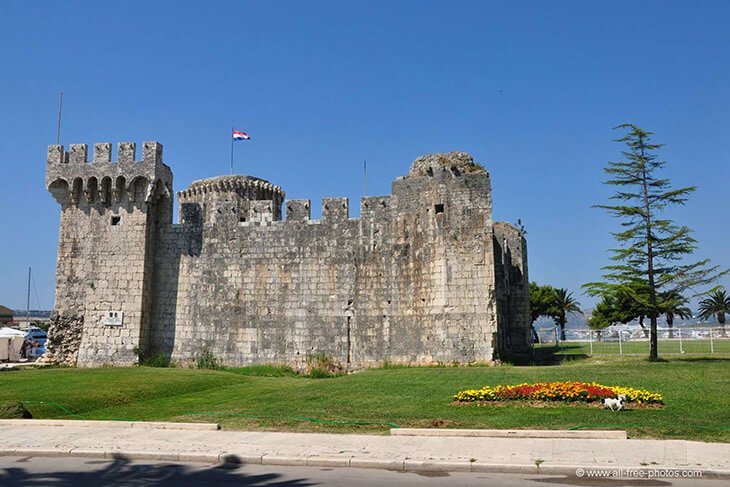 If you're curious as to what the Kamerlengo stands for, the explanation is simple: it comes from the word camerlengo which refers to a particular title of a Venetian administration officer.
These days, this castle is now used as a place for cultural shows and concerts.
If you want to experience the grandeur, be sure to drop by the site and take in its vast expanse.
Who knows – you might even be able to catch a concert while you're there.
Cipiko Palace
Another castle that you should include in your itinerary is the Cipiko Palace.
It was said that in 1457, a local nobleman who lives in Trogir had built his summer residence as a fortress to keep him and his family safe.
The building was built with an inclined ground-floor wall and a connecting labyrinth that would allow his laborers to enter.
You can find this building right across the Trogir Cathedral.
Of course, if you come at the right time, you might catch this place without so many tourists taking pictures near its walls.
To give you an idea of what the grand facade looks like, just imagine this: it is a large palace where you can find artwork at the front, and with the doors quarried by Ivan Duknic.
At its south, the portal here was created by Niccolo Florentino.
Inside, you will be able to find a small courtyard that leads to an external stairwell.
There is also the Cipiko's family library inside.
Although most of the parts of this palace are not open to the public, you can still enjoy its intricate design from the spaces that they allow you in.
It also hosts Folk music for Trogir as well as a school for music.
Trogir City Loggia
Loggia, which roughly translates to the porch, is a resting area just at the main square of the city.
This open structure is recognizably Renaissance in design as well as in built.
A long time ago, this had been considered as public property, one where people would use to rest. Sometimes, it even worked as a courtroom if the halls are filled.
However, building on this original purpose, the City Loggia was eventually used for a meeting ground where negotiations were carried out. It became a marketplace for people to trade goods and services as well.
Another use for it in ancient times was for announcements.
Around the vicinity are emblems of noble families in Trogir.
The duke would use this space to make announcements or speak to the people.
But that's not all, of course, because this also doubled as a prison or rather a temporary holding space for petty criminals at that time.
Now here's the rub: only mens were allowed to enter this space before. The womenfolk were not allowed to enter the Loggia.
Eventually, this ban was lifted alongside any symbols that pertained to the Venetians – the city had reclaimed its power.
Does this rich history of City Loggia excite you?
If it does, then go ahead and list this down as one of the places you need to see when in the area.
Trogir City Museum In Garagnin Palace
Considered as the pearl of the city of Trogir Croatia, the Trogir City Museum can be found in the palace of Garagnin – Fanfogna.
It is important to note that this is not just one building, but a part of a cluster of palaces and houses that are owned by the Garagnin – Fanfogna.
The building itself is a mesh of both Roman and Baroque style, making it a famous tourist place of the city.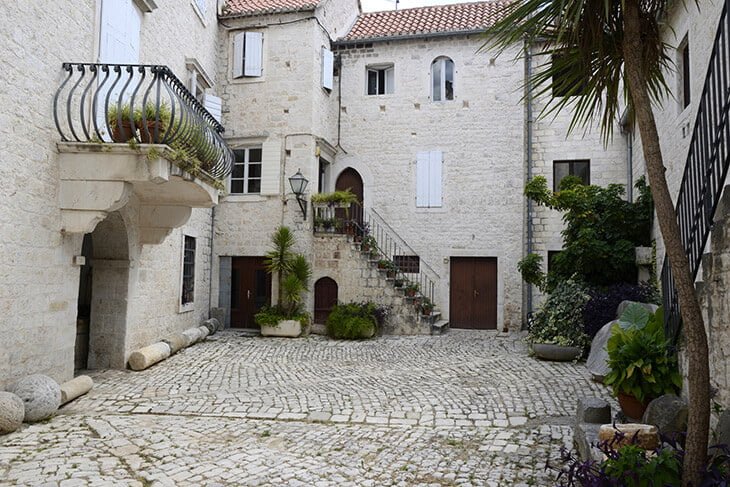 The museum was opened in about 1966 to house prehistoric and other relevant finds about the city.
However, what's more interesting are the items that you can find inside this museum.
Here you can explore all the collection of shows from towns all over the city.
This covers themes that are political, cultural, and even artistic.
The collections are vast covering items from the foundation of the city all the way to the 20th century.
Some of the things that you can expect to see here are the first printed city Statute dating back from 1708 as well as the city seal rings.
The original copy of the minutes of Council City sessions from a long time ago can also be found in this hall.
St. Dominic Church
Out of the many buildings and monuments that you can find around the city of Trogir Croatia, the Church of St. Dominic is probably one of the most important.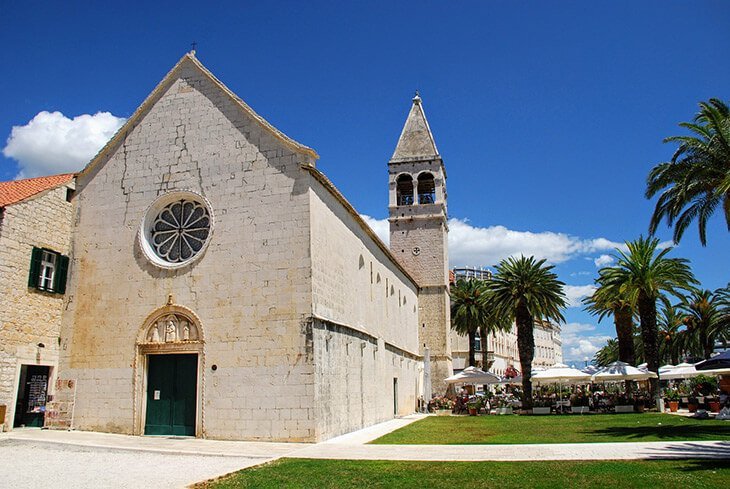 Dating back from the 14th to the 15th century, this church was built by the Dominicans in worship to St. Dominic.
You can find this right at the waterfront, overlooking the Adriatic sea.
However, in 1944, the church and the monastery were bombed and eventually renovated.
Through the years, there has been plenty of construction and renovation that this place has seen – yet what is impressive is how it has managed to retain its traditional facade and awe-inspiring architecture.
Despite the number of renovations that this structure has endured, the art inside it has remained intact.
Not to mentions, it is a good thing that the original description of the interior of the place remain as well.
This was initiated and written by Cardinal Agostino Valier.
There are various tombs found inside the monastery as well, including those of Simun and Ivan Sobota. These are some of the city's popular and most influential humanists during the 15th century.
Arts and some religious relics can be found in this church as well.
Trogir Beaches
Pantana
The Pantan river flows directly to its delta in Pantana beach.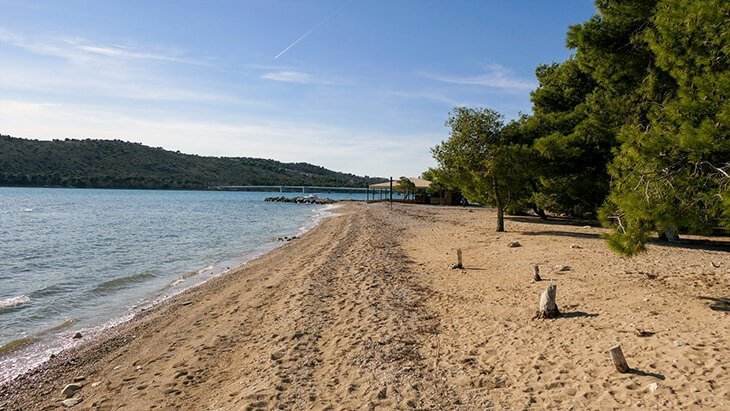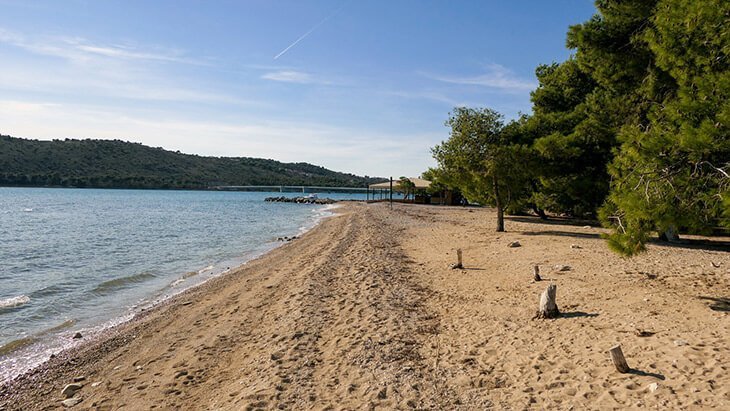 You can find this beautiful beach just a few stones' throw away from Trogir Croatia.
Stretching over half a kilometer long, a lot of tourists visit the place for its sandy beaches with some pebbles here and there.
If you are traveling with your family, your children will be sure to enjoy the amusements that can be found on Pantana beach.
On one side, the road is lined with strikingly tall pine trees that extend into a forest.
This can serve as a good shade and hangout spot during the harsh heat of the summer season.
If you're looking to enjoy this place on a happy hour, you can easily do so as well.
One of its more popular bars is called the Mosquito.
Be sure to check it out when you visit the place, you'll be pleasantly surprised at the options they will have available for you.
So how does one get to Pantana beach, exactly?
It's easy: all you have to do is to take the number 37 bus from the station and it should get you there in just a few minutes.
Some activities that you can do in this area is to play beach sports like volleyball, tennis, and badminton.
Medena beach
A pebble beach just near the city center of Trogir Croatia, you can enjoy the rest and relaxation of over 3 km of Medena Beach.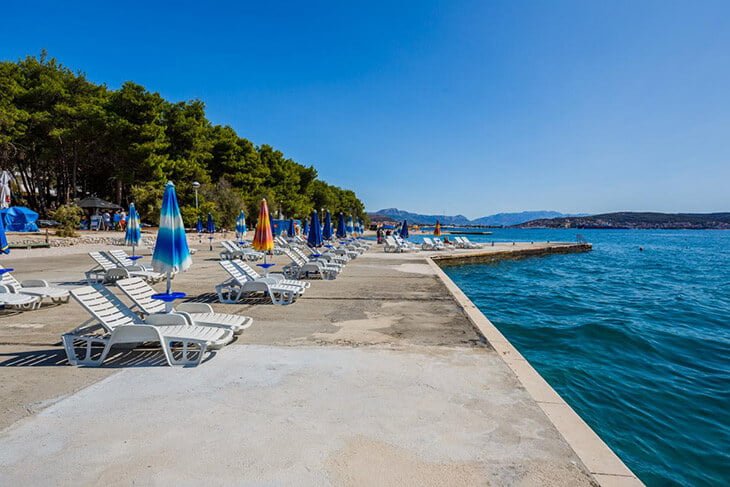 You can find this in Seget Donji, just a short drive or walk from the city center.
Here you and your companions would be able to enjoy various sports activities such as water skiing, playing tennis, or basketball, or even taking exciting rounds up and down the water slide.
It is no wonder that this beach is considered as the top destination for families traveling in Trogir Croatia.
Of course, this means that this pebbly beach can get quite crowded during the peak of summer, so make sure to plan accordingly.
As for the parents, you can enjoy a sip of your favorite cocktail drinks at the bar near the beach.
Refreshments are available for everyone too – perfect for beating the heat of Croatian sun.
Okrug Gornji Beach
This is probably the largest and most popular beach in the area.
Here at Okrug Gornji, you can find several beach coves for you and your family to spend time in.
The Okrug Gornji beach itself is mostly made out of sand, making it an easy place to lie in and walk around in.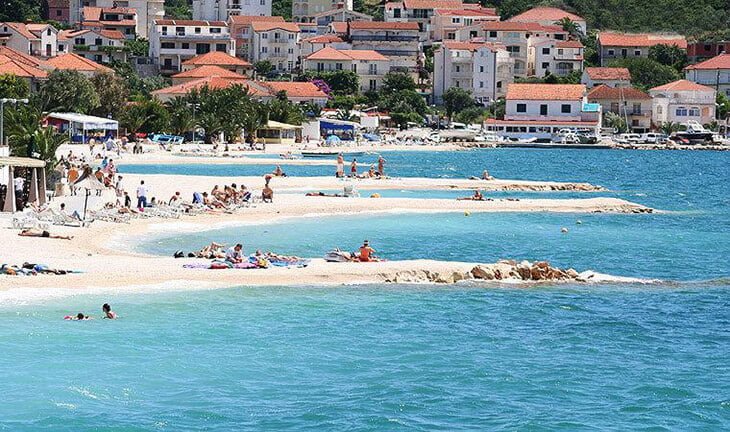 If you're looking for activities, you can enjoy water sports such as parasailing, jet-skiing, and even windsurfing – it is an adrenaline-lovers paradise.
Of course, if you are the laidback type who simply wants to lounge on the beach as you take in the Adriatic breeze, then this is just as good as any other place.
Just a fair warning: this is a pretty commercialized area.
If you are the type to enjoy your peace and quiet, then this may not be the best option for you.
However, if you do choose to visit this place at an off season, then this would be best for you.
Getting To Okrug Gornji Beach From Trogir
It's simple – all you have to do is to take a trip for around 30 minutes and then you will arrive at your destination.
You can choose to take a bus or rent a car for the day – it's all up to you.
Copacabana Beach – Trogir Croatia
Another beautiful beach at Okrug Gornji is the Copacabana beach.
It is a place that attracts thousands of tourists every year, especially the Copacabana beach.
After all, the locals refer to it as a "beating heart."
It is the soul of the place and it is always bustling with energy and people, perfect for those who want to party and to expand their social life while out in Trogir beaches.
However, more than the events that happen here, The Copacabana beach is also a beautiful expanse that is more sandy than it is pebbly.
This is perfect for those who want to socialize as they soak in the sun.
If this sounds like you, then be sure to drop by the area when you visit Trogir Croatia.
Rožac Beach
Another great beach destination is Rožac beach, just at the outskirts of Trogir Croatia.
Here you will be able to find unique natural landscapes, beautiful beach sides, and plenty of cultural monuments.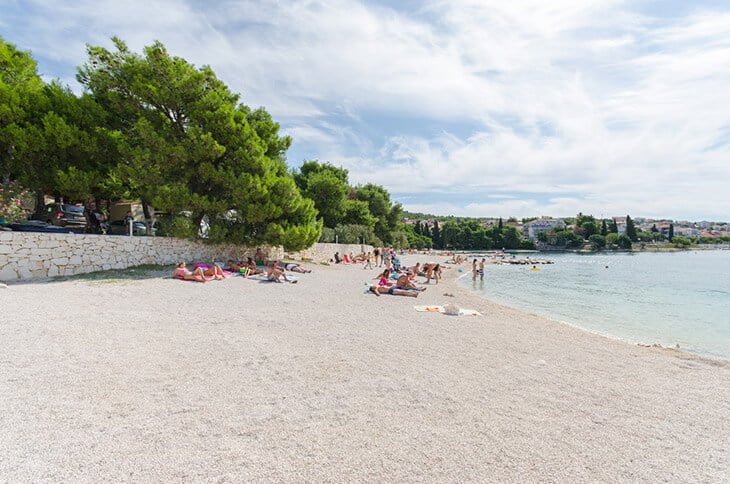 You can also set up camp in the area as well.
Its main focus is offering a natural reserve where visitors can set up camp and rough it out outdoors.
If this sounds like something that you'd be able to enjoy, then be sure to swing by this beach near the city of Trogir.
Trogir Accommodation
By now, you may already have a pretty good idea as to what you can expect in the UNESCO-protected city of Trogir.
It is a quaint little city that is rich in history as well as in natural resources – two things that draw the crowd.
Of course, with bustling tourism, this easily translates to a plethora of options for your accommodation as well.
Despite the town not having any 5-star hotel options, you can still enjoy the amenities of most hotels at a more reasonable price.
If you want our recommendation, then be sure to check out the following authentic Trogir hotels.
Luxury Accommodation In Trogir
Just at the waterfront of this quaint little city, you might come across the Brown Beach House.
Ultimately, this is no 5-star accommodation, but it sure comes close to being one.
Here you will be able to enjoy lounging around in its chic and chill vibe, complete with a pool that has a sea view as well as a library.
At the back, you can see a clear view of the old town as well.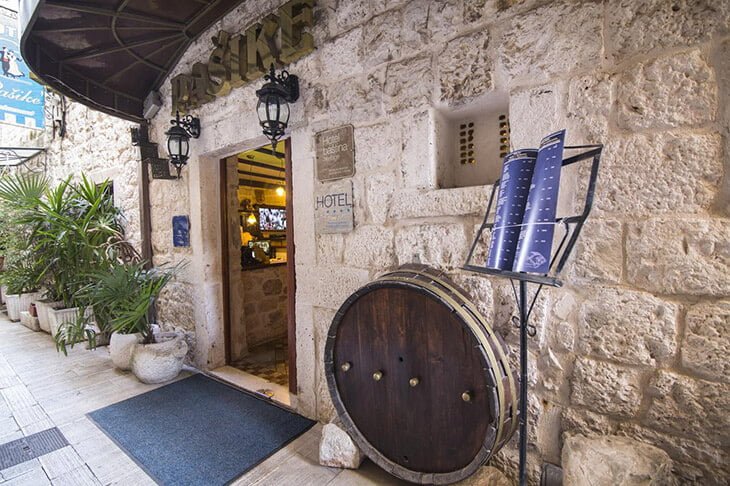 Another choice might also be the Hotel Pašike.
It is run by a family and it has antique furnishings that take you back to centuries back.
For a more traditional experience, this is the place to book.
Mid-range Accommodation
Just as there are no 5-star hotels in Trogir Croatia, there are no budget hotels in the area as well.
The closest thing that you can enjoy so you can save your money is to book yourself in a mid-range hotel.
One such option is the Aparthotel Bellevue.
We love it here because it is pristine, almost spotless.
The service is very commendable as well and we regularly book this whenever we visit Trogir Croatia.
There is also Hotel Tragos for those of you who want to experience traditional accommodation for a lesser price.
This is an 18th-century baroque house that has been turned into the hotel.
What we love about this is just how near it is to the town center.
We can simply go down and go straight to bars and restaurants.
Oh, and did we mention just how beautiful the terrace in the restaurant is?
The view from there is breathtaking, allowing you to see the city in its entirety.
Trogir Restaurants
As expected, most of Trogir restaurants is heavily based on the Mediterranean way of cooking.
Adding the fact that this is a city completely surrounded by water, you will enjoy plenty of seafood here.
There's also the famous Dalmatian ham served in most of the restaurants here.
Can't wait to dig in and sink your teeth into this gastronomical experience from Trogir?
Check out some of the city's best restaurants while you are there.
Don Dino Restaurant
Right next to the Church of Our Lady of Carmel, you can find a small and unassuming restaurant that a lot of locals frequent. The Don Dino restaurant, despite much pressure, has retained the tastes of purely Mediterranean cuisine.
Despite being small, the price here can still be quite steep.
However, just for the long menu on seafood itself, we say that this is a restaurant that is worth trying out.
Not to mention, the view from its terrace alone is a big selling point of the place too.
Restaurant Riva
If you walk to the left of the town gate, you will be met with this traditionally designed pizzeria, right near the promenade.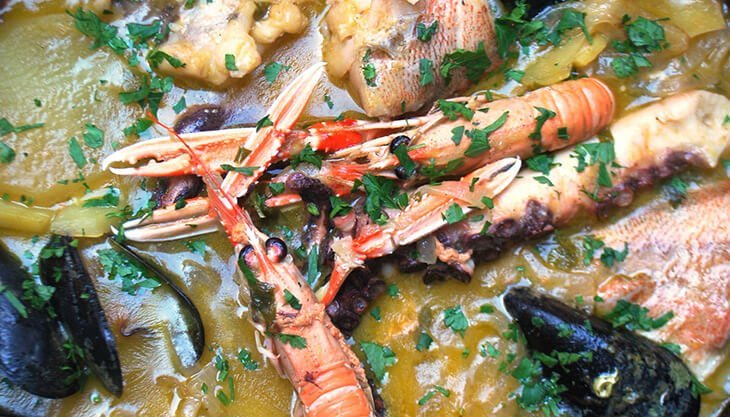 Looking at the menu, you will be greeted with a myriad of options from pizzas to carpaccios, to homemade pasta, and even hamburgers. Of course, dishes focused on seafood are served here as well.
Restaurant Tragos
Moving away from the restaurants lining the seaport, we go to a place that is just right at the heart of Trogir Croatia.
Tragos may be quite difficult to find, but it sure makes up for its taste and its quaint setup.
Its design is still pretty traditional, even the seating.
The whole place is encompassed with huge slabs of stones that make you feel like you are once again inside a fortress – it's pretty exciting and offers a different experience.
Getting To Trogir Croatia
By plane
One of the advantages of Trogir is that it is located very near to the Split airport.
With just 5 kilometer distance, you can easily reach this picturesque destination by bus or private car.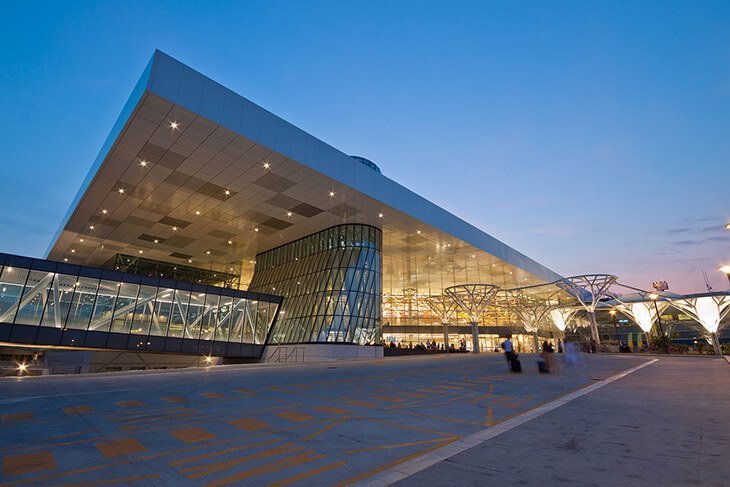 Not to mention, Split airport itself receives and sends out plenty of flights to and from its port.
If you're looking for a cheaper option, however, you might book your flight through the Zadar airport.
Compared to the Split airport, this is a whopping 130 km away from the city.
At the farther end, you can also fly in through the Dubrovnik airport.
This time, it will set you back a total of 240 km away from your destination.
Rent A Car or Bus
If you decide to take on the land option, you can choose to travel either by car or by bus.
If you're driving, just be sure to review certain driving laws that might apply that is particular to the place.
For example, the speed limit in populated areas should be kept to 59 km/h.
As for the bus, make sure to check in the schedule ahead so as not to wait at the station for too long.
By boat
Getting to Trogir through the Trogir Rivera is also possible by ferry.
You can take these ferries from Italy and they should be able to get you to right where you need to be.
Check other holiday destinations in Dalmatia: