With lesser crowds and even lesser contemporary architecture to see, Pula Croatia is a treasure trove for every history and culture enthusiast.
It may not be famous for its beaches, but compared to its Croatian coastal neighbors, it offers a completely different experience to its visitors: history and culture.
You will see this just right at the most southern tip of Istria's peninsula, near the Italian border.
As the capital of the county, Pula Croatia had served as the administrative center of Istria during the ancient Roman times.
This quiet yet vast city has laid witness to a rich Roman history that still echoes in the city's streetscapes and architecture even today.
Here you will find almost intact Roman architecture, arches, monuments; you might find yourself re-living a time where gladiators and soldiers walked the place.
You can visit the famous Pula Arena, one of the best-preserved Roman amphitheaters.
Aside from the reminders of Roman rule, Pula Croatia also has a long and well-tended tradition of winemaking, fishing, and boat building.
As home to rich culture, delectable cuisine, a great view of the Adriatic Sea, and the most intact and functioning Roman colosseum in the world – Pula should be part of every traveler's itinerary.
Explore what else you can see and experience in this Croatian destination.
Top Things To Do in Pula Croatia
Pula Arena Amphitheatre
During the later period of the Roman empire, Pula Croatia played a major role in becoming the administrative center of Istria.
To this day, you will find architectural legacies and reminders of this time.
Aside from the gates that fortify the city even to this day, one of the most potent reminders of this period is what the locals call The Pula Arena.
It is a great amphitheater that you will see right in the center of the city.
This was constructed in about 27 BC and 68 AD under the orders of Emperor Vespasian.
What's interesting about this is that it is the only amphitheater in the world that is walled inside a perfect circle, thus making it one of Croatia's architectural gems.
In fact, this structure holds such historical value that the government even considered dismantling it and relocating its pieces to Italy.
While it was originally built for Roman entertainment, this Pula Arena considered as one of the best-preserved amphitheaters in the world – is still being used today.
Its limestones may have been polished for gladiatorial events for more than 20,000 spectators in the past, but now it serves its purpose as a venue for sports, outdoor film-viewing, food markets, and other events hosted by the city's citizens.
The Arch of Sergii – Golden Gate
The Arch of Sergii, also known as the Golden Gate, was erected in 29 to 27 BC as a commemorative and triumphal piece to the three members of the Sergii family, a well-known family who served as powerful officials in the Roman colony.
In particular, this arch is dedicated to Lucius Lepidus who served in the Battle of Actium.
Upon closer inspection, you will see an inscription that proclaims Salvia Postuma Sergia paid for the creation of this arch.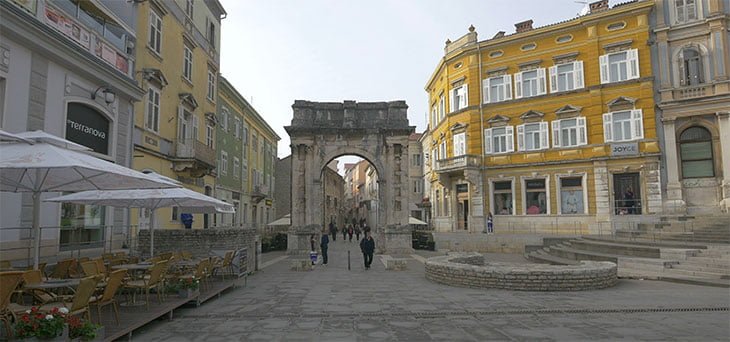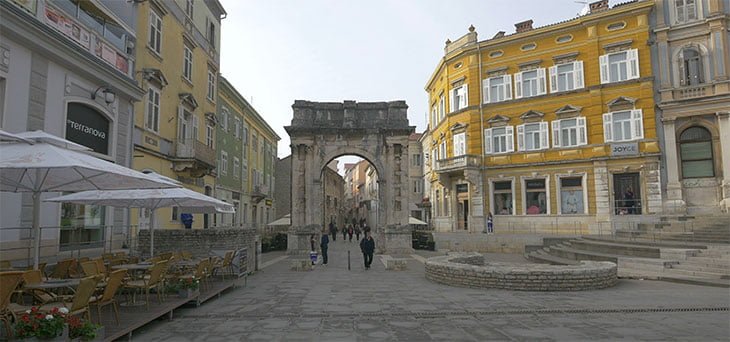 Why do the locals refer to it as the Golden Gate? This might have to do with the rich ornaments and gilded elements you can see in the arch.
Before the city's expansion, this striking arch right was leaned against the gate, Porta Aurea.
The Arch was constructed with Corinthian columns and decorated in Hellenistic and Asian influences.
When you examine this arch from all sides, you might notice that the eastern side is not as fancifully carved like the other sides because it is not visibly seen anyway.
Meanwhile, the more visible western side is adorned with cravings and elements for the town to see, and for tourists to marvel at. Even Michelangelo was known to be struck in awe when he witnessed this arched grandeur.
Temple of Augustus
Another equally important structure in Pula Croatia is the Temple of Augustus, dedicated to the first Roman emperor himself.
It is believed that this structure was built during the emperor's lifetime in honor of his rule and power.
What was originally a triad of temples, the Temple of Augustus once stood proud to the left of its architectural brothers.
Opposite to it is a temple in honor of the goddess Diana.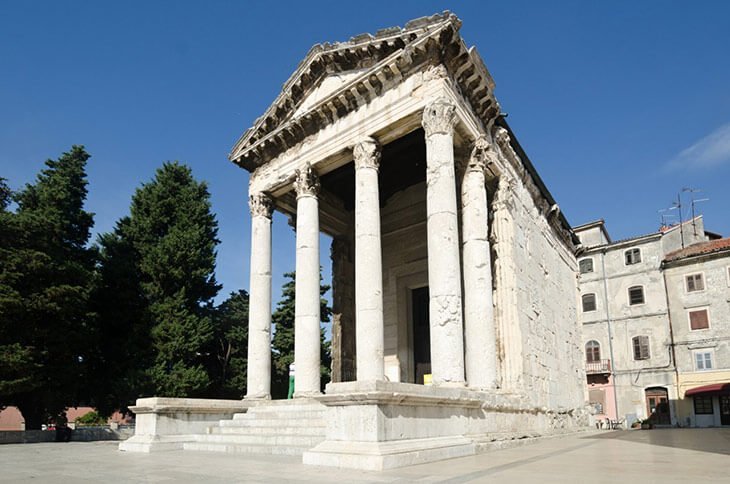 When you visit, you might notice that the larger temple (the one in the middle) had not survived throughout the years, but Diana's and Augustus' temples are still visible to this day.
Of course, the history here is palpable, as it once served as a sacrificial venue for the Persecution of pagans during the Roman empire.
However, as the land fell to Byzantine rule, the space was eventually converted into a church and then later as a granary.
Following its rich timeline, the temples were struck by a bomb in 1944, completely taking apart its structures.
This was reconstructed in 1947 and now hosts a display of Roman sculptures.
Aquarium In Pula
Now we move on to an attraction that both children and adults love: the Pula Aquarium.
This is a brilliant show of Croatia's (and Pula's) most striking aquatic life. However, true to the theme of the entire city, this aquarium is also hosted in a place of rich cultural and historical meaning.
As soon as you enter, you will notice that the aquatic show is in a cultural heritage building. In particular, you can find it in an Austro-Hungarian fort called the Verudela, which was built in 1886.
With some adjustments and minor constructions, the aquarium was eventually transferred here, and it is now enjoying a space of over 1500 m2, set against a vast backdrop of 5000 m2 external area.
What we find particularly impressive about this aquarium is that it manages to encompass two of Pula's main goals" to celebrate its rich history and to protect and share information about its wildlife.
This integration of goals makes the Aquarium in Pula Croatia a famous stop-over for tourists and locals alike.
St Francis' Monastery & Church
As you walk up the slope from the upper circular street, you will see in the vicinity a monastic complex that is dedicated to St. Francis of Assisi.
What stood here long ago was a pagan place of worship, but it was eventually torn down in the 14th century to give way for the monastery.
This building was a way for the Franciscan community to house their place of worship.
When they settled in the city in the 13th century, they barely wasted any time in building this church.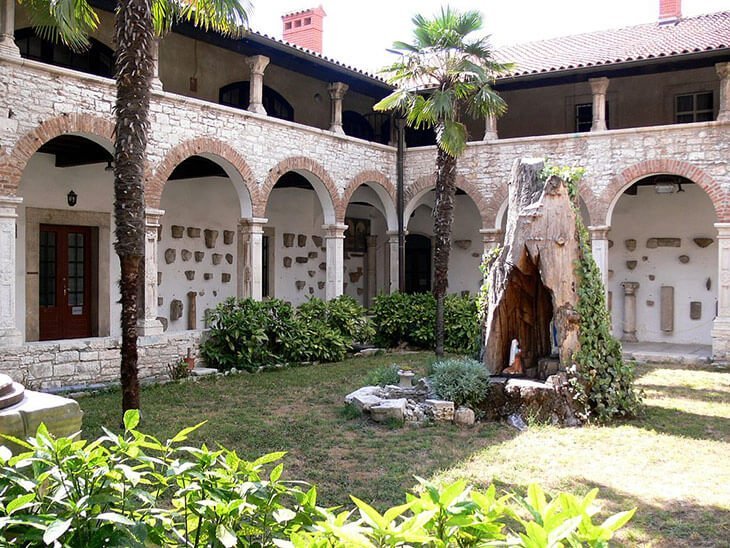 In 1314, they started the construction of this Romanesque style place adorned by Gothic ornaments.
At the time, they considered this as a humble and structurally sound building for workship and for preaching the Franciscan faith.
Upon closer inspection, you will notice the skillfulness and mastery of the workers who took part in the construction.
If you're looking for a place to marvel at more architecture, then this is a worthwhile stop for you.
Not to mention, the courtyard itself is the epitome of peace and meditative silence.
Zerostrasse
By now we have established the rich history that the city of Pula Croatia lays witness to.
This is further strengthened by the fact that underground tunnels stretch under its entirety.
These tunnels were built during the 1st World War as a way to protect the citizens and tend to the sick and injured.
We know these tunnels now as Zerostrasse.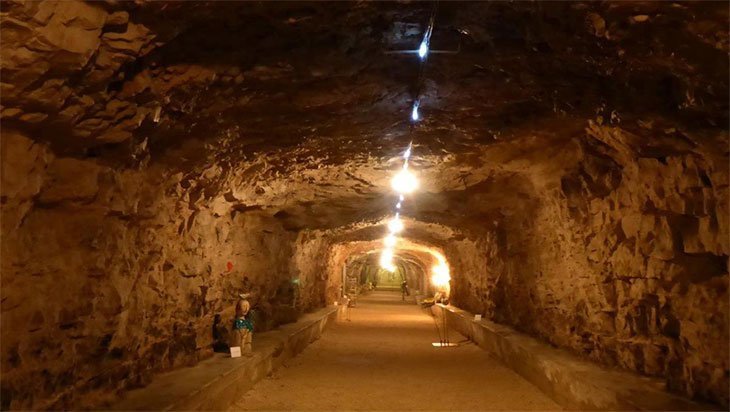 Once you enter the trenches and its galleries, you'll be taken back to a time that had once made these tunnels necessary.
There are spaces dedicated simply for ammunition, some for shelter, and others for nursing the sick.
This network of tunnels was dug from each hill in the city, and they eventually extended towards each other, making it a complex fortress that also served as the people's sanctuary.
Right at the center is a room where all the tunnels converge.
This had housed thousands of residents in Pula, and it still remains an architectural marvel.
What's impressive is that this labyrinth has somehow held to its structures and is usable even to this day.
You can attend social events here, galleries, and even parties hosted by the locals.
Contemporary Art Museum
One of the places that you shouldn't pass up on when visiting Pula Croatia is the Museum of Contemporary Art of Istria.
Here you will be able to find a vast collection of art created by artists from the second half of the century to the present day.
This space advocates multiculturalism and serves as space for all Istrian artists to meet and collaborate with each other.
You will find this artist's haven in a former printing shop.
If you're lucky, you can visit this place just as an exhibition is being presented.
Just note that there have been some plans for relocating this space.
Be that as it may, we hope that they will consider retaining their flexible structure that they break down into categories of art: designs & posters, photography, film, and foreign and contemporary art.
Despite the last structure focusing on foreign works, the Istria Museum of Contemporary Art still focuses on highlighting Istrian artists.
If that interests you, then feel free to visit them from 11 in the morning to around 7 or 9 at night.
Historical & Maritime Museum
Right at the highest hill in the city of Pula Croatia, you can find an adapted Venetian fortification that is now home to the Historical and Maritime Museum of Istria.
This star-shaped fortress was originally built by the Venetians to serve as the city's defenses in 1630.
Today, it is a place where cultural and natural heritage is hosted.
You can view exhibitions, plays, and marvel at the ruins of a small ancient Roman theater in this area.
The view alone is breathtaking, but the museum itself offers several fields of studies that are housed under different departments.
You can ask about the history of the city here, its medieval history, or focus on its modern history – it's up to you.
Collections of old items are aplenty here too.
There you can find collections of coats of arms, maps, uniforms and military ammunition, postcards, and so much more.
It is like a cultural hodgepodge of everything and anything that had once held historical value.
As a heads-up, this museum has an entrance fee. As of writing, the entrance for adults is about 20 Kuna and 10 Kuna for students.
Just make sure to check in ahead for the updated price for museum entry.
Fort Punta Christo
And now we move on to the fortress that had once served as defense quarters for Pula Croatia in the 19th century.
Said fortress was built by the Astro-Hungarian Monarchy as a way to defend the city.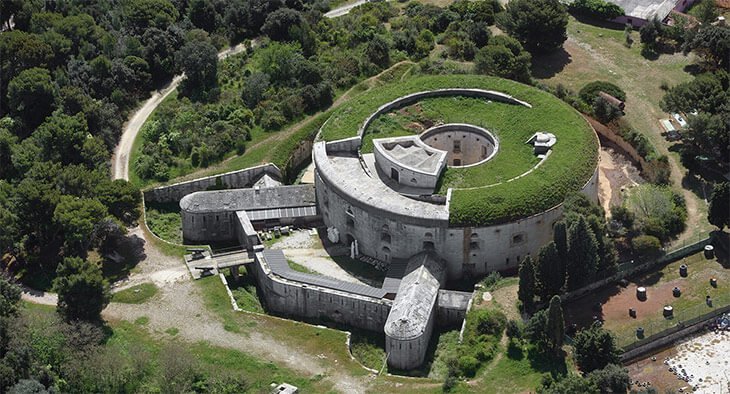 They needed Pula Croatia at the time because it served as their main naval point for battle.
Now, this park has been reserved and is open to tourists and locals. While some go there for the remains of the architecture, we recommend going there for the view as well.
You can find this breathtaking place just 45 meters above sea level, but the Fort Punta Cristo can give you an uninterrupted view of the Bay of Pula.
On all sides, you will see the fort surrounded by a deep ditch, with three entrances that lead up to the first.
Entering the fortress, you will be met with three courtyards, all of which can serve as the entrance to the underground areas of the fortress.
Inside are over 270 spaces, stretching over a vast area of up to 10,000 m2.
It is an impressive and relevant structure (not to mention, complete with a breathtaking view) that everyone should dedicate time to visit.
Venetian Fortress – Fort Kaštel
As the last stop to your culturally and historically rich visit to Pula Croatia, one should not forget to pay a visit to this grand Venetian project.
Fortress Kaštel otherwise known as simply the Venetian Fortress.
Of course, there's actually nothing simple about this architecturally brilliant fortress.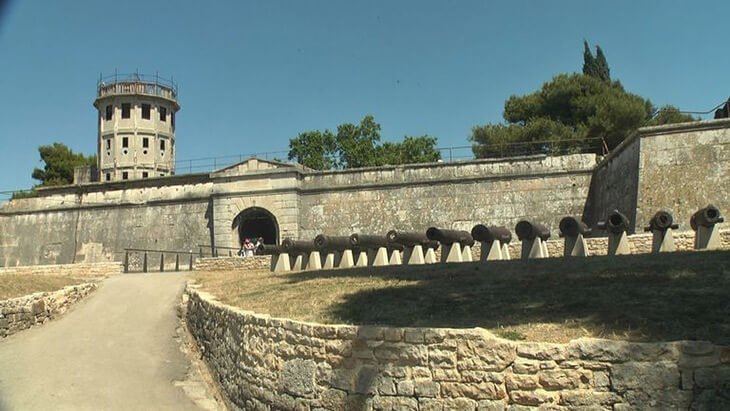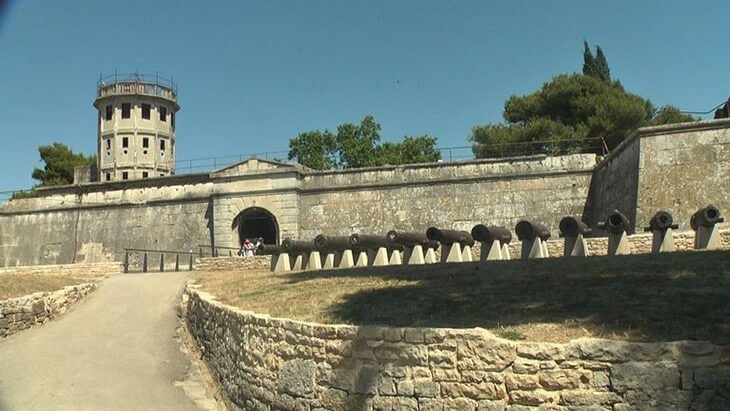 Located right at the top of this hill, this Venetian castle was the brainchild of the architect Antoine de Ville.
Not to be overshadowed by the historically rich buildings in Pula, this castle was created using the stones from the large Roman theater.
It is its main consideration for the construction.
This is, of course, accompanied by various stones that have been taken from quarries all around Pula Croatia.
But this no ordinary castle from which royalty resided.
This was a fortress, a line of defense for the city, towering over the center, its bay, as well as its port.
Walking around the space, you will even find canons and other items that share the history of a once war-ridden city.
Best Of Pula Beaches
Brioni Beach
The Brioni beach is part of its identically named hotel, the Brioni Hotel.
You can visit this just 4 km outside of the city of Pula. Of course, as we had mentioned earlier, Pula Croatia is not necessarily visited by tourists for its sand and water.
However, one can still enjoy their time in the sun here in Brioni beach.
It is carpeted by concrete slabs of rock and pebbles, making it an ideal place to lounge about and sunbathe in.
As a testament to its service and quality, the Blue Flag, an international board for examining the water quality of beaches, has given it recognition and praise.
More than the beach here at Brioni, you can also explore the other amenities that this place has to offer.
You can find a restaurant, a coffee place, and a food kiosk right near the Brioni beach.
If you are interested in sporty activities and play, you also have a plethora of options available to you.
You can choose from activities such as riding jet skis, snorkeling, kayaking, and so much more!
This is the perfect setting for a family getaway, with lifeguards continuously on duty from morning to 6pm.
Hawaii Beach – Pula beaches
Much like every other beachfront around Croatia, Hawaii beach is also littered with small pebbles.
You can find this at Punta Verudela, a little below the Hotel Park.
Despite its small size, Hawaii beach still remains to be a one of the most popular Pula beaches and hangout place for both locals and tourists.
This is likely because of the plethora of restaurants and bars that can be found just near the vicinity.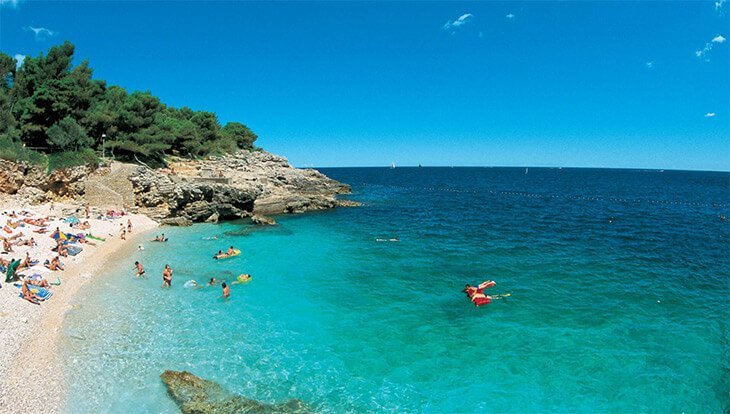 If you want to relax near the beach and enjoy a happy hour, this might be the perfect getaway spot for you in Pula Croatia.
There is a same beach with same name in Poreč
Ambrela Beach
Now we move on to one of the most beautiful Pula beaches in the area – Ambrela Beach.
You can still find this in Punta Verudela, just a few km away from the city center of Pula.
As with all your other beach options, this too has plenty of pebbles at the seaside.
However, what makes Ambrela beach popular, other than the pristine waters that this beach rests on, is its connection to hotel Brioni.
It's a great place to sunbathe as there are no shades provided by trees in the area.
Valkane Beach
If you are on the lookout for activities and want some adrenaline-boosting fun, then this is a beach worth exploring in Pula Croatia.
For the most part, you should be able to enjoy a sandy beach here in Valkane.
On top of going on swims, you can also opt to reserve this space for diving, and spelunking in underwater caves.
It's also good to note that there is an underwater canyon in the area – you might want to explore that too.
Boat Trip to Brijuni Islands
The Brijuni Island group is something that you shouldn't miss when around Croatia.
You can find this along the coast of western Istria, making Pula Croatia the perfect jump-off point for this group of islands.
There are over 14 islands and islets you can see here, all rich and verdant with well-preserved flora.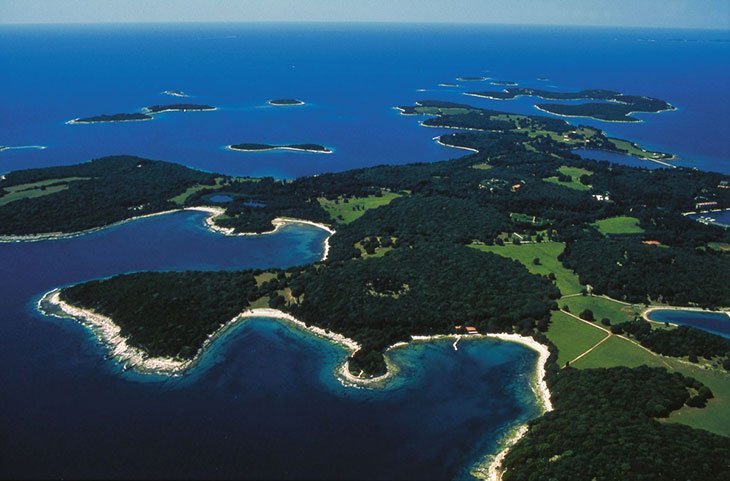 These are open to public excursions and make for great day trips for you and your family.
You may also explore archaeological sites in the Brijuni National Park as well as exhibits that are hosted around the islands.
Of course, plant life isn't the only thing that is varied in these regions.
You will also encounter Brijuni island species that have chosen this group of islands as their habitat.
Accommodation in Pula
You won't be in any shortage of accommodations when you visit Pula Croatia.
As it is a city teeming with tourists and visitors in the summer, make sure to book your reservation ahead.
You might also want to consider visiting in the off-season to get more discounts and availability in hotel rooms.
Most of the hotels can be found just along the coastline of the city.
However, if you want to score better and cheaper deals, then moving towards the hills might be right for your budget.
Trust us, the view will be just as breathtaking, and you'll be able to save more money for museum entrances and other day activities.
If you're looking for budget, luxury, or mid-ranged hotel prices, you can find all these in Pula Croatia.
Most have basic amenities like WiFi and kitchenettes.
If you want, there are some hotels that offer bike rentals as well!
Restaurants in Pula Croatia
As a city previously part of Italy, it comes as no surprise as to how strong the Italian influences are in the Pula cuisine.
Here you can find staples such as pasta, gelato, and pizza.
Despite this, Pula Croatia is also a fishing port, with fishing part of its trade.
This means that you can expect to enjoy restaurants right along the harbor that offer the freshest and great tasting seafood dishes.
While you're in the area, don't forget to try out their white truffles as well.
For us, restaurant Zigante is a genius on this, offering a wide array of truffle dishes to its customers.
If you're in the mood for a little more adventure, you can also head to Motovun Forest for a truffle tour.
Of course, let's not forget another main trade of the city as well: wines.
Because of its climate and soil, you can find the sweetest and most authentic muscats and merlots in the region.
Make sure to drop by local bars along the port as well to give these bottled presents a try.
You might even want to take home a bottle or two as a souvenir.
Either way, Pula Croatia is a gastronomic adventure that you shouldn't miss out on.
Getting To Pula Croatia
By Plane
When it comes to visiting Pula Croatia, you will have no shortage of flights going in and out of the city.
If you're coming from any major city, you can easily book these and discover the grandeur and beauty that is this old Roman city.
By ferry
If you prefer to take a ferry, you can do so from Italy too.
However, this travel option is only available in the summer.
As of the moment, Pula Croatia does not have any year-round ferries that connect Pula to any other Croatian port.
If you're keen on taking the ferry despite the season, you might want to explore other connections from Mali and Zadar.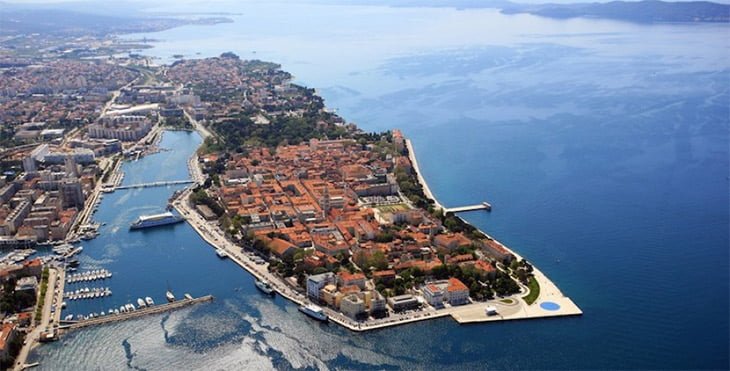 By bus or train
Same with ferries, you can also take the bus or train going from Italy to Pula Croatia.
Check another nearby holiday destinations