Croatia is a host country of eight national parks and these are all with stunning natural features with many things to do in them from hiking, biking, sailing to swimming.
This country on the shores of the Adriatic Sea is mainly known as holiday destination with enchanting beaches and beautiful coastal historic towns, but beside that there are plenty of other things to discover in this beautiful country.
National parks in Croatia has plenty to offer visitors both physical and spiritual way. Stunning diversity of this country has a lot to offer from spectacular waterfalls to stunning mountain ranges.
Croatia is often thought of as having some of the most idyllic beaches in the world. While some of Croatia's national parks feature stunning coastlines and island scenes, others are less known for their dramatic mountainscapes.
Why You Should Visit National Parks In Croatia
Croatia's national parks have plenty to offer for both active and casual hikers. Some of these include the rare monk seals, brown bears, and lynxes.
Plitvice Lakes National Park
Plitvice Lake national park was officially recognized as a World Heritage Site in 1976. As one of the most notable national park in Croatia and is regarded as one of the country's top tourist attractions that you must visit.
Plitvice Lakes are defined with a series of 16 karst blue lakes which is brilliant.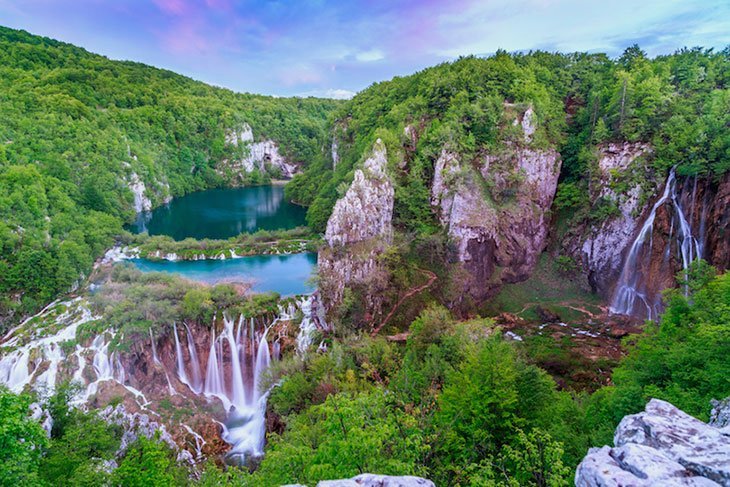 National Park Plitvice is also surrounded by dense forest, making this region's landscape look spectacular. There are also Plitvice waterfalls and a few wildlife species to see in this region.
Family-friendly: With various attractions and a great selection of transportation options around the park, including tourist trains and boats. Plitvice is a great place to visit for families with older kids.
If you are planning on taking your kids to the swimming, don't do it because swimming in Plitvice National park is not allowed.
What to do and see: A collection of trails leads from the park to the lakes, and the bridges connecting them have been made. These paths are interspersed with raised wooden pathways leading to the lakes.
Head to the upper lakes if you really want to take a break from the city crowd. There are plenty of opportunities to escape from the public and enjoy the beautiful views and Plitvice waterfalls.
A good place to stay: In Plitvice national park, there are great places to visit. There are numerous campsites in area outside national park, some of which are located just a few kilometers from the entrance.
There are so a lot of choices when it comes to accommodation within the area, such as B&Bs, apartments, and even a pool. Some of our favorites include the Zrinka House Villa Ruhige Lage and Plitvice Creek.
Krka National Park
Krka National Park is a spectacular place full of waterfalls made up of streams of the karst river Krka, after which this Croatia national park was named.
National park Krka is located in the Dalmatia region which is widely known for its beautiful landscapes.
Krka National Park is situated around the river flow of Krka river which features various kinds of ravines and waterfalls, as well as wide lakes.
This national park in Croatia is well-equipped to please everyone.
From babies to wildlife lovers, there is enough of it to please even the most demanding travelers.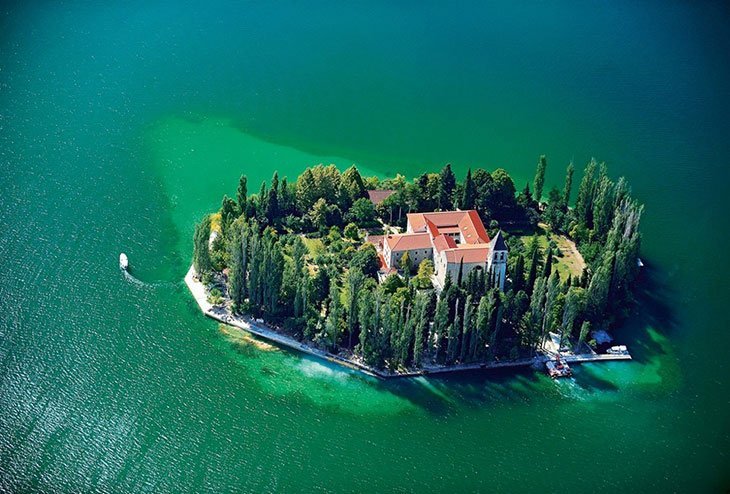 What to do and see: There are plenty of things to see and do in Croatia's Krka National Park.
Krka is home to over 200 bird species, such as the griffon vulture and the golden eagle.
Also you can find various ways to get in touch with nature in the area, such as swimming in the lakes or visiting a Franciscan monastery on the island of Visovac.
The monastery on the island of Visovac has been built in 1485.
And probably the main attraction of the national park Krka is the Skradinski Buk, with its stunning waterfalls. The best part about this place is it is on the park's doorstep, so you can enjoy all that this place has to offer.
Where is best to stay: This is a great place to stay if you are looking for something on the park's doorstep with a pool and great food.
The rooms are clean and simple, and you'll be impressed with the garden's landscape. Also, there are plenty of facilities nearby, including a children's playground.
See More On Krka National Park Guide >>
National Parks In Croatia – Brijuni Islands
Brijuni national park in Croatia consist of 14 islands in the Brijuni archipelago have been named a national park since 1983.
They were once the favorites of Yugoslavian leader Tito. The islands are located off the Croatian coast and are known as the most peculiar national park in the country. they are surrounded by the Adriatic Sea.
Those who visit these islands without their boats can only go to Mali Brijun and Veliki Brijun.
The highlight of these areas is that Tito's zoo featured his own collection of exotic animals.
Veliki Brijun is the most popular area on the islands due to its zoo, which featured animals such as zebras and llamas. Many of these animals were given to Tito by his friends.
What to do and see: So, aside from the Safari Park, there are also other attractions in the area that are related to Josip Tito. One of these is the museum that features photos of the rich and famous people he met. There are also various other attractions in this area related to the famous personality.
Best to stay: For those wanting to stay inside the park, try the Brijuni Depandance Neptun. It is located inside the park on Veliki Brijun. On the other side of the island, are exclusive villas that offer a private beach view. These are called Brijuni Exclusive Villas.
Villas are characterized by the elegant décor and the fact that they come with a full kitchen and a private beach.
See More On Brijuni Croatia >>
Paklenica National Park In Croatia
Paklenica National Park is composed of two mountain peaks, Velika and Mala Paklenica.
These natural features, both big and deep, offer spectacular views of the surrounding mountains. Velika and Mala Paklenica, are separated by deep canyons.
With its huge peaks and thick forests, Paklenica is truly a wilderness.
Best for: This area is known for spotting eagle and buzzard birds, as well as bears. they are also known to visit this area. This is also a great place to hike for both climbers and hikers.
What to see and do: Since, Mala Paklenica is off the beaten path, it makes more demanding than other parks. There are no paved trails and no amenities to speak of.
Velika Paklenica is another park's highlight, with its well-marked main trail and a series of hikes leading to spectacular mountain views.
The main trail of this national park in Croatia leads to a hostel that serves as the starting point for hikers in the area.
There are many ways to organize plenty of opportunities for mountain trips in Paklenica, such as organizing tours with local experts and climbers.
Best to stay: There are several apartments near the entrance to the Paklenica National Park.
Most of the accommodation is located near the entrance to the Paklenica National Park.
They are mostly basic but clean and comfortable. For something a little more elegant, there are many apartments in the Apartmani Korina or Paklenica apartments that offer great value for money.
For something a little more, try the Rustic Villa, which has a pool and four bedrooms.
See More Info On Paklenica Croatia >>
Northern Velebit National Park In Croatia
Northern Velebit is the youngest national park in Croatia.
National Park Northern Velebit is established in 1999 as a national park, and it is protected as the country's first Biosphere Reserve.
The North Velebit National Park is located in the northern part of Croatia's largest range with same name Velebit which through most of the Adriatic coast on Croatian side.
North Velebit is one of the most spectacular examples of well preserved nature in Croatia. It features rocky peaks and karst formations.
The park is a vital part of the region's ecosystem, as it shelters a variety of animals and plant species that live in this area. The park also supports the conservation of these animals and plants, such as the European mountain pine and the golden eagle.
Best for: Northern Velebit National park is the best wildlife photographer and fans of botany.
What to do and see: The Velebit Botanical Garden is a must-visit for anyone who enjoys plants. It features over 300 different species and is located in Lubenovac.
The highlight of the Velebit Botanical Garden is its extensive plant collection. Located in Lubenovac, it features dry-stone walls and the remnants of old shepherd's huts.
Meanwhile, the Premuzic Trail is a great way to get in touch with the mountains, with some of the best and most picturesque views in the park. The trail is considered one of the best hikes in the park.
It provides spectacular views of from mountain peak on Adriatic coast and nearby islands.
Where is best to stay: There are two mountain huts within the park, and many other accommodation options are available in the area. One of these is the Pansion Zlatko, a well-equipped B&B with a swimming pool.
Ideally, a room with a balcony or a patio would be ideal for your stay at the Beach house Adriana. If you want a more intimate and romantic setting, you can stay at the Beach house, Adriana.
This blue-shuttered house is located in a prime location close to the Adriatic.
See More Info On Northern Velebit >>
Kornati Islands – National Parks In Croatia
The Kornati Islands are located in Northern Dalmatia. You can take a boat trip going to the Kornati Islands National Park to explore the scenery.
Dalmatian coast with its islands is well known for its stunning natureal features.
Although it can only be explored using a boat, You can also visit this national park by canoe or sailboat.
The Kornati archipelago consists of almost 150 islands, making it the largest archipelago in the Adriatic, many of which are uninhabited.
These are the scrubby islands that give the feeling of isolation. There are more than a hundred islands in the Kornati national park. The rustic nature of the islands makes them a sought-after eco-tourism travel destination.
Best for: Getting off by boat is one of the best ways to get off the beaten path.
What to see and do: You can take a trip around these blasted islands in a canoe. In fact, there are no better ways to see and do it than by floating around these blasted islands in a boat.
With a boat excursions you can explore these islands and take in the views from their various viewpoints. Beyond the boats, there are other activities to do in Kornati.
This is a great place to go for a swim or a dive. There are also other watersports to enjoy here too.
Where is best to stay: The Kornati Islands are known for their peaceful accommodations, which are usually in small houses and stone cottages. Try a four-bedroom holiday home in the Kornati for spacious accommodation with sea views.
Or, for an atmospheric getaway, book a beachfront home in Vilma. A beach house in Vilma or a spacious holiday home in the Kornati is both great options for a relaxing getaway.
See More Info On Kornati islands >>
Risnjak National Park
Risnjak National Park is one of the least visited areas in Croatia. It features stunning landscapes and various recreational activities.
With stunning views and numerous recreational activities, hikers and climbers often visit this area.
Dominated by the Risnjak and Snježnik massifs, this region's karst landscape features numerous caves, gurgling streams, and forested slopes.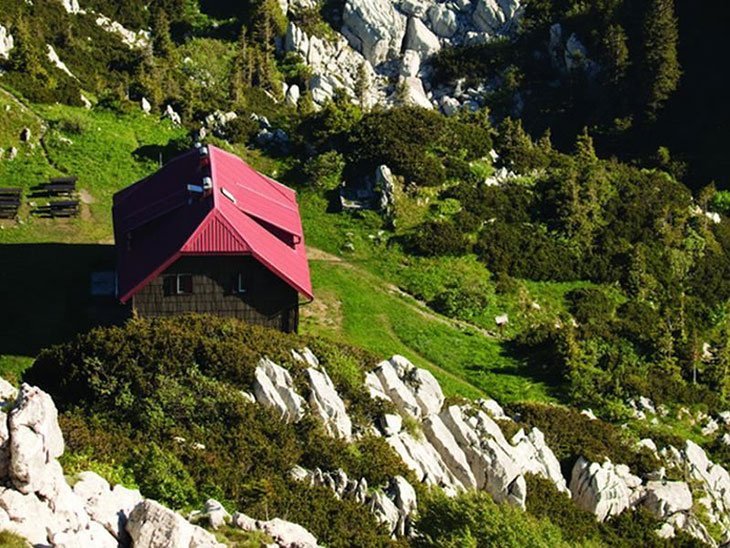 The flowers of the garden bloom in late June and early July, with edelweiss, alpine clematis, and the orange lily among the favorites. Also, there are plenty of animals in the area, such as wolves, wild cats, and brown bears.
Best for: This is the place to go for experienced hikers and wildlife lovers.
What to see and do: One of the most popular activities in this area is hiking. There are numerous peaks in the area that are worth visiting, including Veliki Risnjak.
Most people who love hiking are aware of the peaks of Veliki Risnjak, which are located in the area's northeast. There is also a compelling case for the ascent of Snježnik.
Best to stay: There are various accommodation options in the Crni Lug region. These include mountain huts, apartments, and chalets. Aside from the mountain huts, there are also a number of accommodation options in the village.
On the other hand, the elegant two-bedroom Chalet Olga is a great place to stay if you are looking for a bit of space and privacy. Its own hot tub and fitness center is a great place to recharge after a day on the slopes.
Mljet National Park Croatia
This Croatian national park is located in the southern part of the Dalmatian island of Mljet.
National Park Mljet covering only one-third of the island of Mljet and it is the nearest national park to Dubrovnik.
Myth has it that Ulysses was kept captive in this place for seven years. This place is surrounded by two saltwater lakes: Veliko and Malo jezero (Big and Small Lake).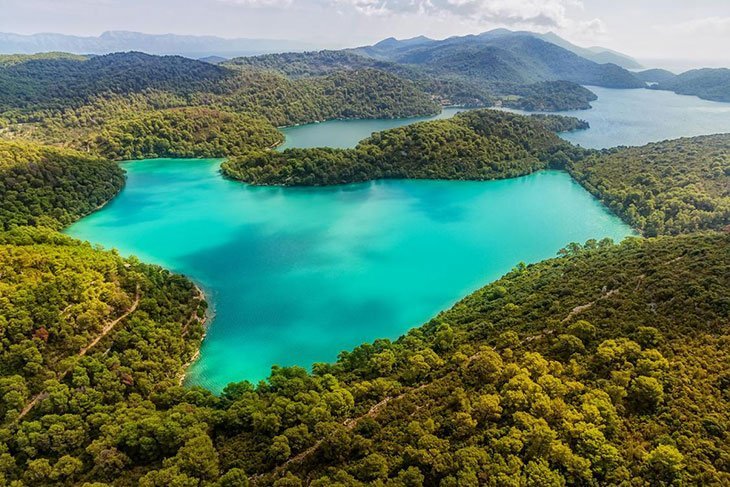 Best for: Adventurers who are are always looking for ways to get off the beaten track.
What to do and see: Mljet National Park is a haven of numerous natural features, including hiking, mountain biking, and swimming. However, no cars are allowed in the park, so there is plenty of room to explore.
Also, with numerous hiking and mountain biking trails, this area is a great place to explore by foot or by bicycle.
Accompanied by a boat, they take the to St Mary's island, where they can dine in an old Benedictine monastery where you can enjoy a meal in the 12th-century Benedictine monastery on the island.
Best to stay: The Pomena is a family-run guesthouse on the coast, offering rooms with air conditioning.
The restaurant is also located on their own property, which makes the guests easily dine anytime they want. But, If you are looking for an apartment with drystone walls and a sense of seclusion, then look no further and try Apartmani Vojvoda Pomena.
See More Info On Mljet National Park Croatia >>
If you plan to visit Croatia, then visiting one of these beautiful national parks is just right for you.