Split and Dubrovnik are two of the most popular cities to visit in Croatia. If either of those two is your main destination in your Croatia trip, you cannot leave without taking a stroll down Makarska.
Makarska Croatia is small city located in the Dalmatian coastline of Croatia, southeast of Split and northwest of Dubrovnik.
It is part of Central Dalmatia and is one of the most beautiful cities you will see in that region.
Don't make the mistake of most visitors who head straight to the islands from Split because you will miss out on some of the most beautiful beaches in Europe.
Makarska Croatia is smaller than Split but it has a lot to offer.
The city spreads out on white pebbles, overlooking crystal clear blue Adriatic waters.
And as you walk around its towns, the scent of the pine forest will follow you.
What a scenic and transformative day tour it will be!
A trip to Makarska is a real treat for anyone who loves nature, needs to relax, and wants to learn more of Croatia's history.
It is a magical world to disappear in even just for a few moments. The city is rich in cultural heritage and offers numerous entertainment especially during the summer.
Makarska Riviera
Makarska Croatia is in the heart of the Makarska Riviera which is a well known tourist destination.
It is the biggest town in the area lined with palm trees and closely resembling the Split Riva waterfront.
The city is in between two peninsulas, the Osejava and St. Peter and has a mild climate all throughout the year.
It is a dream to walk along its palm-lined promenade and maybe sit in one of the cafes, uninterrupted just to take all the beautiful scenery in.
All around this scenic walkway are small yachts harbor where you may decide to take a short boat trip.
Makarska riviera is about 60 kilometers wide, enclosed inside the magnificent mount Biokovo.
Other notable towns in this district include Brela and Tučepi which are also worth visiting if you have the time.
This part of Dalmatian coast is an absolute heaven for beach lovers!
It is an unbeatable coastal spot when it comes to stunning beaches.
There are numerous sandy beaches in Makarska Croatia where you can enjoy unlimited access to turquoise clear sea!
The best part is you don't have to travel very far from the town center to see them. It's all within reach.
Even those who have already been to other parts of Croatia before admit that Makarska beaches can even beat some of the most popular beaches in the Croatia.
Aside from the natural wonders, the city features charming towns and picturesque neighborhoods.
You will not be disappointed with the sights and the great thing is there is less crowd than other more popular cities.
It is located on a bay that is shaped like a horseshoe and is surrounded by a natural harbor.
Basic Facts About Makarska Croatia
Makarska Croatia is part of the Split-Dalmatian county.
It is a tourist center noted for its palm-lined promenade and cafes overlooking the harbor but its history goes a long way back.
Old town of Makarska is paved with stones, old churches, a lively fruit market and lots of interesting sites.
The port in Makarska was used by the Cretans before on their way up to the Adriatic since it links to the wide Mediterranean.
When it was the Romans' time to rule the Adriatic, they sent their veteran soldiers in the city and this entire region became part of the Eastern Roman Empire.
The city has gone through many change since then and became home to different settlers.
Then in the 12th century, Makarska was annexed to the Kingdom of Croatia then was later conquered by the Republic of Venice.
They have had many rulers and in 1499, they fell to the Turks.
During that time, many fortified walls and towers were built around the city and you will still see some of their remains today.
Eventually, the city fell back to the Venetians then the Austrians.
Best Things To Do In Makarska Riviera
Makarska Croatia is a port town with spectacular views of nature.
On the backdrop is the magnificent Biokovo mountain range and you can explore the entire city walking on the beautiful waterfront promenade.
In the heart of the city is a picturesque limestone center which is a great spot to witness the breathtaking Croatian sunset.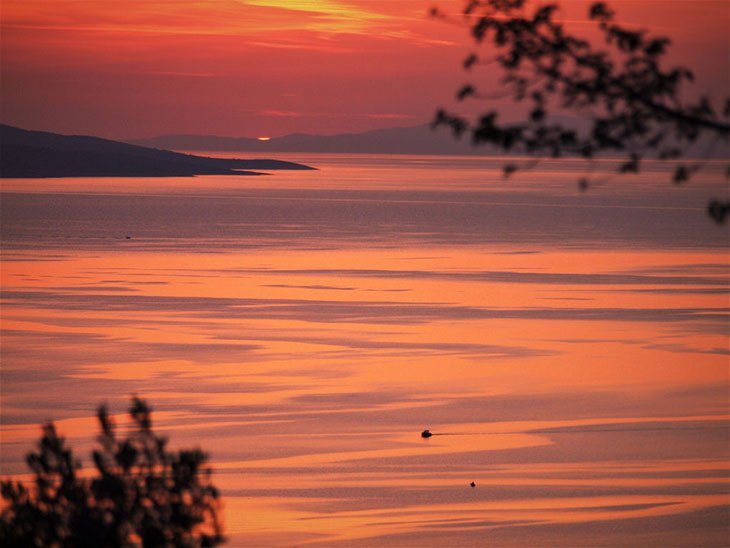 There are so many activities to do in Makarska Croatia from hiking, biking and swimming to paragliding!
It's a great city to explore because it's city to get around and there are a lot of transportation options if you don't want to drive around on a car.
During the peak season, the nightlife is a buzz but it's a beautiful city all year round.
Art lovers will find many things to marvel at in Makarska Croatia.
Some of the art works you will see date back to the ancient times.
They are mostly found in religious structures and some are included in the collections inside its arts galleries.
You can learn a lot about the city's rich history by visiting the Franciscan monastery where you will see a picture gallery, a library and a unique museum specially constructed for the research of mollusks.
On Makarska Riviera you will find a lots of fabulous places to eat great food and you will not run out of places to shop.
Exploring Makarska Riviera
It is a center of culture and education. Today, you can still explore its picturesque villages, its attractive nature, and good climate.
Here are some of the best things to do in Makarska.
Makarska Promenade
Whether you are staying for a few days or just taking a day trip, you must take a walk along the city's shoreline.
These dirt trails and paved paths all lead to the city center.
The entire Makarska promenade provides panoramic views of the crystal teal water and the nearby islands.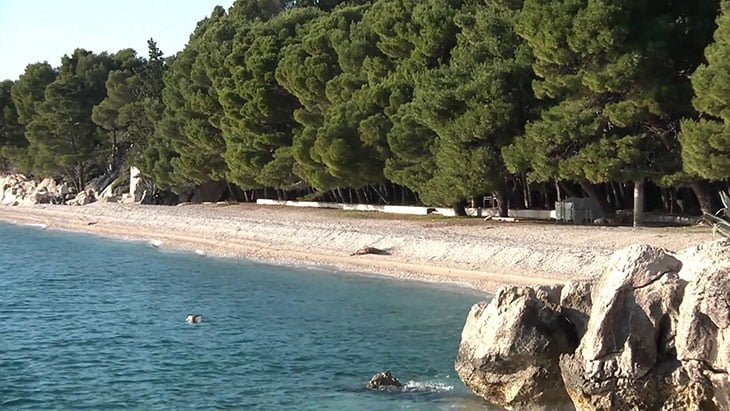 If you walk north, you will spot a small marina island and for adventurers, an abandoned hotel.
Walking to the south will lead you to a resort town where the trail goes through a forest and incredible lookout points.
Hiking On Biokovo Mountain
Just like many tourist destinations in Croatia, one of the most popular things to do in Makarska riviera is hiking.
The highest peak in the Biokovo mountain range rises up more than a mile above the sea.
Going to the top is a little intense so make sure you are or with an experienced hiker.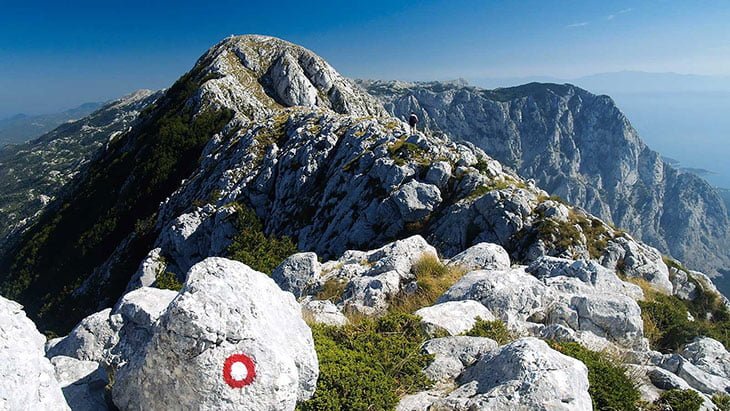 Nevertheless, hiking Biokovo mountain range will reward you with stunning sea views.
And after a good hike, you can come down to the harbor and enjoy some water fun activities.
Saling On Makarska Riviera
From Makarska you can explore up to 79 islands along with other islets across the Adriatic along this Dalmatian coast.
Some of the best islands to explore are just off-shore from the city.
You can rent a boat or join a tour to sail from the harbor and navigate these waters.
There is also a popular party boat that provides day trips as well as a smaller ferry if you are on a budget.
Cycling On Riviera
The biking trails in Makarska Croatia are unbelievably beautiful.
Rent a bike and see the many sights of the city at your own pace.
You can rent bikes from tourist agencies or the city's own bike sharing system which is just awesome.
Sunsets In Makarska Croatia
Sunsets in Makarska Croatia will leave you breathless so if you are taking a day tour, make sure you stay just until before dark to witness this incredible scenery.
One of the best spots to watch these sunsets is in St. Peter's peninsula.
Simply find a spot by the lighthouse and you will have a spectacular evening at the end of the day.
You can also walk along the trails that lead to a secluded clearing up toward the cliffs which is also a great spot to watch the sun set.
Nugal Beach
If you are up for it, you could even try at least for once in your life, going on a nude beach.
While this may not be for everybody, it is an interesting fact to know that you can find one of these in this beautiful city.
There are several nude beaches around for those who just wish to relax uninhibited or want a full-body tan.
One of the most popular of these nude Makarska beaches is the Nugal beach.
Nugal beach in a secluded location right underneath a magnificent cliff and you can easily get there by following the shoreline trail to Osejava peninsula.
Kačić Square
The city's main square is the Kačić Square where you will also find St. Mark's Church and its bell tower.
There stands the Miošić monument which has been erected in 1890.
There is a pretty Venetian drinking fountain worthy of a picture.
And in your walk of the town, go and head to the fruit market to really immerse yourself in the town's culture.
Green Market
The green market is just walking distance away from the city's main square.
Green market is one of those places where you can really interact with the locals and experience what it's like to live in the city.
There are plenty of things to see at good prices but you are not required to buy anything.
Fruits and vegetables are fresh and it's best to go there early in the morning to get the freshest produce.
But if you want to get discounted prices, you can head there early afternoon when the items are at a discount.
If you are not planning on going on a picnic or cooking your own food, you will also find some souvenir items in the green market.
It's a great way to take a part of Makarska Croatia home with you.
Astronomical Observatory
The best way to end your night is to go to the astronomical observatory located on a Glavica Hill.
Astronomical Observatory in Makarska Croatia is surrounded by evergreen trees to keep it dark at night and hidden from the bright city lights.
This building is open for visitors who want to observe the night sky in this part of the world.
It's an ideal destination not only for science lovers but for anyone who can appreciate the celestial beauties up above us.
Park Of Nature Biokovo
For the outdoor adventurers, you will have one of your most exciting nature adventures in the Biokovo nature park right in the Biokovo mountain range.
Biokovo is the second largest mountain in the Adriatic and from here, you can get a view of the Italian coast when the weather is clear.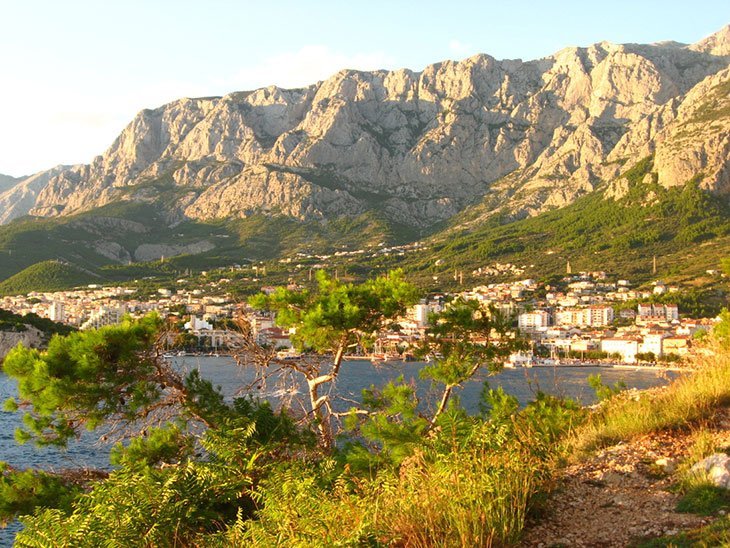 Biokovo park of nature offers exciting hiking trails and viewpoints but there is so much more to do.
Inside the park of nature Biokovo is a botanical garden where you will see some rare local plants.
Rock climbing is also a popular activity as well as paragliding.
Beware that the roads and hiking trails on Biokovo are not for beginners so make sure you are with an experienced hiker and bring and equip yourself with proper gears.
It's also great exploring in a small vehicle.
Biokovo mountain also has an interesting past.
It used to protect the citizens from sea raids and because of its high peaks, attackers found it difficult to infiltrate the town.
Today, Biokovo mountain is a popular site for excursions with lots of marked mountaineer paths and is bursting with plant and animal life.
It is advisable to pack some food but you can also eat in a small tavern in the mountain where you can sample authentic local foods.
Do not climb the mountain alone.
It is best to hike these parts with your friends or with an organized group.
If you are traveling alone, you can join some group hikes through agencies.
Make sure to wear suitable clothing and bring plenty of water to keep hydrated.
Makarska beaches
The main attraction in this part of Dalmatian coast is really the beautiful Makarska beaches.
Most of Makarska beaches are backed by fragrant pine forests and are ideal spots to enjoy the glistening view of the turquoise sea.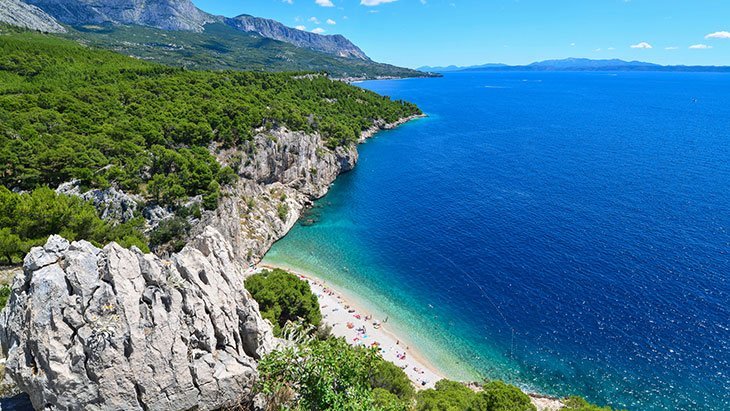 Makarska beaches are lined with pebbles and are under the shade of palm or pine trees.
There are several hotels where you can spend the night and lots of restaurants to enjoy local specialties.
You can also rent peddle boats and jet skis.
It's a great vacation destination for the summer for the entire family.
Festivals in Makarska
You may also catch some of the festivals in the city during your visit.
On Makarska Riviera is almost always something going on in this region.
If you like wines there is the weekend wine festival where you get to sample different types of wines from all over the world.
There are also live performances so may want to check out these events at the time of your visit.
Exploring Makarska
Makarska Croatia is a small city and it is pretty easy to explore whether by foot, by bike, by car, or by public transportation.
And since it is a harbor town, you can actually explore the city by boat!
You can easily rent one or ride one of the boat tours.
You may have some trouble parking so renting a car is not the best way to go around.
Sites are easily reachable by bus and the city itself has good connections with other popular cities like Split and Dubrovnik.
Travelling To Makarska
The nearest airport to Makarska is in Split so if Split is your main destination, you can easily reach the city by bus or by car.
It's also near Zagreb and Dubrovnik airport.
If you are driving from Split, simply take the highway Zagreb-Split then proceed to the coastal road all the way to Makarska.
You can also ride the train (not the best option) but you will have to go down in Split then ride a bus to Makarska.
Best Time To Visit Makarska Riviera
The most popular time to visit Makarska Riviera is during the summer when the weather is warm and the city is the liveliest.
But if you don't like crowds, you may want to visit in spring when it is a lot less crowded.
Makarska city is beautiful all year round so it really depends on your preferences on when you want to go.
It does not get too cold in the winter so you will also enjoy this beautiful place during the cold season.
Some even go to Makarska beaches and even swim during this time.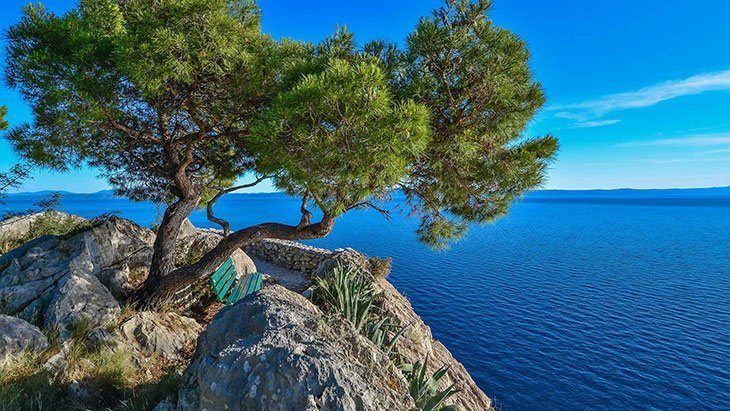 Summers are pretty hot but not too hot.
However, if you are very sensitive to hot weather, you may want to avoid going at this time because most of the activities are outdoors.
Most of the year, the city is pretty sleepy so if you are looking for action and adventure, then summer is definitely the best time to visit.
Everything comes to life in the summer in this place.
Makarska Croatia is an absolute nature lover's destination and there are plenty to see for art lovers and history lovers as well.
It is a great vacation spot whether you are traveling alone, with your family and kids, or with a significant other.
So if you are visiting the nearby cities, make sure to include it in your itinerary.
Check also other nearby holiday destinations: