Croatia has been a major tourist destination in Europe since the mid-19th century, and one of the biggest reasons for Croatia being such a popular destination is gorgeous coastline along the Adriatic Sea.
According to the European Environmental Agency, Croatia beaches has the second cleanest waters in Europe.
So Croatia beaches are just one of the reason why you should visit this beautiful country.
These stunning azure waters come with a mild Mediterranean climate, nautical adventure sports, towns with a rich and diverse history, and delicious gourmet food that has been declared the one of the healthiest in the world.
Croatia's beaches obviously remain a favorite with both the locals as well as tourists.
The long coastlines, sandy beaches, pebble beaches, secret coves and the hundreds of islands are a beach-lover's dream come true.
The thing is, if you have only a limited amount of time, then which beaches of the hundreds should you visit first?
Here is a list of the best Croatia beaches!
Best 15 Beaches In Croatia
1. Divna – Pelješac
Located in the Pelješac Peninsula, in southern Dalmatia is the perfect little beach of Divna (the name itself means beautiful, which fits the place perfectly!).
The village of Divna is tiny, with just a few houses dotting the coastline, and it has this beautiful pebble beach that leads you into the sparkling royal blue waters of the bay.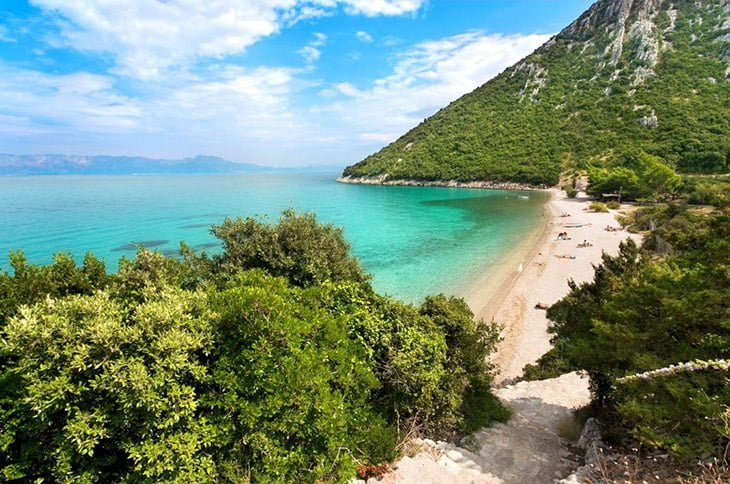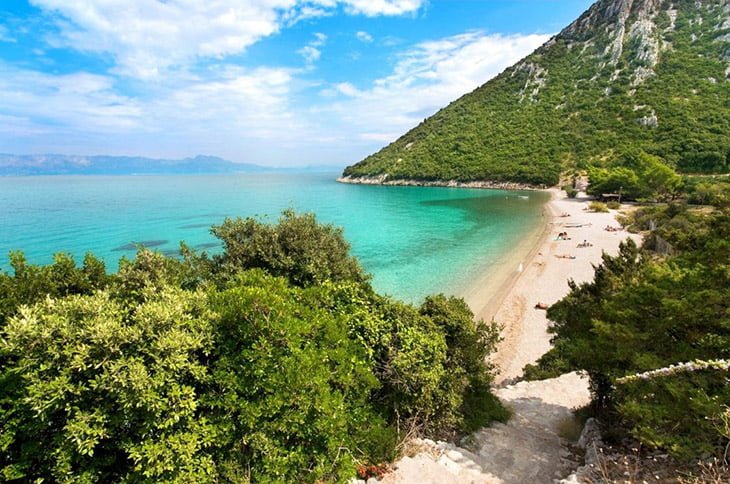 According to visitors, these pebbles are so soft that it actually feels more like a sandy beach than a pebble beach.
However, be warned that this is a white pebble beach, so that sun's reflection can be quite strong.
So, make sure that you carry tons of sun screen or you could end up with a bad case of sunburn.
There are no restaurants or shops at Divna, so be sure to get your own picnic lunch if you're doing a day trip.
If you want to stay longer, you can camp out at the auto camp park nearby.
2. Zlatni Rat (Golden Horn Beach) – Brač Island
Zlatni Rat Beach, also known as the Golden Horn, is by far one of the most beautiful Croatia beaches not just in the Mediterranean, but also in the world.
It is located just 2km from the town of Bol on south side of the island of Brač, and is protected as a geo-morphological monument by the Croatian Government.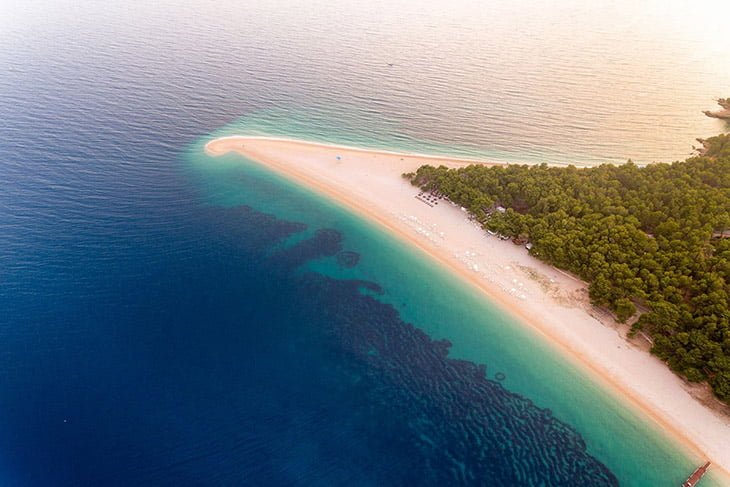 This big beach extends like a horn about 500 meters into the sea, and is made from fine pebbles.
The interesting thing is that the very tip of this beach keeps changing shape thanks to the movement of the waves, tides and wind.
The best part is that some days, the tip of the beach turns into a small lake!
At the center of the beach is a rich green pine grove that houses the remains of an ancient Roman villa, which many tourists love to visit.
Zlatni Rat is perfect for families as well as adrenaline junkies, making it the perfect destination for all kinds of beach lovers.
Zlatni Rat is the most famous among all Croatia beaches, so be prepared for the hustle and bustle.
3. Saharun (Sakarun) Beach – Dugi Otok
Welcome to Saharun or Sakarun, one of the most photographed Croatia beaches.
Located close to the northern tip of the island of Dugi Otok, Saharun (also called Sakarun) Beach is one of Croatia's best kept secrets.
This small little beach is one of the loveliest you will see in Croatia, with white stones facing a stunningly blue sea that changes color as the day progresses, and a dark pine forest in the backdrop.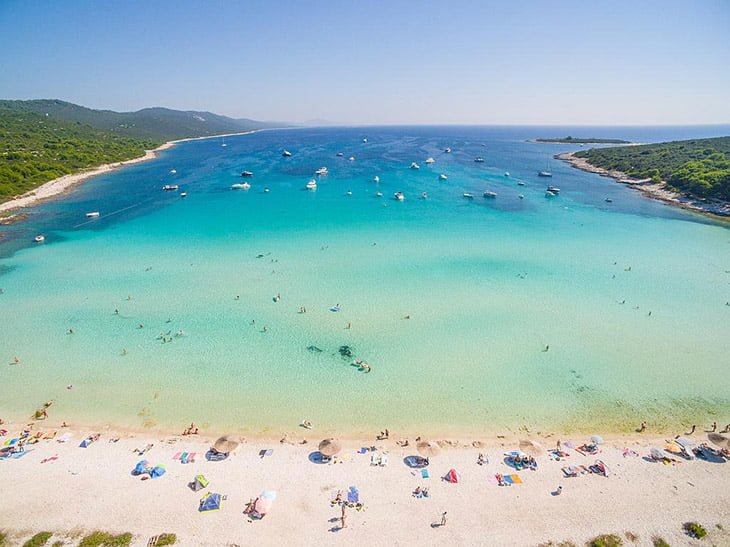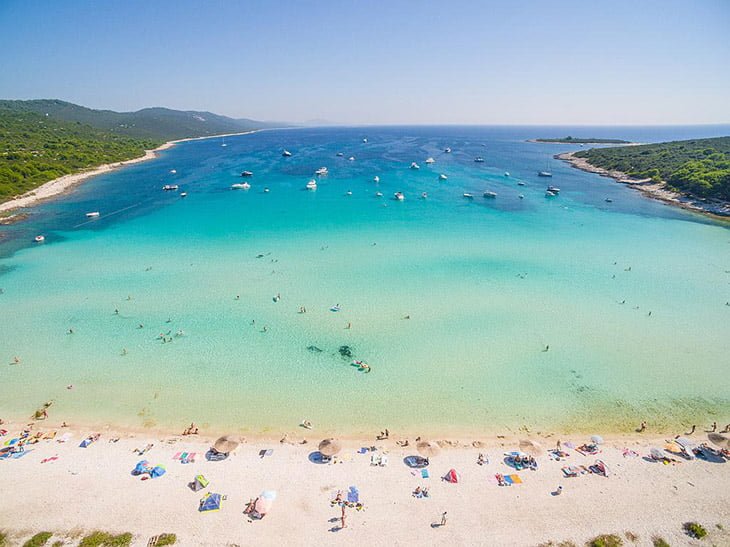 Perfect for families with little children, the beach's waters are shallow and clear.
There are a few eating and drinking options, but they are open only seasonally.
In summer, three is a miniature train that runs between the village of Božava and Saharun, and the nearest car park is located behind the pine trees.
You can also take the ferry from Zadar on the mainland, or take the local bus to Božava, and then hire a mountain bike to cycle down to the beach.
4. Solaris Beach – Šibenik
What makes Solaris so special among the other Croatia beaches is that it is located inside Solaris Resort tourist complex.
Solaris Beach Resort is located 6 km away from the city of Šibenik.
It consists of both a camping area as well as fully-fledged resort.
If you prefer camping, you can hire a mobile home at the camping area or even at the resort.
But if you want to live it up a bit more, then you can choose from the many hotels at the resort.
This is the perfect location for both adults and children, replete with water parks, campsite pools, a kids' club, a miniature gold course, football and beach volleyball facilities, gourmet restaurants and a few shopping areas.
The lovely beach is, of course, the most popular attraction at Solaris!
It's long and has clear white pebbles, and there are sunbeds all along the beach!
However, you need to pay to use those sunbeds, so make sure you carry along some money if you plan to use the beach facilities.
5. Sveti Ivan Beach – Lubenice on Cres Island
Located in the Kvarner Gulf on the island of Cres, Sveti Ivan beach is located in the town of Lubenice (which is why non-locals refer to this beach as Lubenice Beach).
Lubenice is a fortified town located on a hilltop, and it has some of the oldest standing buildings in all of Croatia, some of which are almost 3,000 years old!
To get to Sveti Ivan Beach, you need to take a long walk down from the hilltop where the town is located, but trust us when we say it's worth the effort.
The beach is pristine – white pebble shores with the clearest blue waters you have ever seen.
But that's not the main reason why this beach is so popular.
There is a stunning cave, called the Blue Cave (Blue Grotto), which you can only get to by swimming across the bay where Sveti Ivan is located.
6. Rajska Plaža (Paradise Beach) – Island Of Rab
Rajska Plaža, popularly known as Paradise Beach, is located in the northern part of Rab Island.
This 2 km long beach is a part of the town of Lopar, and has been awarded the Blue Flag for the quality and safety of its water, as well as the preservation of its environment.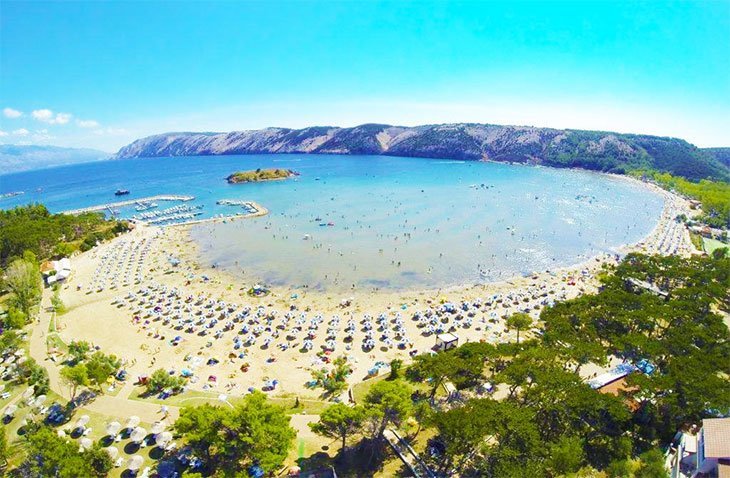 Paradise Beach lives up to its name, having been listed by CNN has one of the top 100 beaches of the world.
This is one the few sandy Croatia beaches, and its waters are shallow and crystal clear, making it perfect for children of all ages.
There is also a big sports center near the beach, where you can play tennis, table tennis, football, basketball and volleyball.
On Rajska beach there are also water slides and many water sports for the adventure lovers.
The facilities are great, with public toilets, changing rooms, showers and deck chairs and beach umbrellas (which you need to rent to use).
There are also a few cafes where you can get food and drink!
7. Stiniva Beach On Vis Island
Stiniva Beach is also known as Stiniva Bay and Stiniva Cove, and it is located on the island of Vis along its southern coastline.
This tiny little beach is inside a Stiniva cove, has perfect turquoise waters and is surrounded by forested cliffs on three sides.
What makes Stiniva beach special charm, one of a kind among the other Croatian beaches.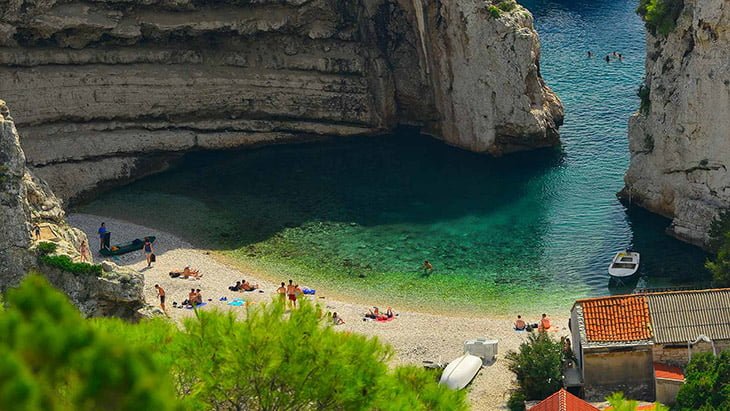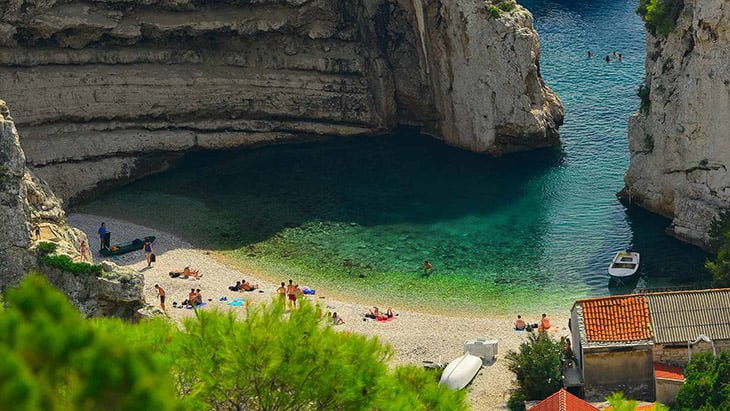 This secluded little spot is so beautiful that is has been listed as Europe's Best Beach for 2019.
You can get to this beach by boat, which needs to be anchored in the bay just outside the cove, or you can hike down to the beach from the car park that is located on the hill above.
The beach itself is pebbly, and there is a small bar located to one side.
You can snorkel, sunbathe and even cliff jump here.
8. Spiaza Beach – Island Of Susak Croatia
If you are looking for that perfect sandy Croatia beaches, then you need to visit Spiaza Beach on Susak Island in Kvarner Bay.
Susak Island is the only one of its kind in all of the Adriatic Sea, making it a preferred tourist spot for many.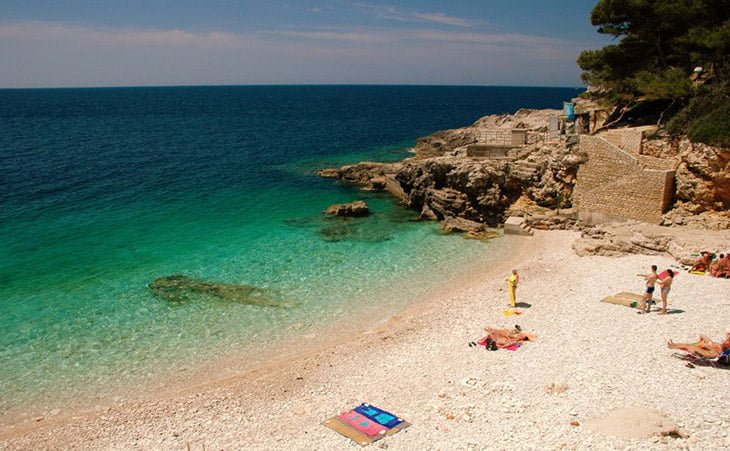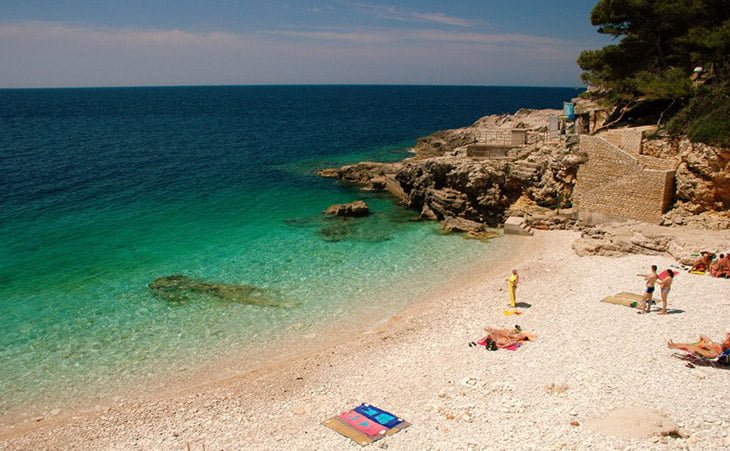 This is one of the rare sandy Croatia beaches that was created thanks to strong winds depositing sand onto the limestone plate that makes the base of the island.
Susak exists today thanks to farmers who planted reeds and vines on this island, keeping it safe from erosion by the strong winds that buffet this little island.
There is only a small little village on this island, and there are no roads.
And because of the fact that oregano is the main produce grown on Susak, there is a lovely fragrance that fills the air all the way to the beach!
Smell of oregano making this beach special among the other Croatia beaches.
9. Girandella Beach In Rabac Croatia
A stunningly beautiful pebble beach, Girandella is located in the town of Rabac in Kvarner Bay, just 70 meters away from a resort by the same name.
The sea along this beach is sparkling and crystal clear and there are pine trees along its edge, providing shade from the strong sun.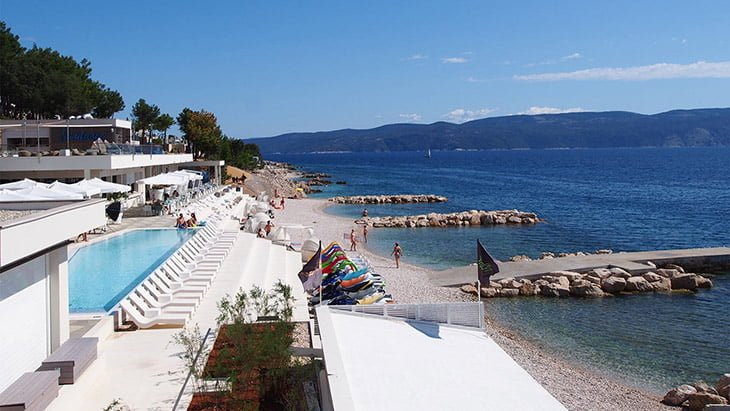 Thanks to the pristine condition of the beach, it has been awarded the Blue Flag!
A white-shingle beach, this is the perfect place for active tourists.
There is water-skiing, banana boating, snorkeling and other water sports.
Of course, you can simply relax and sun bathe on a sun lounger while you sip on a cool drink from the nearby bar.
Since the beach resort is close by, you can do overnight stays at Girandella beach instead of having to travel here for a day trip.
10. Punta Rata Beach – Brela
In 2004, Forbes magazine called this beach one of the 10 most beautiful in the world.
Then, in 2014, it was named a dream destination by The Huffington Post, and in 2015, European Best Destinations called it one of the most beautiful beaches in Europe.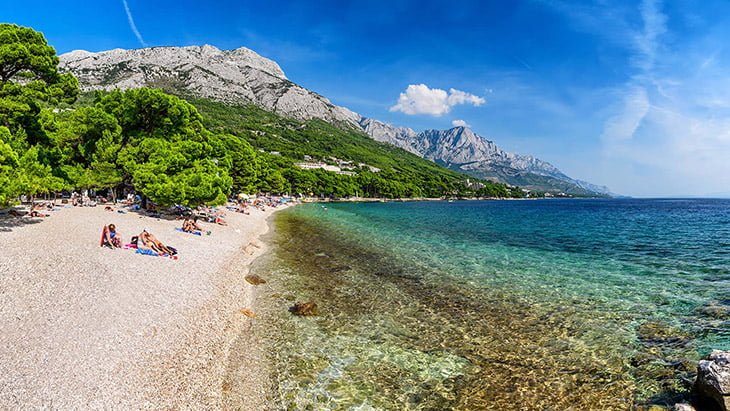 This is Punta Rata Beach in Brela, and if you haven't visited it yet, then it should be a must on your to-do list!
Punta Rata is another Blue Flag bearer among Croatia beaches, thanks to the efforts of the government and the local population to preserve the ecology of the area.
You will find beach umbrellas, deck chairs and showers at Punta Rata Beach, and there are a few snack bars close to it.
Sports include paragliding, kayaking or pedal boating, jet skiing, etc.
And of course, since it is a pebble beach with shallow waters, like most of Croatia beaches it is perfect for families with small children.
11. Lumbarda Beach On Island Of Korčula
The village of Lumbarda on Korčula Island has many heavenly sandy beaches, which makes this place a tourist mecca!
However, of all the beaches located around this scenic little village, the most popular by far is Lumbarda Beach.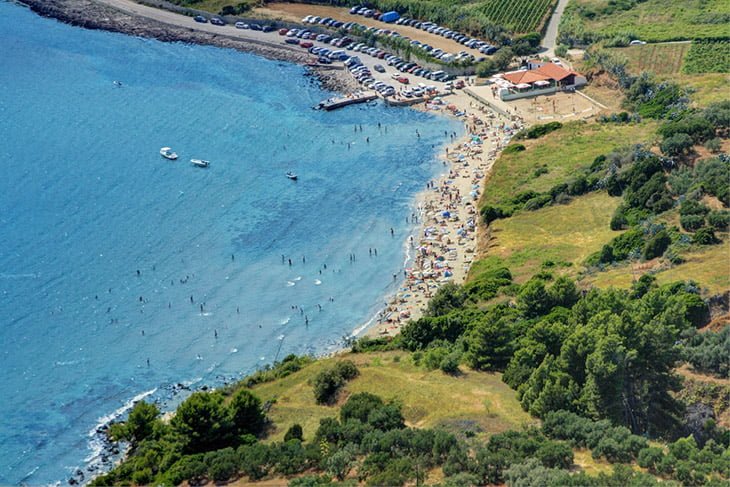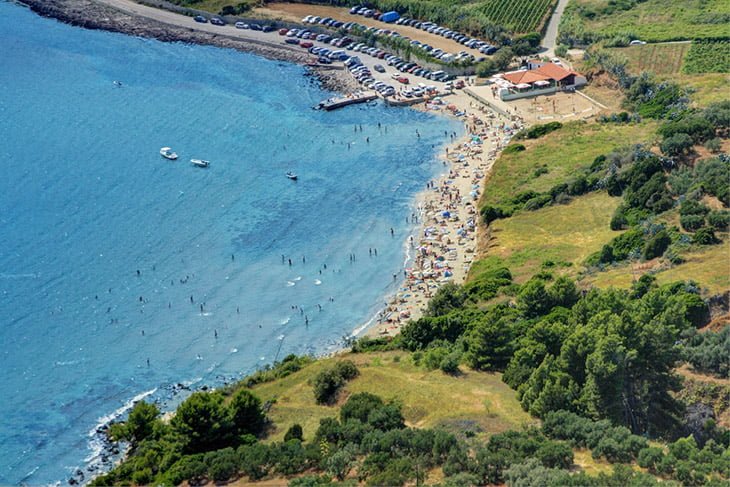 Lumbarda is a brown sand beach that is easy to get to and is perfect for families.
There are restaurants, accommodation and a children's playground – all right next to the beach!
The marina and the pier are also close by, so those coming in by boat can dock easily.
You also have numerous water sports available, making it the perfect paradise for both family and adventure seekers.
Because of the high popularity of Lumbarda beach among Croatia beaches, it is best to arrive early, otherwise it can get quite crowded.
12. Bačvice Beach – Sandy Beach In Split Croatia
Bačvice beach are a real gem among natural sandy Croatia beaches that offers is located just 1 km away from the heart of the city of Split.
Because of the fact that Bačvice is so close to the center of the town (just a 10-minute walk from the bus station), it can get quite crowded.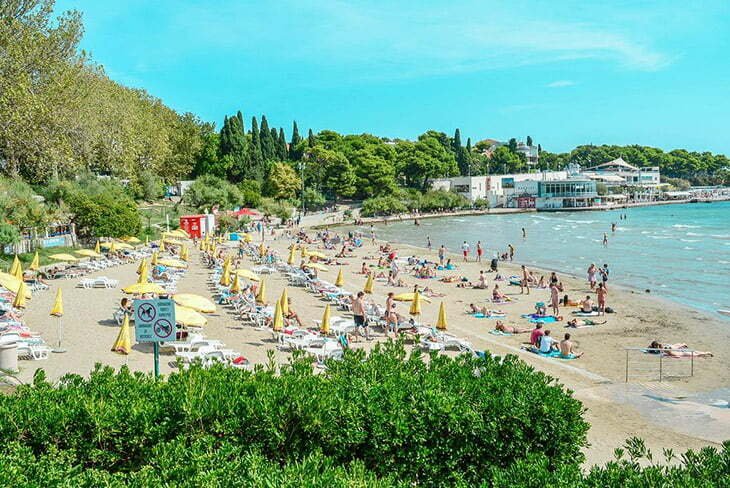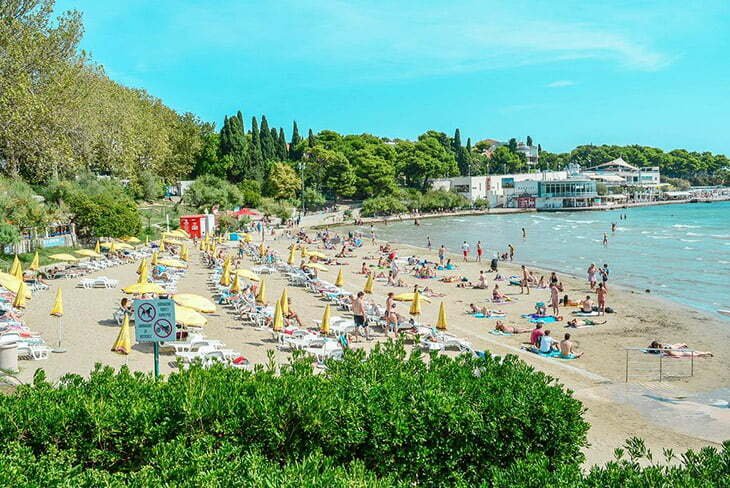 The Bačvice beach is lined by a promenade, and during the day, you will see people of all ages walking along it.
During the night, this place turns into a hotspot for the young people!
The beach itself is so large that it can easily accommodate up to 10,000 people at any time.
You also have lovely cafes along the beach, and you can rent lockers in which to store your valuables.
Sports include picigin (this was, after all, the birthplace of this increasingly popular sport!), an outdoor gym, water sports, beach volleyball and so on.
13. Srima Beach – Vodice
Located at the heart of the village of Srima on the shores of Vodice town Croatia, Srima Beach is yet another beach that has been awarded the Blue Flag.
What this means is that you are treated to a pristine beach, with clear waters and shallow shores!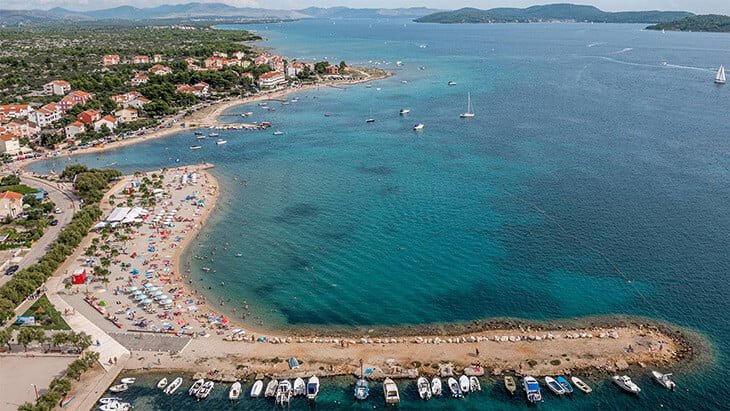 This fine gravel beach is surrounded by accommodation and restaurants, so you don't have to worry about overnight stays or food and drink.
Srima beach is also one of the few Croatia beaches that is totally adapted for people who have disabilities, and there are lifeguards dotted across the beach to keep all swimmers safe.
There is a playground for children who don't want to get into the water – right next to the beach!
For sunbathers and crowd-watchers, there are deckchairs and beach umbrellas. And for the more adventurous, there are water sports.
In fact, this beach is known for the quality of its surfing!
14. Porat Beach On Island Of Vis Croatia
Another gem near the Island of Vis is Porat Beach.
Located on the tiny Biševo Island, Porat has been listed as one of the seven most beautiful beaches in world by the Irish Times.
What sets Porat beach apart from other Croatia beaches is that Porat still remains a hidden gem, surrounded on three sides by lush rich pine forests.
The turquoise waters of the sea are stunningly clear and shallow, making them perfect for a swim.
The village of Porat, which is right next to this gorgeous beach, has just a few permanent residents, and only one restaurant and bar that serves local seafood.
But don't make the mistake of thinking that the fare isn't good.
This single café serves some mouth-wateringly delicious cuisine, so good that it can rival the best gourmet restaurants in the region.
Most of the tourists that visit Porat Beach come there for the day from Vis Island, which has a much larger range of facilities and accommodation.
However, if you wish to stay in Porat, you can look at some of the private apartment rentals there.
15. Saplunara Beach On Island Of Mljet Croatia
Salpunara beach is located on Mljet Island Croatia.
Sandy beaches are at a premium in Croatia, since most of the country's beaches are pebble or gravel.
And since they are at a premium, they tend to be saturated with tourists, especially during high season.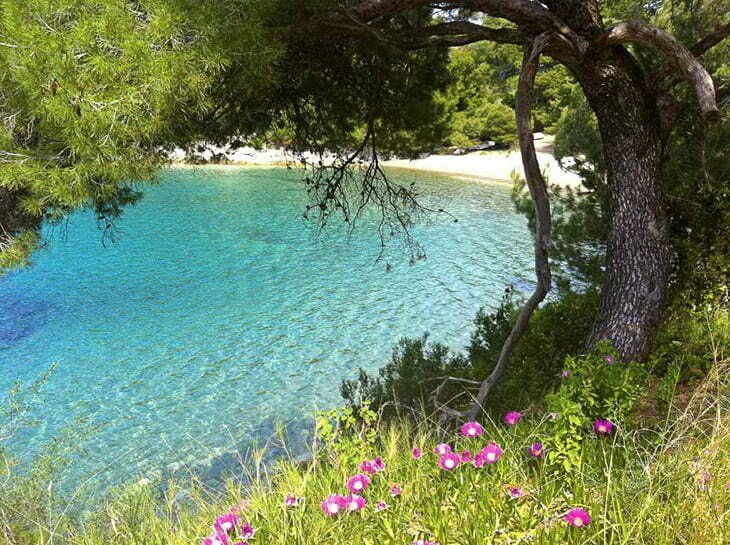 However, you will be surprised to learn that Saplunara Beach is largely untouched by tourists, and is considered one of the last remaining hidden gems of Croatia beaches.
The name of this beach is derived from the Latin word sabalum, which means sand.
What a perfect name for a perfect white sand beach! There are actually two beaches at Saplunara on its 1km-long cove.
And because of the fact that this place is home to certain plant species that cannot be found anywhere else in the country, Saplunara is a protected site.
Unlike on other Croatia beaches there are no hotels and resorts, but if you want to stay overnight, you can choose from the handful of private accommodation rentals available.
Conclusion on Croatia Beaches
Croatia beaches are truly some of the most beautiful in the world, which is why travelers from across the globe visit them.
Some of the world's biggest EDM parties and events take place on these Croatia beaches, and they offer adventurers some of the best quality aqua sports in the world.
Most of Croatia beaches are family-friendly, which make them the perfect vacation spot for millions!
Check also this destinations: