Along the west coast of Istria, you can find the small but picturesque little city of Rovinj.
It crawls over the entirety of an egg-shaped peninsula, giving you an uninterrupted view of the Adriatic Sea.
Flocks of tourists overrun this place at the height of summer.
However, there's more to this stunning city than its beaches and glorious sunsets.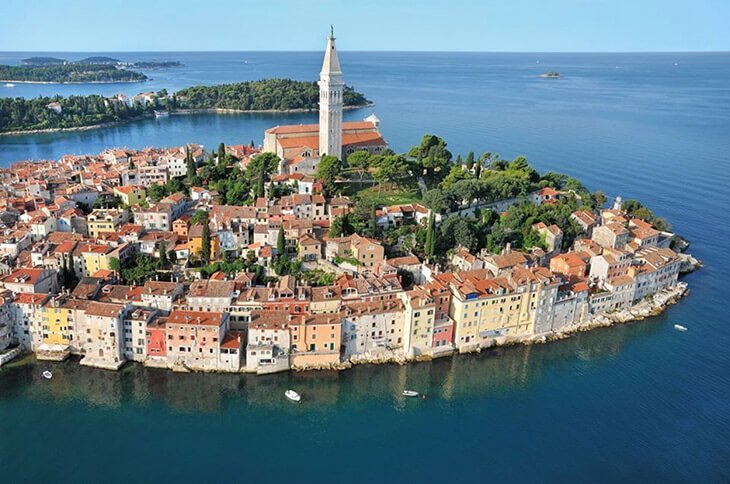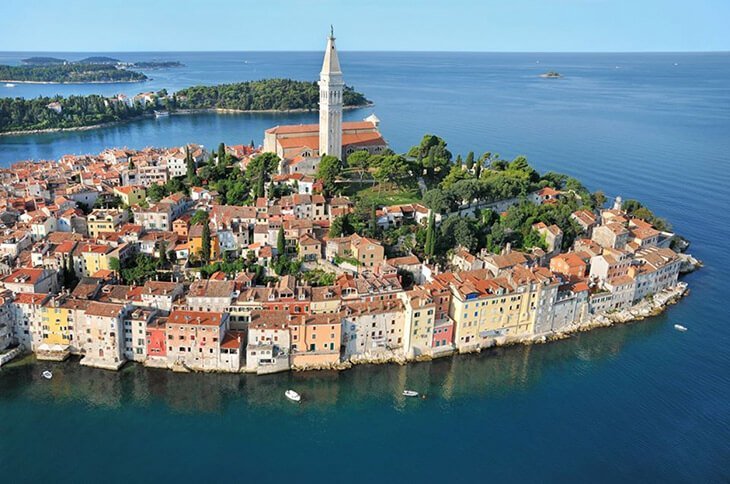 At its city center, you will see stunning streets that are blanketed by cobbled stones and limestone that reflect the sun.
Quaint and filled with history – Rovinj Croatia is a destination that you shouldn't pass up on.
There is a myriad of things to do and explore in this small and quaint city of Rovinj Croatia.
Keep on reading to learn more about its main attractions, best beaches, and things to do here.
Best Places To Visit In Rovinj Croatia
St. Euphemia Cathedral
As the patron saint of Rovinj Croatia, it is only fitting for a church to be built after St. Euphemia.
Born to a rich patrician family, Euphemia was captured and died as a martyr in the hands of the Diocletian.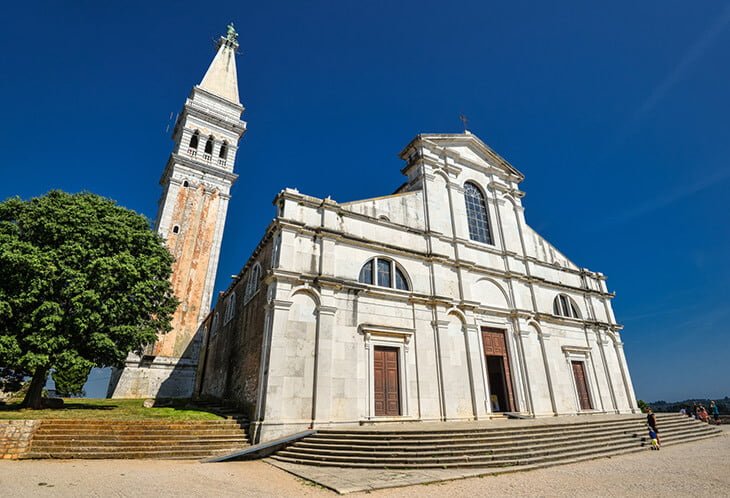 With miracles connected to her name, the locals have dubbed her as their patron saint.
And so now, St. Euphemia is celebrated by the people in Rovinj Croatia.
In her honor, the old church of St. George was taken down in favor of this baroque cathedral.
You can find this stunning architecture and place of worship right at the heart of the city.
Inside, you will find an impressive marble altar and some of her relics inside a sarcophagus.
Old Town Streets
Rovinj was once a separate island from the mainland. However, a 1763 reclamation project has made this picturesque city more accessible to everyone looking for a quick escape.
While this may have invited thousands of tourists and day-trippers to this quiet city, it has somehow retained its medieval facade – complete with streets and alleys that a lot of us don't mind getting lost in.
There's no other way to describe this intricate streetscape than to call it a labyrinth made out of cobblestones.
If you walk around these streets enough, you would be able to discover the best coffee shops and the best restaurants to spend an afternoon in.
The best way to explore these old quarters is for you to give in to a sense of adventure and wonderment. Despite its size, the streets of Rovinj Croatia is actually bustling with life and culture.
You can spend hours getting lost in its labyrinth, sitting down for a drink or two, starting a conversation with their friendly locals, or simply going gallery hopping to sharpen your aesthetic taste.
It's up to you – this treasure trove of art and experience is one that should be thoroughly enjoyed.
The Balbi Arch
If you stray away from the city center, you might find yourself walking towards an imposing but equally striking arch.
This arch will lead you away from the main square towards Grisia Street.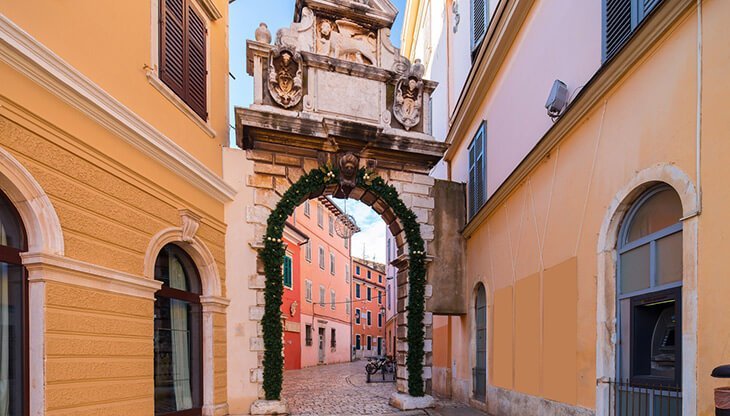 What used to stand here was the town's gate–but in its stead is now an arch that stands tall and striking.
It even comes complete with the Venetian's official mark: the lion of St. Mark.
Upon closer inspection, you should also see a bearded man and a Turk wearing a turban.
The Balbi Arch was named after the city's mayor in the late 1670s, Daniel Balbi.
Grisia Street (Ulica Grisia)
On your way to St. Euphemia Cathedral, you might notice a cobbled street that is lined with souvenir shops and galleries.
This is Grisia Street. Here you can find a mesh of all art styles – Renaissance, Baroque, Neoclassical, you name it.
It is this hodgepodge of style and art that makes this a worthwhile place to get lost in.
You can spend an afternoon soaking in the art scene and appreciating the architecture of the buildings here.
You might even decide to take a seat in one of its quaint coffee shops and simply watch passersby.
Rovinj Heritage Museum
Right at the Baroque Communal palace, you can find an exhibition of paintings and art from artists in the 15th and 19th centuries.
At the Rovinj Town Museum, you can explore a wealth of artistic and cultural display from their local masters.
Here you can find Croatian creators and artists such as Jacopo Bassano.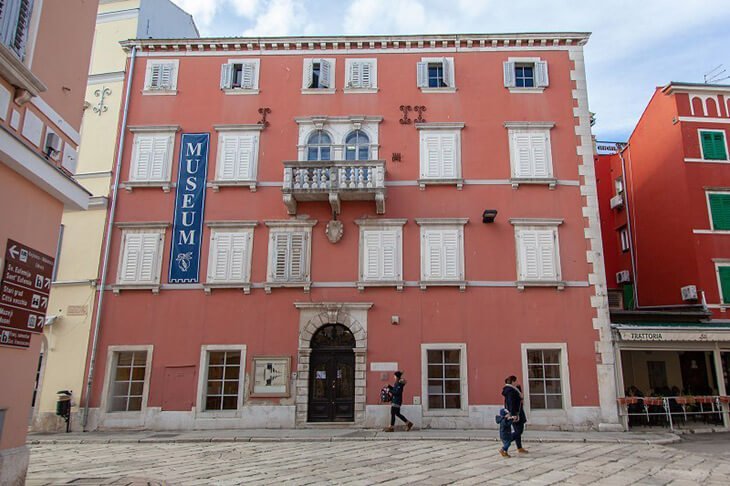 You can visit this place from Tuesdays to Saturdays for a minimal fee.
Rovinj Aquarium
Sure, it may be small, but this aquarium is home to dozens of magnificent aquatic life from Rovinj's local wildlife.
It is pretty unassuming – a simple aquarium with two rooms filled with tanks.
However, it is still mesmerizing and it doesn't set you back much.
It is perfect for a quick hour or two just to get a glimpse of the aquatic wildlife that is native to Rovinj Croatia.
Here you can find schools of fish, crustaceans, and other interesting marine wildlife.
What's interesting about this aquarium is that it is part of a century-old tradition of marine research.
Despite not being as big as one would expect it to be, dozens of tourists and researchers still visit this place to marvel at the beauty of Rovinj's aquatic life.
Town Clock In Rovinj Croatia
Without a doubt, Rovinj Croatia has a rich history – from being a settlement of Venetian tribes to being incorporated into the Byzantine empire and then eventually taken over by the Frankish Empire.
As we fast forward into the timeline, we will discover more and more about the history that make up this picturesque little city.
However, we also realize that it is a place that has been ravaged by war and political agenda.
The city's clock is one of the most potent reminders of this period of kerfuffle.
It takes us back to a time when the city's defenses were constantly being tested, and the people had to constantly look out for foreign colonizers.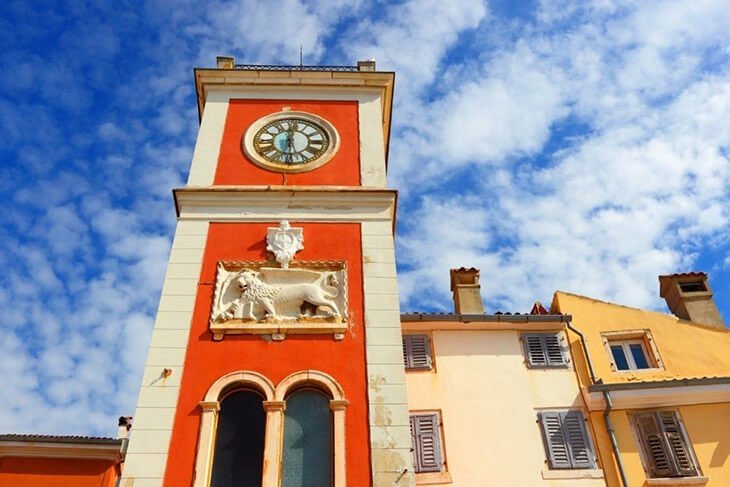 You can find this clock right in the center of the city.
It even has the symbol of Venice in it, the winged lion of St. Mark.
Despite the familiar comfort of this mark, it's still a little difficult to shake off the thought that the base of this clock tower was what used to be a one-cell prison.
Day Boat Trip To Lim Bay
Not to be mistaken as the Lim Fjord in Denmark, Istiria's Lim Fjord is a part of a 35 km-long valley called the Lim Valley.
This stretched from the heart of Istria, all the way to the town of Pazin.
If you take a car ride from the center of Rovinj Croatia, you should reach this natural resource in as quick as 20 minutes.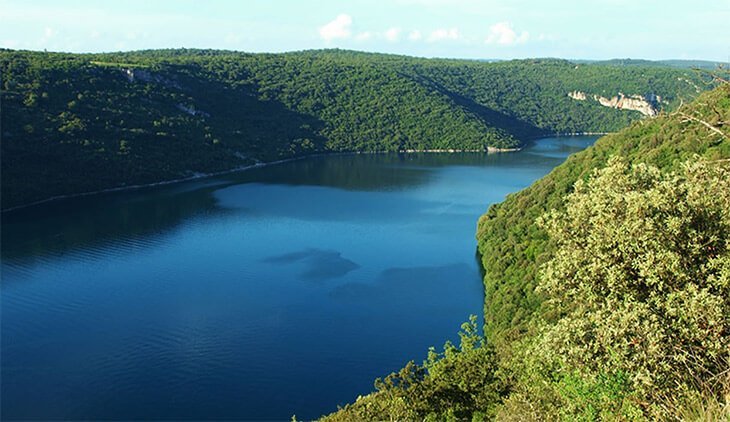 So what can you expect when you go on a trip to Lim Fjord?
First of all, you will be met with an impressive range of mountains from both sides of the gulf.
This is juxtaposed with a bay that is quite saline in nature. This environment has attracted thousands of wildlife, both in water, air, and land, throughout the years.
If you were to spend a day in this natural wonder, be prepared for lush greenery, great food, and plenty of activities to enjoy.
You can even go on a free climb over the cliffs at the northern side of this bay.
Sveta Katarina (St. Catherine) island
If you're looking for a day trip, Sveta Katarina is a small but lush island off the coast of Rovinj Croatia.
With just a single hotel in the vicinity, this little island still remains unspoiled and undeveloped by big corporations.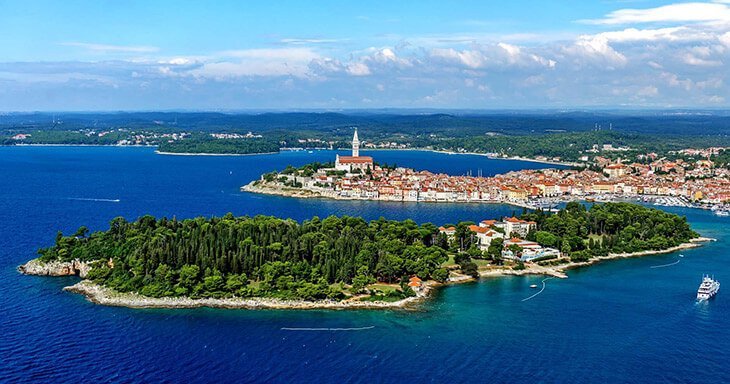 Here, you can spend a day just lounging by the bay or taking a dip in the pools of warm water.
If trekking is more your idea of a good time, you can also choose to go hiking along isolated paths that seem to be scattered all around the island.
From this picturesque island, you will also be able to enjoy a lovely view of Rovinj itself.
So what is the history behind this quiet yet strikingly beautiful island?
The ownership of this place used to be passed down from one aristocrat to another during the 20th century.
Eventually, it fell into the hands of a Polish count named Ignaz Milewski.
He took it upon himself to improve the landscape of the island and introduced more flora to it.
The result is the beautiful lush island that you can visit now.
You might also choose to take a peek into Milewsky's old castle by checking into the hotel.
How can you get from Rovinj to Sveta Katarina?
It's simple – all you have to do is to take a water taxi that departs from the pier. You should be at your island destination in just 10 minutes.
St. Andrew Or Red Island
If you move farther from Rovinj Croatia and past Sveta Katarina island, you will come across a seaside beauty known as Sveti Andrija island.
It is another island that you can visit while in Rovinj Croatia is the Sveti Andrija Island, also known as Crveni Otok or Red Island.
Here, you can find Maskin, a well-known luxury hotel that gives you an unimpeded view of nature.
There are also plenty of beaches that you can find on this island.
A miniature golf course, a pool, a restaurant–all these are available in this small beautiful seaside town too.
At its waters, you will likely find boats and yachts cruising its clear waters.
Make sure to keep watch for these if you plan on going out for a swim in the island's pristine waters.
Maschin Island (Maškin)
Down south of Rovinj Croatia, you will find another equally beautiful island, the Maschin Island or (Maškin).
You can access this through an embankment with the island of St. Andrew.
There won't be any problem traveling to this island as a boat departs every hour.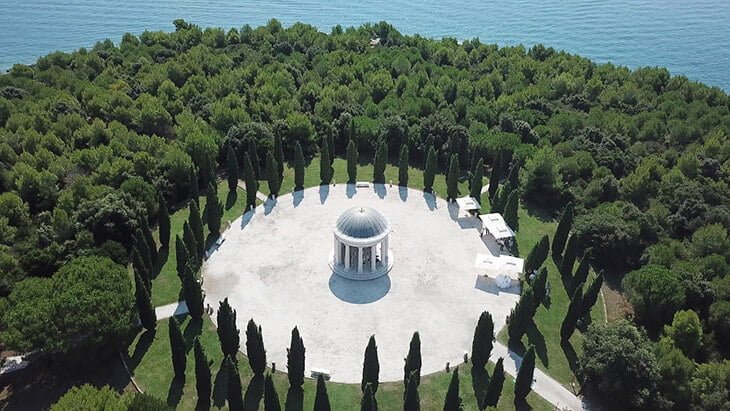 This may not be the most ideal beach setting for some beach aficionados because of its pebbly seashore, however, what it lacks in smooth and fine sand, it more than makes up in serenity and quiet.
Here you will be able to congregate with nature, sit back and listen to the waves, and even enjoy the deep but very clear water here.
Because of these characteristics, it is no wonder that Maschin island attracts hundreds of divers who are looking for a place to retreat to every year.
Best Beaches In Rovinj Croatia
St. Katarina Island Beach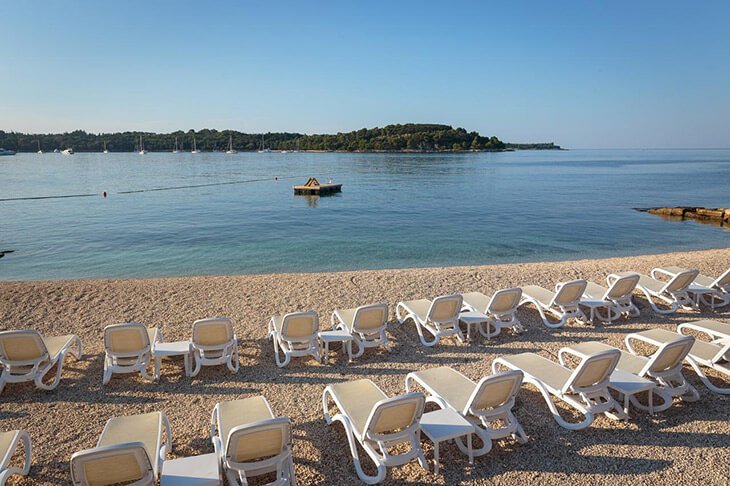 What you can expect here: mostly rocky with pebbles all across the beach
Size: about 500 mm in length, and 20m in width
Experience:
Katarina Island beach is known for its verdant landscape and greenery.
It is situated directly in front of Rovinj Croatia and takes only 5 minutes to reach from this point, making it an ideal place for day-trippers and tourists using Rovinj as their jump-off point to other places.
What sets St. Katarina Island beach apart isn't just its lush greenery though, but the sharp contrast of its rocks with the bay.
From this vantage point, the marina can be truly breathtaking.
Some activities that one can do here is sunbathing (thanks to all of its flat rocks), swimming, and even cliff diving.
You can also walk along the coastal path to explore the island.
Golden Cape Beach
What you can expect here: mostly rocky with pebbles all across the beach.
Size: about 2000 mm in length, and 20m to 40m in width.
Experience:
Just like St. Katarina Island beach, this rocky but equally beautiful seaside place can be located right in Zlatni Rt Forest Park.
In this beach, you can find a combination of the most fascinating rock formations and pebbles.
Once you're done lounging about in the alcoves and the beach, you might also want to explore the surrounding geo reserve in Golden Cape.
Here, you can discover a stunning park that can give you access to the Adriatic coast.
If you're a plant buff, we highly recommend that you give this place a visit.
Here, you will find plenty of exotic medicinal plants.
This may be due to the island being originally designed to be a health resort by count Georg Hütterott in 1890.
Of course, if you are a little more on the adrenaline-seeking type, there are plenty of activities in the area for you too.
You can explore sports activities such as cliff climbing in an old quarry.
The water is conducive to swimming and snorkeling as well.
St. Andrew Beach
What you can expect here: mostly rocky with pebbles all across the beach
Size: about 500 mm in length, and 10m to 20m in width
Experience:
If you're looking for some peace and quiet near the water and nature, then this is the best option for you.
Out of all the islands in the Rovinj archipelago, Sveti Andrija has the least number of inhabitants in it.
Despite being remote, you can still explore the area and find some historically rich places of interest.
For example, you can find here a Benedictine church that was built during the VI century.
Further down, you can also stumble across the foundations of what used to be a monastery.
Said monastery has since been converted into a castle by the Hütterott family, which has been eventually reopened as the hotel Istra.
Going back to the beach, you'll be met with pristine waters over a rocky embankment.
This makes it a great place for a day-trip with your children.
Veštar Beach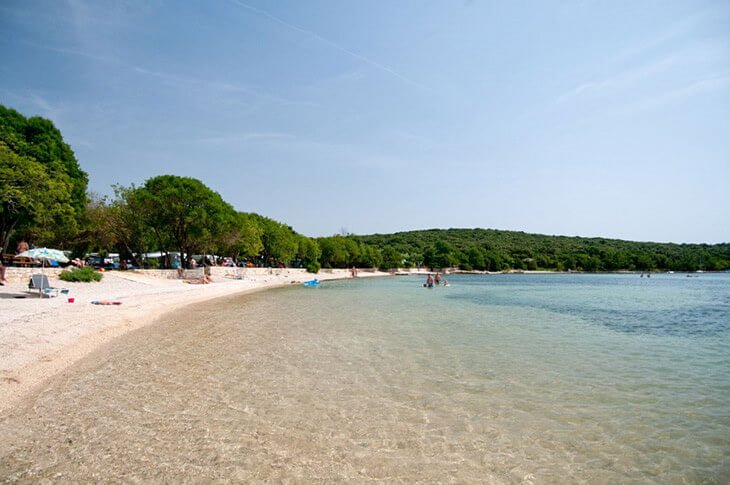 What you can expect here: mostly sand and pebbles, but parts of it is still quite rocky
Size: about 700 mm in length, and 20m to 40m in width
Experience:
Veštar Beach is a good place to go to if you want to take a breather from all the harsh rocks on the other beaches.
Here you will find a moderately sandy area, but with rocks and pebbles littered in some places.
This is often visited by families, thanks to its sloping sandy bottom, making it safe for kids to explore.
To get to the deeper end of the water, you'd have to wade through the water for about 50 meters before you can enjoy a substantially satisfying swim.
What are some of the other activities you can enjoy around the Veštar Beach?
Well, if you like camping, then the Veštar campsite is available for use in the area.
You can also explore the area by renting a bike. With the right planning and connections, this can easily be the best getaway destination for you and your family.
Lone Beach
What you can expect here: mostly paved, with some rocky and pebbly parts
Size: about 300 mm in length, and 20m to 40m in width
Experience:
Lone Bay is a beach in between Monte Mulini and the entrance of Golden Cape nature park.
To get to this beach, you need to travel approximately 1500 mm from the old town.
If this is your destination of choice, then be sure to prepare for a trek or a long bike ride.
The upside to this is that you will simply enjoy the grandeur of nature as you make your way towards this hidden paradise.
Most of the roads here are cemented, so there shouldn't be any problem with you staying for a night or two.
You have options for an accommodation in Lone and in Eden.
We recommend this is you are looking for a quiet retreat with plenty of greens to rest your eyes on.
Its beauty and landscape are truly the best that nature can offer.
Amarin Beach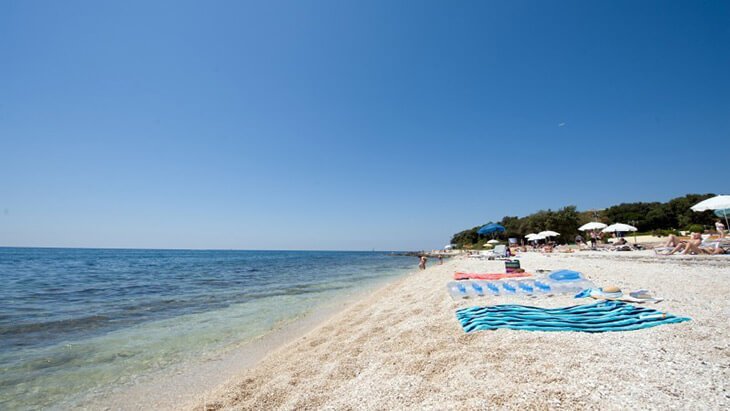 What you can expect here: mostly rocky with pebbles all across the beach
Size: about 500 mm in length, and 40m in width
Experience:
By now you might notice that most of the beaches in and around Rovinj Croatia are pebbly and rocky in nature.
Well, Amarin beach fits in quite snugly in this theme.
It is a well-known naturist beach around.
With pristine and clean waters, it is no wonder that this beauty had been awarded with the Blue Flag, a recognition for its positive environmental impact and quality standards.
If you're looking for a jump-off point for your boating trips, then this will do quite well.
It has a small but protected harbor and safe boat ramps from which you can embark on.
If you choose to make this beach a part of your itinerary, make sure that you prepare ahead for a daily entrance to the resort.
Accommodation In Rovinj Croatia
By now you've already gotten a pretty clear picture of what this idyllic city in Croatia has to offer.
One of your considerations might now be about finding the right accommodations.
What are your options when it comes to staying in Rovinj?
There are actually several choices available to you–from luxury villas to affordable rentals.
However, with the plethora of hotel options, you can enjoy in Rovinj, this is the most viable option.
Whichever area you might want to stay, you will be sure to find the right accommodations for your needs. You can choose among tourist favorites like Residence Porta Antica, Hotel Adriatic, or maybe Family Hotel Amarin.
Most of these options are equipped with WiFi and the basic amenities that one needs. They even offer an extensive menu for meals at an additional price.
Restaurants In Rovinj Croatia
When it comes to a gastronomical adventure, the little town of Rovinj Croatia is best known for its seafood dishes.
If you want to treat you and your companions to a meal with a 5-star view, you can always reserve a spot near the marina.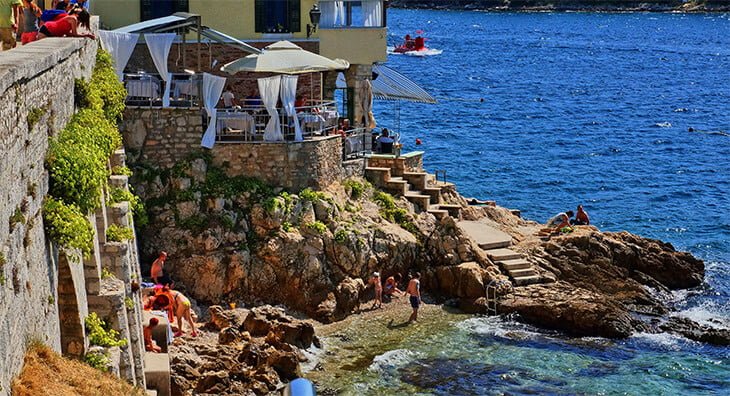 With outside seating, you will be able to enjoy your meal as you overlook the Adriatic sea with the waves as an undertone to your table conversation.
However, seafood isn't the only thing that you should focus on when in Rovinj Istria.
They also have an impressive selection of wine and outdoor markets that you can buy your food from.
There are also plenty of hole-in-the-wall restaurants and coffee shops along the streets of the Old City Center.
Some of the dishes that Rovinj is best known for include pasta, truffles, and burek.
This last bit is a tourist favorite.
It is a street food that is made out of baked pastry stuffed with meat and cheese.
How To Get In Rovinj Croatia?
Even for a first-time visitor, you won't have a hard-time reaching Rovinj Croatia.
Take a look at the following entry points and find the best route to Rovinj for you and your travel companions:
From Pula
Pula Croatia is a popular airport nearest to Rovinj Istria.
It is approximately 38 km from this picturesque town, totaling to only about 40 minutes of driving.
Most tourists from London and its neighboring cities make this their entry point to Rovinj Croatia.
From Zagreb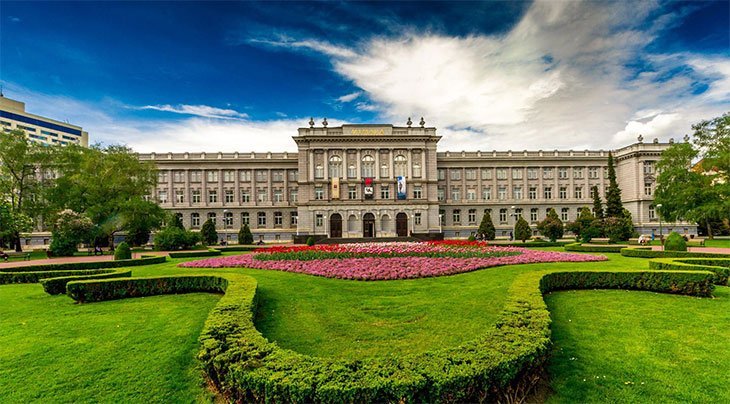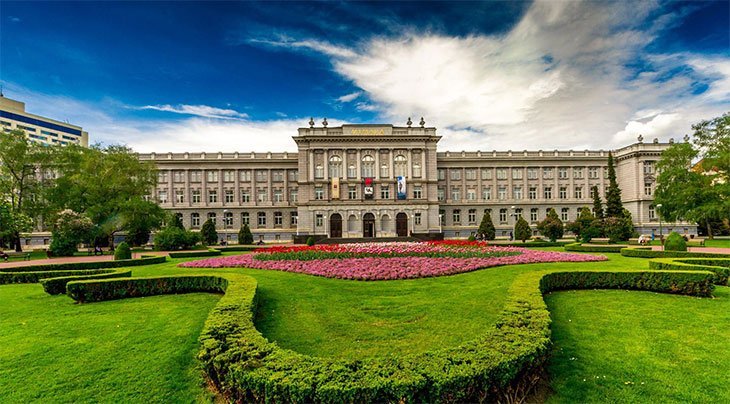 If you're coming from the east, then an entry point through Zagreb might be the best option for you.
From Zagreb airport, you can simply take a bus to Rovinj Croatia.
This will take you about 3 to 4 hours of travel, but the transportation system is actually quite comfortable.
From Rijeka
Lastly, you may also choose to come from Rijeka.
This should only take you about an hour and a half by bus, traveling a distance of approximately 90 km.
Why you should visit Rovinj?
We hope that this guide has gotten you excited for this picturesque town that is not only rich in scenery, but also in history and culture.
We'll be glad to learn more about your trip to this little Croatian city!
See also this destinations: