Split Croatia: Attractions, Best Things To Do, Beaches
Still undecided which cities to include in your Croatian trip? That may not be the case after you read this guide.
Split Croatia is the second largest city in the country next to Zagreb but some people, especially the locals, argue that it is the most beautiful!
But whether or not it's for you would greatly depend on your taste and preferences.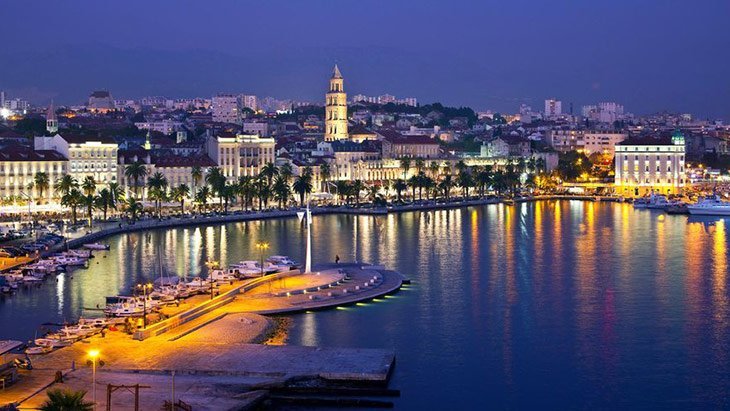 What should you expect?
If you're visiting a country like Croatia to marvel at art and history, it's good to see both the ancient and the modern.
Split Croatia has both.
It's a great place to really experience Dalmatian life.
Dalmatia is the ancient region that is now on southeast of Croatia.
But with limited time in your stay, you may find it overwhelming to try and squeeze everything in your Split holiday itinerary.
Fortunately, this Split travel guide will provide you with everything you need to know about the best things to do when you visit Split and help you organize your trip.
Top Things To Do & Places To Visit In Split Croatia
To make the most out of your stay in Split, you need to include not just popular attractions but also the really authentic experiences in your Split itinerary.
These local attractions are the ones that you should not miss when you visit Split.
Diocletian Palace
First, let's look at the ancient. The Diocletian Palace is the main attraction in Split Croatia and is quite a significant Roman ruin, one of the few that survived since the Roman era.
It has a historical value because the Roman Emperor Diocletian built the palace after he retired and it became his dwelling when he was no longer ruling the then Roman province.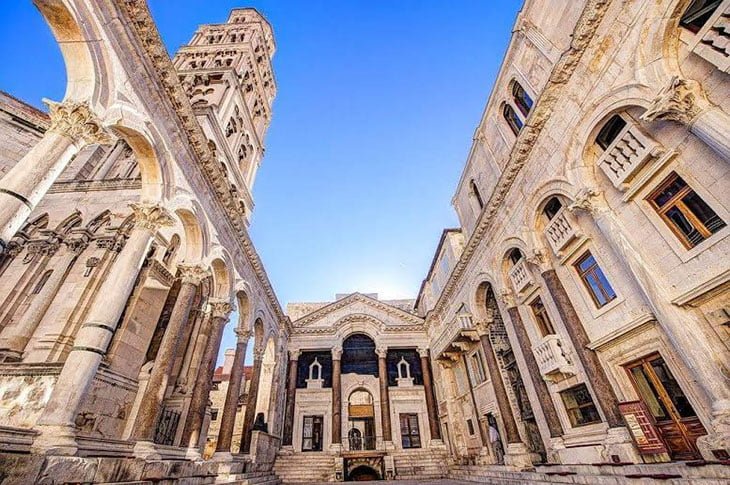 Although it's just a ruin now, stepping inside will make you see just how massive this structure was. It's like going back in time and seeing not just the palace but the surrounding buildings that have served as military housing for the Roman fleet.
It has numerous towers and is a mix of villa and castrum architecture. It is among the best-preserved monuments of Roman architecture worldwide.
What's fascinating about the Diocletian Palace is that it is truly an ancient fortress but today, you will find numerous old buildings that have been transformed into shops, cafes, and other residential areas on the narrow streets around it.
You should take time to explore the rest of the city and not just the palace because you will also see other buildings designed in different styles and periods.
Other things you should see inside and near the palace are the Cathedral of Saint Domnius, The Golden Gate, The Silver Gate, and two other significant gates, the Vestibule, and the Temple of Jupiter among many other things.
Entrance Fee To Diocletian palace
There is no entrance fee to see the Diocletian Palace but you have an option to join a walking tour for a fee.
How to Get To Diocletian Palace ?
Going to the Diocletian Palace is like going inside a city within a city but it is very accessible.
You can take the bus or train or walk from the main areas of the city.
Split is practically a walking city so you can go from the waterfront Riva by foot to the main attractions including the palace.
Hours and Best Time to Visit:
This site can get very crowded so it's difficult to choose which day to visit.
However, the palace is open 24/7 so if you have the energy, you can try going very early in the morning to beat the crowds.
Walk from Riva to Sustipan Park
Sustipan Park is the southwest cape of the Split harbor.
This green haven rests under placid blue skies surrounded by magnificent ocean waters.
It faces the edge of the Adriatic directly.
A route from Riva to Sustipan Park is definitely a refreshing one so it's a great idea to include it on the first day of your Split itinerary so you can have a relaxing first look at the city.
You can spend as little or as much time as you want on your stroll down the Riva harbor to Sustipan.
Enjoy a nice breezy atmosphere while you marvel at the sights!
There are restaurants and cafes surrounding the area if you want to go for a light snack or dinner during your stroll.
Enjoy in Sustipan Park
It was Split's first cemetery in the early 19th century but has been demolished.
The citizens of Split Croatia transformed the location into an extraordinary site, giving both locals and tourists a breathtaking view of the city.
You will also find the medieval Benedictine monastery where the last Croatian king lived.
If you're traveling with your spouse or lover, you will find many romantic spots in the park as well.
There is a pavilion called the Glorijet that has been there since 1825 where you can sit down and enjoy the moment, being together on a trip of a lifetime.
Though it used to be a gravesite, it remains to be one of the most beautiful Mediterranean sites that have been preserved after the second World War.
It is truly an important spot to include in any Split travel guide.
Entrance Fee:
There is no fee to explore the park or take a walk from Riva to Sustipan Park but you may want to try several activities like boating and borrowing equipment for a fee.
How to Get There:
Sustipan Park is walking distance from Riva which is the heart of Split Croatia.
You can walk from Bačvice beach and take the whole stretch of Riva to the park.
Hours and Best Time to Visit:
It's preferable to walk during the afternoon when the sun is not too hot anymore or at night which makes it a little bit more romantic if you're on a lover's trip.
Split Green Market (Pazar)
Experience one of the most vibrant mornings in your life when you visit Split's Green Market.
It's a place where locals go to buy their food and stock up on fruits and vegetables.
But if you're not planning to cook during your stay, there are other things to see like beautiful flowers.
You can even buy clothes and some souvenirs that you can take home for friends and loved ones.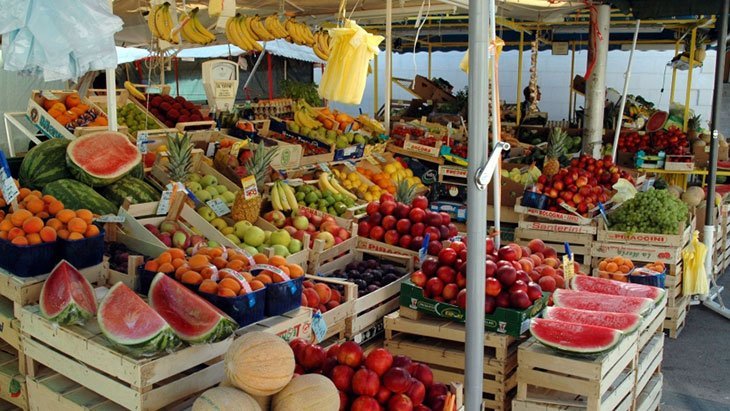 What you will really see that is unique when you visit Split Green Market is how the locals interact with each other.
It is truly an immersive experience and the best part is that the prices are astonishingly cheap!
The market is full of colors and while you may not want to cook, you can buy some fruits that you can snack on and head to Marjan Hill for a picnic.
It's safe to do this during the last weekend of your stay when you visit Split so that you're relaxed and ready to take home a part of Split with you.
Entrance Fee:
There is no fee to enter the market and the prices of the goods are very affordable.
How to Get There:
Locals call the market Pazar so if you ever need help locating it, just ask for Pazar and you can easily find it. it's located east of the city walls.
The nearest building is the Natural History Museum so if you are taking the bus, you can get off at the closest stop to the museum and walk from there.
Hours and Best Time to Visit:
Split Green Market opens very early at 6:30am and most shops close at 2pm.
Despite the crowd, it's best to go on a weekend morning because that's when you will really experience the action and the most unique items for sale.
But if you're feeling frugal, you can go past noon to buy things at discounted prices.
Bačvice Beach
Make sure to pack your swimsuits and sunscreen when you plan to visit Split.
Even in winter, Bačvice Beach is a must-see on your Split Croatia trip.
It's a sandy beach and the best part about it is that it's only a kilometer away from the heart of the city.
You can even walk from Riva to the beach on a nice breezy afternoon.
But it's not just for swimming or sunbathing. The beach is also the center of some of the most fun events in Split.
Even in the colder months, it's nice to just take a stroll down the beach and feel the soft sand on your feet.
In fact, you can even spot some brave tourists and locals swimming in the cold shallow waters.
Bačvice Beach was awarded a Blue Flag which means it is one of the cleanest beaches with the highest quality water in the world.
It's great for families, lovers, and even those traveling alone.
There are slides and rubber castles for kids and bars in the surrounding area.
You can take outdoor showers near the beach and rent a deckchair to sunbathe for a small fee.
If you want to swim, you may have to walk a bit farther from the shore because the beach is located in the shallow bay.
Entrance Fee To Bačvice Beach
There is no fee to enjoy the beach and swim but you can rent deckchairs and umbrellas.
How to Get There:
The beach is very near the main attraction in Split Croatia. You can access it by foot from the Palace in just 15 minutes.
That means, you can return to other places in your Split itinerary after a nice afternoon dip in the water.
Hours and Best Time to Visit:
Bačvice Beach tends to be very busy no matter what day you visit.
It is nicest to go on a sunny afternoon but if you want more space and less crowd, you should go there in the morning.
Marjan Hill
On the more relaxed days of your travel to Split, go ahead and get some fresh food from the green market and head to Marjan Hill for a picnic!
It may look like a very simple activity but it is definitely one of the most special items on this Split travel guide. Marjan Hill is a symbol of Split.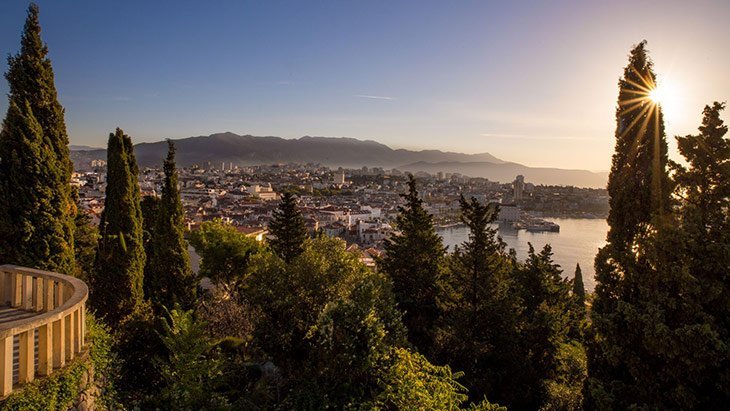 It's a great escape from all the bustle in the city when you visit Split Croatia.
The hill is an expansive nature retreat. Here is where you can truly enjoy some Mediterranean vegetation.
The place is surrounded by lush greens and is a great spot to see many sights in the city from above.
Locals call this hill the "lungs of the city" because of its beautiful plants that give out fresh air and captivating views.
Make sure to stand on the western cliffs where the sights are the most breathtaking.
There is even a café bar on the top of the hill where you can enjoy a nice warm drink after a short hike.
The great thing is that you can find several of the most interesting museums at its foot so after a short hike and picnic, you can simply come back down and continue your tour of the city.
This includes the Mestrovic Gallery as well as the Museum of Croatian Archeological Monuments.
Other things you can do is to rent a bike to go around the hill then explore the surrounding areas where you will find a tennis court or go straight to the Bene beach.
Entrance Fee:
There is no fee to access the hill but you can rent bikes to go around and explore the place.
Getting to Marjan
As with most attractions in Split Croatia, Marjan Hill is easily accessible from Riva on the west end.
Just walk toward the square fountain and follow the street to the Varoš neighborhood.
You will have to climb some stairs to get to the first lookout point.
Hours and Best Time to Visit:
You can access the hill any time you want.
Any day that is not rainy is a great time to go to Marjan Hill.
Cathedral of Saint Domnius
What's impressive about the Cathedral of Saint Domnius is that it's one of the best-preserved Roman structures that are still standing to this day.
It was originally constructed as a mausoleum for the emperor Diocletian who was said to have persecuted Christians in his rule.
The people destroyed his sarcophagus and converted the place into a religious sanctuary.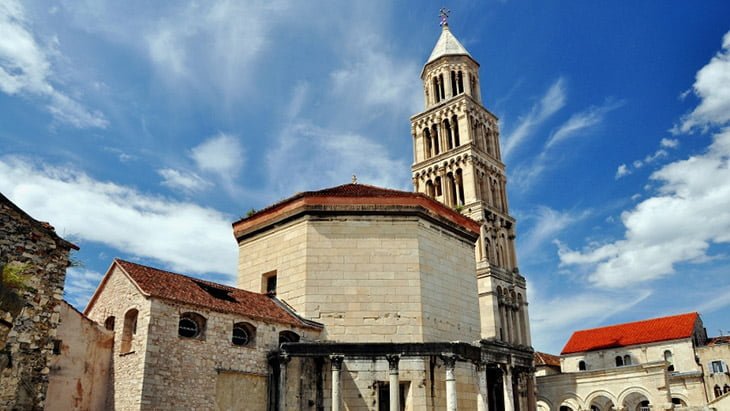 When you buy an admission ticket to the cathedral, you will also have access to the crypt, treasury and baptistry or the Temple of Jupiter.
Another thing that is quite unique about the Cathedral of Saint Domnius is its octagonal shape.
This is enclosed by an aisle of 24 columns. You will also see the magnificent red granite Corinthian pillars on top of the niches.
Today, it serves as a place of liturgy so if you're religious, you can go on a Sunday and attend the mass.
You should definitely check out the bell tower of the cathedral which is a notable piece of medieval architecture, one of the most original in southwestern Croatia.
If you climb the tower, you will have a great view of Split.
Entrance Fee:
Entrance to the cathedral is 25kn which is all-inclusive.
If you only want to see the cathedral and the bell tower, there is an option to just pay 15kn.
How to Get There:
The cathedral is inside the Diocletian Palace in between Cardo Street and Decumanus.
It is easily accessible by foot from the waterfront Riva.
Hours and Best Time to Visit:
The Cathedral of Saint Domnius is open every day from 8 am to 8 pm in most seasons but it closes at noon during winter.
The best day to visit the cathedral depends on your intentions.
If you're religious and you want to experience hearing the mass, you must definitely go on a Sunday.
If this is not of interest to you, you can go on a weekday to avoid large groups on tours.
Ivan Meštrović Gallery
Ivan Mestrovic was a 20th century sculptor and this gallery is dedicated to his works.
He is Croatia's most recognized artist.
If you really want to see southwestern Croatian art, you should definitely stop by the gallery when you visit Split.
Here, you will see the most significant works of Mestrovic.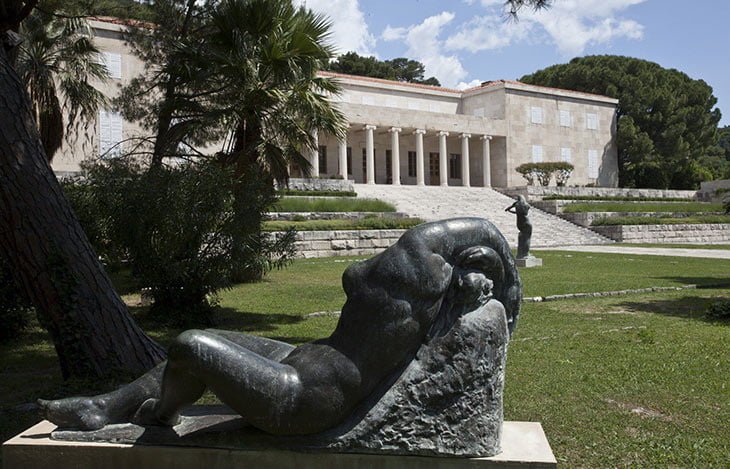 The building itself is a work of art. It looks like a great place to shoot fantasy and science fiction films because of its dignified structure.
Fronting the building is a wide stretch of stairs and on its sides are velvety green grass with pine trees and statues that tell stories.
The gallery features a collection of Ivan Mestrovic's sculptures, drawings, and other architectural designs.
He has works made of bronze, marble, and wood.
Visitors who have seen the place and the exhibits said that the sculptures look like they are about to move even though they were stationary which means they are exceptionally lifelike.
This is perhaps, one of the less crowded attractions in Split.
It is rather quiet even on weekends, which is a good thing because you can really take the time to appreciate the artworks.
If you don't want to go inside, you can actually just take a walk in the surrounding area which already displays some of the sculptures.
Entrance Fee To Meštrović Gallery
Admission to the art gallery is 40kn for adults and 20kn only for children.
You can also get a family rate of 60kn.
How to Get There:
It's fairly easy to get to the gallery from practically anywhere in the city.
Buses numbers 12, 7, and 8 will take you right to it and if you're driving or renting a car, parking is just 400 m away.
Hours and Best Time to Visit:
The Ivan Meštrović Gallery is open from Tuesday to Sunday from 9 am to 7 pm.
Gallery is closed on Mondays and holidays.
The gallery is less crowded than a lot of other attractions in Split so you can visit any day you want without much trouble.
Froggyland
You may not be a fan of amphibians but this strange museum may change your mind.
This is definitely one of the most unique recommendations in this Split travel guide.
Froggyland boasts of a collection of more than 500 stuffed frogs doing absolutely adorable things!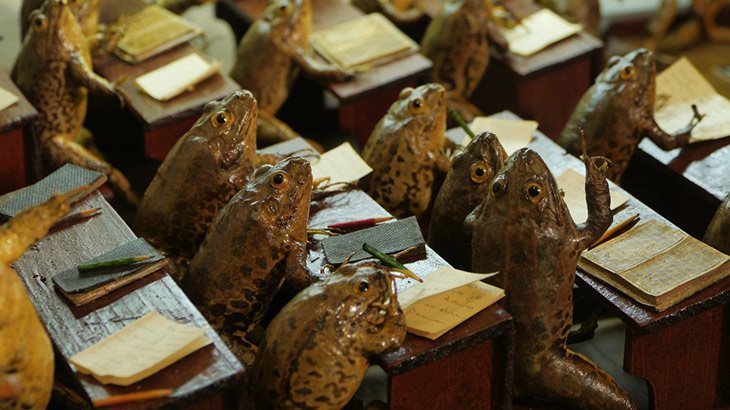 If you've had your share of visits to the more serious parts of Split like the historical and religious sites, why not mix it up a bit and add a bit of humor to your trip?
This place will definitely make you giggle and smile.
The frog dioramas were works of Hungarian taxidermist Ference Mere.
He spent nearly 10 years carefully designing and stuffing these frogs.
You may think it weird for someone to do such a thing but it is truly a remarkable work using advanced taxidermy techniques.
Mere was said to be a frog fanatic and it's a great thing that his work is available for us to see today.
This is probably one of the least boring museums you will ever set foot into.
You can see groups of frogs doing hilarious things like playing tennis or visiting the dentist!
There are frogs studying inside a classroom and frogs in the middle of a circus show.
It's truly amusing.
Entrance Fee To FroggyLand
Kids are free to enter in the museum.
Entrance fee is 25kn for adults.
How to Get There:
The museum is located in a central area just off Marmontova so it's easily accessible.
It is very near the Art Gallery so if that's in your itinerary for the day, you can easily drop by for less than an hour then proceed with the rest of your day tour.
Hours and Best Time to Visit:
Froggyland is open from 10am to 10pm daily.
It's quite a small place which you can easily finish exploring in less than an hour so you can definitely squeeze this in any day in your Split holiday itinerary.
There is nothing special going on during the weekends so if you want to avoid bigger crowds, it's best to go on weekdays when it's less busy.
Museum of Croatian Archaeological Monuments
Whenever you're visiting a new city, you should take advantage of seeing the free attractions.
The Museum of Croatian Archaeological Monuments is definitely worth your time and would not cost you anything.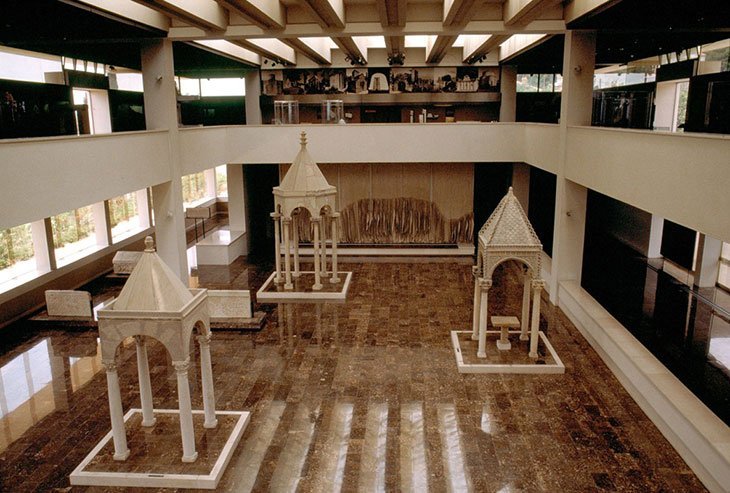 It is the only museum in Croatia that is dedicated to research involving cultural artifacts in the time of the medieval Croatian state.
The collections feature mostly jewelry and weapons along with objects of daily use.
You will get to see things that were used in the early medieval times and artworks like sculptures that span over several periods.
Entrance Fee:
Free admission.
How to Get There:
You can reach the museum by train from any station.
Get off at the Zeljeznicki kolodvor Split which is the nearest station and walk from there.
Hours and Best Time to Visit:
The Museum of Croatian Archaeological Monuments is open from 9 am to 4 pm, Monday to Saturday and is closed on Sundays.
This place does not get too crowded so it's great to visit in the weekend so that you can explore other fun weekend things to do in the nearby areas.
Let Me Pass Street
What's the weirdest street name you've ever heard in your whole life? I bet it's not as weird as this street in Split Croatia.
The street is called Let Me Pass and is the smallest attraction in the city.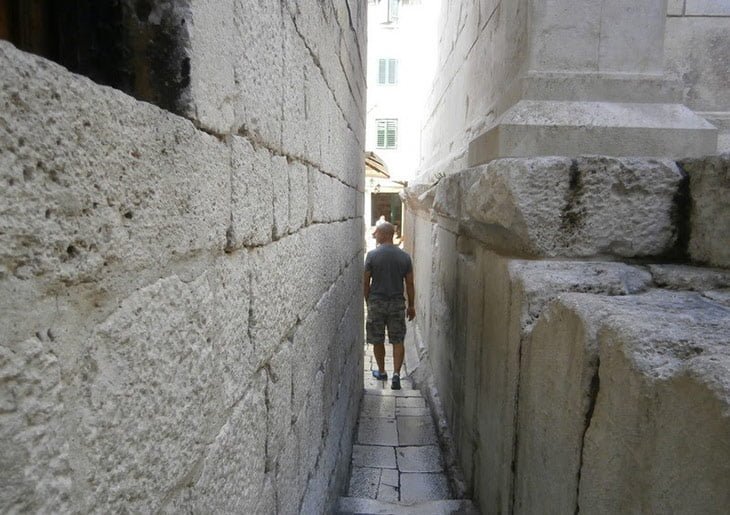 When you tell your friends what you've done in Split, you could tell them that you've walked along one of the narrowest streets in the whole world!
It is so small that it's only enough for one adult person to go through at a time.
While this may not be as fascinating as the castles and other historical sites, it is definitely a must-see that's why it's included in this Split travel guide. Have a good laugh watching people wait their turn to pass through.
Rumor has it that ladies in the past centuries used to pass through the street a lot, hoping to bump into male suitors so they could pass and exchange notes.
Entrance Fee:
None.
How to Get There:
This narrow street is actually along Jupiter's Temple inside the palace. The Diocletian Palace is very accessible.
You can take the bus or train or walk from the main areas of the city.
Split Croatia is practically a walking city so you can go from the waterfront Riva by foot to the main attractions including the palace.
Hours and Best Time to Visit:
The street is just there so you don't have to worry about opening or closing times but it's best to visit in the morning before noon when there are less people trying to walk through it.
Poljud Stadium Guided Tour
Croatians love football! And since we're talking about Croatia, of course we're talking about European football.
The Poljud Stadium is the home venue of the Hajduk Split FC or football club.
This is where some of the national football games are being hosted including the biggest matches.
It has a capacity of 34,198.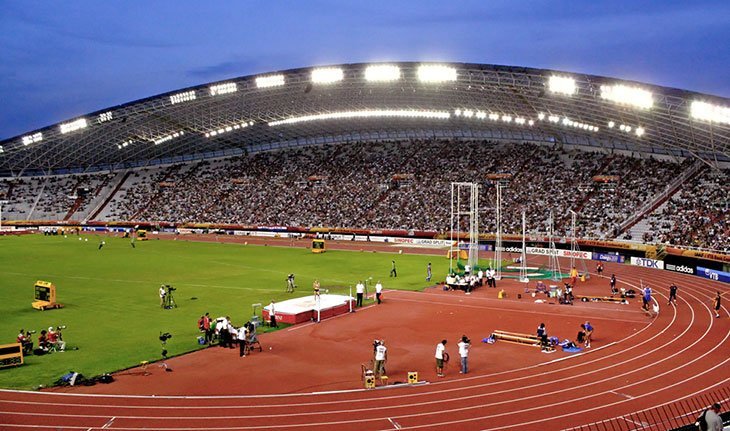 It was first built to host the Mediterranean Games back in '79 and since 2013, it has been the venue for the annual Ultra Europe.
The stadium's trademark is its unique seashell design and it has been copied by many other world stadiums through the years. Unlike other stadiums, it has a transparent design which gives you a view of the surrounding hills.
Split is not just a city of art and culture, it is also buzzling in sports.
So, whether you're a football fan or not, it will be an experience of a lifetime to watch a game.
If not, just take a tour to see what it's like to be inside.
After all, it is in the middle of a scenic neighborhood so why not include it in your Split itinerary?
Entrance Fee To Poljud
You can get tickets online for games hosted at the Poljud Stadium or in Marmontova.
Prices vary depending on the importance of the game and tickets are usually cheaper during the off season.
How to Get There:
The stadium is in the north of Split, only a kilometer away from the historic center so if you're coming from the historic sites, you can easily get there by foot.
You can also take the bus number 3 from the eastern side of the city center going to Lora.
Hours and Best Time to Visit:
It's best to check the Hajduk team's game schedules if you want to watch them play in person in the stadium during your trip.
If that's not your thing and you'd rather avoid the excited cheers of fans, you can just visit on any non-game day.
Cathedral Of St. Lawrence – Trogir
If you want to explore nearby towns when you visit Split, Trogir is one of the best places to go.
The Cathedral of St. Lawrence or St. Lawrence Church can be found there and it is one of the finest architectural masterpieces in all of Croatia.
It has been standing there since the 13th to 15th centuries.
There are fascinating sculptures all around and pretty carvings on its surfaces.
You may also want to take a quick detour to the Chapel of St. John right beside it and make sure you take some time to stop by the treasury where some precious ivory triptych and silver reliquaries are stored.
The cathedral features heavy elongated piers that separate its two aisles which were also present in later Gothic styles.
Its architect and sculptor, Master Radovan worked on the gateway with intricate carvings and made this Romanesque portal his masterpiece.
Entrance Fee To Cathedral Of St. Lawrence
Entrance to the church costs 3.50 euros which includes entry to the church as well as the sections and the bell tower.
How to Get There:
If you're coming from Split, you can take the FlixBus that passes through Zagreb and stops at Trogir.
The travel time is only 30 minutes.
Or better solution you can go there with bus number 37 which drives regularly from Split to Trogir. Starting point of bus 37 is Sukoišanska street.
Travel time is around 1 hour.
From the station, it's only a 3 minute walk to the church.
Hours and Best Time to Visit:
If you are interested in hearing a mass, it's best to go in the evening.
The church can get pretty crowded throughout the day but there are less groups on tour in the early morning.
Holiday Activities In Split Croatia
Aside from the recommended attractions in this Split travel guide, there are so many other things you can do in Split's nearby towns!
We've mentioned Trogir where St. Lawrence Church can be found.
Other things you will see in Trogir are the Palace Cipiko, the breathtaking Krka Waterfalls, and Plitvice Lakes. Here are other fun things to do around Split:
Rafting on River Cetina
For the outdoor enthusiasts, rafting on River Cetina would definitely sound appealing but even if you've never tried it before, it's a great experience that will really make your Croatia trip unforgettable.
You don't need to have rafting experience to try it as long as you can swim if you go rafting with a guide.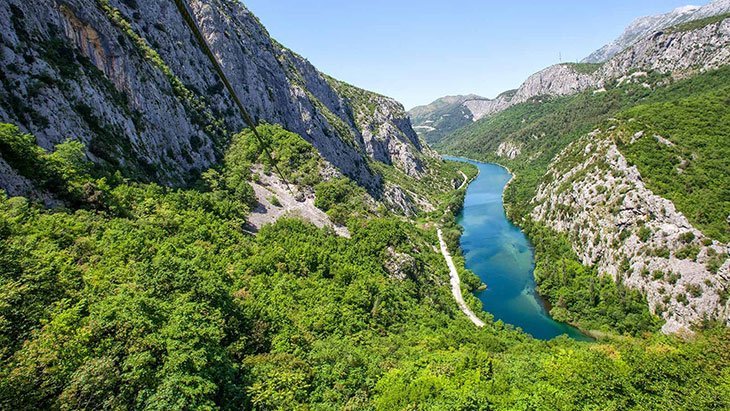 Radmanove Mlinice – Omiš
You should also consider other outdoor activities in Radmanove Mlinice in Omiš.
You can go pirate rafting, ziplining, or join a boat tour.
Omiš is a great place for you to push your limits and simply enjoy the beauty of nature.
If you don't feel like getting wet, you can also take a hike up fortress Fortica.
It has an amazing view of the island!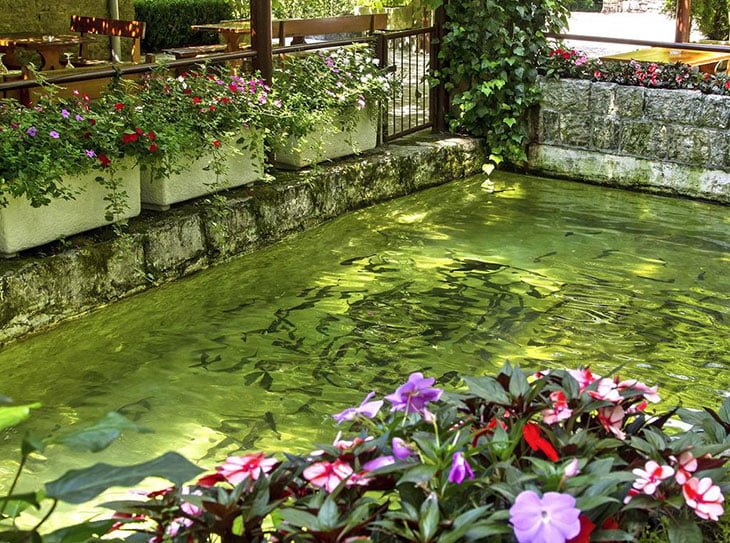 Visit Kaštela
Northwest of Split Croatia is Kaštela which is a small city where you can take a relaxing day trip on your way to Trogir.
The city's name literally means castles in the Croatian language and true enough, Kastela is rife with them.
Seven of Kastela's coastal villages were built around castles.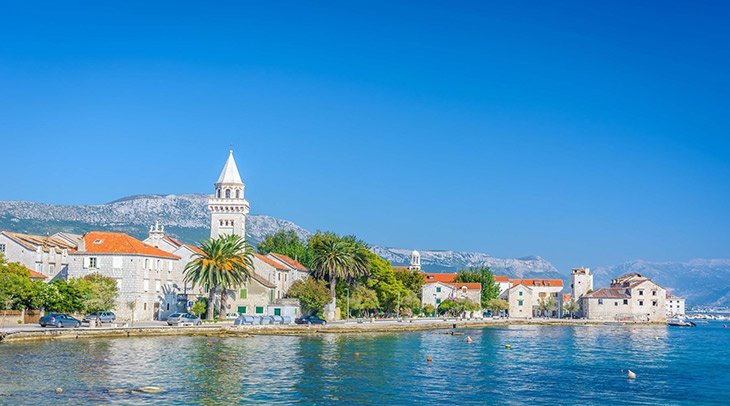 What's special about Kaštela is its subtle charms.
There is nothing too extravagant in this city but it's beautiful and it's worth stopping by if you're exploring other nearby cities from Split Croatia.
Explore other holiday destinations near Split