Surrounded by the highest peaks on the island of Hvar, on the norther coast, sits the lovely little town of Jelsa Croatia.
Surrounded by pine forests, olive groves, vineyards and lavender and rosemary fields, Jelsa Hvar overlooks a bay of crystal-clear waters, making it the perfect holiday getaway.
This perfect little town is old, founded in the 14th century, and according to legend, it was built around St. John's chapel.
Today, on that very spot, is a stunning 17th century Baroque chapel.
Interestingly enough, despite being officially founded in the 14th century, there is clear evidence of settlements having been established in the Jelsa area that date back to the ancient Greek as well as Roman eras.
There are also traces of habitation that date back to Illyrian times, if not earlier.
The old name of the town was Civitas Vetus Ielsae, but the name Jelsa first appeared in 1331 in the Statute of Hvar.
That name is in reference to the alder trees (Jalša in Croatian) that grew in the swamps that were located near the town's harbor.
Those trees don't exist anymore, since the swamps dried up in the 19th century.
Jelsa Croatia started off as a ship port for the nearby village of Pitve.
But it grew from being an insignificant fishing and agricultural village to a maritime and shipbuilding center for the Adriatic region.
The town reached its peak as a maritime powerhouse in the 19th century, being the starting point of shipping vessels, exporting the best Hvar island wines, salted fish and olive oil.
After the wine industry was almost destroyed in the 19th century, and the shipping industry dried up, Jelsa Croatia, like the rest of the island turned to tourism to sustain itself.
Today, this gorgeous little town is one of the most important tourist centers of the region.
Jelsa Croatia – Things To Do
Jelsa is the second largest town on Hvar Island, after Town Of Hvar. Yet, it is still a small town, with a total of just over 3,500 residents.
Having said that, this is also an ancient town that has adapted well to circumstances and is a bustling tourist spot with tons of things to do.
Historical Sites In Jelsa
Jelsa Hvar Island is a historical town, and there is so much of the past here, that you could spend your entire holiday just exploring the history and culture of the area!
You could visit the villae rusticae, remnants of the Roman era, old Jelsa City (Civitas Vetus Ielsae), or any or all of the stunning and centuries-old churches that dot the Jelsa landscape.
You can even reach far back into prehistory and visit the archeological site at Grapčeva Cave.
This cave is considered the birthplace of Hvar culture and is one of the oldest prehistorical sites in all of the Mediterranean.
Remember that swamp that dried up in the 19th century?
Well, that was converted into a stunning public garden called Perivoj in 1870, and it definitely worth a visit.
You could also visit the ancient Greek fortress of Tor, built in the 4th century BC on the remnants of an earlier Illyrian fort.
You could even go to the Medieval town of Galešnik, not far from Tor.
Festivals in Jelsa Croatia
While the town is lovely all year round, the best time to visit is in summer – August to be exact.
There are a variety of festivals that attract visitors from all over the world.
You can attend the Nights of Antun Dobronić, a month-long festival that starts on July 20 and concludes on August 20 every year.
There are magical, musical, drama as well as folklore events throughout that time in different locations in and around the town.
August 15, which is the Assumption of the Virgin Mary, is the day that is celebrated as Municipality Day.
There is an impressive ceremonial session, a sumptuous banquet of the best that Jelsa has to offer and a night of fireworks and celebration!
If you are a wine lover, or want to learn more about wines, or, well, just want to have some fun, then you must attend the Jelsa Wine Festival on the last weekend of August.
Organized by the city, the best locally grown (but world famous) wines are on display (you get to drink them too!), which are paired up with the best cuisine of the land.
Earlier in the year is the Za Križen, which translated means Following the Cross.
This event takes place on Maundy Thursday, just before Easter every year.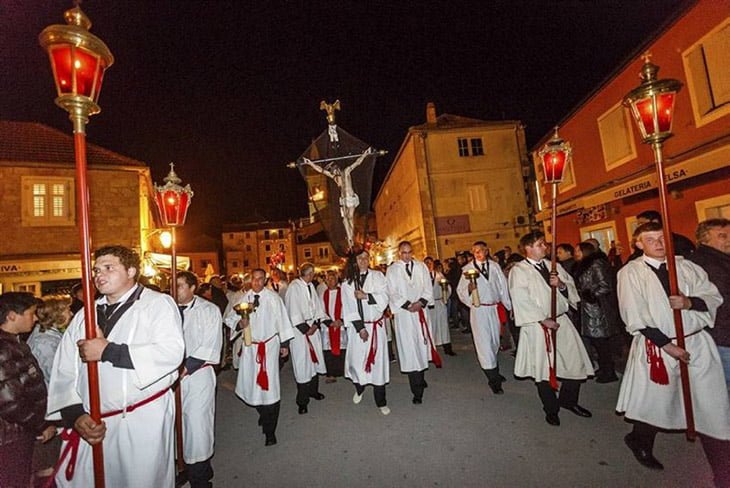 In fact, this procession has been held for 500 years – without a single year being missed.
This event is now on the UNESCO World Intangible Cultural Heritage list.
Best Of Jelsa Beaches
There are a great number of beautiful Jelsa beaches in and around this little town.
Not so far from Jelsa Croatia town center you can find a sand cove just outside of the town called Mina, which is perfect for families with small children.
On nearby island of Zečevo you can find naturist beach called Zečevo beach, which has been popular since the 1960s, however, to get there, you need to take a boat from Jelsa Hvar island.
One of most popular Jelsa beaches is Grebisće beach, which is barely 1.5 km from the center of the town.
Nightlife and Party Places in Jelsa Croatia
Jelsa Croatia has a vibrant nightlife, which is why the town also attracts young people.
Tarantella and Taboo are two of its most famous clubs where you can drink some of the local spirits called Rakija.
You can even party the night away at Dgigibaoo or go to Villa Verde for some delicious and unusual cocktails.
Wineries and Cuisine
Jelsa Hvar Island has some wonderful, traditional, historic wineries, as well as more contemporary ones that are fast becoming world-famous.
Besides the fantastic Wine Festival that takes place in August, you can also take wine tours in and around the town, and enjoy some of the most fantastic local Mediterranean cuisine you will ever taste.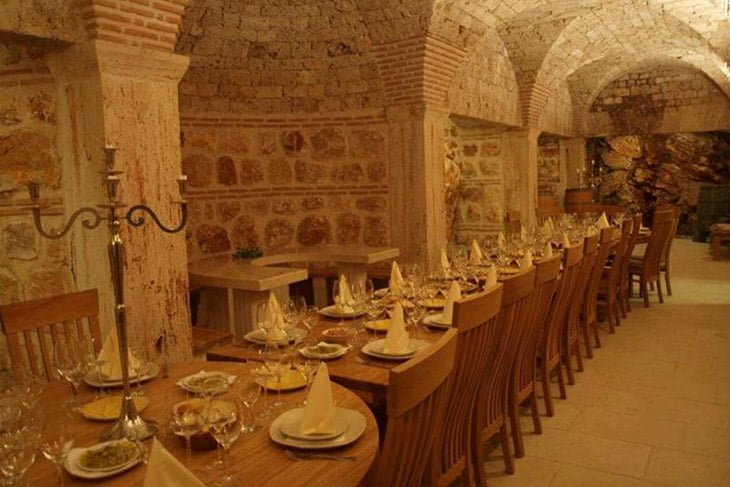 Did you know that the local Mediterranean cuisine of the island has also been listed as a UNESCO Intangible Heritage?
It's that good – and healthy! And you cannot leave town without having tried the locally grown and produced olive oil.
The most expensive olive oil is from this island, after all!
Holiday Activities In Jelsa Hvar Island
This is not a town only for the history buffs or party-goers.
Adrenaline junkies also love Jelsa Croatia.
You do have the more relaxing activities like taking long, romantic walks in and around the town, cycling, mini-golf and fishing.
However, that's not what keeps the thrill seekers coming back for more.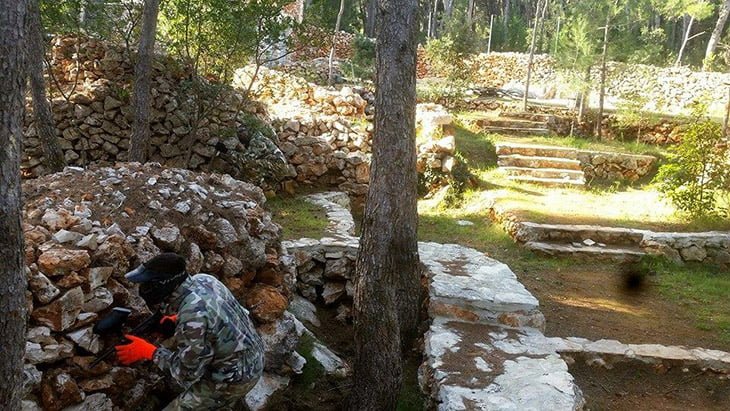 There are some stunning diving spots, and you can go bay fishing (yes, man vs. fish!), surfing, trekking, hiking, free climbing, mountain biking and so much more!
Getting to Jelsa Hvar Island
If you are traveling internationally, then you will land at one of the two international airports close to the island of Hvar – at Split or Dubrovnik.
If you are traveling by land, then you will need to get to either town, from where you will need to take a ferry or a catamaran ride to the Hvar island.
There isn't any direct ferry connection to Jelsa from Split, so if you're traveling by car, then you will need to disembark at Stari Grad and then drive down 14 km to Jelsa Croatia.
Jelsa Hvar, however, does have direct catamaran services to Split if you are depending on public transport to make your way around.
Other nearby holiday destinations