A historic city in Croatia, Šibenik is an unassuming place that echoes a rich culture and history.
At its heart remains a steadfast medieval center, surrounded by pristine crystal waters at the bay.
It may not be the top destination for most tourists, with them choosing better known Dalmatian cities, but this often-overlooked city is a treasure trove for those inclined in the arts, history, and local parks.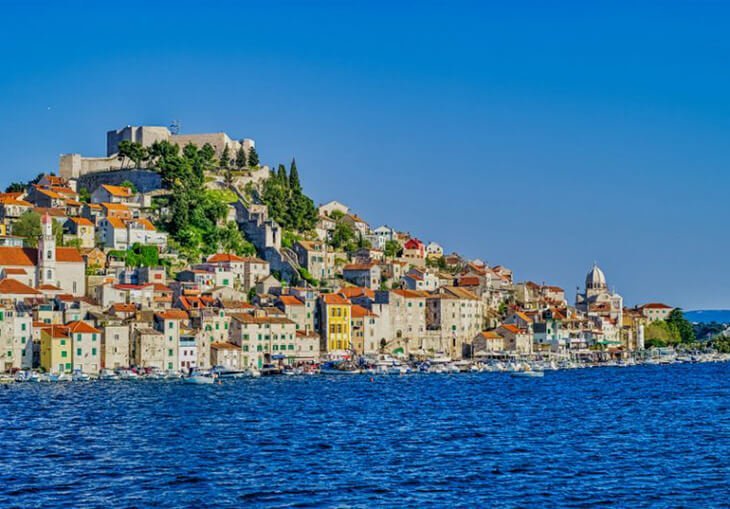 What can you expect in this old (in fact, the oldest) Croatian town on the shores?
First of all, you need to understand that this is a city that is just authentically Croatian.
Unlike its neighbors who have been established by the Romans, the Greeks, and the Illyrians, Šibenik is one that is purely Croat.
By the 11th and 12th centuries, this small city has been passed along from one political power to the next–from Venice to Byzantium to Hungary.
Eventually, it shaped its own identity, even under the Venetian rule.
It became the main customs office of the republic, and it completely monopolized the salt trade in the whole Adriatic Sea.
We now fast forward to the 20th century where this little city had undergone battle and skirmish, barely surviving attacks and war.
After all military operations have retreated, it quickly started its restoration projects to reinstate its once majestic structures.
In this article, you can get to know more about the city that is is today.
Šibenik Croatia: Top Things To Do & Attractions
St. James Cathedral
This is considered as one of the greatest architectural structures of the world – even recognized by UNESCO as a Heritage Site.
The Šibenik Cathedral, also known as Cathedral of St. James is a triple-nave basilica in honor of the saint that it was named after.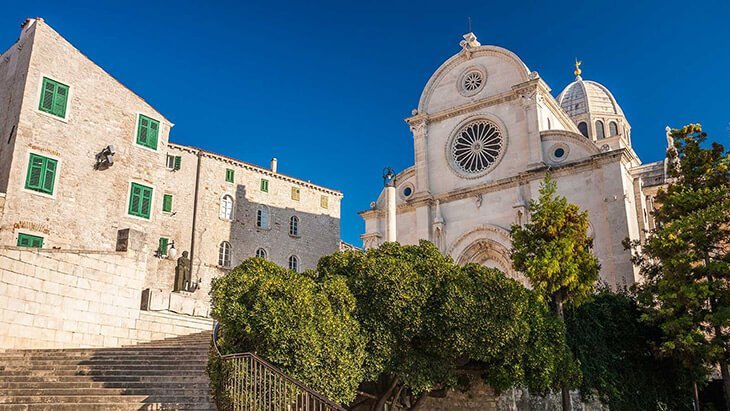 Even today, it remains to be one of the most important Renaissance monuments in the whole of Croatia.
For most locals, they simply fere to this as the church of Jakov, the local equivalent of St. James.
This grand church was first initiated in 1402, just as the city itself had just been promoted into a municipality.
It is built mostly out of limestone from a nearby quarry. Its marble, on the other hand, comes from the island of Brač.
The church itself was not built in one go. It was completed in three installments, spread throughout the duration of 1433 to 1441.
Once you enter the church, you will see 4 large columns that support the dome. Each of these columns is decorated with the nobles who had pitched in to have the church completed.
Despite being heavily damaged during the war, it has still managed to maintain its external facade and magnificence.
When you visit the city of Šibenik Croatia, this is one of the must-see historical sites to visit.
St. Nicholas Fortress
Now here's a fun fact about Šibenik Croatia: it does not just have one UNESCO heritage site, but two. The other protected site is the Fortress of St. Nicholas.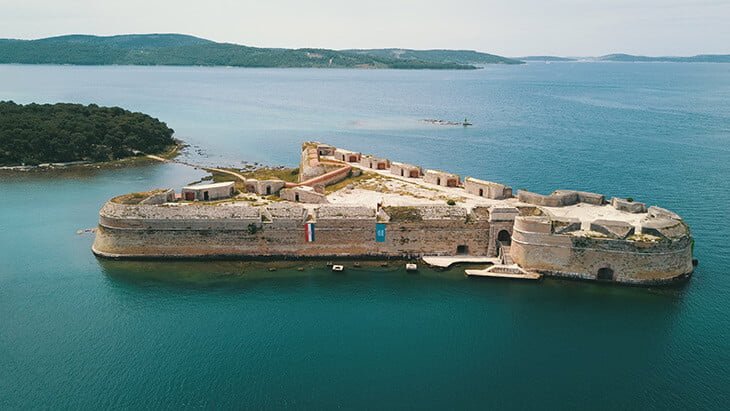 Externally, you will see a triangular-shaped fortress that had once served as a guard to the city for many centuries.
Connected by land that is nothing but a narrow walkway, the fortress seems as imposing now as it was then.
We have the Venetians to thank for this historic site. They created the fortress during the 16th century to keep Turkish attacks at bay.
It is made out of sturdy stone and is home to over 32 cannons in case of an attack.
It had served as a formidable defense at the time, and it now serves as a place of marvel at present time.
Despite the peace that we are mostly enjoying today, the military has decided to keep this foreboding site until 1979.
Eventually, the decided that it would be better as a tourist destination, and so we can recommend this to you now.
You can reach the fortress by booking an official boat tour with the locals. Even with the presence of a footpath, it is recommended that you enter the place by the sea.
Aquapark Dalmatia
Taking a break from all the culture-heavy sites, you can also spend a day at the latest water park in the city: Aquapark Dalmatia.
This is the first-ever water-themed park you can find in Croatia.
It is just next to Amadria Park and the Kids Hotel Andrija.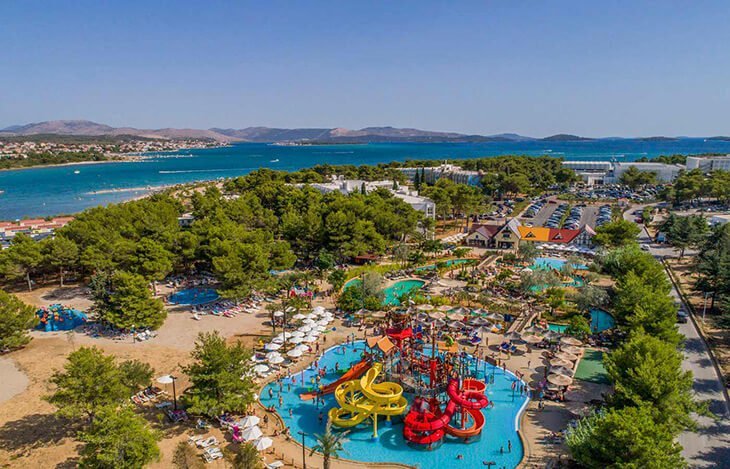 This will be something that your kids will surely enjoy while you are on vacation in Šibenik Croatia.
It has dozens of water slides, sprinklers, and other fun water sites that you and your kids will be sure to love.
Plus, you'll be sure that everyone is kept safe with many professional lifeguards patrolling the place.
At the moment, this park can accommodate up to a thousand people at a time.
Your admission ticket will equip you with the entrance and beach chairs so you can have your fun in the sun.
If you find yourself getting hungry, there is plenty of food being served in this place as well.
Be sure to check this out when you visit Croatia. It is a park that both you and your kids will be sure to love exploring.
St. Michael's Fortress
As you enter the city by the highway, one of the silhouettes that you might catch a glimpse of is the St. Michael's Fortress.
One can find this nestled right above the hill of the city's Old Town.
This had once served as a place for meetings by the king's court in the 11th century.
What's interesting about this site is that it is shaped like an irregular rectangle.
To its side are two polygonal towers that served as watch sites for the guardians in charge of the fortress.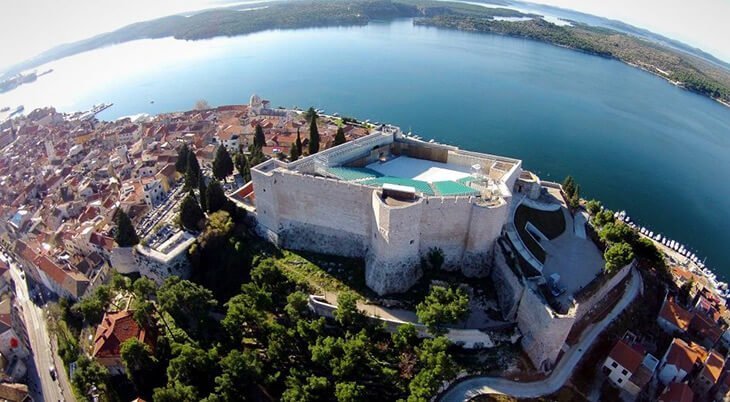 Despite being taken down and destroyed a few times throughout the history of the city, Michael's Fortress has continuously been rebuilt by the people.
And now, it continues to serve the city–but for a completely different purpose.
This is where you can view cultural events and concerts, a far cry from what it had once been used for.
Still, if you come at the right time, you can still see the slabs of stone and formidability that this place once held.
Aquarium Terrarium – Šibenik Croatia
Another item that you should add in your itinerary is the Aquarium Terrarium in Šibenik Croatia.
It is home to a plethora of aquatic animals that are local to Croatia.
Here you can expect to spend a day of fun and educative experience for your whole family.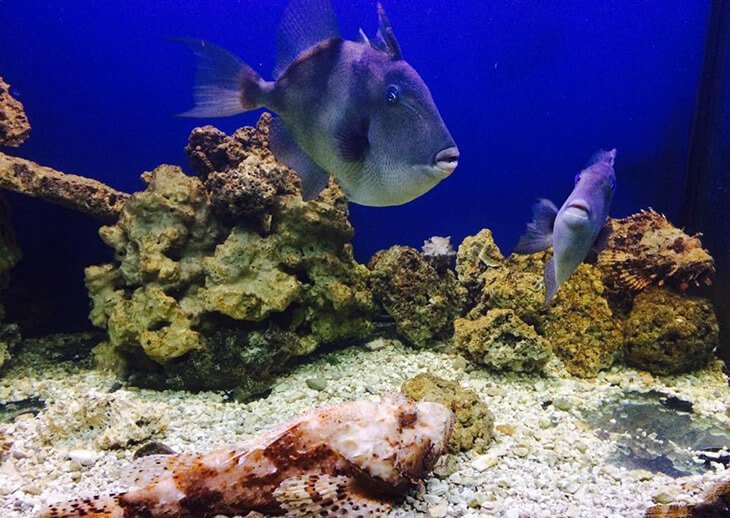 This aquatic zoo is in an old stone house just a few meters from the Cathedral.
Prepare to familiarize yourself and meet all sorts of aquatic residents from the Adriatic Sea.
If you're looking for more activities to enjoy with the kids (and the kids at heart), then make this a part of your Šibenik trip.
St. John's Fortress – Šibenik Croatia
By now, you might have an idea as to how fortified this small city may have been in the past.
The St. John's Fortress is actually one of the more modern fortresses in the area.
You can find this sitting right on top of the hill to the north of the city.
This was named after St. John the Baptist and was built during the Cretan war.
At the time, the city was lacking in defenses and was highly susceptible to enemy attacks.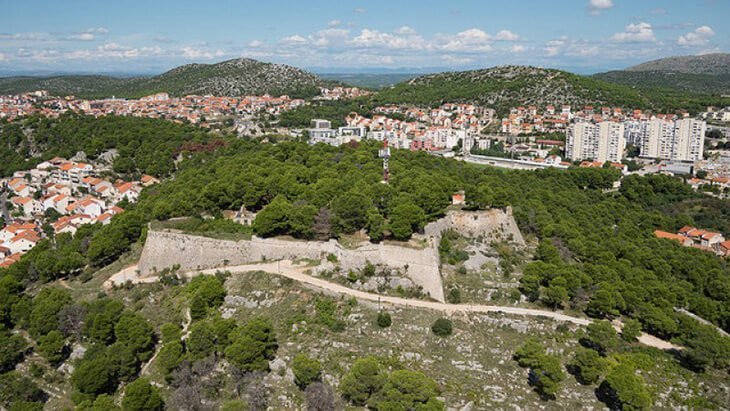 After much negotiation with the Venetian senate, the city leaders went home without any support nor funding from the senate.
However, as a loophole, they decided that the senate may not support them financially, but they did not forbid the construction of a fortress.
And so, the citizens developed a plan to build a fortress for themselves.
Despite the lack of funding, this fortress was able to hold off the largest invading army in Dalmatia.
However, in the last few years, the locals of Šibenik have moved on to the gentrification of their city.
After realizing the value that this fortress stands for, current endeavors are being undertaken to put this fortress back to its original glory.
Here's an extra fun fact: some of the Game of Thrones scenes were filmed in this fortress.
If you're a fan, then you might enjoy taking in the view and putting yourself in the shoes of the cast members.
St.Lawrence Church and Monastery
Another gem in this city is the St.Lawrence Church and Monastery.
It was built for the Roman Catholics as a triple-naved basilica.
Because of its simple yet solid architecture that reflects the times, it is considered as one of Šibenik's most renowned sites.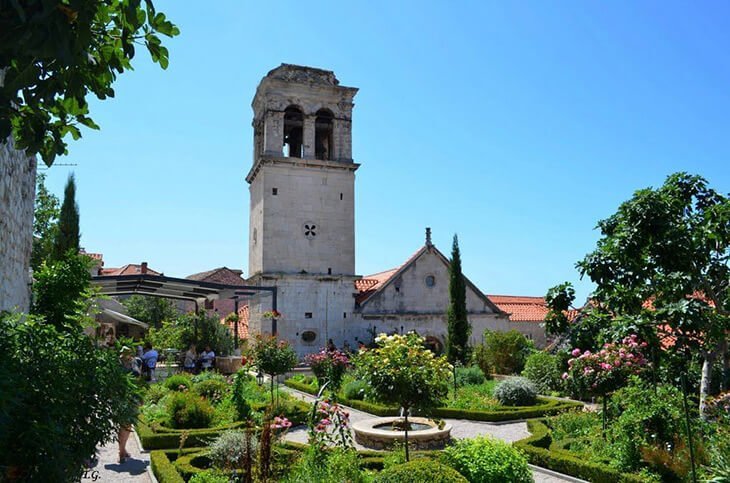 The architecture itself is not as imposing as the others, but the building of the monastery has retained most of its columns and walls.
If you look closely, one might even notice a hint of Romanesque style in the manner of styling.
More than its architecture, people also stop here for its tranquil garden and great food.
It is a great place to relax and spend the afternoon just sitting with your thoughts.
Do stop by this place in between your fortress hopping activities.
National Park Krka
Just outside of Šibenik is a dense park complete with lush greenery and verdant forests. If you have the time, make sure to include the Krka national park to your itinerary as well.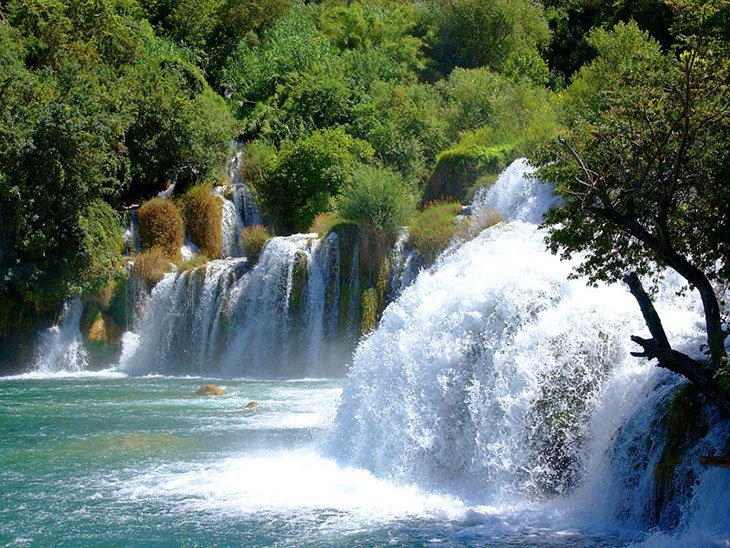 This is one of the two national parks in the area, the other is national park Kornati.
But what can you expect when you visit the outdoors to these sites?
For one, you may come across the winery in the park.
Here, you can enjoy the ultimate wine-tasting experience, brought to you by the locals themselves.
Aside from this, the national park of Krka is simple one of Croatia's most awe-inspiring wonders.
It spans over 88 miles of green forests and cascading waterfalls. It even has a cliff that stretches over the Krka River.
You can get to this natural wonder simply through the Dalmatian coast, just 40 minutes away from the main road.
Here, you can enjoy outdoor activities such as hiking, cycling, and just forest bathing.
You may book your tour in the area or explore the place by yourself. Just make sure to wear comfortable shoes and clothes as the terrain may be slightly uneven.
Be prepared for an entrance fee here of 200 Kuna at most.
Best Beaches In Šibenik Croatia
Solaris Beach
With Šibenik being a waterfront city, you will be sure to enjoy trips to the beach for sure.
One of its popular Šibenik beaches is the Solaris beach. This is an equal parts sandy beach with bits of gravel in it.
In the area, you will be able to check in on the hotels or even set up camp in their local campsites.
If you want, you can also rent beach chairs and umbrellas as you enjoy the smell of salt in the air and the wind that is blown your way from the Adriatic sea.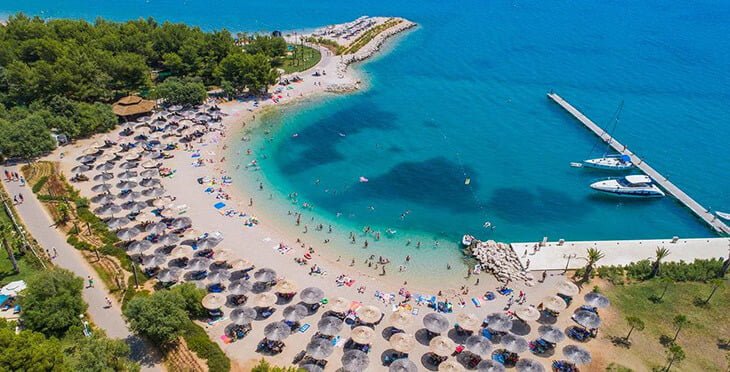 Right near the seashore, you can participate in various activities hosted by the hotel owners and some locals in the area.
There is a plethora of programs that you can participate in. You can also choose to rent water equipment in the hotels such as jet skis or kayaks,
Overall, this is one beachfront that you shouldn't miss when you travel to Šibenik Croatia.
This one like most Šibenik beaches has been awarded with a Blue Flag to indicate the cleanliness of the water too.
Žaborić Beach
Just a few minutes and about 20 kilometers from Šibenik Croatia is the village of Žaborić.
Here, you will be greeted by beautiful beaches that line the coast and in its surrounding area.
If you are looking for a place to relax during your vacation, then this is the right place to be in.
It is a pebbly and sandy seaside that you can spend the day in, just soaking in the sand and feeling the sea breeze.
This gravel bay is ideal for those looking for a break from all the fortress-hopping activities.
Here, you can book water sports and fun activities for you and your family to enjoy as well. Just like your previous option, umbrellas and beach chairs are available here for rent as well.
Banj Beach
Now we take you to a beach town that is just a stone's throw away from the old town center.
This beach town of Banj was recently developed in 2012.
It is a place to relax and enjoy dozens of activities with your family.
What makes this place special is that it can give you a great view of the old center and other buildings in the city of Šibenik from your spot on the beach.
In 2016, the Banj Beach was dubbed as the best beach in Croatia by the Croatian National Tourism Board.
If you're looking for a great place to soak in the sun, then we cannot recommend this place enough for you.
Jadrija Beach
Jadrija is a district of Šibenik Croatia, best known for its popular seaside resorts.
This was built on a man made peninsula, right along the St. Anthony Channel.
Said channel makes its way straight to the city of Šibenik.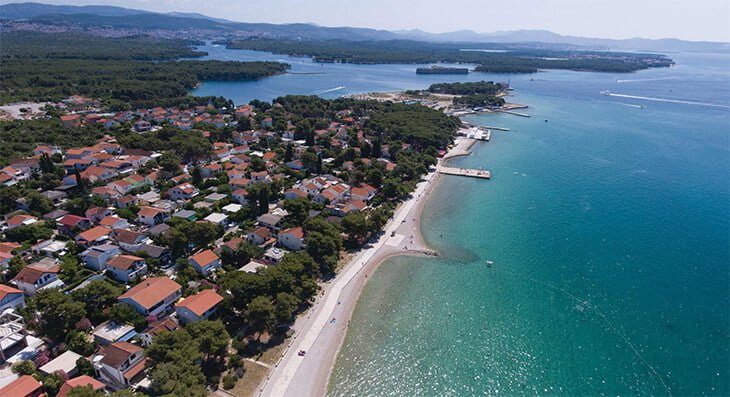 Jadrija district was originally logged as a Croatian Cultural heritage and architectural site.
It is the first official beach in this town, making it the most popular Of all Šibenik beaches in the area.
Other than enjoying the beach itself, you can also find a lighthouse right at the end of this manmade peninsula.
Here, you will be able to find installations, either portraits or sculptures, of some of the medieval aristocrats of the city.
Some of these come from the Cathedral and have been placed in this lighthouse during the restoration of the St. James Cathedral.
The niggling question in your mind might be, "Is the lighthouse function?" Well, yes it is, and it lights up the St. Ante Seaway for many seafarers out at sea.
Don't forget to drop by this man made peninsula when you are in Šibenik Croatia – it's a must-see.
Terranea Beach
Just 6 kilometers from the center of the city of Šibenik Croatia, you can find Terranea beach.
If this name sounds familiar, then you may have hear an equally famous event in the town called the Terranea Music Festival.
Every year, this space of Teranea beach is used as a gathering spot for many artists all over Europe.
However, more than its art scene, it also boasts of a beautiful sea view that lets you oversee the bay of Šibenik Croatia.
You can bear witness to the sandy and pebbly beaches of this seaside town by taking a car from the main city, or by water taxi through the sea.
Rezalište Beach
Now here is another beach that is the same distance from the center of the city of Šibenik.
Only just 6 kilometers away from the old town, this is one of the most visited Šibenik beaches.
It is a quiet unassuming seaside town that has small pebbles along its beach.
Slightly sloping, it is best for overlooking the bay area and spending your time curled up with a book as you soak in the sun and the salty breeze.
For those who will be traveling with their kids, you'll be glad to know that there are plenty of water activities that they can enjoy here as well.
With the crystal clear waters and the number of activities that you can enjoy here, we say that the Rezalište beach is worth a visit.
Accommodation In Šibenik Croatia
Although it does not get much traffic as its other Dalmatian city brothers, Šibenik is still a beautiful town that is worth the visit.
Here you can travel through idyllic pathways and explore the multiple fortresses that had once defended the city from intruders.
If you are looking for a place to stay in this quaint yet historically-rich town, then you'll be glad to know that you have plenty of accommodation options in the area.
Of course, we cannot say what the best hotel in the city is (as that is a personal choice), but we can give you recommendations on some of the spots that we particularly loved.
Mid-range accommodation in Šibenik Croatia
If you're looking for a hotel to rent for a night or two then we recommend the D-Resort in Šibenik.
It has a great location and it even has a rooftop restaurant that you can watch the sunset in after a day of exploring the city.
As for the rooms here, they are actually quite large and Wifi is readily available too.
Low Budget Accommodation In Šibenik
Be sure to checkout Guesthouse Merla for a budget-conscious stay. You can find this right in Old Town, just a few meters away from the Subicevac Fortress.
The rooms are mid-sized and quite comfortable too.
Šibenik Restaurants:
As a seaside city, the Šibenik restaurants are quite reliant on seafood.
As with most Mediterranean meals, you can expect meals to be bathed in olive oil and wine.
Goat cheese, shells, and vegetables are ingredients that might be added to the mix as well. When you're staying in the area, we do recommend some restaurants that are wholly Šibenik Croatia.
Pelegrini
This offers mostly Mediterranean and European food. What's great about this place, aside from the food, is the outdoor seating.
The reception is top-notch with plenty of complimentary food as well.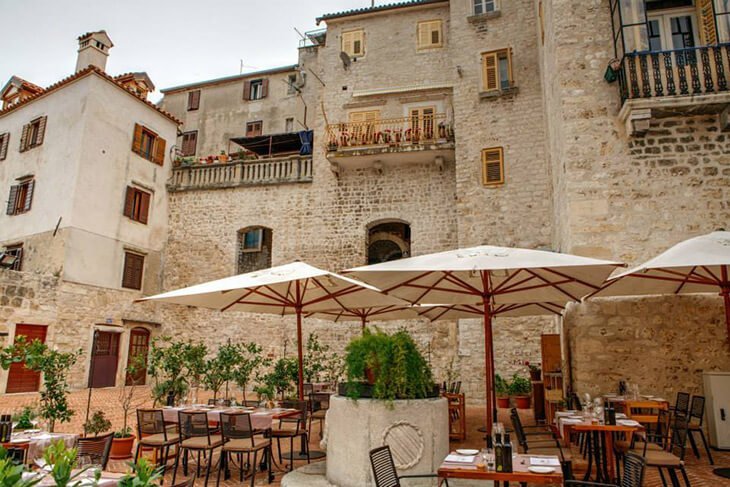 Konoba Gorica
If you're looking for good food and a quick escape from all the hecticness of the city, then this is the place to go to.
Stari Grad
The food here is affordable and manages to allow us to partake in an authentic Šibenik restaurant experience.
They serve seafood here and the seasoning is just on-point.
It's a great place to eat in if you want large portions but want to stay within your budget.
How To Reach Šibenik Croatia?
By plane
Getting to Šibenik can be as easy as taking a plane ride and landing in its closest airport, the Split Airport.
This is approximately 56 kilometers from the city.
Of course, you just need to be prepared to pay for the plane ride to get to this scenic seaside town.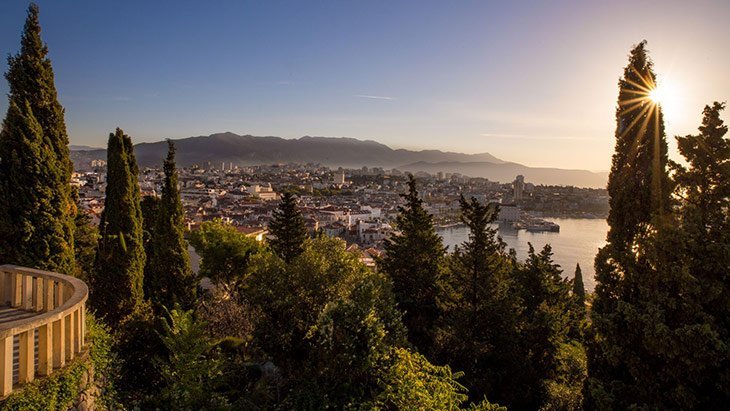 Alternatively, you may also want to try your luck at Zadar airport.
Although a bit farther at 80 kilometers away, there are more planes that fly in and out of this airport, so you might be able to book a cheaper ticket.
Whatever airport you may want to depart in, we recommend that you book in advance and during off-seasons.
This way, you can still enjoy the city of Šibenik Croatia without breaking the bank.
By bus
Of course, with 56 or 80 kilometers of road to cover, you need to find transportation that will get you directly to your destination.
For this reason, you may opt to rent a car and drive yourself straight to Šibenik.
However, if you are on a budget, then you may opt to travel by bus.
These buses often ply the area every 2- to 30 minutes so you won't have to wait too long.
There are plenty of intercity buses around Croatia too.
It really shouldn't matter which entry point you fly in, whether Split Airport, or Zadar, or Trogir Croatia.
It's a fairly comfortable trip once you arrive–so we hope to see you in the seaport city of Šibenik soon!
Be sure to check nearby tourist destinations: