Plitvice Lakes Croatia: Best Things To Do In National Park
Have you ever imagined being in lake of fresh green water with two cascading waterfalls?
How about three waterfalls?
How about five?!
Well, maybe not but when you visit Plitvice Lakes National Park, that is what you will see.
It has so many breathtaking waterfalls that you will lose track of them all and that is just one of the things that make this park so amazing.
If there is one word to describe this place that would sum it all up, I think the word would be intoxicating.
You can walk around its beautiful lakes all you want, admire its emerald green and placid blue waters, the trees that dance with the wind, and do a multitude of other outdoor activities!
Walking along the park's many pathways would make you feel like watching a never ending parade of awe-inspiring moments.
This park is truly a beauty to behold.
But Plitvice National Park is so much more than just its sights.
This travel guide will take you to a virtual VIP tour of the many things to do at the park and its rich history.
Where are Plitvice Lakes National Park ?
Croatia's most stunning national park is just a few hours away from its capital, Zagreb.
But it's so easy to reach that you can practically choose to stay from any other nearby cities and still be able to go to Plitvice National Park with not much trouble.
We will provide you with a guide on how to get to the park as well.
You can take a day trip from Zagreb or Zadar and include Plitvice on your itinerary for the day.
Though, after seeing it, you may want to stay for more than just one day.
There are options to do that as well, as accommodations are easy to find near the park.
Things You Should Know Before Visiting Plitvice Lakes National Park
So, what can you really expect to see in this acclaimed park aside from the waterfalls that we've mentioned above?
This remarkable natural beauty is composed of 16 astoundingly clear lakes!
In case you haven't seen the photos, here's a description: By clear, we mean crystalline emerald green waters with hints of azure.
That is clear green and blue water that is fresh, unadulterated by humans, and is just sitting there for us to admire.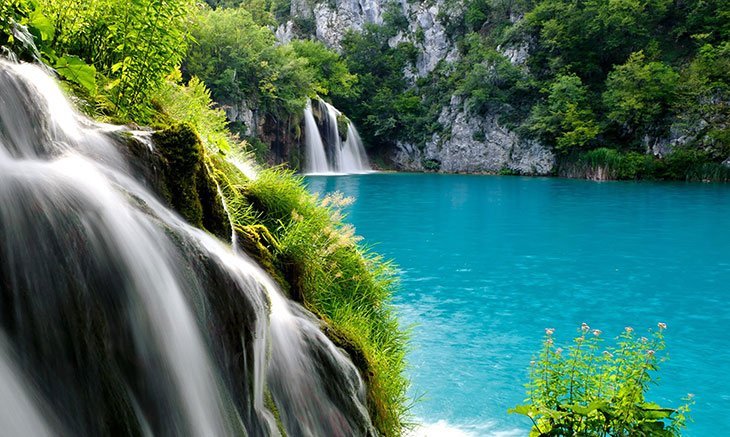 Croatians have a lot of respect for nature so you can expect only the best in their natural parks.
Plitvice Lakes National Park is just one example of how these people preserve nature's beauty and allow others to observe and bask in its glory without destroying it.
Surrounding the lakes are the multitude of cascades, continuously feeding more fresh water into the stream. Imagine walking on a wooden pathway crossing one of those lakes.
The sound of the falls with their peacefully rumbling water falling gently down the lake mixed with the singing of the birds, the swish of the warm wind and the rustle of the leaves make an out-of-this-world music that you will only experience in Croatia.
There are also caves and caverns that you can explore.
The lakes are divided into two main areas, the upper ones which are the larger bodies of water and the lower ones which are slightly smaller.
The entire area is heavily protected by the government so it has not been perverted by commercial establishments, shops, or eateries but if you need a place to stay, you can find one not too far away.
Plitvice Lakes National Park is 19.5 hectares of woods, lakes, and waterfalls.
You will find the unique ecology of the lakes truly fascinating.
Its travertine has survived many years and in its evolution, it has served as a home for endemic plant species.
The vast spread of thick trees are bursting with life from birds, flora and fauna, along with other animals and insects.
Its almost like jumping into one of those fictional worlds from the books and movies, and expecting Legolas the elf (from the Lord of the Rings) to jump off from one of the trees!
There are at least 120 species of birds which makes the park a huge paradise for ornithologists.
While walking along, you might encounter, though not up close, some bears or wildcats. Don't worry because they are naturally shy and won't bother you.
So, please don't bother them as well. Other animals such as deers and foxes are also often visible.
When it comes to the visitors, you may have to prepare yourself to be immersed in a slightly bigger crowd than preferable.
This park is not exactly a hidden gem so many people come here to see its beauty.
At least 1.2 million guests visit the park each year. But don't let that stop you from going.
It only shows how fantastic the place is and it shouldn't be a hindrance for you to experience its magnificence.
Just try to focus on the surroundings and you will take home a piece of Croatia that no one can take away.
Must-visit places in Plitvice Lakes
There are two entrances to Plitvice National Park that lead to two main group of lakes: the upper and the lower lakes.
The upper lakes are larger and the lower ones are slightly smaller.
Lower Lakes
To access the lower lakes, you must take the first entrance. Walking into this will open you up to panoramic views of the lakes from different angles along the trail.
These bodies of water are surrounded by cliffs so it's a truly breathtaking view! Grottoes and caves also abound and you can take a tour of some or all of them if you like.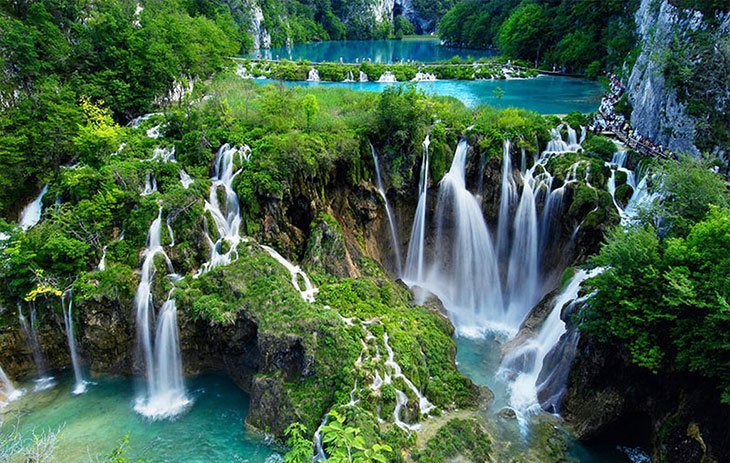 There is a long wooden stone path that cuts across the lakes and walking on it is an unbelievably magical experience.
It's like disappearing into another world for a while. Take this long walk whether you are alone on a soul-finding journey or with a loved one. It will truly be the walk of a lifetime.
Upper Lakes
Walking along the upper lakes is a slightly different experience. Expect a wilder scenery and more majestic views!
This is where you can get really close to the waterfalls and hear them roaring all around you.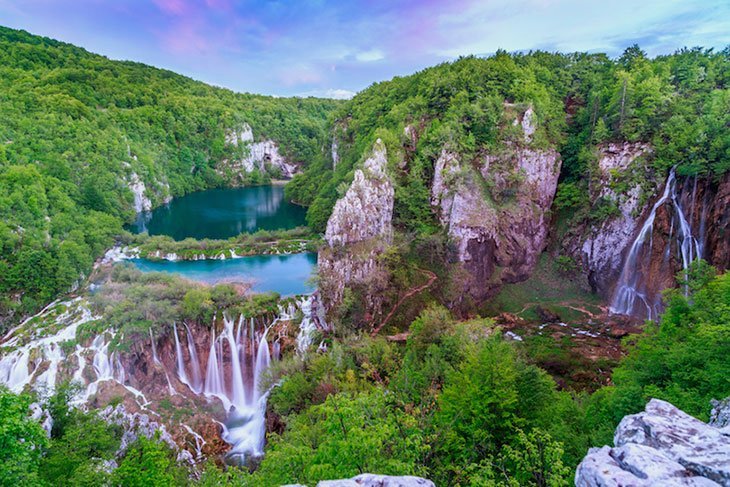 In this area, you can walk on pathways and on your left and right will be ponds and lakes of fresh crystalline waters.
It is an amazing experience in this natural paradise.
Just be prepared for your toes to get a little wet so maybe don't wear your expensive non-waterproof shoes. Wear comfortable hiking or trekking shoes instead.
Is swimming allowed on Plitvice Lakes ?
Before you get any idea of jumping into these beautiful waters, let this be a solid reminder that no, you cannot swim in the lakes.
Plitvice National Park is a protected UNESCO site and the people taking care of this place are truly committed to preserving its natural beauty so visitors are expected to respect that.
Without these kinds of efforts, it is highly unlikely that we will be able to enjoy such beauty in nature today.
UNESCO is the United Nations Educational, Scientific, and Cultural organization.
One of their goals is to support sustainable development.
Places that are listed in UNESCO's heritage sites list are those considered to be of great ecological, cultural, and historical value.
And they try to protect them in order for these sites to survive many more years.
Where can you swim?
If you really want to take a dip, you can travel a little way ahead, not too far, over at Krka waterfalls.
You will also experience clear green waters and cascades above your head without contributing to a national park's destruction.
Krka waterfalls is down south, an hour drive away from Zadar and an hour and a half away from Split.
Discovering & Things To Do In Plitvice Lakes National Park
So, let us take a more detailed virtual tour of Plitvice Lakes National Park.
Here are the sights and spots that you can explore as well as the various activities that you can do.
Walkways, Boat Rides, and Sightseeing Train
Plitvice National Park features an excellently laid-out system of wooden walkways that let you pass through the lakes and sometimes, underneath the waterfalls.
Now, that's a unique experience! Just be prepared to get a bit of splash on you so bring some extra shirts.
You would be sweating it out, anyway so it's a good idea to have a change of clothes.
Both entrances to the lakes, the lower lakes which is the main one and the auxiliary entrance to the park, which is the Entrance 2 or entrance to the upper lakes have tourist offices where you can obtain your tickets and your maps.
Entrance one is facing north and entrance 2 is facing south, both has bus stops in front.
These entrances lead immediately to the walkways.
You will see the series of walkways laid out in the map so you have an idea of the varying durations passing them and prioritize which ones to take first and last.
All of the pathways involve wooden walkways and all of them gives you a chance to take a boat ride.
Boat Ride On Kozjak Lake
You can take a boat ride across Kozjak lake or ride the sightseeing train which passes through rails along the east side of the park's lakes.
This will give you a spectacular view of the lakes and the park as a whole from a unique perspective.
The train will come from the first entrance and go all the way through Lake Okruglja.
Don't worry about missing out because your train ride will stop a few moments at Kozjak lake so you can take photos, stretch your legs, and walk a little way to enjoy the fresh air.
It is recommended that if you do want to take these train and boat rides, you really must dedicate a full day of visit.
Going back to the walkways, these wooden paths are identifiable by letters and colors so it is unlikely that you will get lost.
The park has recommendations on which paths to take for the sights that you want to see.
The "K" walk which starts from both entrances will take you 6 to 8 hours to complete but you don't have to go all the way. But going through here will allow you to see all the lakes on foot.
If you're pressed for time or just want a quick overview of the park, you can take the shortest pathway which is walk "A".
This wooden path takes only 2 to 3 hours to complete but you will only see the lower lakes.
In between these paths are a series of graded walks and you can take a quick detour to any of them whenever you want.
Best entrance to Plitvice Lakes
All entrances are great places to start so it's really up to you which one to take.
Choose whichever is the most convenient or the one that leads to the sight that interests you the most.
You will sign posts on each walking trail that are clear and easy to read so you will not have a hard time navigating the park and the lakes.
It is practically impossible to get lost. Expect your walks to be a bit longer during the summer season because the walkways will be more crowded than usual.
Hiking Paths in National Park Plitvice Lakes
Croatia's most stunning national park comprises more than just lakes and waterfalls.
Those are just a small part of what you can see and do. There is a great deal to explore so if your itinerary is not too tight, it will be an awesome experience to try a bit of all of them.
The hiking trails are just one of those things.
That is where you can have a chance to fully appreciate the park's incredible biodiversity. It is also quite possible that you will catch sight of some of the rarer animals.
In the map, you will be able to spot the various hiking routes that you can take.
It is best to explore these hiking trails in groups and you can also take a guided tour along them.
There are instructive panels that will educate you about the habitats surrounding the trails.
If you're the sporty type and really want to work your muscles out during your trip, you should explore the hiking trails that lead to Medvedak Peaks.
These trails head toward the eastern part of the lakes.
All trails go back to both Entrance One and Entrance Two.
Whichever path you take, you will definitely have an unforgettable experience!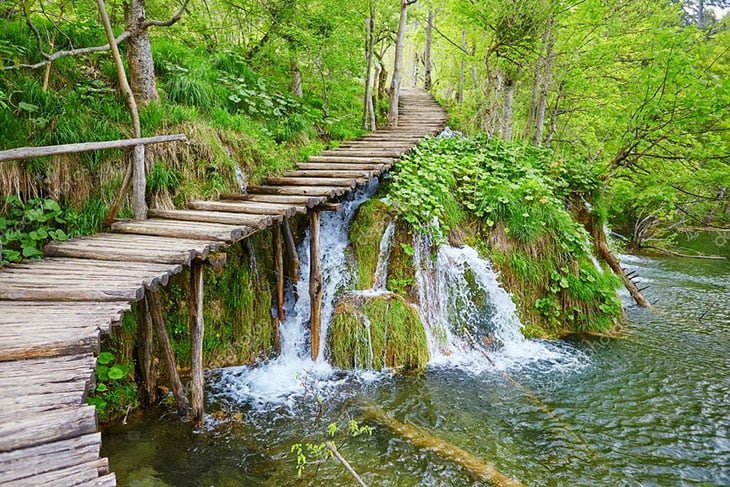 There is another trail system where you can see more of the Corkova Uvala.
It is a district of primeval forests where you can choose from two possible hiking trails.
The longer one is about 21 kilometers and the shorter one is about 9 kilometers.
Just make sure to be equipped with the appropriate gear and plenty of water to drink. You can pick up the maps to all of these trails at the tourist office from both entrances.
There are 8 different hiking routes inside Plitvice National Park, 4 from Entrance 1 and 4 from Entrance 2.
All these routes are equipped with signs and markings and are easy to follow.
Here is a more detailed guide to the routes:
Hiking Route A Plitvice Lakes
From Entrance 1 which is the main entrance to Plitvice National Park, you can start with Route A from the north.
This route goes down toward the lower lakes and leads right to the Great Waterfall.
After seeing the waterfall, you need to go back a little way then head to the rest of the lower lakes toward Kozjaka Bridge. After that, you can go back up and explore the sights leading back to Entrance 1.
Another option is for you to ride the shuttle going back to the main entrance.
Route A is about 3.5 kilometers and will take you at least 2 to 3 hours to complete if you go all the way.
It is not physically draining and as usual, you don't have to walk the entire route. This path will only give you a view of the lower lakes.
Hiking Route B – Plitvice Lakes
Route B is a lot similar to the first route.
However, it will take all through Kozjaka Bridge and from there, you have the option to take a boat ride that will sail across Kozjaka Lake.
The boat ride will end at a path that will lead you right back to Entrance 1. You can also ride the shuttle from Route B going back to the entrance.
This route stretches up to 4 kilometers and will take you 3 to 4 hours to walk all the way. Hiking along this route is pretty easy.
Hiking Route C
Route C is considered as an extended version of Route B.
The beginning of the route is the same but you will need to take a different path going back to the entrance.
When you get off the boat, you continue walking the path which leads to the other 2 lakes south of the Prošćansko Lake.
This route is about 8 kilometers long and will take you 4 to 6 hours to complete which is a bit longer than the first two routes. Hiking along Route C is moderate compared to the first two easy trails.
Longest Hiking Route K1
K1 is the longest route you can take starting from Entrance 1. This will allow you to hike along Proscansko Jezero and is 18.3 kilometers long.
The hike in this route is quite demanding so only take this if you are or with experienced hikers or a guide.
Hiking Route E
Route E is the shortest of all the routes and it starts from Entrance 2.
This route will take you to the upper lakes and if you continue, you will find yourself at the Proscansko Jezero.
Unlike other trails, you can start here with a boat ride that goes across the Kozjak Lake.
You can either walk back to the entrance or ride a shuttle bus.
This route is 5.2 kilometer long and will take you 2 to 3 hours to complete.
There are three other routes from both entrances.
Biking Trails In Plitvice Lakes National Parks
Aside from walking and hiking, you can also bike around Plitvice Lakes National Park.
It's up to you if you want to bring your road bike or rent from the park.
These trails are located within and around the park.
There is one hiking trail that starts at the Korana River which goes all the way up passing Kozjak Lake.
If you are up for it, you can climb this trail and go around Proscansko Lake then bike down Ciginovac.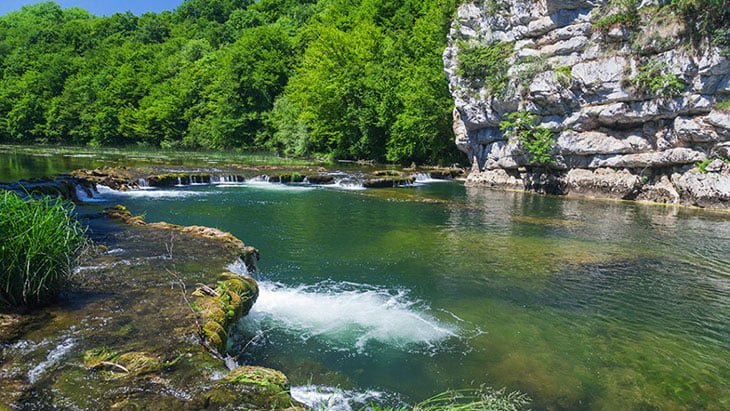 Other cycling trails can be found outside coming from the villages.
Just make sure to get a copy of the map and review the paths before you start.
Rent A Rowboat
What better way to enjoy the beautiful lakes of Plitvice than to take boat rides?
You can rent rowboats from several spots of the park or at the stops of the sightseeing train.
It costs 50 kn to rent a rowboat which is good for one hour.
You can rent it for as long as you want and pay 50 kn per hour.
Restaurants & Coffeeshops In Plitvice Lakes
Exploring Plitvice National Park is a heavy activity especially if you decide to take a full day tour.
You will have to have plenty of water on hand and know the places where you can get a quick bite or have dinner after a full day of walking.
Poljana and Lička Kuca are the two largest restaurants near the park.
Poljana is near Entrance 2 and Licka Kuca is right in front of Entrance 1.
Both dining places are open from early in the morning till late at night.
If you are looking for buffets or a more casual dining experience, there is the Kozjacka Draga Buffet and Kupalista Buffet.
These two restaurants can be found along the Kozjak lake shores.
Another casual dining place is Hladovina Buffet which offers an open-air snack area which you can walk to from Entrance 2.
For a nice warm drink, head over to Slap Cafe which offers similar food items to the buffets right beside Entrance 1.
Other coffee shops and cafe bars can be found at ST1 and ST2 train stops.
If you are taking the sightseeing train, you can get off at the last stop, ST3 which is along Proscanko Lake and eat at Labudovac Buffet.
They offer full meals as well as light snacks and drinks. Just be aware that all of these dining places are closed during the winter season.
How to Prepare For Visiting Plitvice Lakes ?
A natural park site as big as Plitvice Lakes requires some preparation.
It is not just some park down the street where you spend a few minutes and leave.
To really maximize your trip, you should ensure that you are well-equipped, well-dressed so that you are comfortable and enjoy this natural wonder without hassle.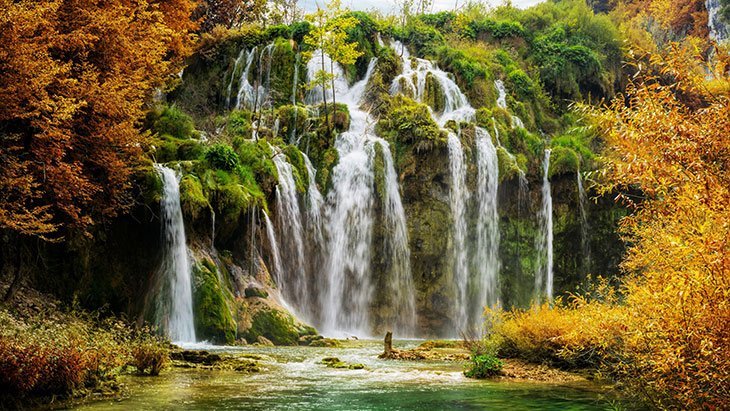 Bring bug repellent
One thing you should bring with you before going to the park is a mosquito repellent.
You can use a spray or a lotion, whichever you prefer, just make sure to spray some on you or apply it on your skin a few minutes before you step into the entrance.
It is nature and it is the outdoors so expect that you will encounter a swarm of mosquitos especially in the upper lakes.
Hiking shoes
These aren't dangerous ones that bring diseases but they could cause a lot of irritation, itching, and well, scarring.
You also need good walking shoes. If possible, wear a pair that is water-resistant.
Hiking or trekking shoes are preferable.
You will be walking about 6 to 7 kilometers so don't even think about sporting your designer shoes in there.
Flip flops are also not advisable because they tend to hurt your feet as you walk along the trails.
Another thing you should bring is a rain poncho or raincoat but this depends on the season.
If you're visiting during the rainy season which is around the month of June, then it's a must.
Sunscreen is also advisable since you will be exposed to a lot of sun majority of the time.
Lastly, a bottle, maybe two of cold water to keep you hydrated throughout your walk.
Getting to Plitvice Lakes National Park
Whether you are coming from Zagreb, Zadar, Split, or other nearby cities, you will find that it's convenient and easy to reach Plitvice National Park.
You also have the option to include it in a day tour package from any of those cities.
But if you really want to maximize your visit, it's best to dedicate an entire day for the park or stay a few nights at a nearby hotel.
The best way to get to Plitvice National Park is by car.
The park is along the main road which runs in between the capital city, Zagreb and Zadar.
If you are renting a car, you should drive toward the village of Seliste Dreznicko or stay near this area.
You can take this route whether you are driving from Zagreb, Zadar, or Split.
If you are taking a taxi, the driver will know where to go.
Be prepared to pay the parking fee.
You can also commute to the park though it will not be as fast as if you get there by car. There are regular buses both from Zagreb and Zadar that will take you to the nearest stop which is Arriva.
You can book your bus rides online and print your tickets.
One-way bus tickets to Plitvice Lakes National Park costs around 80kn.
Another idea is to combine your day tour to Plitvice National Park with a tour along the Croatian Coast but it is only worth doing if you are staying overnight because the drive or the bus ride will take a lot of your time.
The drive to Plitvice Lakes is about 3 to 4 hours coming from any of the nearby cities.
Expect the bus ride to be a little more because of the stops along the way.
If you want, you can head to Plitvice during the night, stay at a hotel and take a tour of the park in the morning to make the most of your time.
After your day tour, if you drove to the park, you can simply hop on one of the tourist trains which will take you right back to the entrance and from there, it will be a short walk toward the parking area.
Here is a more detailed instruction when driving from the major cities:
Getting to Plitvice Lakes From Zagreb
If you're coming from the capital, Zagreb, you can drive toward Karlovac town which is about 40 kilometers southeast of the city.
From the town, drive to the state road D1 heading toward Slunj, Grabovac, Plitvice. When you reach Plitvice, you will notice signs guiding visitor toward Plitvice National Park.
The park is about 80 kilometers south of Karlovac.
Getting There From Dalmatian Coast
Coming from either Split or Zadar, you can take a motorway A1 headed northward which is where Zagreb and Rijeka are.
Exit through the highway going to Gornja Place and keep going till you get to the state road D522.
This will take you to Ubdina and from there, you can drive through D1 road which will take you directly to Plitvice Lakes.
Working Hours Of Plitvice Lakes National Park
Plitvice National Park's hours of operation differ on the two entrances.
Entrance 1
Entrance 1 is is open from 8am to 4pm between November and March, 8am to 5pm from April to June and September to October, and 8am to 7pm from July to August.
Entrance 2
Entrance 2 is closed from November to March and is open from 8am to 5pm from April to June and September to October. It is open from 8am to 7pm from July to August.
Parking On Plitvice Lakes
The parking is accessible daily from 7am to 8pm.
Boat rides are available from 8:30am to 6pm and there are boats arriving at the stops every 30 minutes.
Shuttles operate from 8:30am to 7pm in 30-minute intervals.
Entrance Fees For Plitvice Lakes National Park
Ticket prices to Plitvice National Park vary per season and duration of your stay.
From January to March and November to December
Adults pay 80 HRK and kids aged 7 to 18 years pay 50 HRK. Students get a discounted rate of 65 HRK.
An official student ID is required for students to qualify for the discount.
You will get more discounts if you stay for the night within the park.
Take note that the sightseeing train and boat rides are not in operation during the winter.
From April to June and September to October:
Adults pay 180kn and kids aged 7 to 18 years pay 100kn.
Students get a discounted rate of 120kn. An official student ID is required for students to qualify for the discount.
You will get more discounts if you stay for the night within the park.
From July to August:
(Rates are slightly higher during these times because it is the peak season)
Adults pay 300kn if you're staying at the park up to 4pm and an additional 150kn after 4pm.
Kids aged 7 to 18 years pay 100kn up to 4pm and an additional 150kn after 4pm.
Students get a discounted rate of 160kn up to 4pm and an additional 150kn after 4pm.
An official student ID is required for students to qualify for the discount.
You will get more discounts if you stay for the night within the park.
Best time of year to visit Plitvice Lakes
Plitvice Lakes National Park is a natural attraction that is beautiful no matter the season, but keep in mind the peak season stated above and that shuttles and boat rides are not in operation during the winter.
Check Other Croatia National Parks
Check Nearby Holiday Destination