The Makarska Riviera is a famous tourist destination in Croatia and in it are many picturesque towns including Brela Croatia.
The riviera is about 60 kilometers wide, enclosed inside the magnificent mountain Biokovo.
Other notable towns in this district include Makarska and Tučepi which are also worth visiting if you have the time. This area is an absolute heaven for beach lovers!
Brela features the longest coastline in Dalmatia and some say it is also the loveliest.
Compared to the neighboring Makarska, Brela is more chic in style but it has the same beautiful pebble beaches surrounded by fragrant pine forests. This spot is perfect for watching fantastic sunsets.
Just like the neighboring town, Brela features a lovely promenade where you can spend a sunny afternoon walking under the shade of pine trees.
In the evening, the walkway lights up so it can be really romantic for lovers who are traveling together.
There are cafes and little bars all through this promenade and you should really stop for a while and just enjoy the view.
One of the most famous beaches in Brela Croatia is the Punta Rata but there are plenty of options with lots of fun water activities.
And as you would expect in any Croatian destination, you would really get to see the majestic beauty of nature in this town.
Brela Location
Brela is a small town resort in the Makarska Riviera and is one of the most popular in the area because of its rich culture, breathtaking natural beauty, and pretty promenades.
The upper part of the town is right within the border of the Nature Park Biokovo and the lower part is right by the sea.
There are several settlements in the lower part of Brela and a lot of locals live there. Its highlight is undoubtedly the beaches.
One of them was even featured in Forbes magazine as one of the most beautiful ones not just in Europe but in the world.
Large pine trees are the backdrop of these pebble beaches so it's a really relaxing spot whether you are in a family vacation or on a soul-searching journey alone.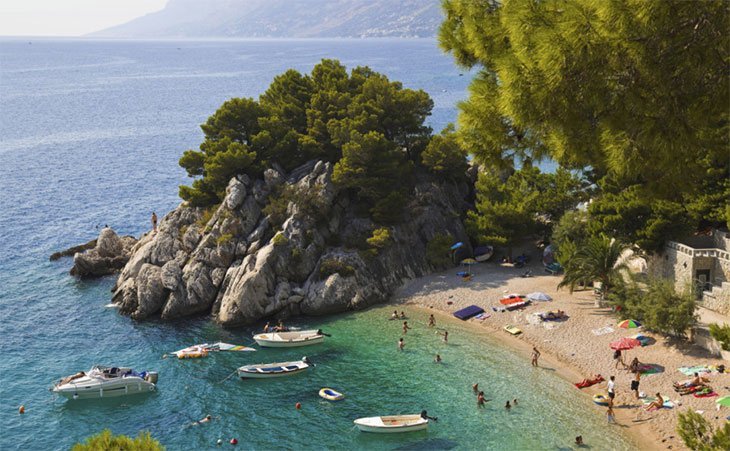 The town is small so it is suitable for a day tour but there are lots of accommodation options around if you wish to stay for more than a day.
The Riviera area is also easily accessible so you can easily reach it if you are coming from some of the major cities like Split or Dubrovnik.
The Big Picture: Brela Croatia
Majority of the activities in Brela involve the waterfront. That means plenty of beach time, underwater adventures, and exposure to the warm sun.
So, make sure you bring your sunscreen and pack a lot of swimsuits! Still, there are so many other things to do other than just swimming and boating.
Brela Croatia is a lovely town to walk around so be prepared to walk for long stretches of time.
But since the scenes are so majestic and pretty, you would hardly get tired because you would only notice the sights around you. Nevertheless, you can take public transportation if you wish.
One of the best things to do in Brela is to simply walk long the promenade which passes through the seaside.
It may sound boring to some but wait till you see the sights that you will be passing by along the way!
It's like walking in paradise. Imagine a warm sunny day with the view of the crystal clear blue sea and placid blue skies, and that is all that will be surrounding you on your entire walk.
When you get thirsty or hungry, you can take a sit in one of the cafes and just enjoy the sights. It's the best way to appreciate a foreign place like Brela.
At night, if you are traveling with friends, you can also hang out in one of the bars that are also along the promenade. It is a lively walkway with so much to offer.
Things to do in Brela Croatia
The Nature Park Biokovo is also within reach so you may want to take a trip up there if you are in town. You can also go to the neighboring town Makarska and see it's different colors and flavors.
If you want to make Brela your main destination, it is also very practical because you will be very near the other popular cities like Split and Dubrovnik.
You can take a day trip to either cities in just an hour to three hours drive.
The town is surrounded by shopping places so you will not run out of stores to shop. You can get your souvenirs as well as your essential items in the supermarkets.
If you are in need of something that you can't find in the town, there is always the larger supermarket which is in the nearby Makarska.
It's truly a very convenient location and everything you need is just within reach.
Brela is also a lovely city at night. The town features great nightlife. You can enjoy the coffee bars early in the evening with a view of the sea then hang out and party till late at night in the bars in Makarska.
There is a popular disco there that is really phenomenal because of its many dance floors and various amenities.
It is a village that is right next to the sea so it's the perfect place to relax and just forget about your daily lives for a while.
The town has become one of the most exclusive destinations in Dalmatia because of its attractive natural environment.
Its most famous beach, the Punta Rata is a Blue Flag rated beach meaning it is one of the cleanest in the world with its water being of extremely high quality.
Blue Flag beaches are recognized worldwide and are known for their crystal clear waters.
It also means that the operators of the resort are doing their best to preserve its natural beauty.
Short story about this place
The town is a municipality in the Split-Dalmatia county along the Adriatic.
The locals call it the pearl of the Makarska Riviera. The town used to be heavily involved in raising grapevines and its steep terrace lands.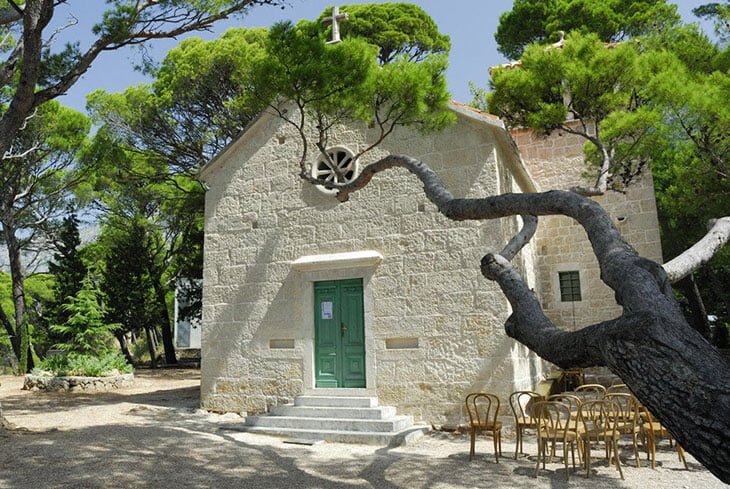 However, when tourism started booming, the interest for agriculture decreased but it is still preserved in some of its parts.
You will see this visible in the many gardens in town as well as the lands where these grapevines still exist. The locals are still raising olives, grapevines, and oranges.
Today, you will still see some of the historic buildings in Brela like old churches and stone walls. There is the small church dedicated to the Lady of Karmela among many others.
Exploring Brela Croatia
Here are some of the things you can do in Brela that will really rejuvenate your mind and spirit. Whether you are traveling with your friends or family, with a lover, or on your own, it is an ideal vacation spot.
There are about 6 kilometers of natural pebble beaches in this town and all throughout your journey, you will smell the fragrant scent of the pine forests surround it.
Numerous walkways are available so your feet will be busy especially in the promenade by the sea which is one of the most enjoyable things you will ever do in Brela Croatia.
There are old hamlets and you will also get to witness the Dalmatian architecture.
And if you are up for it, you can even go up and hike to the upper parts of Mount Biokovo which also includes part of the town.
Take a walk on Brela promenade
It really worth mentioning again that the promenade by the sea is the most enjoyable and the most unique thing you will see in Brela Croatia.
It is a long stretch of walkway lined with pebbles with a beautiful view of the Adriatic.
Just walking along here may even make some feel that their trip is complete.
You can sit and have a warm cup of coffee in the cafes along the promenade or go to the bars at night.
This is a rare opportunity to really stop for a moment and take in the sights and realize that there is so much more to life than our daily boring activities.
Brela Croatia gives you that opportunity and this town is one of the best places to really experience it.
Punta Rata Beach
Though there are several beaches to choose from, it is worth noting the most famous beach, the Punta Rata beach is rated as a Blue Flag beach.
It is one of the best in the world because of the quality of its water and its cleanliness. You can never go wrong with a Blue Flag resort.
It has also been listed in Forbes magazine in 2004 as one of the most beautiful beaches in the world.
But you have to see it for yourself to really know what that means. You can really see what's underneath those crystalline blue waters. Fishes swimming all around you and the soft warm sand beneath your feet.
That's what an excellent quality beach is like.
There are plenty of activities to do in the beach. If you want some action, you can rent a jet ski and ride around the waters.
Or go for a relaxing boat ride just to enjoy the view. Kids would love swimming near the shores because the water is just right and it doesn't get too deep right away.
It's a perfect vacation spot for families.
You can also rent parasols and sun lounges so you can just bathe in the sun and enjoy the moment.
Water scooters are also available for rent. For the really adventurous, they can even try parasailing.
Take note that the rental for such equipment are not included in the entrance to the beach.
Then in the evening, make sure to hang around the beach because you will see one of the most beautiful sunsets in your life.
What better way to enjoy it than with a refreshing drink that is available in the resort.
If you want something more private, you can head to Vruja where you will find some of the most secluded beaches.
This is great for lovers on a trip or those who want to relax alone. Artists find that it's a great spot for them to refresh their creative minds.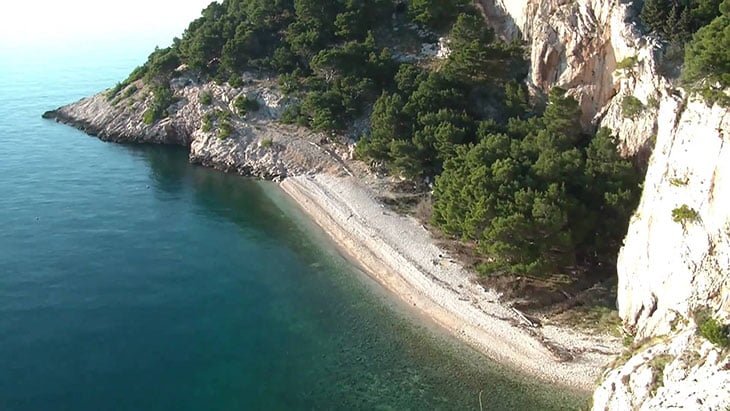 These beaches are of course open to other guests but it will not be as crowded as the more popular ones like the Punta Rata.
But they still have great amenities and food and drinks are available in the resort.
Aqua Aerobic
You can also watch the aqua aerobic that is held in the Maestral beach. It's a fun thing to watch especially with kids.
Churches of Brela
You will see lots of old churches in Brela which say a lot about the town's rich history. These churches have been preserved since they have been built, some of them since 1897 though they have undergone some reconstruction.
There is the church of Our Lady of Karmel built in 1715, the St. Juraj Church, St. Ilija Church built in the 18th century which has a rural architectural design, and the St. Roko Chapel among many others.
Park Of Nature Biokovo
And for just a little distance, you can head on up to the upper part of town toward Makarska to the Biokovo Nature Park.
This is great for the outdoor lovers but make sure that you are an experienced hiker or in the company of one.
You will have one of your most exciting nature adventures in the Biokovo nature park right in the Biokovo mountain range.
It is the second largest mountain in the Adriatic and from here, you can get a view of the Italian coast when the weather is clear.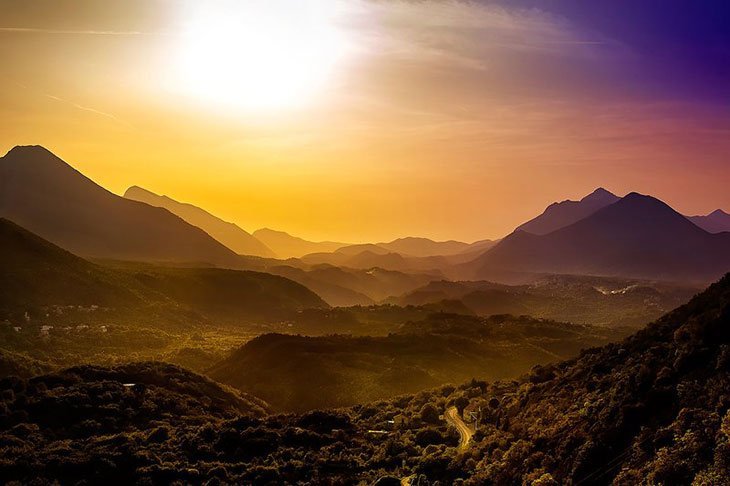 This park offers exciting hiking trails and viewpoints but there is so much more to do.
Inside is a botanical garden where you will see some rare local plants. Rock climbing is also a popular activity as well as paragliding.
Beware that the roads in this area are not for beginners so make sure you are with an experienced hiker and bring and equip yourself with proper gears.
It's also great exploring in a small vehicle.
This mountain also has an interesting past. It used to protect the citizens from sea raids and because of its high peaks, attackers found it difficult to infiltrate the town.
Today, it is a popular site for excursions with lots of marked mountaineer paths and is bursting with plant and animal life.
It is advisable to pack some food but you can also eat in a small tavern in the mountain where you can sample authentic local foods.
Do not climb the mountain alone. It is best to hike these parts with your friends or with an organized group.
If you are traveling alone, you can join some group hikes through agencies. Make sure to wear suitable clothing and bring plenty of water to keep hydrated.
Getting there
Brela is included in the Makarska Riviera area, near the town Makarska. It is very easy to reach from major cities like Split and Dubrovnik whether by car or by bus.
The town is just an hour drive from Split and about 3 hours from Dubrovnik by car.
You can also take the public buses from those cities. From farther cities, you can take the bus going to Split then from Split, you can choose from the many buses that are going toward Makarska and get off in Brela.
If you are in the nearby towns, you can easily drive to Brela within 30 minutes or so.
Some of the nearby towns and cities include Split and Hvar.
Hvar is also an interesting spot because of it ancient history. It is where you will find the fortress Fortica and the Hvar cathedral.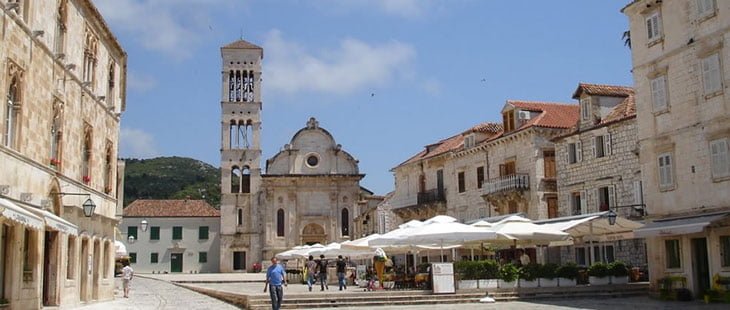 Best Time to Visit
Brela Croatia is beautiful all year round but it is best to visit in summer because majority of the activities featured in this resort town involve the beaches.
It is really a fantastic beach spot so you come here for the stunning blue waters surrounded by fragrant pine trees.
One consideration in visiting during the summer would be the situation in other cities in Croatia that you would also like to visit.
The other popular cities nearby like Dubrovnik can get really crowded during the summer months so you may want to consider that.
However, it really doesn't take away Croatia's beauty so if you don't mind lining up a little for some attractions, it is still worth going in the summer.
Even in winter, walking along Brela's seaside promenade is a fantastic activity.
The beach remains exotic and beautiful so there is nothing to take away from the sights.
The pine forests remain fragrant and the views are just as stunning. But you may not be able to swim as long as you would otherwise during the summer.