Unspoiled beauty would be the perfect description for the island of Vis Croatia.
Though it is a lot farther from the mainland compared to other Croatian islands, visitors find that it is worth the travel for the amazing experiences they take home with them.
Island of Vis Croatia has left many tourists breathless.
Vis island only recently opened for tourism in 1989 and to this day, its beauty remains intact.
The island features natural vegetation that includes fragrant pine trees, carob trees, and other exotic plant species.
The particularly rare silver palm tree can also be found in Vis Croatia.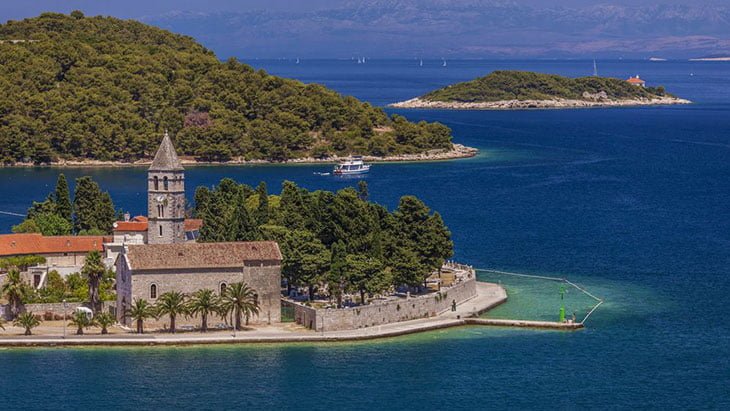 A big part of it is dedicated to vineyards so Vis island is quite famous for its white wine known to the locals as Vugava.
Their red wine, Plavac Mali is also quite popular.
Island Of Vis Croatia is a less busy tourist destination so if you are not very fond of hustling with crowds, this may be the ideal destination for you and your loved ones.
Vis is also famous for its Hollywood musicals where visitors can watch locals perform.
Those who have been to Vis Island profess that it is well worth the long ferry ride.
If you have seen the popular Hollywood musical "Mamma Mia! Here We Go Again", you may notice that many of the scenes were shot on this location.
But there is so much more about Vis that makes it truly interesting.
Island Of Vis Croatia
Vis island was first inhabited in the neolithic period.
Island was home to the Illyrians who brought new technology to the island in the first millennium.
Like most Croatian islands, Vis became a Greek colony in 390 BC, during which time, the ruler of the Greeks, Dionysus ruled Adriatic possessions.
The city state became quite powerful and soon, they have established colonies on the island of Korčula as well as Trogir and Stobreč.
Vis island became an ally of Rome when the Illyrian wars erupted but they eventually became subject to the Roman Empire by 47 BC.
By the 10th century, the Slavic tribes arrived on the but the island was later sold to the Venetians along with several other towns in the old Dalmatia.
The Venetians called the island Lissa.
As they escaped the Dalmatian pirates, their population moved from the coast to the inlands.
They eventually ended their reign in 1797 and Vis island fell under the control of Austria.
Other nations that ruled the island included France and the UK as well as Italy and of course, it became part of the first Yugoslavia.
The island had such a strategic location which attracted the great powers to fight for control over it.
It became an important military base for the partisans of Josip Tito.
He built several fortifications in the island surrounding his headquarters which is down the Hum mountain in a little cave.
This is where military and diplomatic undertakings occurred and you can still see many of these historical structures when you visit the island.
Island of Vis Croatia was well known for its thriving fishing industry from the 19th to the 20th century.
It was one of the busiest Croatian islands conducting trade for the industry.
Today, they are quite focused on agriculture and their tourism has been doing exceptionally well.
Vis island as well as other nearby islets are all part of the Split-Dalmatian county.
Best Things To Do In Island Of Vis Croatia
Considered as a Pearl among the many Adriatic islands in Croatia, island of Vis remains untouched so expect truly breathtaking natural beauty that would make you want to stay for longer than you planned.
There are plenty of things to do and wonderful things to see in and around the area.
Local boat excursions make other islets of interest accessible to visitors.
Vacation Spots On Vis Croatia
Like many Croatian vacation spots, you will find a lot of sites on the island that have historical importance.
Marvel at these sights and get a deeper understanding of the island's rich history and thriving culture.
Vis Town
Vis town on island of Vis Croatia is a place where you will will find the bigger ships docked in its ports.
Just walking around the old town would make your experience in island of Vis a magical one.
Sit and gingerly sip on coffee or tea on the many cafes as you observe beautiful sunsets or walk to the markets and treat yourself to some locally grown fruits.
You will also find plenty of unique shops on its streets.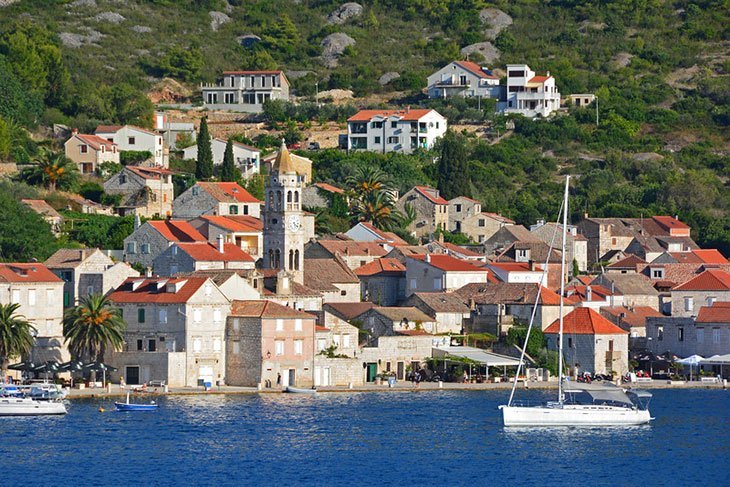 If you walk to the left, you will enter the old town of Kut where you will see plenty of summer houses that go far back to the time of the nobilities of island of Hvar.
It is distinctly apparent how the Vis town is quite different from the main because it is a lot quieter and it's a place where you can really immerse yourself in the culture of the locals.
The buildings are much older and the streets feature a unique Croatian charm.
Beautiful scenes await those who are about to walk on streets of old town of Vis.
Tito Cave
As mentioned in the story of this Croatian island, the World War II leader, Tito built his headquarters in a cave down the mountains of Vis.
Tito and his partisans conducted many of their arrangements in the cave for several months in 1943.
They held important meetings, planned their attacks, and devised strategies in this headquarter.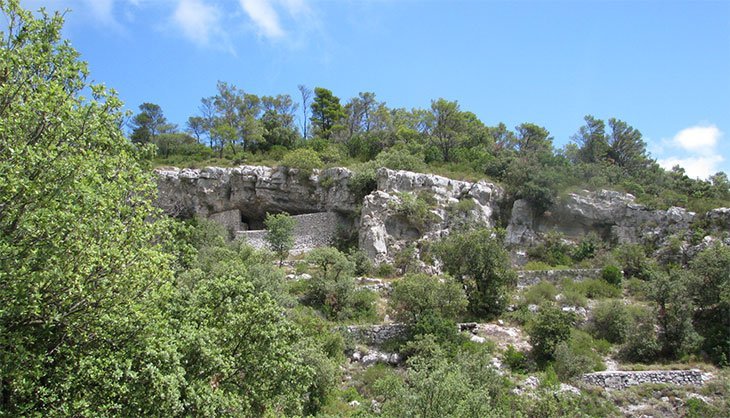 You will see that the site is not very polished which makes it more authentic and really takes you back to the old times.
Tito cave is open to visitors and you can go there as part of a day tour or on your own.
When you approach the mountain of Hum from under the cave, you will find steps coming from a sharp turn on the road.
Archeological Museum
Archeological Museum is a prime historic attraction surrounded by fortifications evident of the Habsburg presence in the mid 1800s.
Within this battery is the Archeological Museum which is home to important archeological finds from 4000 BC during the time that Dionysus the Elder established his colony in the town.
If you visit the museum, make sure to take a look at the bronze head of Artemis who is the Greek goddess of the hunt.
She was an important deity to the townsfolk for a long time.
You would also be delighted to see other treasures including objects that have been used in winery and fishing which have been thriving in the island for over 2000 years.
Fort George
You will find the magnificent old Fort George in the town of Vis.
Fort George was named after King George of the English who built it in the Napoleonic times.
The Fort George has been abandoned for generations but has recently been reconstructed and opened to visitors.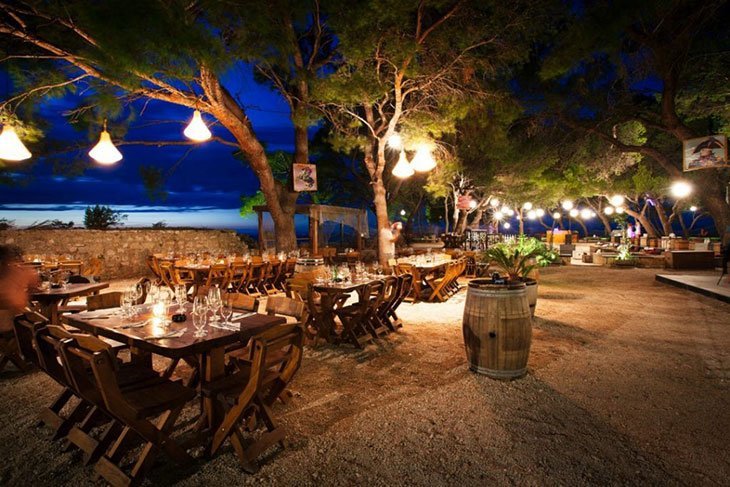 Inside the fort is a nice open air bar called the Sunset Bar & Club where you can either party or just relax and sip on a lovely cocktail at sunset.
The bar features live music as well as local acts.
If you would like to catch a show, visit the Fort George on a Friday night.
You may also want to dine on the restaurant in the art gallery in the fort George.
If you would like to see some modern local art, you can also catch one of the art exhibitions in the fort.
There is a permanent display of historical installations which depict the town during the 1800s and the Second World War.
Wine Tasting
It is an absolute must to mention wine tasting in Vis Croatia separately because it is one of the most iconic experiences in the island.
Since the island thrives on agriculture and winery, you must sample some of its white and red wine.
The island is known for its full flavored Plavac Mali which is their red wine and the dry white wine called Vugava.
These wines have been cultivated in Vis island sandy soil for thousands of years.
Today, you will hear of the island's famous winemaker Antonio Lipanović and his wines are available in almost all the famous restaurants in the area.
You can sample these wines in the local dining places but it is extra special to visit his tasting rooms.
The wine tasting rooms consist of military tunnels which have been built by Tito after 1945.
Vis island wines come in both unoaked and barrel fermented varieties.
Make sure to make an appointment for the day of your visit.
Vis Island Main Attractions
One of the main reasons visitors choose to go to island of Vis Croatia is its spectacular natural beauty.
It is unspoiled and you can really appreciate nature in its most raw form.
Blue Cave (Blue Grotto)
Blue Cave is located on nearby island of Biševo which is a breathtakingly blue grotto is one of the best attractions in Vis Croatia.
You will find it in the south-west of the town of Komiža and is accessible by local boat lines.
Island of Biševo is barely inhabited but visitors flock to the Blue Cave during the summer.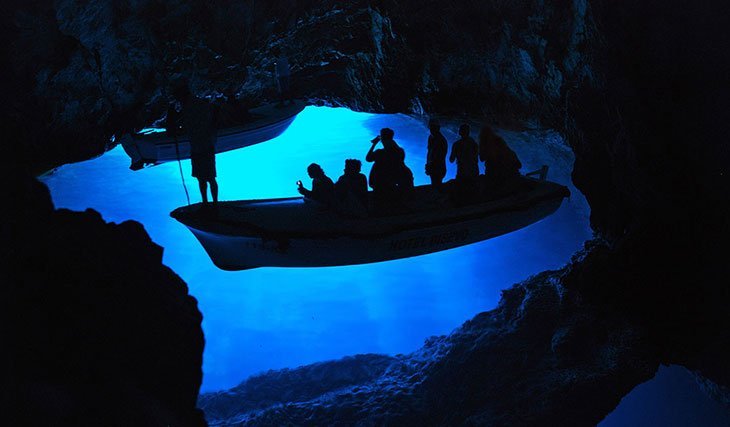 It is best to visit the Blue cave at noon, which is known as the "manana" or nap time because of a natural phenomenon that occurs in its waters.
As the sun reaches its peak, the Blue cave becomes flooded in blue light which is a truly magical view both for the young and old.
Some people even dive into the waters during this time.
When you schedule a trip with a tourist boat, it will most likely be around this time.
Day tours are available which include the Biševo island or you can plan a trip there separately.
Sailing Around Vis Croatia
One of the fun things you can do around Vis island is to sail around its waters like the locals do.
It is one of the most unusual activities where you would set to sail for an entire week on a traditional Gajeta fishing boat.
Gajeta is the kind of boat that has been used by fishermens of the island for generations.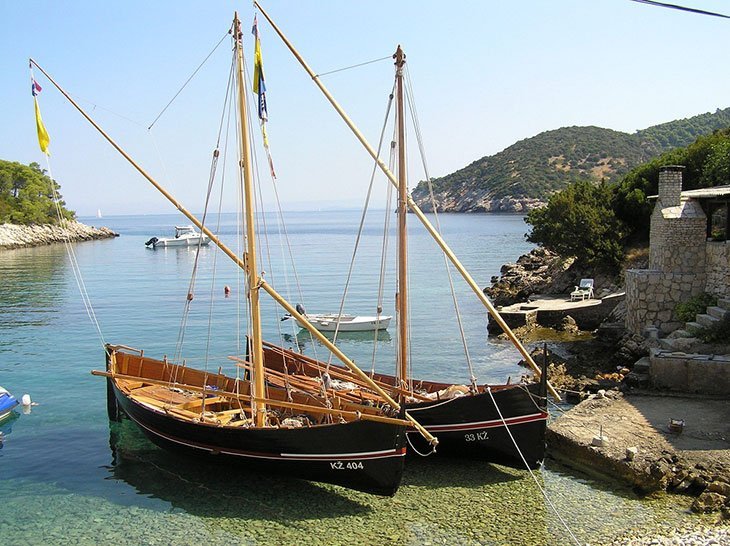 You will be taught how to operate the boat and learn how to use the ropes and other necessary tools on your first day.
Learn how to sail using the unique triangular latin sail which has been used by the Ancient Greeks and Romans.
You would sail along the Blue Cave, Green Cave and sail around other isolated bays and coves.
Another thing you might learn is how to fish like the locals and even cook up your catch when you stop on the island Vis beaches.
Diving
Diving is a naturally popular activity in island of Vis Croatia because of its crystal clear blue waters.
It is an outstanding experience because you can swim along the beautiful rocky coastline and there are plenty of diving sites.
More experienced divers may want to experience the Flying Fortress which is a big WWII plane that went down the waters of Cape Polivalo in 1944.
It is submerged deep in the waters about 70 meters from the surface but you can see from above its remarkably intact exterior.
There are several other sea wrecks around the island where you can schedule a dive in the island as well.
Hiking Hum Mount
Up above Tito's cave, you can climb Mount Hum and see the whole island from its highest point.
You can join a hiking tour that leads up to the mountain or you can set on your own or with your group if you are experienced hikers.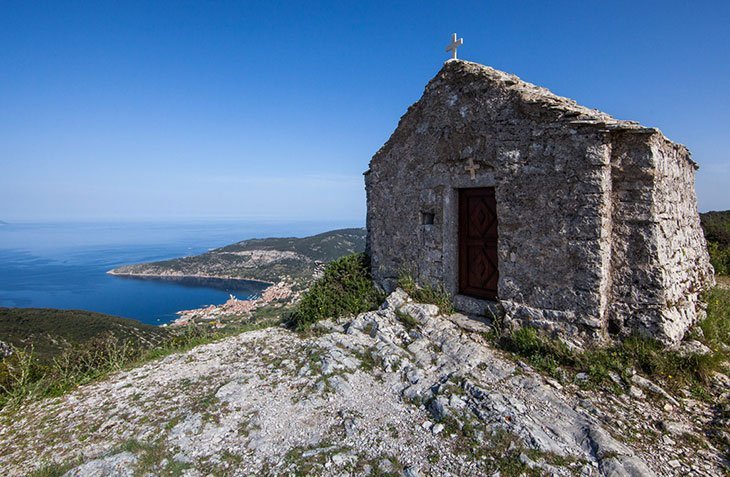 Hum is the highest point of the island – with 587 meters above sea level and it offers panoramic views of the town of Komiža and its surrounding magnificent landscape.
Explore the military installation up in the mountain then walk leisurely down to the Church of the Holy Spirit to take some rest.
It is the perfect place to end your hiking excursion.
Green Cave
Just as there is a Blue Cave, you may also be delighted to know that there is a spot in town called the Green Cave and you can kayak to get to it.
Green Cave is not very far from the southern tip of the island and it's a favorite destination of kayaking enthusiasts.
It is a relatively easy trip so even beginners can kayak to the area.
Like the Blue Cave, something peculiar happens to the Green cave at the passage of the sun.
This natural phenomenon involves the rock formation on the area where the Green Cave will be under an emerald colored light that floods through its top opening.
Green light from the Green Cave then spreads onto the water which makes it a spectacular light show.
Red Rock Climbing Trails
As you can see, the island of Vis Croatia is filled with many colors.
If there is a Blue cave and a Green cave, there are also red rocks.
This natural wonder is right behind town of Komiža and when you traverse this path, it will lead you to dozens of climbing trails, most of them surrounded by beautifully red colored rocks.
Red Rock trails are suitable for climbers of all levels.
There are plenty that would be easy for beginners and also for experienced climbers.
The most rewarding experience in climbing the red rocks is the unforgettable view from the top.
St. Andrew Island (Svetac) – Komiža
As you sail through the waters of Vis Island, take the opportunity to explore its nearby smaller islands as well.
One of them is the island of St. Andrew which is a remote island where the Zanki family lived.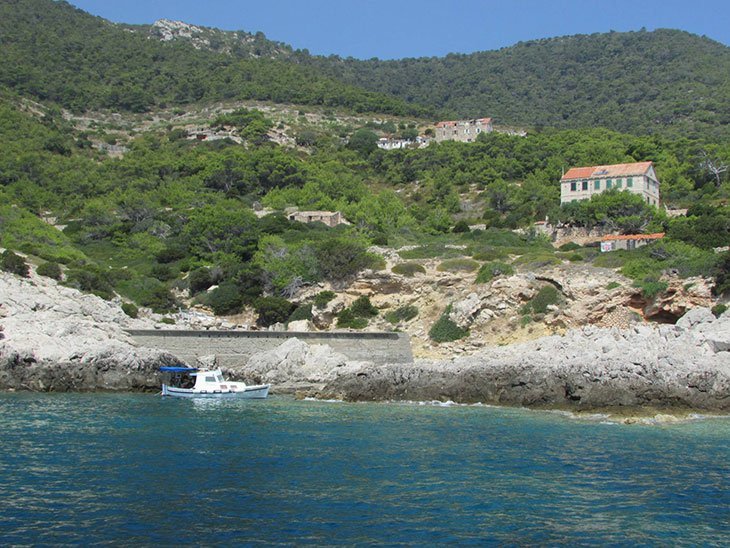 St. Andrew island is also called Svetac and this was where the Zankis thrived through fishing and viticulture.
The last resident has died but other family members who now live in Komiža still visit the island during the summer.
You will see simple but impressive stone houses as well as the ancient fortifications of the Illyrian Queen Teuta.
Some visitors might even chance upon the rare Eleonora Falcon.
Best Island Of Vis Beaches
One of the best things you can do in Vis Croatia is to swim, dive, or just sunbathe in its marvelous, beautiful Vis beaches.
The waters that surrounding the island were never overfished so the underwater life is rich and teeming!
Scuba divers will love Vis beaches and coves and they are just perfect whether you are with your family, a lover, or on your own.
Srebrna
This is the beach near the fishing village of Rukavac.
It has lovely large white pebbles which make for a nice relaxing walk perfect during sunset.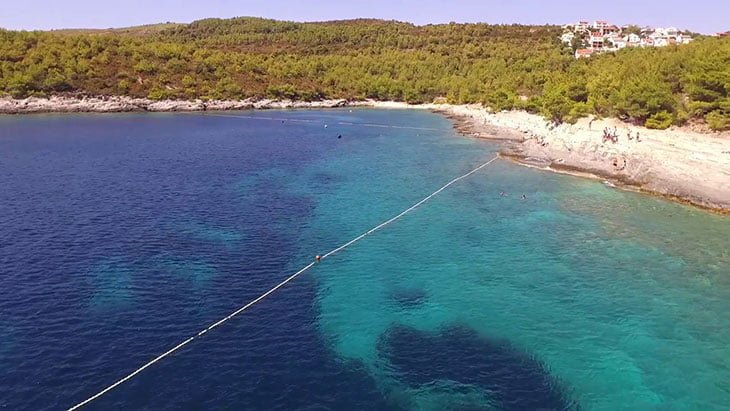 Milna and Zaglav beach
As opposed to the Srebrna, these two Vis beaches are quite sandy and is perfect for sunbathing and swimming.
The Milna Beach is the most accessible since it is connected to the main road.
It features the iconic striking blue Adriatic waters and a view of several other smaller islands that form an idyllic backdrop.
The neighboring beach Zaglav is quieter and is great for those who like meditating or just reading on the sands.
Grandovac
Another pretty beach is the Grandovac it is located just outside of old town of Kut.
Grandovac beach features a bar where you can party late at night and rocky Vis beaches on the sides.
Holiday Activities
Aside from the relaxing nature trips to the mountains and its sandy and pebbly Vis beaches, and sightseeing in its historical sights, there are so many things to do in island of Vis Croatia.
Watch Cricket
Strange as it is, visitors can enjoy watching a game of Cricket in island.
There is a modern day revival of the cricket club first established by the British sailors during the Napoleonic period.
It has quite an interesting story.
During his 6 year post in the island, naval commander Sir William Hoste organized cricket games as a form of entertainment while they also try to battle French forces in Issa.
Though no longer at war, this tradition was revived by a local wine merchant.
You can catch some of these fixtures during the summer.
Bejbi Bar
If you think Vis Croatia being an untouched island is boring, think again.
There is quite a lovely nightlife in the island even with just one bar.
The Bejbi Bar is right on the seafront and tourists have been coming there to drink, relax and just have a great time.
Biking and Riding
If you like riding, you can rent either a bike or a scooter to explore the island.
It's a great way to see the historical sights and also explore the Vis beaches.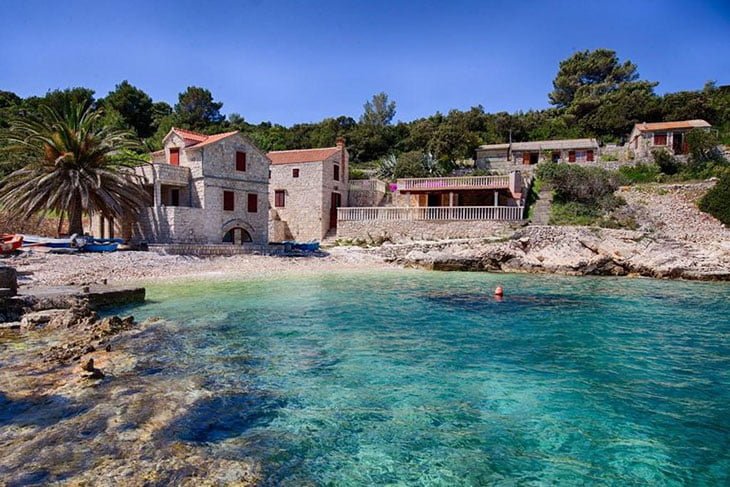 Travelling to Vis Island
The nearest airport to island is in Split on the mainland.
From there, you can ride a ferry to the island which can last up to two and a half hours.
Ferries for island of Vis usually leave from Split at around 9 am so if you arrive in Split at night, you may have to look for a lodging and wait till the morning.
If you would like to go around the island by car, you would have to rent one from Split and bring it to the island via ferry as well.
Ferries run year round as well as the catamaran.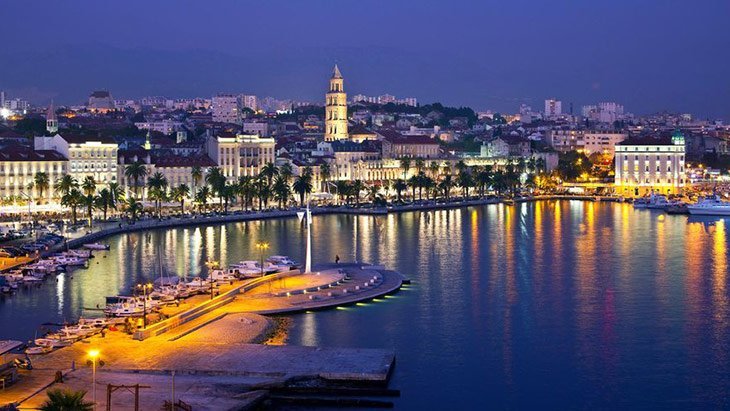 You can take a day boat trip to the island if your main holiday destination in Croatia is Split.
Get to the island in the morning and leave during the afternoon, though that is just enough time for you to look around.
If you really want to make the most of your trip, it is best to stay a few nights on the island.
Take note that even though Korčula Island is quite nearby, there are no direct ferries to and from either islands.
So, if you are planning to visit both, make sure you make the appropriate travel arrangements.
What you can do is to arrange for boat transfers.
Best Time To Visit Vis Croatia
It is apparent that the best time to visit island is during the summer.
That is if you really want to make the most of your time and see the best of its unspoiled nature.
Attractions like the Blue Cave and Green Cave are most beautiful during bright sunny days and you may not be able to appreciate them when it's rainy or wintry.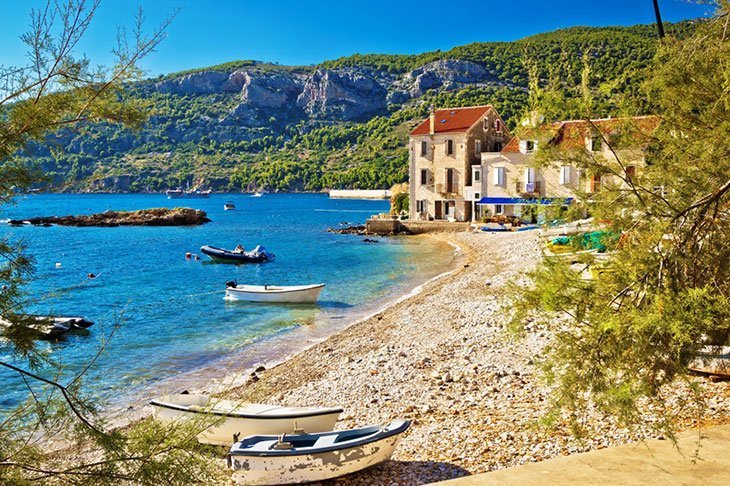 Summer is also a great time for you to really enjoy swimming and sunbathing in the Vis beaches.
The waters are absolutely stunning and there is plenty of marine life to marvel at.
Spring could also be a good time to go around Vis Croatia because it will be pleasantly cool and you can still enjoy these marvelous sights though it may not be too perfect for sunbathing.
Check The Other Nearby Holiday Destinations