Between the rich history of Pula and the quiet picturesque city of Rovinj, Poreč Croatia is a beautiful blend of these two Istrian cities.
Right at the western coast of the Istrian peninsula, you can find this seaport city nestled between the peaceful waves of the bay and the lush hills at its backdrop.
This town is over 20 centuries-old, inhabited by the locals ever since its prehistoric days.
However, in the 2nd century BC, the Romans made this an official city.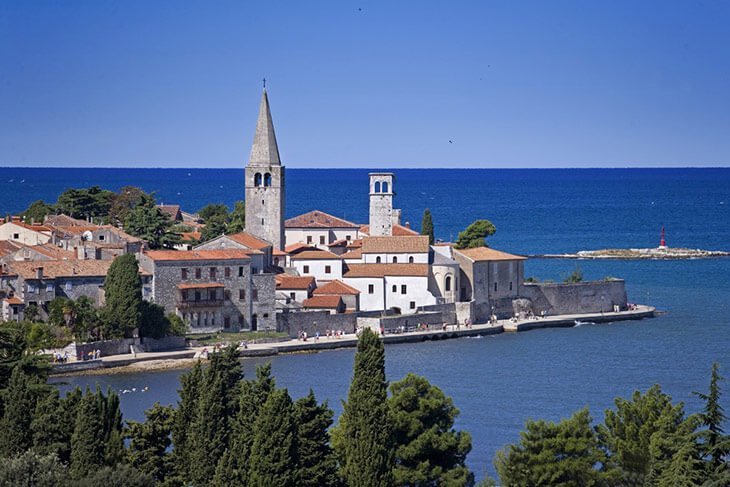 Small yet rich in history, culture, and way of life, this Istrian city once stood at a mere 400 m by 200 m in dimension.
Since the time of the Romans, this has since expanded and the original dimensions now constitute the city's center.
As the years rolled by, the Roman Empire fell in 476, and Poreč fell into the hands of the Ostrogoths. By 539, it was assimilated into the Byzantine empire.
Eventually, the Franks got hold of the city by 788.
This follows an action-packed timeline until the Venetian rule that lasted for more than 5 centuries.
And so we track this farther down the line until we come to a modern period where the city of Poreč Croatia, also known by locals as Parenzo, now stands.
Now let's explore the beauty and history that is hidden in this small seaport city.
Best Things To Do In Poreč Croatia
Euphrasian Basilica
The Euphrasian Basilica, also known as the Cathedral Basilica of the Assumption Mary is one of Poreč's many episcopal complexes.
This is an edifice that represents the Byzantine architecture quite well.
This was built in reverence to the Saint Maurus of Parentium, but it now stands as a place of worship and dedication to Mary.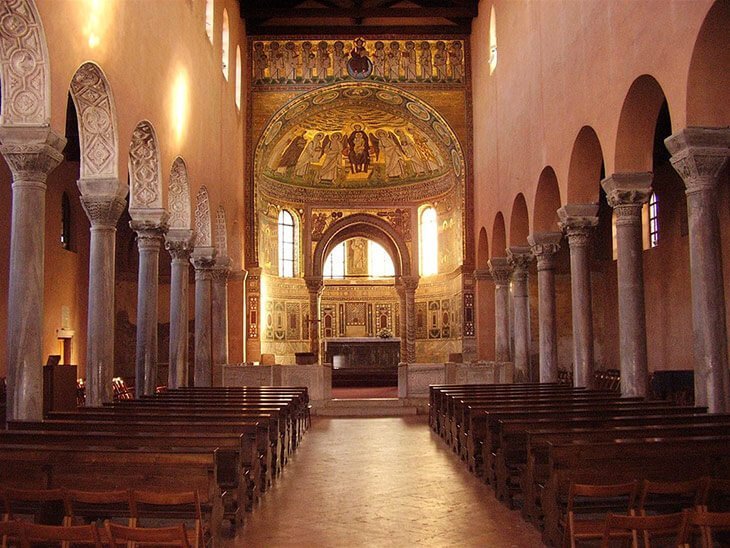 Here, you can explore the vicinity and see the basilica itself, a sacristy, and a baptistry.
You can find a bell tower right along the palace as well.
For the most part, you will notice that sections of the basilica stand in their original structure.
This is in spite of the many tragedies that had taken over the place – things such as fire, earthquakes, and other calamities have altered the facade but not its overall structure.
The historical value that this cathedral represents has not evaded UNESCO.
In fact, it has been inscribed on the World Heritage list as one of the culturally-rich and well-protected structures around the globe since 1997.
Perhaps what's even more striking about this place is its mosaics.
Dating back from the 6th century, these artworks arch over the basilica and contains medallions such as the Lamb of God and the portrait of 12 female martyrs.
Many more of this awe-striking elements can be found right inside of the Basilica.
Marafor Square
In ancient times, the Marafor square was at the heart of a bustling and busy Poreč Croatia life.
This was where important public offices and administrative buildings clustered alongside places of worship.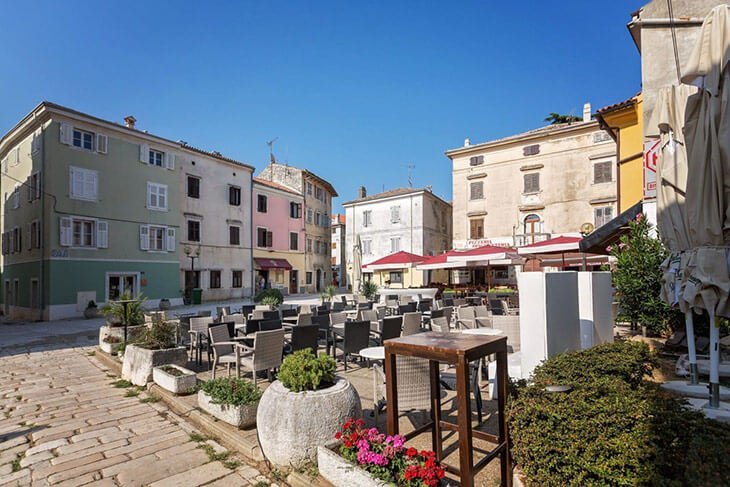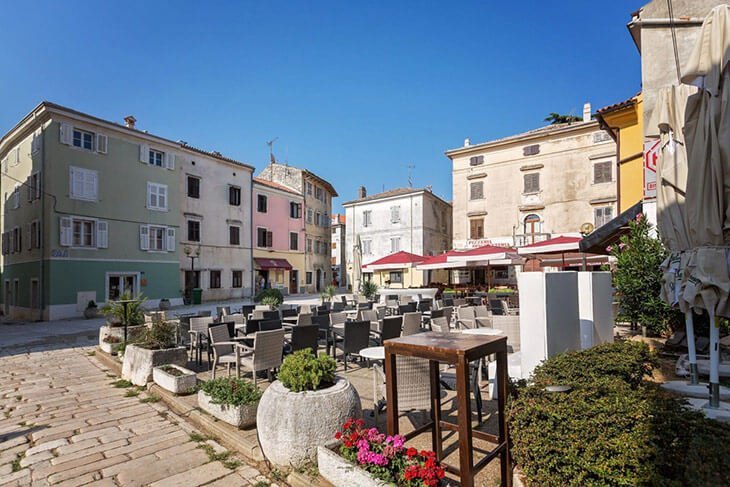 These days, the square still stands proud despite years of calamities and decline.
While it now looks a little worse for wear, there has been a motion to restore this once glorious city center, but there remains to be plenty of things of interest to see here.
For one, the ancient pavement has been properly preserved, giving you an idea of the cobbled stones that the ancient people of Poreč Croatia had once walked on.
And while the ground floor of most of the buildings in the area have been converted to bars and restaurants, the foundations of these ancient buildings are still quite visible from the square itself.
The temples, or at least their pillars, have been preserved as well.
These used to be temples for the god Neptune and Mars.
There still stands a Town Library that you can explore and spend an afternoon in.
The interior still holds a certain echo of years past–a nice reminder of how grand this square must have once stood.
Boat Trip To Lim Bay
On the west coast of Istria, near the city of Poreč Croatia, you can witness the sunken karst valley known as the Lim Bay.
This stretches for over 13 km long, and far into the interior of the bay, thus making up the Lim Cove.
As you explore the bay from its external entrance, you might notice the space getting more narrow as it extends close to Pazin.
Since 1964, this was officially announced as a place that is legally protected as a geomorphologic and hydrogeological site.
This makes it an important landmark for both tourists and locals alike. By the time the 1980s rolled in, this was then declared as a special marine reserve.
Enjoy the brackish water from Lim Bay as part of your Poreč Croatia things to do list.
The water is a result of a submarine karst spring that lowers the salinity of it.
Thanks to the high concentration of oxygen in the water, marine life thrives here as well.
There are planktons, fish, and shellfish in the area, as well as oysters and mussels.
This is the perfect place for you and your family to go kayaking or even simply spend an afternoon here enjoying seafood and the evergreen vegetation that is visible from the northern side of the bay.
Aquacolors Poreč
At the moment, Aquacolors Poreč is one of the largest waterparks in Croatia.
If you're looking for a whole day of water fun and activities while you are on vacation, then this is just where you need to go.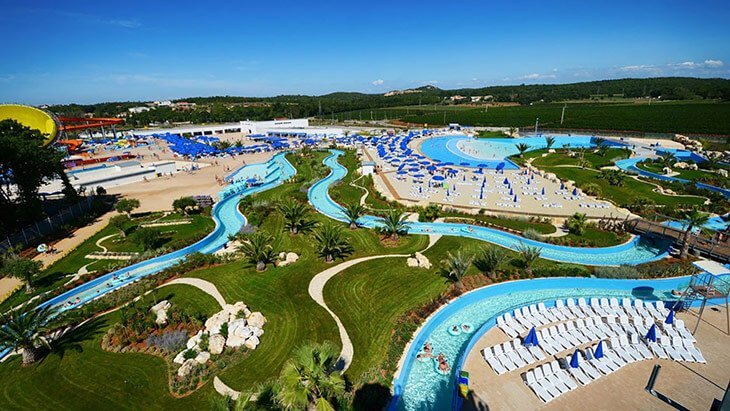 You can find this tourist attraction near Zelena Laguna.
It covers over 100,000m2 of space, and it can accommodate up to 5000 visitors at a time.
This is a fairly new tourist space, having just opened last 2015.
This means that most of its amenities are still clean and well-maintained.
To paint a picture for you so you can be prepared, here are some of the attractions that you can see in the area: 12 giant water slides, pools, a rodeo bull, and even a bouncing boxing ring, plenty of fast food restaurant options, and so much more!
This is every kid's paradise, and there is no reason that it shouldn't be yours too.
To book reservations and tickets to this place, simply check in to their website and Reserve your spot.
Included in the entrance fee are sunbeds and umbrellas on a First-come, first-served basis.
Adventure Park – Poreč Croatia
Near the city center is a vast oak forest that has been converted into an adventure park.
If you are traveling in the area and would like to stop by for a day of fun-filled activities,then be sure to drop by Sky Fox Adventure Park.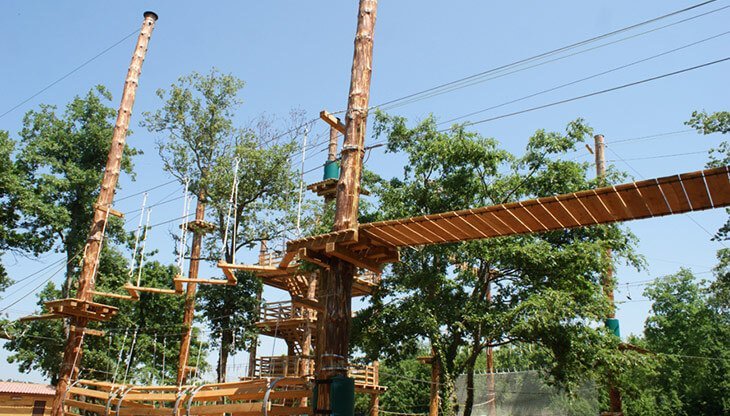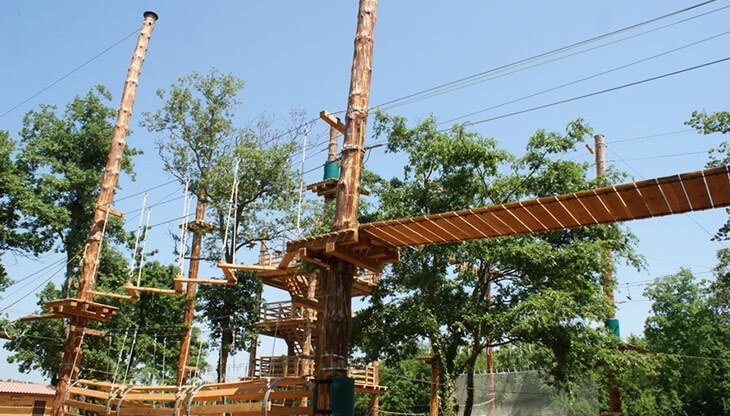 This is considered as the largest and most diverse adventure parks in the whole of Croatia.
This isn't just for exploring the great outdoors in a safe environment too, you can also host parties and celebrations here that is perfect for both kids and adults.
Among our favorites is the giant swing that will take us way up above the trees so you can enjoy the view from up above.
The descent is quite an adrenaline rush too, as it is an assisted free drop. For those of you who like taking bike tours, you will enjoy the tracks here as well.
Plus, there's a human football table as well as a footpool that you can participate in.
The Adventure Park Sky Fox is every active person's dream day trip – complete with ziplining and quick jumping.
So be sure to give this place a visit as well.
Episcopal Complex
Going back to the rich cultural history that the city of Poreč Croatia can offer, there is the episcopal complex that Euphrasian Basilica is also a part of.
You see, there had been several buildings that pre-dated this the Euphrasian Basilica, and had existed on this site even before the basilica was initiated by Bishop Euphrasius.
On top of these, more Christian buildings were also built on this site.
Place is what we now know as the Episcopal Complex.
This pre-Euphrasian set of buildings are made out of two parallel three-aisled basilicas.
Right at the middle is a narrow aisle and a cistern.
It has become a sanctuary, housing that even housed a synthronon, a seat used by bishops and priests.
In the buildings that this complex covers are floor mosaics, kept in crypts just under the basilica itself.
Episcopal Complex that had undergone quite a few renovations but has still managed to maintain its structure and glory.
Eventually, a memorial chapel, an atrium, as well as an episcopal palace were also added to this cluster.
These are decorated in marble pillars and continue to be well-preserved to this day.
Visit this place to witness the archaeological remains of this still-standing complex.
Temple Of Neptune
In the 1st century, the Temple of Neptune was built on the Poreč forum.
Despite most of its facade no longer being there, it is still believed to be one of Istria's biggest temples dedicated to Neptune, the god of the sea.
It was believed that during the earlier days of Poreč and other Roman towns, forums were a regular part of the city's planning and architecture.
Opposite this building is the Temple of Mars.
In the middle of this triad is the Large temple.
Looking at all three of these temples, it has been assumed that all three places of worship were built so that they can stand guard on the Capitoline.
Despite having only fragments of the temple that was once dedicated to the god of the sea, Neptune, this is still a worthwhile place to visit.
Enjoy the peace and quiet that this once solemn temple had offered.
San Giorgio Island – Poreč Croatia
This is probably one of the most photographed islands in the area.
And who can blame the people–this is a picturesque island that is as quiet as it is stunning to look at.
It can be found just a few meters from mainland Istria and is the perfect place for a quiet retreat alone or with family.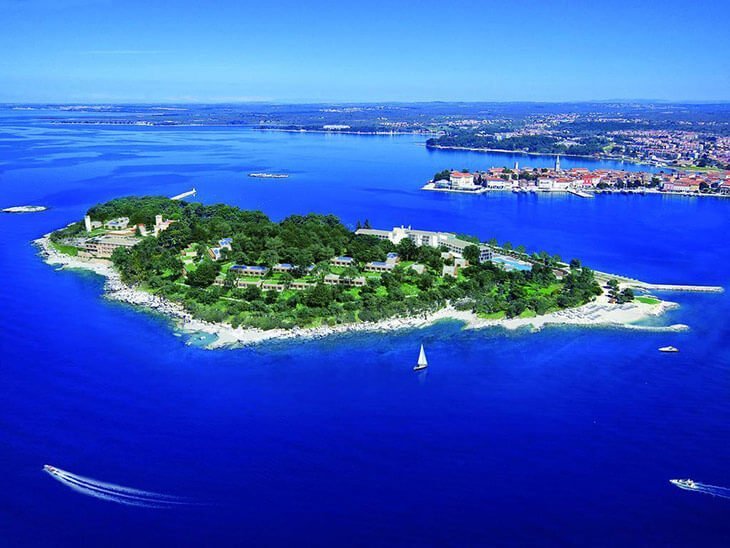 Despite its small size, San Giorgio island is dense with vegetation and rich history.
Here you can visit a basilica and some masterpieces of San Giorgio Maggiore.
You can also pay a visit to the belfry, and then to the lagoon for a tranquil afternoon of simple and quiet relaxation.
This is every vacationer's paradise – offering a mesh of both nature and history.
To reach this quiet mystical island, you may book a water bus ahead.
Regata Island
Just a tiny island in Poreč Croatia, the Regata island can be found sought of Istria.
This is part of three little islands that circle the main city of Poreč.
For a fun day trip under the sun, you can hire a water taxi to get you to the place.
Although mostly remote, it might be best for you to pack your meals ahead of time.
Regata is an islet that you can simply trek by foot and still have time to lounge around in the sand.
In short, it's peaceful, quiet, and not too far from the bustling city of Poreč Croatia a perfect place, if you ask us.
Barbaran Island
North of the Adriatic sea is the Barbaran island.
Complete with a lighthouse and stunning beaches, this is a great place to hang out and spend your afternoons in.
Catch the sunset in these rocky shores.
Of course, going there might be a little tricky as the shoals are quite rocky, but a local should be able to navigate you well.
Discover more about Barbaran island picturesque islet by paying it a visit the next time you visit Poreč Croatia.
Of course, don't forget to tell us all about your adventure so that we can pass the message along to people who plan to visit the place as well.
Top Poreč Beaches
Val Marea
The "Val" from "Val Marea" signifies a quality label for this high-standard beach.
Here, you and your family can enjoy your time in the sun, under a premium location with full amenities and equipment that will help you make the most of your stay in the area.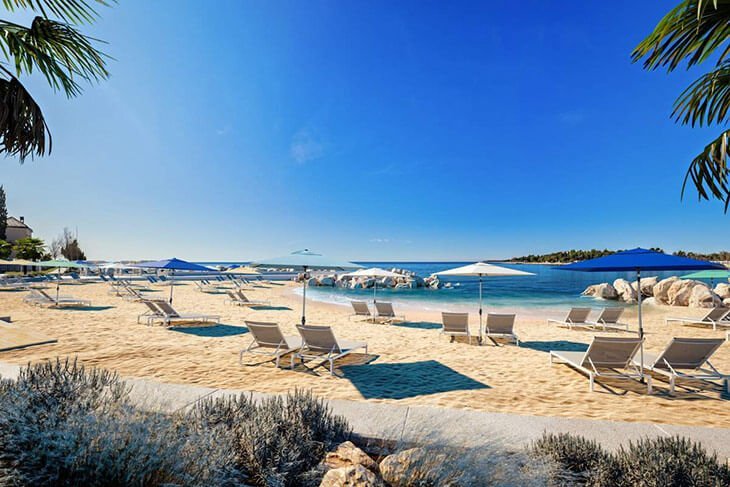 The beach itself can be located in a small cove just a few steps away from Marea Suites.
A blue Flag awardee, you can be sure to enjoy only the best and most luxurious time here at Val Marea Beach.
There is a range of water sports that you can participate in while you're in the area.
You may also make use of the inflatable water park that you can swim to.
Overall, this sandy cove complete with activities and amenities is just what you might need as a weary traveler.
It is considered as an oasis for relaxation and great for experiencing the calm waters of Poreč Croatia.
Val Maro
This is another Poreč beach with "Val" in its label. At Val Maro, you can expect to enjoy a sandy beach, the only one of its kind on the island.
You will be able to enjoy an uninterrupted view of the sea from this beach while enjoying the luxury of canopied sunbeds as you sip on your beverage of choice.
Sounds like a great plan when visiting Poreč beaches, doesn't it?
Enjoy the sandy beaches and great service when you visit this beach.
Lotosi Beach
Just a mere 3 km from the center of Poreč Croatia, you will find the Hotel PC Lotosi.
At its backyard is a beautiful beach blanketed by pebbles everywhere.
You can enjoy this shallow cove as you sunbathe or dive into the Croatian blue seas that open up to the Adriatic sea.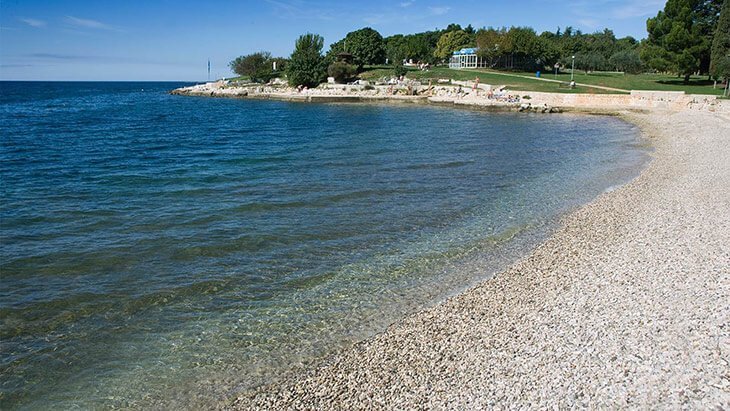 Lotosi beach itself has a lifeguard, and you can even borrow a bicycle so you can explore the neighboring areas at your own pace.
Right along the beachside are cafes and restaurants that you can partake your meals in.
Even if you're a little tight on budget, there's always something to be discovered in this beautiful beachside space.
Enjoy the shallow cove, great food, and amazing view here at Lotosi Beach.
Parentium Beach – Poreč Beaches
Set at the backdrop of Hotel Parentium, this beach is a rocky space for beach bums like you.
You can find this right along a small peninsula.
It has elevated reefs and sections where you can swim to and bask in the Croatian sun.
Parentium beach itself has attentive lifeguards on duty.
They are fully equipped and are ready to assist you should the need for it arise.
When it comes to neighboring places, there isn't much to see around beach Parentium.
However, when you can enjoy an afternoon just lounging in your swimwear, who's to complain, right?
Laguna Beach
In the south of Poreč Croatia, just within Zelena Laguna Resort, you can find a rocky and pebbly beach that stretched long over a vast greenery.
With plenty of hotels that cover Laguna Beach, this can be just the getaway that you are looking for.
It peers over the crystal clear water at sea.
Plus, depending on the hotel that you have chosen, you will have a choice of activities to try out too.
Laguna beach have a variety of sports and recreational amenities for you and your family to spend the day with.
Go ahead and relax in Laguna Beach after a day of exploring the rich culture in Poreč Croatia.
Hawaii Beach
If you ask around Poreč's locals, they might recommend this picturesque beachside to you.
Sure, it may take a little while for you to reach the place, but it truly is one of the gems in the region.
The water in Hawaii Beach in Poreč is crystal clear, inviting anyone to take a dip in its refreshing pools.
Its gentle sloping shores can be a fun setting for an afternoon spent by yourself or with your family.
You can also find local fast-food joints around the area if you don't want to pack your own meals for the day.
You can choose to snorkel, relax, and swim in this charming beach spot just a drive away from Poreč Croatia.
Enjoy the cool shade and the calmness of the Adriatic sea as you enjoy your time here at Hawaii Beach.
Accommodation In Poreč Croatia
If you're convinced that a holiday getaway in Poreč Croatia is just what you need, then we could not agree more.
With so many things to see, do, and experience, this too has become a popular place for people to unwind and discover its rich history.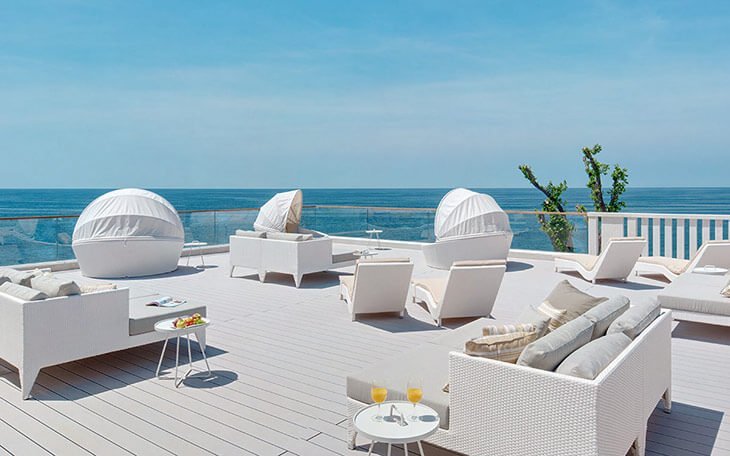 This is why accommodations are aplenty in the area–and you'll have a wide selection of hotels that you can choose from.
You have a choice to stay at a luxury hotel with a good view of the beachside, or you may choose to congregate with nature in one of its more quaint hotel rooms.
So while there aren't a lot of hotel options in the city center itself, you can choose to stay in a resort-style hotel to enjoy all the amenities and water activities that they offer.
Of course, before you decide on where to stay in Poreč Croatia, make sure that you take some things into consideration.
Think about the parking situation, what activities you plan on doing, and what neighborhood you want to immerse in while you're there.
If you choose to stay outside of the city, then you'd have to consider your transportation options as well.
A tip from us: if you want to experience all the major sights within the city, then we recommend that you stay in the old town of Poreč Croatia.
It is a car-free area that is teeming with bars and restaurants on the ground floor.
Restaurants In Poreč
Most of Poreč's restaurants can be found along the harbor. While your choices are quite limited, there are still a lot of decent meals that you can get from here.
Among some of our favorites are the Ulixes and Sveti Nikola. Both have great ambiance and an even more impressive cuisine.
Of course, just like any Italian or previously Italian colony, Poreč Croatia has a rich gastronomic tradition that stems from Italian cooking too.
You can hunt around for truffles while you are in the area, or simply order one from your favorite restaurant in the city so far.
There are some clusters of food districts farther inwards the capital as well.
Although you may not be able to experience al fresco dining with a view out the harbor, the food at the center of the city is still quite good.
Not to mention, the architecture is a good conversation piece for you and your companions as well.
Getting To Poreč Croatia
By Plane From Pula
Yo get to Poreč Croatia, you can choose to fly in from Pula, the main airport in the region.
There are plenty of flights flying in and out of this airport, mostly coming from the UK and Ireland.
From Pula airport, you can then take the bus going to Poreč Croatia.
Alternatively, you may also ask for a direct transfer from Pula airport to Poreč Croatia.
If it is not a peak season, then this may be a good convenient option for you.
By Plane From Trieste (Italy)
You may also get a flight to Trieste and simply take a bus going to the center of Poreč Croatia.
By Plane From Venice (Italy)
Venice is another option that you can take too. From here, you can then take a catamaran to Poreč Croatia.
Other Nearby Holiday Destinations