Never underestimate the transformative power of a small town with timeless beauty.
Primosten Croatia is incredibly small compared to the more popular tourist destinations in Croatia but it is so worth a visit especially if you are already taking a day trip to the nearby cities like Split.
It is actually very close to Šibenik and about an hour drive from Split so if your itinerary includes Split or Šibenik and you want something a little different from the usual Croatian tour activities, come and stop by and you will take home a piece of Croatia that most tourists don't.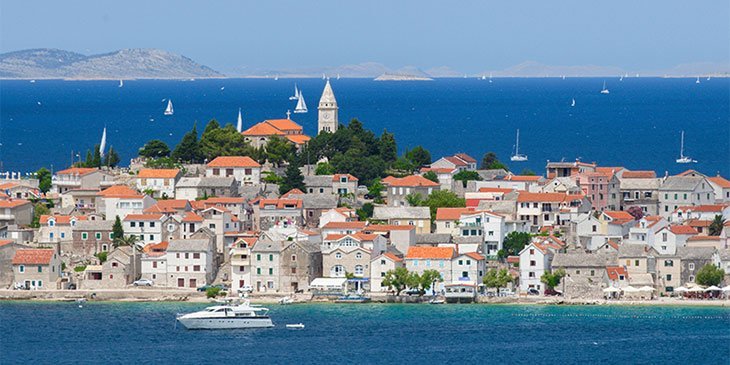 When visiting a foreign country or any new city, it is always better to experience the place as locals do.
Don't just go for the main attractions because you are missing the real heart of traveling.
Traveling should enrich not just your Instagram photos but your knowledge of the world, your passion for the arts, culture, and history. That's what Primošten Croatia has to offer.
This town was once an island which is visible from its shape but is now connected to the mainland. It is best known for being a resort and it's best to spend a couple of nights instead of just a day tour for a truly relaxing and rejuvenating vacation.
Location of Primošten
The location of the town is perfect because it allows you easy access to other interesting cities.
You can easily go to Krka National Park from Primosten as well as Trogir so it could actually be your main destination then you just navigate from it to explore Croatia.
Primošten Croatia is a hilly peninsula that features narrow streets surrounding the parish church which is on the highest point of the hill.
But the entire area is full of surprises and breathtaking views.
It's considered as a fishing town because it's surrounded by the crystal clear blue waters of the Adriatic.
Aside from that, there are many historical and cultural sites to see like the old churches and old town walls.
There are plenty of beaches for you to watch or participate in water sports and a beautiful promenade to enjoy a delightful afternoon or evening walk.
To make your stay even more interesting, you might even witness some of the festivals in the town.
All the while, you will be surrounded by the fragrance of pine trees and the fresh smell of seafood.
If water is your element, you will have the time of your life in this town.
It is also one of the most photogenic spots on the Adriatic coast. Although there are no museums, the town itself serves as a great natural art installation.
History of Primošten Croatia
Primošten Croatia was once a separate island but the Turkish built a bridge connecting in to the mainland during their rule in 1542.
They built fortified walls and towers all around it to protect the lands inside from attackers and some of those structures can still be seen today.
The parish church of St. George dominated the town which they built at the very top of the entire hilly town.
It gives a stunning view of the sea and the surroundings and today, visitors can climb up to experience it.
This place is famous for its big picturesque vineyards. The old settlement was known for being oriented toward cultivating grapevines and olives. It's a unique tourist spot and thousands of visitors come to the town every year.
They are also known for holding the traditional donkey race that is held every summer so if you visit during the summer season, you may be able to watch one of the races. There is also a folklore festival where the locals exhibit their cultural specificity and show the people how they lived in the past.
The Big Picture: Primosten Croatia
Tourists are attracted to Primosten because of its architecture, beautiful beaches, and just the real feel of the Mediterranean life.
The long pebble beaches are not to be missed in Primosten. One of the most famous of these is the Raduca beach. If you visit during the summer, you will witness some of the festivities around these beaches such as the town's fishing night, folk music evenings and many more.
In the early morning hours, music and dance lovers can join the party at the popular disco club which is unique in all Croatia. This place is a great destination for people who like to dance their troubles away. It is. a truly different experience compared to other tourist destinations in the whole world.
If you love sports and outdoors, there are plenty of activities for you as well like tennis and beach volleyball. For those who want a relaxing game of golf, there are courses available. And to make the most of your time on the beach, you can rent jet skis along with other water sports equipment.
The food is fantastic and there you will find lots of excellent dining places in almost every corner. Most of all, the people are great and they will show you why Croatia is one of the best places to visit in the world.
Primosten summer holidays
The entire town of Primosten comes alive in the summer but it is still a great vacation spot during the other seasons. There are bands playing in the main square and lots of things going on the cobbled streets.
Romantics love walking around this place especially the stroll up the hill going to the old parish church. If you walk in the afternoon, you might as well wait for sundown to watch one of the most beautiful sunsets you will see in your entire life.
The town is beautiful to explore even at night with all the pretty lights on the streets.
It is one of the loveliest areas in this part of the coastline.
If you want to learn the town's history in cultivating grapevines, you must stop by the stone lacework of the vineyard at Bucavac. You will see the locals put their manual efforts in the past and how they became famous for their excellence in the craft. Here, you can learn everything you want to know about winemaking.
And down below in its foothills, you can take a walk in the marina which is one of the most picturesque sites in Croatia.
If you have the time, you can also go to the nearby islets, just a short boat ride away. One of them is the uninhabited Smokvica which is a beautiful untouched natural paradise. It is also a great spot for diving expeditions where you can see some huge underwater walls with sponges, fishes, and lobsters.
You will spend most of your time on foot because the town in best explored by walking. Pretty streets are lined with cafes, restaurants and shops.
The nightclub is truly worth mentioning because it truly makes the town alive at night. It has two levels with lots of dance floors and bars as well as a swimming pool!
But it is only open from June to September so if you want to experience it, you should book your trip during this time.
Exploring Primosten Croatia
Here is a more detailed VIP virtual tour of what you can see and do in this lovely town of Primosten.
Primošten Vineyards
The town of Primošten Croatia is famous for its big picturesque vineyards.
The old settlement was known for being oriented toward cultivating grapevines and olives. One of the most popular vineyards in town is the Bucavac vineyard about 3 kilometers down south.
It has an area of about 18 hectares and is divided into 56 geodesic land lots separated by dry stone walls.
The walls alone are already a unique beauty to behold. These fields feature red soil and local unpaved paths lead to the lots.
The place was originally a rocky and almost useless terrain but the villagers transformed it into an agricultural land.
This was done manually so imagine their efforts without the use of modern machines.
Their tradition of making wines go back from time immemorial. You may want to take home a bottle or two and of course, sample as much wine as you can while you're there.
In the surrounding area, you will see numerous tombstones with carved motifs of wine grapes that prove the people's love for wine from those times.
The Bucavac vineyard was declared a UNESCO heritage site.
That means the place has a great cultural and historical value and is being protected for its natural beauty.
It is really a great place where you can learn everything you want to know about winemaking.
Churches in Primošten Croatia
As you walk along the streets of Primošten Croatia, you will find that many of them lead to old religious buildings. On the top of the hilly area is the parish church of St. Juraj.
This building was constructed in 1485 on the highest point of the hill.
It is also known today as the church of St. George.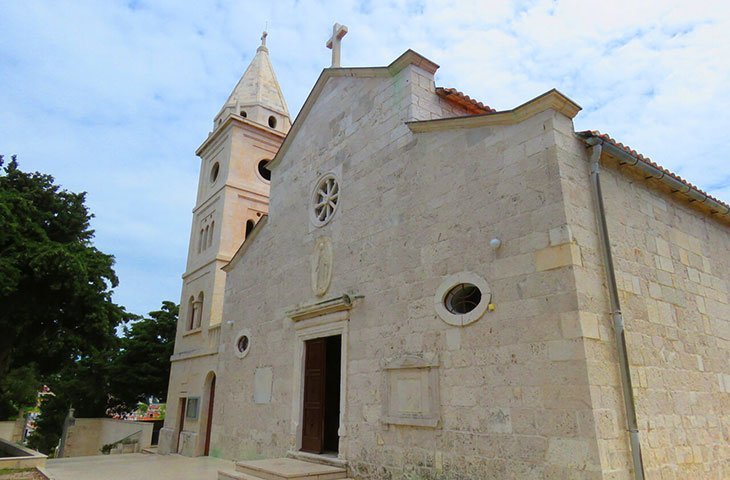 The church features magnificent colorful paintings on the ceilings.
Around it is an old cemetery where many grand gravestones are erected. You will have to walk up to get to it but the view from the hilltop is worth the climb.
From this spot, you will be rewarded with panoramic views of the seas and the islands nearby.
You may also want to take a look at the surrounding houses built in the old style.
The nature around is stunning and it will be one of the most relaxing few minutes of your life before you go down and have a dip in the waters.
Seeing the beaches and the boats down below is an amazing experience! It's like seeing the town inside a big storybook where you are on top of the scene.
The sea is visible from every corner of this hilltop so you will not run out of spots to sightsee.
Other churches to visit are the Church of St. Roko which was built in 1680 and the Church of Our Lady of Grace which has been there since 1553.
Fishing in Primosten
The town is known as a fishing village so it is one of the best things to do when you visit.
Even if you don't have an experience in fishing, you will still enjoy just waiting down the waters surrounded by the natural beauty of Croatia.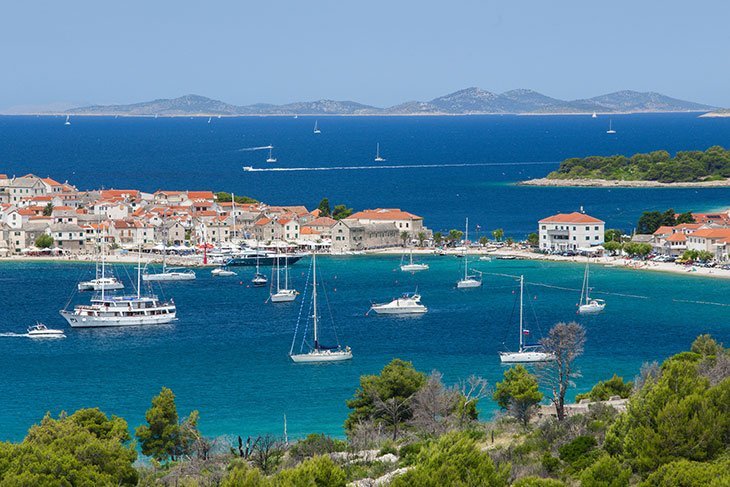 You can rent boats from the town as well as your fishing equipment so you don't have to worry about buying or bringing any.
There are plenty of fishes that you can catch and some of them are rare and big. It's a great activity whether you are on a trip alone or with your friends and family.
Swimming, Boating, and Water Sports
If you want something more thrilling, you can rent a jet ski and enjoy an action packed ride around the waters.
Or you can sail through the sea and even visit some of the nearby islets. Boats are also available for rent.
Then after some water fun activities, you can just lie on the sand and sunbathe or take a dip in the fresh clear waters.
So, make sure to bring your swimsuits when you go to this part of Croatia.
Nightlife – Aurora Nightclub Primosten
Perhaps, one of the most unique things you will do on your Croatian trip is to dance the night away in the popular town nightclub Aurora.
It is the largest one in Dalmatia and a really famous destination in Croatia. But it's not just dancing, it provides total entertainment for its guests.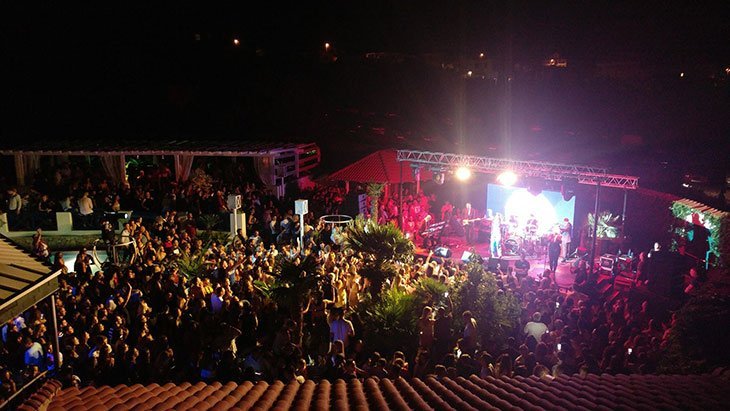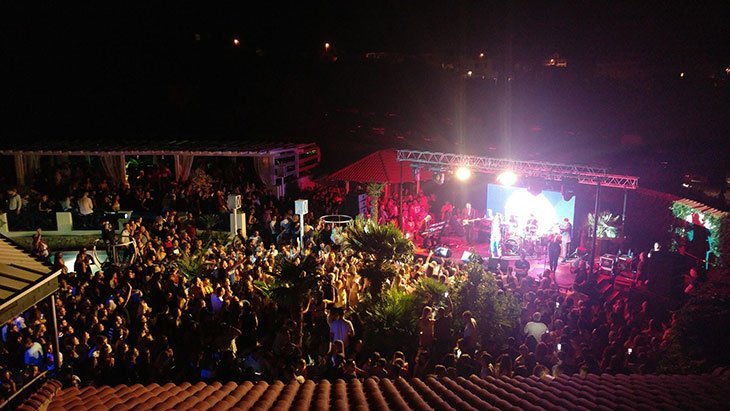 The building has two levels and inside are 3 dance floors.
If you feel like dancing under the moonlight, there is also an outdoor, open-air dance floor! It's a great place to make new friends since the place is packed with travelers from all over the world.
This nightclub even has a swimming pool so you can chill out even more which makes it almost like a hotel. There is a chill out room for those who just want to sit back and watch the action.
For those who just want to enjoy a drink or two, you can sit on any of its six bars. They serve excellent food so you can pair up your scotch or wine with something tasty as well.
And as if that's not enough, they also have a billiard hall so you can enjoy a game or two with friends or even strangers.
This nightclub is only open during the summer so if you want to have this unique experience, make sure to visit Croatia in the summer.
Day Tour to Other Cities
Because Primosten is in such an ideal and accessible location, you can easily go to the other tourist spots in Croatia. From here, you can take a one day trip to Dubrovnik and see the famous Game of Thrones filming locations. It is also easy to go to the Krka National Park in Plitvice or the National Park Kornati.
Getting to Primošten, Croatia
If Primošten is not your main destination, you can easily go there from any of the nearby cities especially Šibenik and Split.
From Split, you can take the coastal road and drive about 60 kilometers to get to Primosten. You can also take the highway A1 from Zagreb and exit the same way at Sibenik then head toward road E65 toward Primosten.
The nearest airport in Primošten in the Resnik which is near Split so if Split is where you will be mainly staying, you should definitely visit Primosten.
There are also many buses between Šibenik and Split that stop at Primošten so you can also easily commute if you do not want to drive or rent a car. Just make sure to check the bus schedules because they vary per season.
Best Time to Visit
There is no argument that it is most ideal to visit Primosten during the summer. The whole town comes to life and most activities are only available during the summer.
However, you need to consider the other places in Croatia that you will be visiting.
If you are also interested in Dubrovnik and Split, take note that they are a lot more crowded during the summer.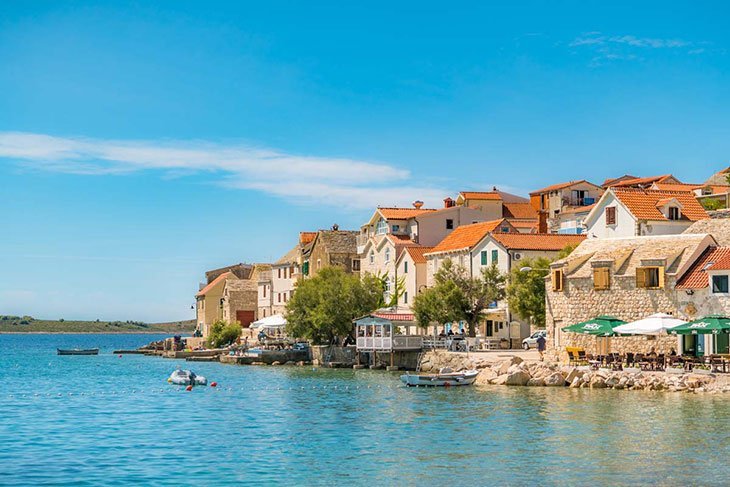 Nevertheless, Croatia is generally a summer vacation spot so you might as well just endure a bit of crowd.
Some activities and tourist sights are also best enjoyed in the warmer season.
The disco is particularly open only from June to September so if you want to have that experience, you would really have to schedule your trip in summer.