Croatia's coast is almost entirely pure and full of natural features with over 1,200 islands in nearly 2,000 kilometers area.
There are Verdant islands, uninhabited karst-rock islands, and isolated naturist islands, including some islands with no vegetation. Most of the small Croatian islands are usually deserted and have nothing but a lighthouse.
There are islands for VIPs, windsurfers, and sculptors. Also there is island for political prisoners and a Croatian island with collection of African Safari animals.
Croatian islands are also home to a family of 120 dolphins and the history-old fishing tradition islands.
These are the islands with caves where the sunlight transforms into brilliant blue. They are known for their wines, cheese, and anchovy pasties.
Also, around 80% of Croatian islands have no people who live on them at all. If you are searching for a beautiful and peaceful place that will allow you to experience a week-long stay, some of these islands, like Brač, are big enough to have their own airports. But if you want day trips and island hopping excursions, many Croatian islands can be reached by riding on a ferry boat from the mainland.
Some of the islands are so deserted that overnight stays are banned on some of them.
However, there are still many ways to enjoy them. Take a boat trip to some of the best spots in Croatia.
Island Of Hvar
You probably heard about Croatian island of Hvar and If you own a yacht, then you probably spent some time sailing around its sun-soaked shores.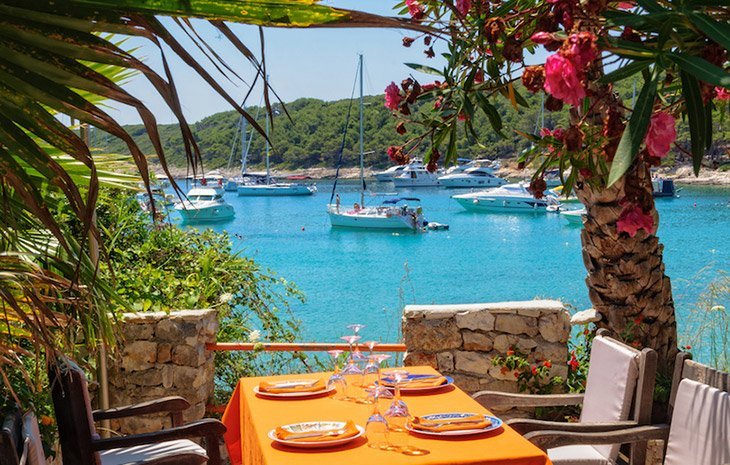 Contrary to popular belief, Hvar is not just a destination for the rich and famous. Also, it has plenty of history and culture. Despite its reputation as the go-to destination for the rich and famous, Hvar is also a great place to discover the lesser-known towns of Stari Grad and Jelsa. You can also explore the famous heritage.
This is a great place to stay on one of Croatia's largest islands, with plenty of space for everyone. This is ideal for families and luxury-loving individuals. With over 2724 hours of sun a year, it is a great place to stay for vacation.
Hvar Town is a must-visit island destination in Croatia. A baroque cathedral surrounds its central square, and its sheltered harbor provides plenty of space for boats.
From the palm-lined seafront promenade, take a walk up to the hilltop castle and it will take you through the cobbled alleys, which are full of rustic-chic seafood restaurants, cocktail bars, and boutiques. all of which are packed with handmade goods.
Beyond the city, the countryside outside of the capital is full of lavender fields and vineyards, and it's a great place to taste the wines made from these local grapes.
Travel tip: For authentic home cooking, the Konoba Lambik is a traditional home-cooking venue that features stone-fired tables and an olive grove.
Brač Island
Located in the central Dalmatian Islands, Brač is the biggest of its kind. In fact, it has a population of over 13,000 and its own airport, making it the highest mountain in the Brač island.
Island of Brač is known for its rich history and olive oil, which is produced by local trade.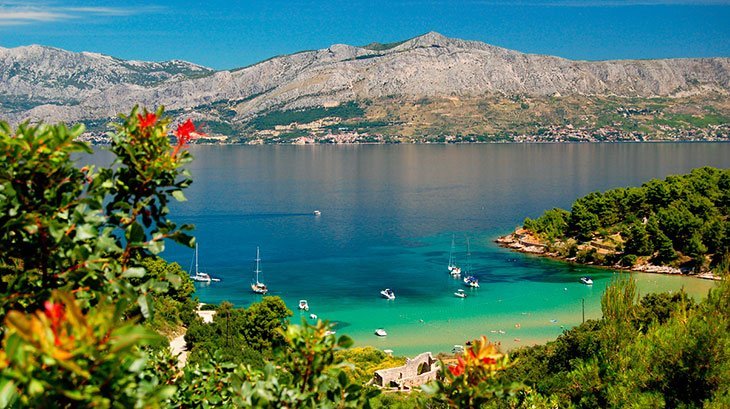 Despite being one of the most well-known Croatian islands in the region, Brač is relatively easy to get to. Getting there is easy, as the island is only about an hour by ferry from the mainland.
Its seclusion makes it a great place that lets you carouse with the crowds or get lost in solitude.
Croatia is known for its various islands. Brač is one of these. In many ways, it is also the country's every island.
With its proximity to Split, it is also possible to do a day trip there. From the northern port of Supetar, take a bus or hire a car to the southern coast. It is a great way to see the sand-and-pebble beaches of the resort and the olive groves and marble quarries of the southern coast.
Brač is blessed. The town of Bol is known for its numerous attractions, such as the Zlatni Rat Beach and the numerous hiking and cycling paths around it.
One of these is the spectacular view of the island of Vidova Gora, which rises almost 800 meters above sea level.
While the interior supports sheep farming, the island's quarries have produced a population of skilled sculptors.
Travel tip: Stand-up paddle boarding (SUP) is a great way to experience the beautiful beaches of Brač's north coast.
Island Of Korčula
Korčula Town is a tiny medieval town located on a peninsular between the sea and the medieval walls. It has remained the same since its most notable citizen, Marco Polo, sailed to the Orient.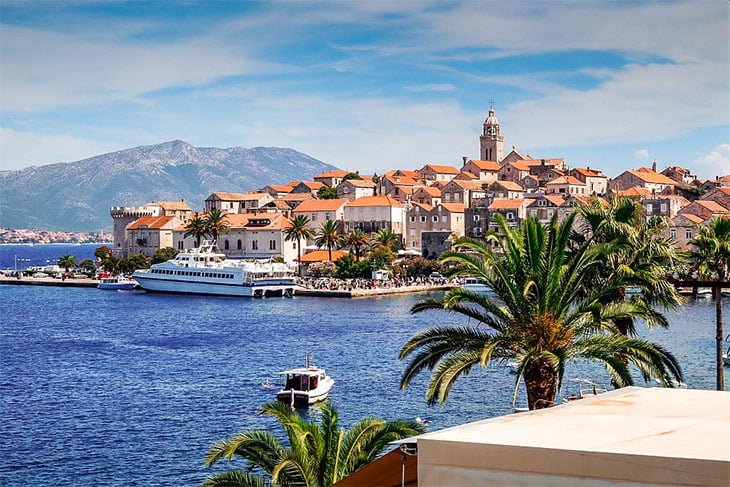 When the Greeks first set up camp on this island, they were so struck by the dense forests that they called it Korkyra Melaina. They called it Korkyra Melaina because of the thick forest that surrounded them.
Although it is famous for its white wine, the island also has plenty of other attractions. Fishing villages and hamlets scattered along its winding coast surrounded by forests.
Town of Korčula is often referred to as Little Dubrovnik due to its medieval walls, but it has plenty to offer too. There are many things to do in this town, including a dedicated Marco Polo gallery and a beautiful cathedral.
As you travel to Korčula from the mainland, the houses on Korčula's outskirts seem to be pushing each other aside to see who's your friend or foe.
These walls, which are flanked by St. Mark's Cathedral's belltower, are designed to protect the island's riches.
Korčula island is one of the most relaxing getaways in the Dalmatian. Its main town is located on the island's north-eastern tip. The town of Korčula has one of the most significant medieval center structures in the Adriatic.
Furthermore, after watching a Moreška sword dance, head into the hills and visit one of the island's many rustic restaurants and winemakers. Then, try some local white Pošip at the Toreta Winery.
Travel tip: Sail through the Korčula archipelago in a sea kayak with Korčula Outdoors.
See more about Korčula island….
Vis Island
The highlight of this Croatian island is not the island itself, but the Blue Cave that lies off its shores. The town of Vis is the furthest afloat from the mainland. It was the base of the Yugoslav National Army from 1950 until 1989.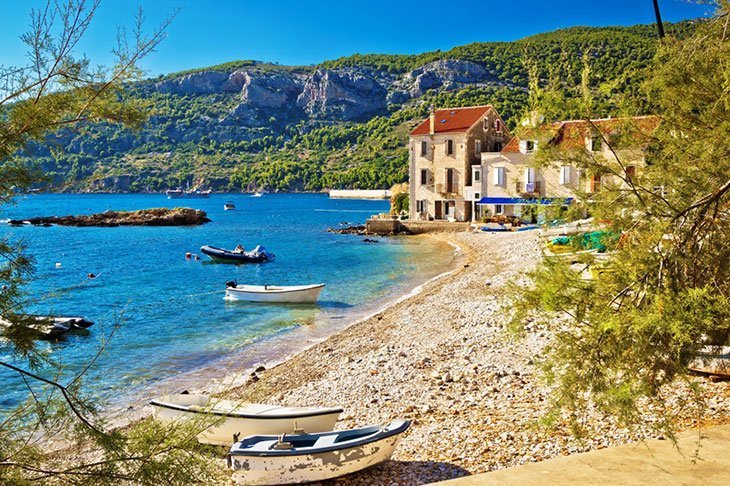 The town still has the air of a far-away paradise, and visitors are captivated by its rudimental beauty.
Two towns, Vis Town and Komiža, are both in the southwest, and they have plenty of beachy enclaves along the rough coastline.
Island of Vis is a special place for Croatians. Vis is considered to be one of the best unspoiled areas of the Dalmatian coast. As a military base, it was placed under special restrictions that prevented development for over 40 years, which allowed farming and fishing activities to continue.
Due to the increasing number of tourists, this Croatian island has become a popular vacation spot. The stunning sea and clear waters are ideal for swimmers and divers, making it an ideal place to enjoy a relaxing getaway. The island's cuisine can rival that of other Dalmatian destinations.
Most of the time, yachters head to the island to feast on fresh fish, or they can venture inland to Roki's, which serves octopus slow-cooked under a peak.
Travel tip: Contact the experts at Alternatura for guided hiking tours. They specialize in adventure sports and can help you plan and organize your next hiking tour.
Read more about this Croatian island here
Cres Island
Cres is Croatian island which is known for its stunning natural features, such as the cliffs and oaky forests. It also has crumbling towns and scenic coastlines, which can be found along the island's coastline. There are also crumbling towns nearby.
You will most likely discover your inner ornithologist when you visit Cres. There are griffons in the area, and they make spectacular appearances during sunset. The view of them spreading their wings and flying out into the Adriatic is impressive.
Due to the frequent trading of goods, the island of Cres has a vibrant and diverse culture. It is also an excellent escape from the usual tourist attractions in Croatia. Once you have arrived on Cres, the views from the island are stunning. There are diverse bays and coves to explore, and the ancient forests and towns that litter the coast remind you of a time when life was simpler.
While staying on the island, you will most likely be in Cres town, known for its Venetian architecture. There are many things to see in this area, such as the Municipal Loggia and the Old Roman Bridge.
Take your adventure and travel to the next level by exploring the small towns of Cres, such as Lubenice and Valun. There, you will find remnants of a medieval fortress.
Once you have finished, head to one of the peaks on Cres Island, such as Sis, Niska and Križić, which will give you spectacular views of the Kvarner Bay.
Hiking Cres is a great way to see the island's natural treasures, such as the freshwater lake Vrana and the nearby archeological sites.
Travel Tip: There are numerous hidden coves on Cres that provide great snorkeling. A scuba diving center is also located on the island. If you feel like exploring the whole Adriatic Sea, you can also hire a boat.
Lastovo Island
The Lastovo Island is a tiny paradise that does not mainly attract many tourists most of the year. Instead, it is primarily known for its traditional Croatian lifestyle and one hotel.
Although it is a bit of a surprise that the island does not attract many tourists during the summer, it is still the best traditional Croatian getaway. Although It is the most remote inhabited island in Croatia, only those devoted to nature and peace can live on this island.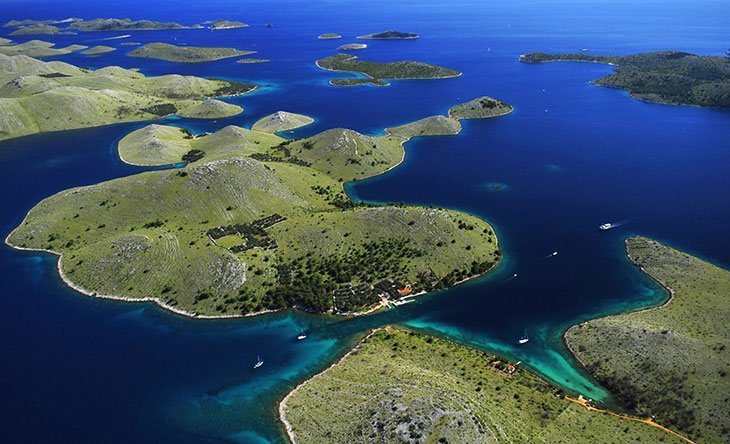 It is located in Croatia's most isolated region and the best time to visit is between June and September, when every outdoor activity is most comfortable.
Furthermore, sea around Lastovo is as clean and sparkling as it can be. You can find here 16 beaches along the coast that are suitable for children.
Some of these include the beaches of Jurjeva Luka, Mali Zal, and Skrivena Luka. The island has 200km of well-marked trails that run through the forests.
The highlight of the island is the abundance of fish.
There is also a hotel in the village of Pasadur on Lastovo Island, the Hotel Solitudo. If you are looking for a more private place to stay, try the Apartments Bruna. On the other side of the island, the Struga Lighthouse has four apartment houses.
Travel tip: The Lastovo Island is famous for its Carnival. Villagers wear traditional costumes and perform traditional dances. The festival, called Poklad, lasts for three days in February.
More information about this Croatian island on this link
Island Of Krk
This beautiful Croatian island features Romanesque churches, fine wines, and plenty of fishing villages.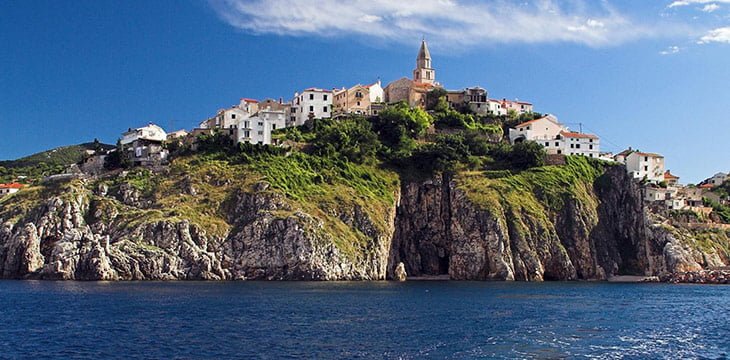 Krk is also known for its superb konobe restaurants, known for their local specialties. Book a table at either Bracera in Njivice or Rivica in Malinska. These areas offer a variety of activities, including hiking or cycling routes over fertile farmland and through barren slopes.
The Island of Krk is a varied and beautiful place to visit. There are a number of attractions to discover, such as old towns and rural villages, beautiful beaches, and various clubs and restaurants.
There are numerous reasons why tourists choose to visit Krk Island. One of these is its peaceful and quiet rural areas, which can be enjoyed by visitors in various places such as Vrbnik, Baška, and Njivice.
The Island of Krk is often visited by over half a million visitors annually. The island's various accommodation options are very diverse, with many of them being located in the most stunning locations.
Quality accommodation is also offered in private rooms and apartment buildings. These are usually family houses that try to furnish their rooms and facilities with the necessary equipment and services to make them feel like they are being treated as guests.
Travel tip: Visit Utla, a family-run olive oil shop near Malinska, to try their extra-virgin olive oil.
Complete info about Krk island
Island Of Rab
Croatian island of Rab is on the northern coast located in the Kvarner Bay, Rab is 22 kilometers away from the sea and has a reputation for being peaceful and a beautiful island sitting in the middle of the Adriatic Sea.
Its fame started when King Edward VIII visited the island in 1936, with his new wife, Wallis Simpson. This is the story of how Prince Rab threw himself into the sea after casting off his royal garments. It established the island's nudist-friendly tradition.
The beaches in Rab are untouched by the mountain winds, and the town is filled with churches and terracotta roofs. The annual summer festival is a raucous affair that draws thousands to the island.
Located in the Kvarner Gulf, the island of Christened Felix Arba is a spectacular place to visit.
Its medieval galleon-like structure has narrow, steep staircases and elegant bell towers. The Rab's northern coast is filled with sandy coves, which are rare in Croatia. The winding alleys of this region are lit by flickering candles at night.
Travel tip: Rapska torta is an almond cake that is believed to have been created by Pope Alexander III during his visit to the island in 1177.
Island Of Mljet
Mljet is a pretty Eden-like spot on the Dalmatian archipelago, and it features an abundance of sea creatures that can be seen in the distance.
There are many types of sea creatures that can be found in Mljet, such as the cast of Finding Nemo. In Homer's Odyssey, he described the island of Mljet as among the Mediterranean's last paradises. This region features two interconnected saltwater lakes.
Pomena is the entrance to the park, just 80 minutes from Dubrovnik. There are numerous ways to get there, including hiking up Montokuc or riding around Veliko Jezero, which has a Benedictine monastery.
The island of Mljet is known for its wines, olive oil, and goat's cheese. It is also home to two lakes that are filled with fish and marine life.
There is also a Benedictine Monastery on St Mary's Island near Veliko Jezero lake. The area is a favorite among locals and visitors alike. There are also some great swimming spots in the region.
Travel tip: Stara Skula Gallery is a local art gallery that hosts workshops and exhibitions.
Read more about Mljet on this link