Island Of Brač Croatia is filled with magical places, all of them featuring the country's natural beauty and rich history.
In the island of Brač, there is one particularly bewitching port town called Bol located on the south side of the Brač Island and it is truly a magnificent little spot in this part of Dalmatian coast.
Europeans call this island the isle of stone and sea because its beautiful pebble and stony beaches.
Brač Croatia is the highest isle in the Adriatic with incredible features like its limestone massif.
If you climb its cliffs, you will get a lovely view of other Croatian islands like Hvar, Šolta, Vis and others.
When the skies are clear, you can even see Italy from a distance. It's a majestic viewpoint where you will also appreciate the snakelike Brač beaches more down below.
The waters around the island are also a great spot for windsurfing.
Though it's not a world famous holiday destination like the more famous Dubrovnik, Split or coast of Istria – Brač Croatia is definitely a place where you can enjoy nature in peace and really take in the warm sea air from sunrise to sunset.
Island Of Brač Croatia is a place where visitors can truly experience the genuine island life.
There is not much glamor in Brač.
Celebrities do not flock here and it is not a place where worldwide events happen.
But at times, that is more preferable especially to those who want a more secluded vacation spot with only the people that matter most to them or sometimes, alone.
It is a place where you can empty your mind and refresh your spirits.
Island Of Brač Croatia
Brač Island is really close to Split so you will not have a hard time reaching it if Split is one of your destinations in your Croatian itinerary.
It is about 12 kilometers from the mainland and there are many other small islands nearby.
It is not as popular as islands of Hvar and Korčula but it has something unique and authentic to offer even for those who are not first timers in Croatia.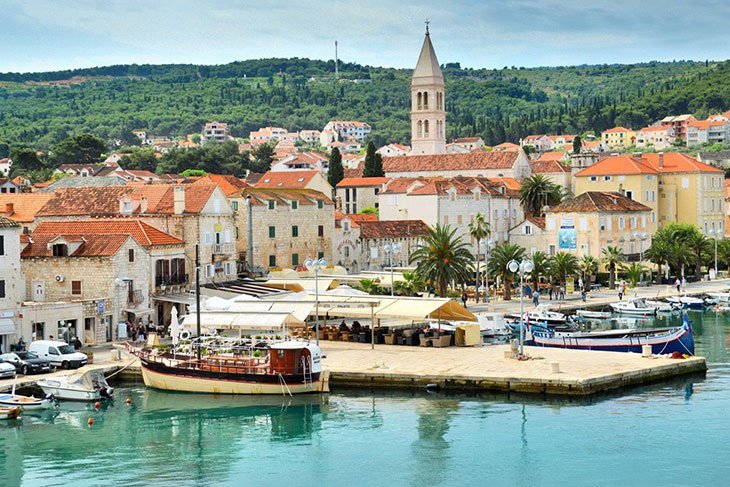 The island is right at the pointy end in middle of Dalmatian coast, featuring the limestone massif, Vidova Gora where you can get a magnificent view of the sea and the islands as well as Italy on bright clear days.
The Brač beaches here are like golden scimitar, lining the crystalline Adriatic stretching up to about more than 400 meters.
These pebbled lands and the beaches change shape as the sea curls throughout the tides.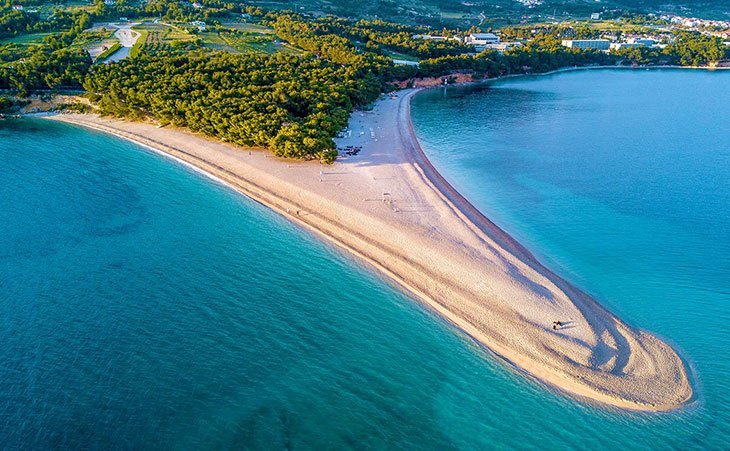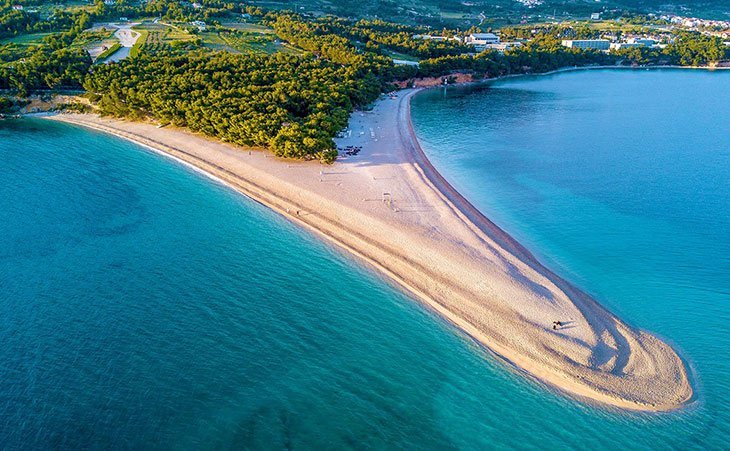 Island Of Brač Croatia is a place of exquisite white marble and the food is astonishingly delectable.
Do not miss going to the local restaurants to sample authentic local dishes.
Get to know the locals because they are great and courteous people and you will feel right at home in this strange tourist spot.
History Of Island Of Brač Croatia
Aside from the beautiful Brač beaches, island has a rich culture and an quite interesting history.
This island in the Adriatic Sea has an area of about 396 square kilometers which makes it the largest island in Dalmatian archipelago.
Island Of Brač is also the 3rd largest in all of the Adriatic.
The only thing separated Brač from the mainland is the Brač Channel so it's really close to Split as well as other nearby cities.
It also has the largest airport in the surrounding islands.
According to studies, there have been settlers in the island dating back to the Paleolithic.
Though strangely enough, there have been no evidences of human habitation from the Neolithic.
But it has been noted that several villages existed in the island in the Bronze Age and the Iron Age.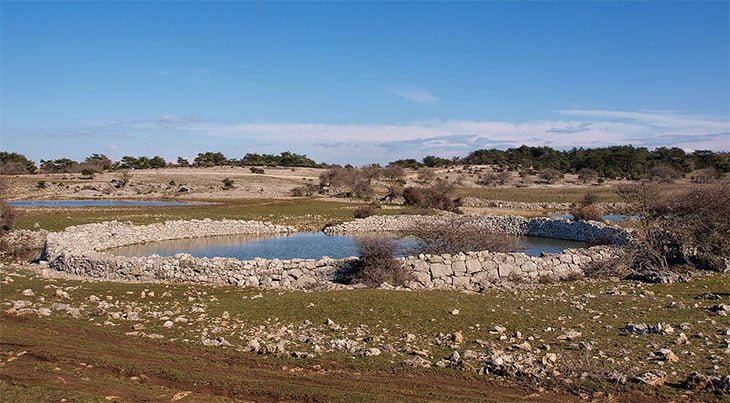 When Greek colonizers reached Croatia, it seems that they did not bother to conquer Brač Island.
But many Greeks have visited the island and even conducted trades with the inhabitants.
Brač island Croatia is right on the crossroads of multiple trade routes.
Some of them are coming from Salona to Issa known today as Vis.
Others are sprouting from the Po River.
Scientists have found Greek artifacts near the bay and several unexamined objects are still on display today in the Archeological Museum of Split.
The island was known for quarrying limestone (Brački kamen) in village of Pucisća and the popular Diocletian Palace in the nearby Split was built with limestone from the island of Brač Croatia.
They were also known for their agriculture especially with wine and olives.
When Salona was destructed, Brač island became a place of refuge.
Later on they came under the Republic of Venice and later to the Kingdom of Hungary.
There have been many political changes but in 1420, Venice reclaimed the island with a representative to rule over it.
They were conquered by the French Empire in the time of Napoleon but only for a short while.
Many other rulers reigned over Brač then it became part of Yugoslavia in 1929.
In 1939, the island became included in the autonomous Croatian Banat.
Many citizens migrated away from the island mostly to Latin America including Argentina and Chile so their population significantly decreased.
Italian forces came to the island in 1941, a guerrilla war was fought and they were later replaced by German troops in 1944.
The Germans were defeated eventually and island of Brač was freed.
Croatia gained its independence in 1991. The island took a long time to recover and it is up to now, regenerating.
Best Things To Do On Island Of Brač Croatia
There are plenty of things to do in island of Brač Croatia and a lot of them are by the sea.
Island hopping is one of the most popular activities.
This part of Dalmatia is not very glamorous, it is more for relaxation and really being one with nature.
But if you want some luxury and nightlife, the island Hvar is easily reachable from islands southern town of Bol.
Then you can come back and enjoy the quiet in Brač Croatia.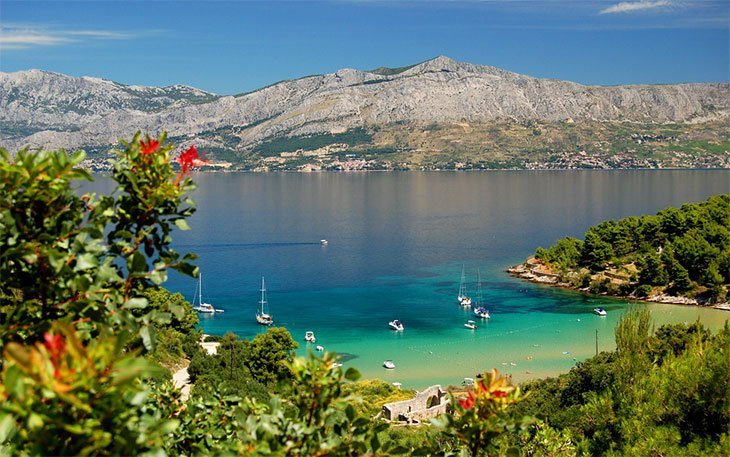 Hiking is also a great way to enjoy island but it is most famous for it amazing Brač beaches.
Island is considered by travelers as an off the beaten path destination. Still, some even say that they enjoyed their time in Brač island the most.
It's great to start visiting any part of Croatia right after the sleepy winters.
Time when the cities and towns really come to life.
In Brač Croatia, this is when the ferries start running and you are off to great adventures to the nearby islands.
Island hopping is one of the most enjoyable things to do in island of Brač.
It is an 45 minute ferry ride from Split so whether your main destination is Split or Brač, you can come to either places by ferry easily.
You can easily include Brač Island in your itinerary if you have tours scheduled form the nearby cities but it is also a good idea to stay for a couple of nights and really experience the genuine island life.
Hiking on Brač island
Island of Brač can keep you busy for the whole duration of your stay whatever you preferences are.
There are various activities suitable for everyone.
Tree and mountain lovers can go hiking up its highest peak and beach lovers will have a fantastic time by the sea.
Brač Croatia is a more laidback destination in Croatia so it is not an overwhelming tour.
Vidova Gora
The highest peak in Brač is the Vidova Gora which goes up to 778m that is why it is the highest in the Adriatic.
Hikers absolutely love the trails in this mountain but if you are not an experienced hiker or unable to hike during your visit, you can still explore the mountain by car.
But the views from the top are extremely rewarding.
From the top of Vidova Gora you can get a panoramic view of the Zlatni Rat as well as the nearby islands including Hvar, Šolta and island of Vis.
You can also get a glimpse of the Pelješac peninsula.
There are plenty of reasons why people choose to go to Brač despite being a less popular destination in this part of Dalmatia and you should too.
It is a significant part of Croatia mostly for its tradition.
Dalmatian islands play a great part in Croatian geography and their identity in general.
A visit to Croatia would not be complete without going to one or some its islands.
If your main destination is Split or its nearby cities, you should definitely include Brač Croatia in your tour.
Bol Town
On the southern slopes of the island you can visit Bol town small port town which has a long history in tourism in Croatia.
Bol Croatia has the longest tourism history along with Dubrovnik, Opatija and Primošten in the entire country.
Brač beaches are another great reason why foreigners should visit the island, especially Zlatni Rat beach which some consider the most beautiful in Croatia.
Toward the south side, the island is paved by pebbled beaches.
These pebbles are smooth and small, and they are not hard to walk on. It is not just a pretty sight, it is also a very nice area to walk on and sunbathe.
And of course, you will get the wonderful experience of swimming in its crystalline blue waters.
Taste Local Cuisine & Wines
And while you're here, make sure to have a taste of the local food because you will not find it anywhere else in the world.
The food in Brač Island will make you feel like you're stepping back in time.
There is a unique color and texture to it that will make you feel nostalgic.
The most popular delicacies in Brač Croatia are lamb, sheep cheese, and the sea food is just heavenly!
Just beware that the restaurants in island of Brač Croatia tend to be a bit more expensive than the mainland perhaps because the location makes it a bit difficult to get supplies in town.
But that is only true mostly for meats.
The seafood remain reasonably priced since it is a town close to the sea so enjoy all the fish you want!
Fish, crabs, shrimps and other sea food are divine and they are guaranteed fresh from the Adriatic.
Since the locals have been known for cultivating grapevines, you should also not miss sampling their wine.
They have been growing grapes in the town since the ancient times! It is an important part of the town's economy from then until now.
They specialize in different types of grapes which have diversified over the ages, including Pošip, Chardonnay, and Merlot.
Exploring The Island Of Brač Croatia
Brač island has two major areas which are unique in their own ways: the coast and the inland.
Although there is also a distinction between the south and the north shores.
Both are equally appealing but they offer quite a few different things.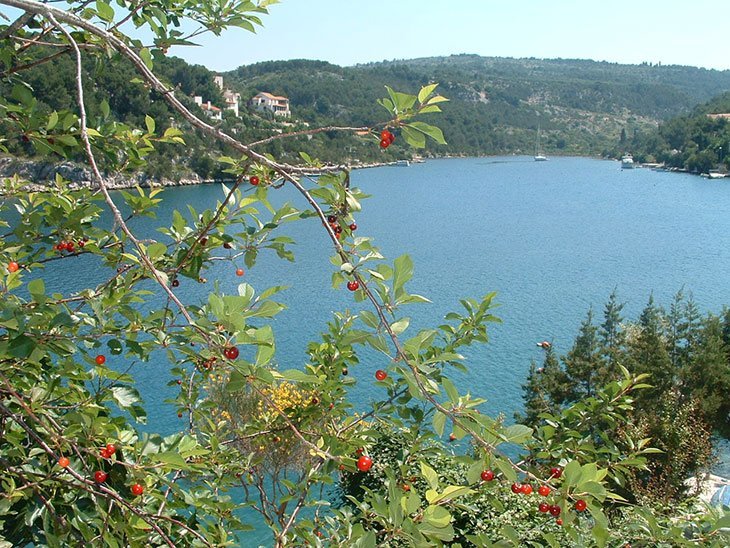 The south tends to be more like a touristy place, having more modern hotels and available facilities.
Island Of Brač beaches toward the south are a bit more refined as well.
On the north, the establishments are pretty new and tourism is still developing but that can be a good thing depending on your preferences.
You will not find big hotels here.
Instead, they feature family owned lodges. Some people think that's a more ideal vacation.
Aside from the wineries, beaches, and nearby islands, you should also check out the olive oil museum in Škrip.
Island of Brač and this part of Dalmatia is very rich in olives so you will learn a lot about how they produce it.
There is also the stonemasonry school in Pucisća that is worth a visit.
It is an important site because the Brač Island is known for its white marble and this is where the craftsmen learn how to create them.
A less popular activity in the island is rock climbing but there are some areas that allow you to do it especially in Ložisća.
The place features established rock climbing routes that beginners and experienced climbers can take. The pitches are short but challenging enough.
But Brač has so much more to offer and you will really not run out of things to do even if it is a relatively small tourist spot.
You can swim in a submarine pen and visit the popular hermitage sites.
Those who have a knack for diving can go scuba diving in the nearby Hvar or go kayaking on the coastline.
Windsurfing is also a lot of fun. You can also learn how to kiteboard.
On land, you can visit not only the popular Christian churches but also the pre-Christian ones.
These have pre-Romanesque designs and have been preserved for many years.
Those are just some of the many things you can do to enjoy your vacation in island of Brač Croatia.
Brač Island Attractions & Holiday Activities
Here is a closer look at the various attractions in island of Brač that really highlight the beauty of nature that is Croatia.
Zlatni Rat
Let us first go to the most popular destination in the island, the Zlatni Rat Beach.
It is almost the standard that if you go to Croatia, you must visit at least one of its beaches.
Whether you have other Brač beaches in your itinerary, it is truly worth including Zlatni Rat in your places to visit.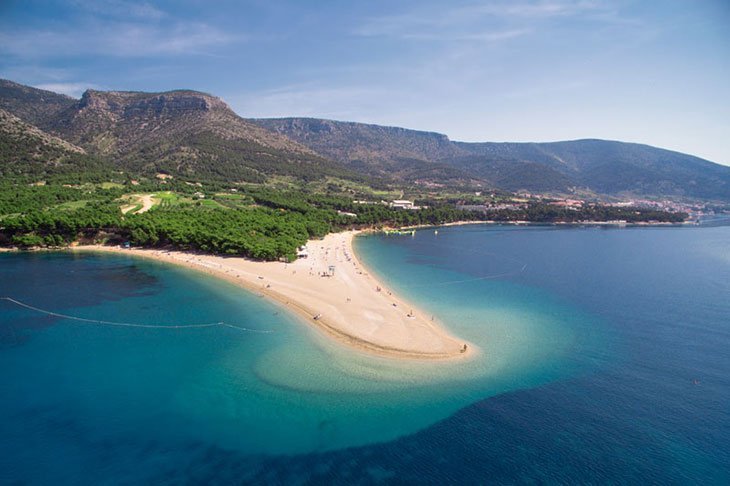 It is the prettiest beach in all of Bol and could be one of the best in the whole country and in Europe.
The resort features long golden pebbled shores and the beach goes out to over 500 meters onto the Adriatic sea.
Zlatni Rat has a unique v shape amidst deep turquoise waters.
What's amazing is that the shape of the beach changes as the winds and the currents change as well.
They call it Zlatni Rat (Golden Cape) because of the divine color of its pebble and its unique shape.
Zlatni Rat also becomes a popular wind surfing spot during the summer.
The beach has a protected status because it is scientifically considered as a unique geomorphological phenomenon because of the strange way it changes its shape due to the tides and the winds.
That means that you can expect only the best quality water in this beach.
Nature authorities are doing their best to protect the site and preserve its natural beauty for the many years to come.
So, please respect that and try not to cause any damage to the ocean and its surroundings.
Zlatni Rat beach changes from shallow to to deep as the day goes on but it also depends on the wind.
It is a wonderful place to swim and bathe in the sun though it does get a bit crowded in the peak season.
This beach is an ideal vacation site for families.
There are lifeguards on duty who will watch over the guests so kids are safe to play in the sand and swim in the near waters.
They can also play in one of the playgrounds including one near a coffee shop where you can relax and read a book while they play.
Kiteboarding
Kiteboarding is most popular in Zlatni Rat Beach.
If you have never tried it before, you will easily learn how to do it when you rent one of the kite boarding equipment in the beach.
It is ideal to engage in this activity when the weather features steady winds.
Please beware that rental for kite boarding as well as other equipment is not included in the entrance fee to the beach.
Sea Kayaking
Another favorite thing to do for both tourists and locals alike in Brač Croatia is kayaking in the sea.
You can rent a kayak from one of the beaches and paddle along into the hidden bays and small scenic villages nearby.
It is one of the best ways to explore Brač island.
Fishing
Fishing is both relaxing and exciting in Brač Island.
You can experience big game fishing in the sea which will make you truly appreciate the beauty of untouched nature.
Fishing is a popular sport in the island and people of all ages can be seen participating in fishing events.
The blue-fin tuna fishing season starts early in August.
You can catch from 70 kg of fish up to 500 kg!
Take note that you must acquire a fishing license from the town to fish in the waters.
Boats are available for rent for a fee.
Snorkeling and Diving
Island Of Brač Croatia is a great vacation spot for both recreational divers and serious diving enthusiasts.
It offers the best condition for all types of scuba diving.
You can join diving expeditions organized by 5 different diving clubs on the island and the nearby towns.
Mountain Biking
When you have had your fix of the sea and the many water adventure opportunities, you should also take some time to explore the mountains and hills in the island.
One of the best ways to see the town is by riding a mountain bike through its many trails.
People who have done it say that it has been an unforgettable experience for them.
Some of the things you will see when you ride your bike through the mountain trails are olive groves that have been there for ages, telling interesting stories about the island's past.
You will also pass by wine yards and thick pine woods as you ride your bike up to the highest point of the island known as the Vidova Gora.
You can join mountain biking tours so you can explore the mountain with an organized group which can be a fun activity for some depending on your preferences.
The tours start from Supetar and Sutivan and go all the way to the inland villages up to Ložišća.
It takes about 3 and a half hours to finish the route and is moderately easy.
Rock Climbing
Though Brač island is not necessarily the best spot for extreme sports, rock climbing is still a somehow popular activity.
You can join a day rock climbing tour at different locations that offer spectacular views of the seas down below.
Since the climbing routes are relatively easy, you don't need to be an experienced climber to try it.
Walking and Hiking
Of course, just like many islands and cities in Croatia, one of the best things you can do is to walk around and hike the island's many hiking trails.
It is a great way to learn about the town's nature, history, culture, and traditions.
You can explore the walking and hiking trails on your own or join a guided walking tour.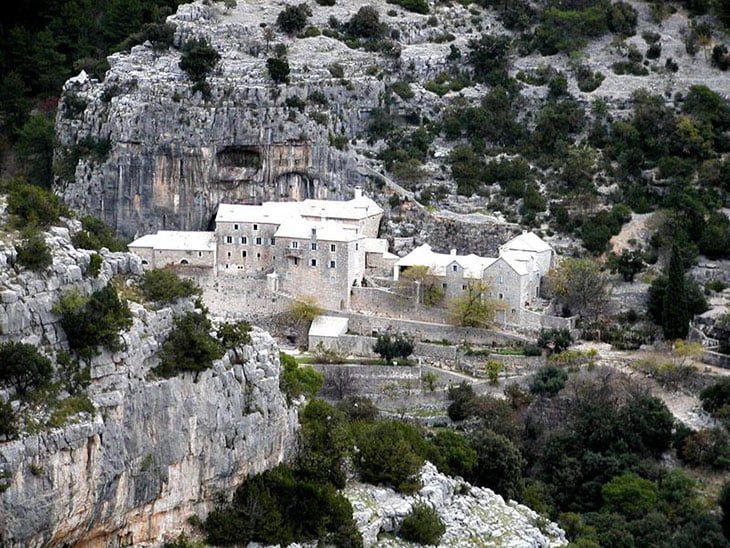 Some of these hiking trails will lead you to the south of the island where you will pass by an uninhabited coastline.
From here, you will get a fantastic view of the bays and the famous monastery of Blaca.
Wine Tasting
We've mentioned that the island has been known for cultivating grapevines and making wine.
You shouldn't leave town without sampling their wine or better yet, join a wine tasting tour!
Join organized wine tasting tours that are taking place in old wine cellars.
These cellars have been there for a very long time and have been used for wine storage over the ages.
They have a charming atmosphere that brings back guests to the olden times.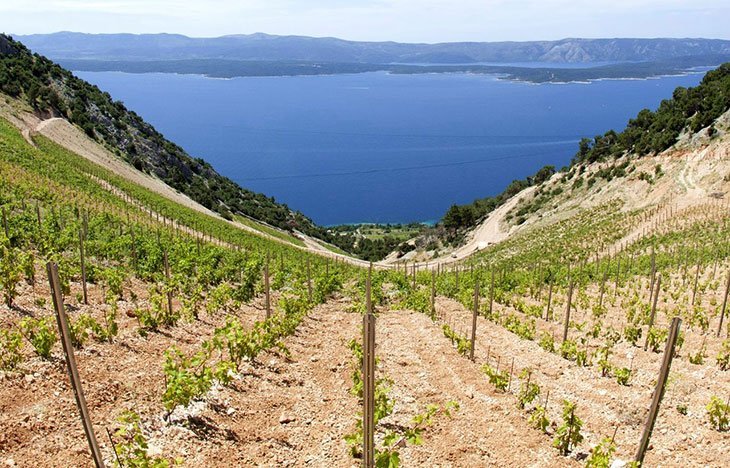 This is where you can learn more about the process of producing wines including those that are specific to a particular type of grape.
See how the wine is fermented and placed in barrels and learn everything up to the bottling process.
You can taste different types of wines including red wines, white wines, rose wines, and other varieties.
When you've had your share of sea adventures and have explored the mountains, a great way to relax is to try the local wines of Bol.
You can visit the Stina Winery among others.
It is in the main promenade so you can easily walk to it from the island's main attractions.
The wine project in the Stina Winery started in 2009.
Stina Winery have been producing wine from grapes purchased in the local vineyards in the town.
Here, you will sample a combination of new and old wines that are being served across Croatia.
Blaca Monastery & Museum
Island Of Brač Croatia is rich in history and one of the best ways to learn about them is to visit its old structures including religious ones such as the Blaca Monastery.
Blaca monastery is an early 16th century church built in a cave.
When two Glagolitic monks ran away from the Turks, they took refuge in that nearby cave and soon, they built the beautiful Blaca monastery.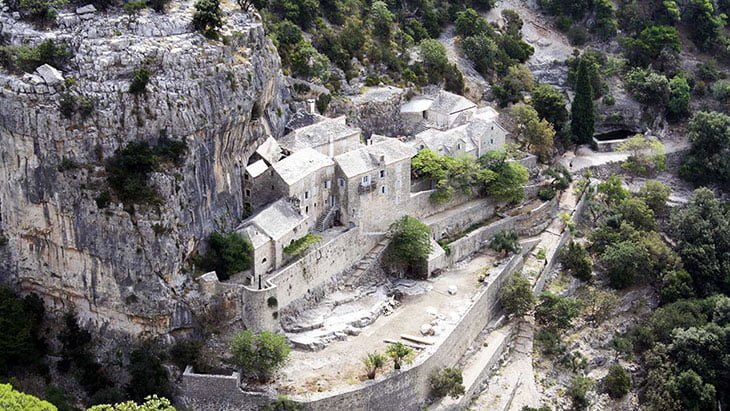 Located in Nerežišća on southern coast Blaca Monastery & Museum is one of the main highlights in Brač Island.
The cave wher monastery has been built is known as the Ljubitovica and it is right below the cliffs.
Blaca Monastery has a great historical and cultural value.
What is unique about Blaca Monastery & Museum is that it is in the middle of the wilderness and visitors are surprised by the way it harmonizes with nature.
Dragon Cave – Brač Croatia
Another cave that is of interest in the island of Brač is the Dragon Cave or Zmajeva Špilja as the locals call it but it is more popularly known to visitors as the Dragon's Cave.
It is actually one of the monasteries found in Bol and there are some interesting stories about its origin.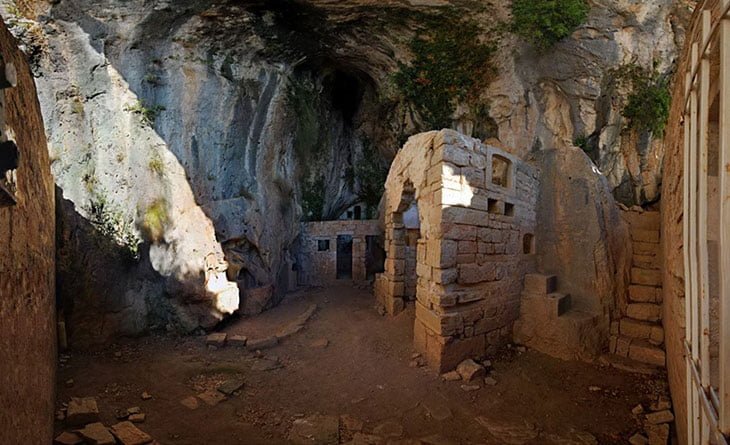 Many locals believe that the cave has been there since the 4th century though some say that it was more recent.
You can take a tour that starts from the town which would require you to walk about an hour and a half to reach the Dragon cave.
This is not for inexperienced hikers. But if you are fascinated with ancient history, it is really worth the hike.
In the Dragon cave, you will see ancient carvings though it seems that some of them have been changed about a hundred years later.
Bol Promenade
The island is also famous for the Bol promenade which offers travelers a delightful walk along the seashores.
This lovely walkway sprouts from the town of Bol and all the way going to Zlatni Rat beach.
So if you are going swimming, why not go there by foot and enjoy the sunshine and the views along the way?
The Bol promenade is decorated with Brač island stone and you will be walking underneath the cool shade of overhanging pine trees.
If you are doing this in the summer, it would be an especially enjoyable walk with an ice-cream cone in your hand.
When you get tired, you can just stop by and sit by the sea and maybe wait for one of the most spectacular sunsets you will see in your lifetime.
Old Churches in Bol
Aside from the Blaca monastery, there are other old churches that you can visit in the town of Bol Croatia.
One of them is the Gothic Renaissance church of the Our Lady of Grace which has been constructed in the 15th century.
Inside, it features a painting of the Madonna and Child with Saints which is a work of the famous artist Jacopo Tintoretto.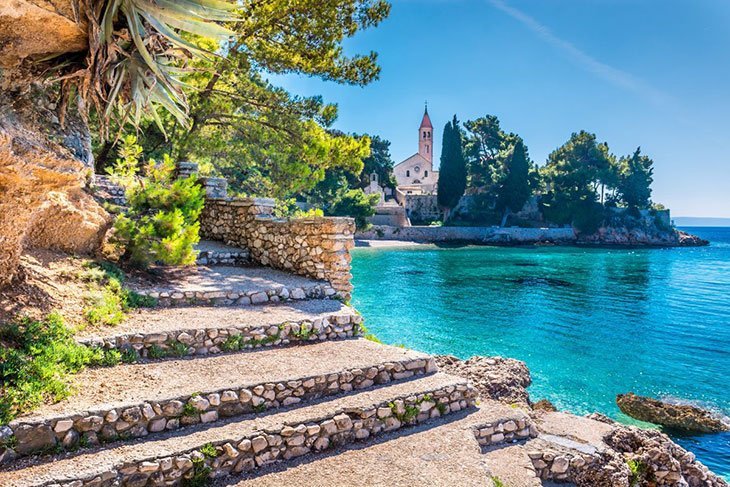 You must join a private viewing tour to see the painting in the church.
There are also times when it is open to the public.
Green Market In Bol
Another great way to interact with the locals and really experience their culture is to go to the green market.
It is called the Kings Stairs which is considered to be the heart of the city.
You will find lots of fresh fruits and vegetables in here which is great for picnics or if you want to cook up something on your own.
You don't have to buy anything when you go to the green market but the prices are cheap and there is so much to see.
Other items such as souvenirs are also available in some of the stalls.
There are also fresh flowers and everything sold here is the season's best.
The Green market in Bol Croatia was built in honor of Emperor Francis Joseph in 1875.
Island Hopping From Brač Island
If you are going beach hopping or island hopping, it is worth visiting some of the nearby islands as well.
This includes Mljet Island & national park which is famous for its beautiful lakes and dense forests.
There is also boat tours to the island of Korčula where you will see an ancient wall that resembles the great Dubrovnik.
Trips to island of Hvar are also available in the island and it's a great place to find shops and restaurants.
Travelling To Island of Brač Croatia
Major ferry port of Brač is in the town of Supetar and the closest major city to it is Split so it is easily reachable.
You can include it in a day tour but it is also nice to spend a couple of nights in the island to really experience the authentic Mediterranean island life.
Book your ferry tickets on this link
Also you can also easily get to island of Brač from Makarska by ferry line Makarska – Sumartin (Brač island).
Another way to get to Brač Croatia is by riding a passenger ferry.
There are two types of passenger ferries that take visitors to island of Brač Croatia and you can take either one of them.
One is a car ferry which allows you to take your rented car to the island.
The other ferry is called the catamaran that is only intended for people and is a type of speedboat.
Car ferries for Brač go to either the ports in Supetar and Sumartin.
While the passenger ferries go to town of Bol and Milna as well as the first two.
From Split
If you are coming from Split, it only takes 50 minutes to get to Brač Croatia.
You can take your car to a car ferry that stops at Supetar.
If you don't want to bring a car, you can simply ride the ferries from Split going to Supetar, Bol, or Milna.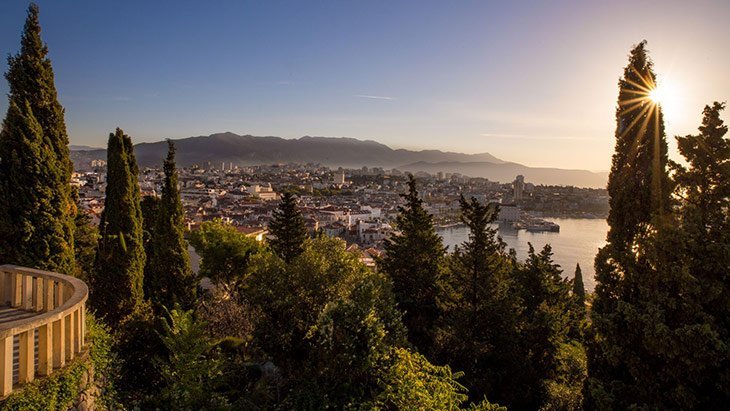 From Dubrovnik
There are no car ferries sailing from Dubrovnik to Brač so you would have to park your car near the Dubrovnik port to get to Brač Island.
You can ride the catamaran or the passenger ferry from Dubrovnik to Brač but take note that these ferries are only operational during the summer.
Dogs are allowed on the ferries both on the car ferries and the passenger ferries but they must be on leash.
Take note that if you are bringing your car to the car ferry, you must pay the ticket for the ferry and a fee for taking the car on board.
You can buy snacks and drinks on the ferries.
Some say it is more practical to bring your car and take the car ferry because you will also be allowed in the ferry which makes it a lot cheaper.
Best Time to Visit Brač Croatia
Summertime is definitely the best time to visit island of Brač especially since most of the ferry lines rides to the island are only available during the summer.
Most of the activities are best enjoyed during the warm season but spring is also a great time to go if you do not like warm weather too much.
The island of Brač is beautiful all year round but you will not see much during the other seasons.
The town only comes to life during the summer so if you want to include Brač Croatia in your itinerary, it's best to schedule your trip in the summer.
Check The Other Nearby Holiday Destinations