Kvarner Croatia: Top Things To Do, Attractions, Beaches & Getting There
When people talk about a trip to Croatia, Kvarner bay is not exactly the first thing that they include in their list.
But those who have been here absolutely fell in love. Kvarner Croatia or Kvarner Bay attracts those who love mild climate and cobalt blue waters.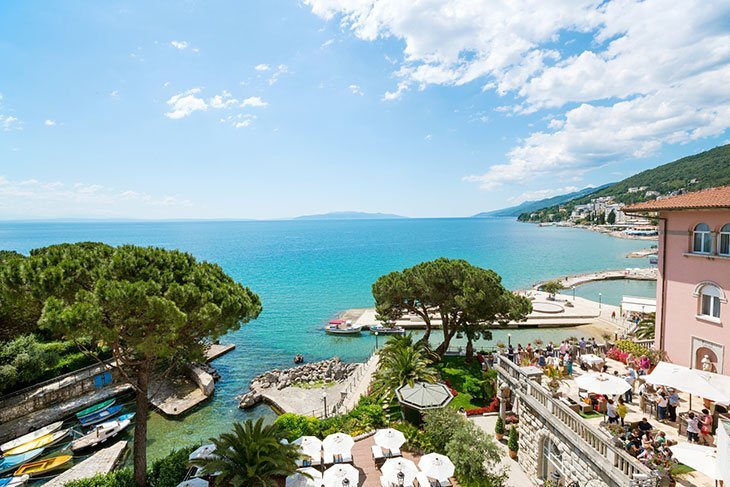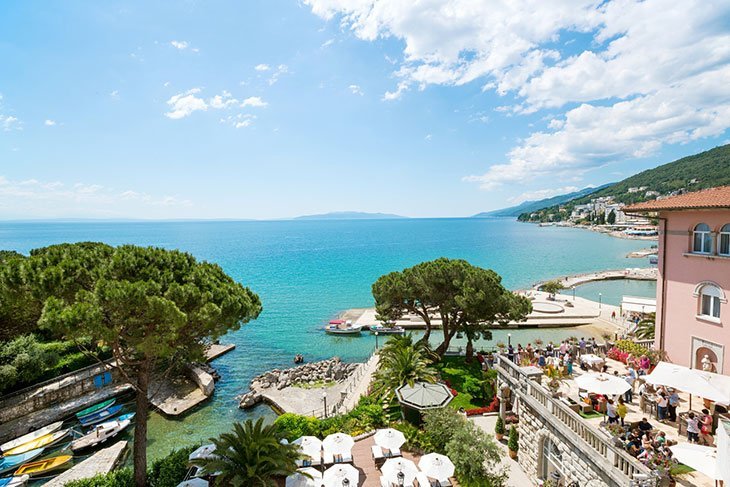 Those who choose to visit Kvarner Croatia are typically looking to experience nature as it should be.
Kvarner Croatia is also rich in history and architectural beauty, featuring places like Rijeka and Opatija, both offering a wealth of stately Habsburg-era structures.
There are plenty of things to do that nature lovers will totally enjoy, plenty of places to explore like hiking trails and protected forests.
But since Kvarner bay is not one of the most famous destinations in Croatia, it's not always easy to find a comprehensive guide on what to do and see.
Below, you will see a list of the best attractions in Kvarner bay to help you create your Kvarner travel itinerary so you can make the most of your stay.
Best Things To Do In Kvarner Croatia
You cannot go wrong with the attractions featured below.
This will make you say you've truly experienced Croatia and leave with a full heart wishing to come back.
Attractions In Rijeka Croatia
Rijeka Croatia is the gateway for you to enjoy some of the best islands in Croatia.
It's the third largest city and it's abuzz with Roman grandeur and its 20th century port.
Those who stop by this city discover its charm, culture, and experience its unique festivals.
It should be on the top of your Kvarner bay travel itinerary.
Trsat Castle
It is not the biggest or the most famous city in Croatia but Rijeka also boasts of an old castle worthy of a tour.
Trsat Castle is the kind of image you would put on a postcard.
When you visit Kvarner Bay, this is the photo you would use to say you've really been to Croatia.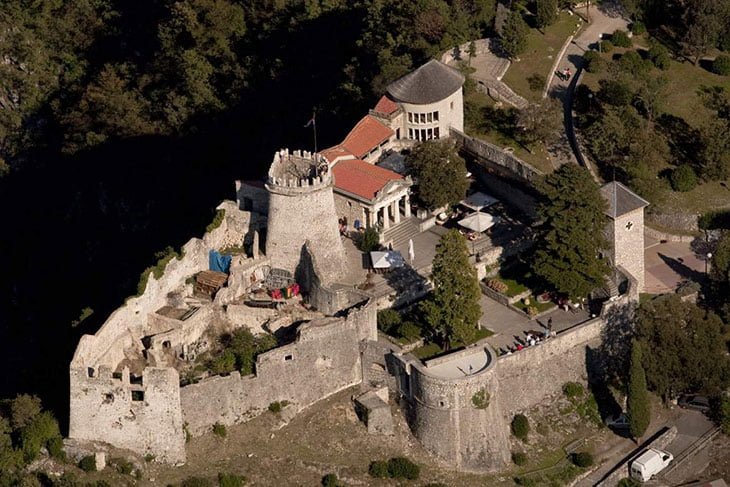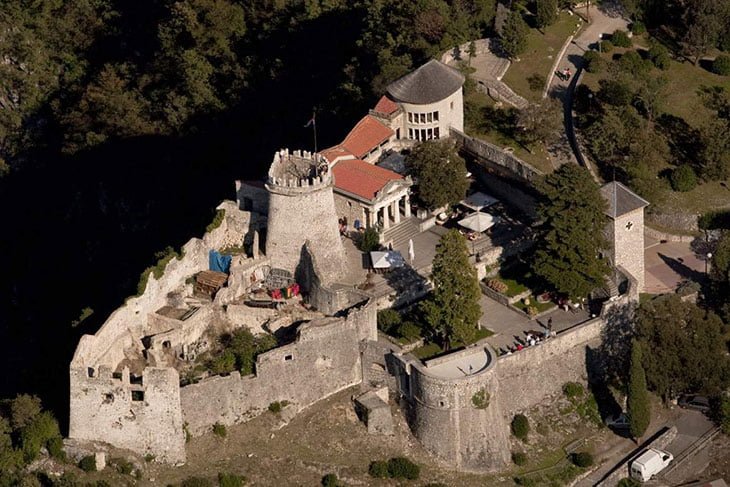 The castle sits on a hill above the city and has been there since the 13th century.
This magnificent fortress provides spectacular views of the ramparts, rivers, and docks down below. It is a building worth climbing.
Trsat Castle was built by the Fankopan dukes of Krk but it has been reconstructed in 1824 when Count Nugent bought it and added a touch of Romantic neoclassical design.
Stories about the castle make it even more interesting.
They say that it's protected by the legendary creatures, Basilisks.
Historically, Trsat fortress served a vital role being connected to Aquileia and Pannonia at the same time which is a strategic location for defense.
It had gone through a lot and was also affected by the great earthquake of 1750.
Today, you will find a gallery inside along with an underground exhibit which used to be the castle's dungeons.
Several events are also hosted in the Trsat Castle like concerts, theatre plays, and fashion shows.
After exploring its several rooms, take a seat down the open-air café bar to take in more of the views in the surrounding area.
Entrance Fee To Trsat Fort
Entrance to Trsat Castle costs 15kn for adults. This includes access to the different rooms including the dungeons and the open-air café.
How to Get There:
Trsat Castle is 12 minutes away from the city center of Rijeka.
You can also take the bus number 3 from Rijeka, then bus number 2 with a total travel time of 42 minutes.
Hours and Best Time to Visit:
Fortress Trsat is open from 9 am to 8 pm but closes earlier at 5 pm from winter to spring.
A visit to the castle no matter the season will be a pleasant one but try to go before it gets dark so you can enjoy the view of the surrounding area on top.
Church of Our Lady of Trsat
Of course, a trip to Croatia and Kvarner Bay would not be complete without seeing its religious structures.
You don't have to be religious to appreciate these phenomenal buildings because you will love it for its art and architectural design.
The Shrine of Our Lady of Trsat is a center for pilgrimage in the country and is the largest one.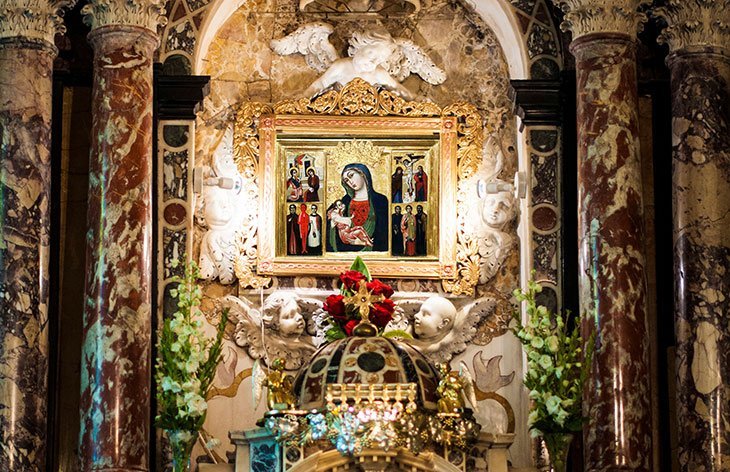 According to locals, angels have rested here when they were carrying the Virgin Mary from Nazareth before they moved it to Loreto across the Adriatic Sea.
It has been a destination for pilgrims since then, praying inside the chapel that has been built on the site.
More started coming to the site when the Pope donated an icon of the virgin in 1367.
You will find this icon on the main altar behind a majestic gate made of iron.
To this day, the Our Lady of Trsat Church still attracts many pilgrims completing their pilgrimages year after year.
What you will find aside from the statue is a Baroque cloister where you can see votive gifts and the sacral art collection inside its treasury.
If you're curious about what the pilgrims find when they go here, you can follow their steps climbing the Petar Kružić Stairway that was built in 1531 as a passageway to the church.
There are chapels along the stairs that the pilgrims use to stop by and rest.
Entrance Fee:
None. The shrine and the church on the site are open to the public but donations are accepted.
How to Get There:
You can walk along the path of the pilgrimage if you want to experience what it's like through the Petar Kruzic Stairway.
If not, you can take a quick bus ride from the city center, taking bus 2 to Trsat.
Hours and Best Time to Visit:
The church is open from 8 am to 5 pm. You can visit the shrine either in the morning or in the nighttime, it's equally beautiful.
Museum of Torpedoes
How do torpedoes really work?
Torpedo museum in Rijeka will show you the concept behind torpedoes plus, you will see some really awesome exhibits that will make you wish you are a torpedoist at some point in your life.
The Museum of Torpedoes is the first in the world that presents this genius 19th century invention.
It was built when a group of torpedo enthusiasts met at the museum in Rijeka not very long ago and very quickly, they started gathering torpedoes and torpedo instruments which pushed them to start their first exhibit.
These exhibits later lead to a museum collection which also showcases the city's industrial and technical heritage.
Their research for torpedoes is based on their fascination with its technology and how it has advanced over the years in Rijeka.
It is actually one of the reasons why Rijeka is known to many parts of the world.
In case you didn't know, the torpedo was invented in the city of Rijeka.
A resident of Rijeka named Ivan Luppis who was a retired naval officer, came up with the concept of a "coastal savior" while wondering how to strengthen the defenses in the coastline.
It should be something that can defend at long range.
When he met engineer Robert Whitehead who manages a steam ship manufacturing company at the time, the two of them started working together and soon produced a prototype of the torpedo.
They began testing and soon, the factory in Rijeka opened, reaching its peak of manufacturing 160 torpedoes per month.
The factory has gone bankrupt but the museum stands and there are plans of restoring historical parts of it for educational purposes.
Entrance Fee:
Tickets to the Museum of Torpedoes in Rijeka cost 30 kn for adults and 20 kn for children and students.
How to Get There:
The museum is only a 6-minute walk from Rijeka's city center. You can walk to it crossing Pomerio and continuing to Muzejski trg.
Hours and Best Time to Visit:
The Museum of Torpedoes is open from 12 am to 6 pm. Since there are exhibits that are featured outdoors that you must truly see, it's best to during the warmer months.
Top Things To Do In Opatija
West of the above featured city, Rijeka is the Genteel Opatija.
It is one of the prettiest seaside resort especially for the elite in the time of the Astro-Hungarian Empire.
You will see the evidence of this through the quaint belle-époque villas.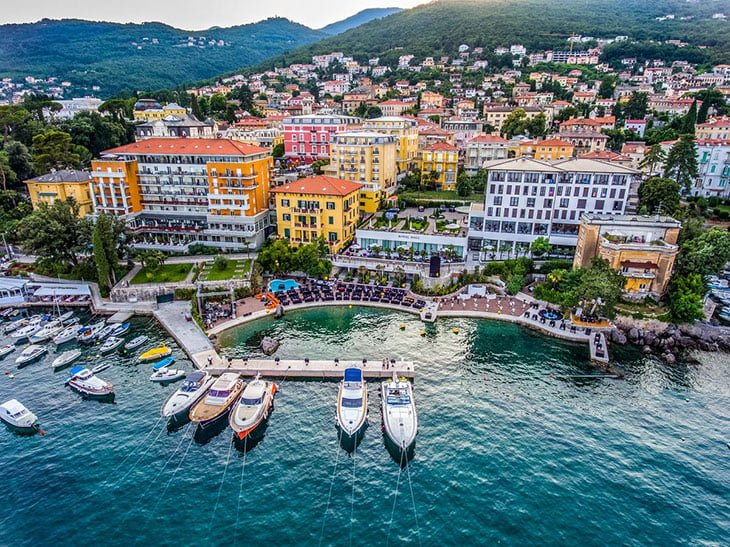 The town has gone through a lot and has lost most of its sheen during the Yugoslav period.
But it has greatly recovered and has reestablished itself to locals and tourists alike as a nature lover's spot.
Visitors are drawn to its spas and a moderate climate year-round.
You will find some truly excellent restaurants in this area that will satisfy your taste buds and your thirst for culture.
Opatija, Kvarner bay is a nice little spot that you can include in your Kvarner travel bucket list.
It's one of the easier places to access when you plan a tour around Kvarner Croatia.
It sprawls along the coast, enclosed by hills and the deep blue waters of the Adriatic on both sides and its entire waterfront is connected by a walkway so it's an easily walkable town.
Unlike other cities in Croatia though, you would not see a lot of spectacular beaches in this area.
But you can still swim in the bays if you really want to take a splash in this town.
So, here is what you must definitely see in Opatija:
Lungomare Opatija
As mentioned above, the entire waterfront of the town is connected by a walkway or a promenade called the Lungomare Opatija Promenade.
Kvarner Croatia is all about nature and one of the best ways to enjoy its natural beauty is by walking by the sea.
You can take in all the greenery and the many shades of blue in the surrounding waters.
On your visit to Opatija, plan a day for a leisurely stroll along the promenade.
If you feel like it, you can also go for a walk or a run which will surely reenergize you for the rest of your trip.
Lungomare Opatija Promenade goes along the water from Volosko to Lovran.
It is like a connecting bridge uniting the whole town and helping locals blend with each other harmoniously.
Your view will basically be the blue waters one side and the green mountains on the other.
It is the perfect backdrop for those who love the outdoors.
Cafes and restaurants can be found right along it so you can plan a half or whole day and dine on the site.
The famous footpath celebrated its one hundredth anniversary in 2011.
It still is a favorite walking path for locals and tourists and is a great spot for photo-taking.
Walking on this promenade means taking in the fresh sea air and the picturesque coastal landscape.
But it's also a great way to learn more about the town's history.
Along this path, you will pass by the birthplace of the great scientist Andrija Mohorovičić, as well as monuments and memorial plaques, among other things that tell this interesting story of Opatija's past.
Entrance Fee:
Lungomare promenade is free for both locals and tourists to walk by.
There are no fees to walk along it but you can dine and have a drink at the cafes and restaurants along the way.
How to Get To Lungomare:
You can walk from many different directions and go to anywhere you like along the Lungomare Opatija Promenade.
From Volosko, which is a small sheltered marina, you can walk toward the grand Marina Admiral where you will learn a lot about Kvarner Bay Croatia.
It's a long stretch and you can start from anywhere going to whichever spot you want.
Hours and Best Time to Visit:
The promenade does not close and the best time to walk along it is during warm sunny days.
You may want to avoid going at night because the nearby cafes and restaurants don't stay open till late.
Open Air Theater
If you're the type who enjoys Shakespeare at the Park kind of events, you will definitely appreciate Opatija's Open Air Theater.
The theater is located on the green peninsula, the idyllic Angiolina Park.
What's terrific about the whole experience of watching a show here is that you will also be by the sea. A killer combination for the perfect night out.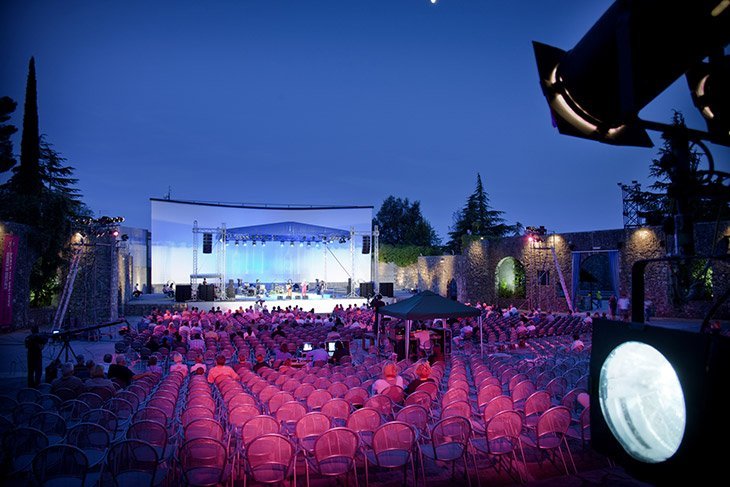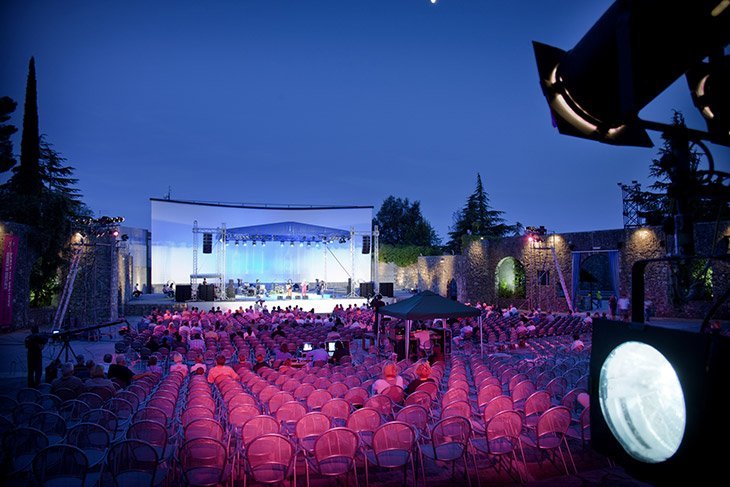 Aside from the unique location, the theater has a particularly artsy ambiance because of the presence of the stone walls and greenery.
All these elements put together is what makes the theater the most spectacular outdoor venue in the Mediterranean.
There will surely be something being played or staged during your trip so make sure to check the show schedules to pick one that you are interested in.
The theater features a main stage area with a capacity of up to 2,500 seats which is ideal for several types of performances.
You can catch concerts, musical plays, operas, ballet, combined art forms, and other types of shows and happenings.
There is also a small stage area with a smaller capacity of 600 seats and it has its own stage.
This is perfect for more intimate types of shows and performances such as short one-act plays and spoken-word readings.
The Open Air Theater's location was first intended for a rather ambitious project back in the early 20th century.
They wanted it to be a multipurpose health resort palace.
Architectural bids were put in place but it never got to completion because of the first World War.
When the war was over, under the Italian rule, they decided to rebuild the place into an open air theater instead.
Some of the biggest performances that have been held at the theater include concerts by Joe Satriani and other local and international classical and operatic singers, musicals and rock operas like Jesus Christ Superstar, Chicago, Grease, and many more.
They also show films both old and new in the theater.
Entrance Fee:
Tickets to the shows and events in the Open Air Theater depends on the touring or local company who are staging the performance.
You can check their website for the show schedules and purchase tickets online.
How to Get There:
You can reach the theater by foot in just a few minutes from majority of the hotels in Opatija and other main attractions in the city center.
It's located near the town's harbor. You can actually walk via the promenade to get to the theater so it's a good idea to start your walk or jog a little early in the afternoon then end up in the Open Air Theater in the evening to enjoy a nice show.
Hours and Best Time to Visit:
Show schedules are listed on the Open Air Theater website.
There are usually shows both in the afternoon and evening.
Ičići Beach – Kvarner Bay
Opatija has three main parts and one of them is the town of Ičići where this urban beach called Ičići Beach can be found. It's right in the between the old port and the ACI marina.
You may think it's just a small little beach among the many amazing beaches in Croatia and you would be right but what may surprise you is that this beach has been awarded a Blue Flag.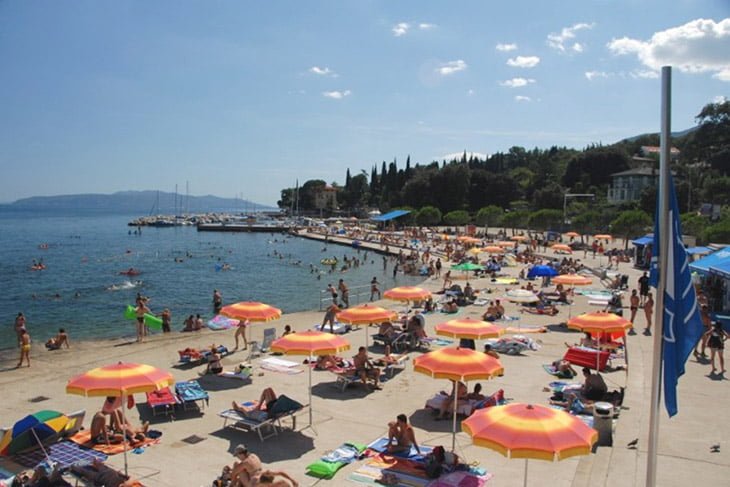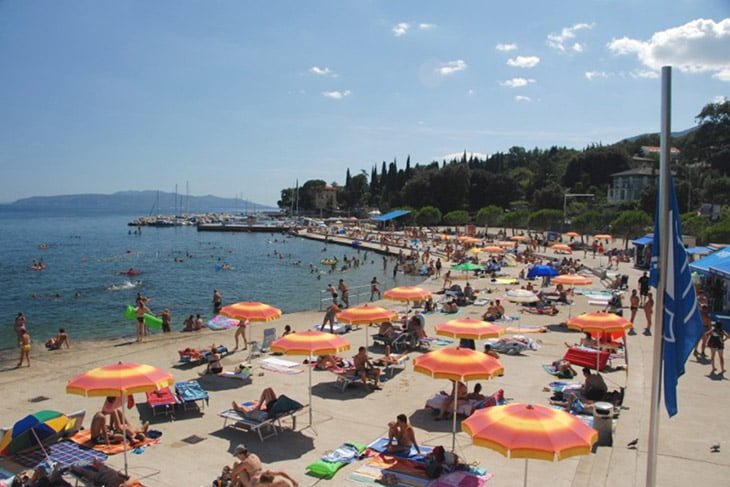 Blue Flag beaches are highly rated and rank high because of their cleanliness and ecological standards.
When you get to the beach, you will see a long fence on the pavement and a wall along with a protective net that stretches toward the harbor.
Since it's an urban beach, you will find that it's quite different from other beaches in Croatia.
It features concrete areas for sun bathing as well as the sand area of course. There is a green oasis in the middle of the beach toward the east.
The entire length of Icici Beach opens up to the Kvarner Bay. This area faces toward Krk and Cres islands.
It's a beautiful beach that is located in the central part of the town of Ičići.
Its rocky areas are suitable for children so this is a great thing to add to your Kvarner Croatia travel guide bucket list if you're traveling with kids.
Other things you can do on the beach are play volleyball, jump on trampoline, go on a banana boat ride, jet-ski and many more.
Entrance Fee:
None. You may have to pay parking fees.
How to Get There:
There are several entrances that you can use to access the beach.
You can choose from 5 entrances depending on the direction you're coming from.
Ičići beach is 5 minutes away by car from Opatija's city center. You can also take the bus headed to Pula then get off at Ičići.
Hours and Best Time to Visit:
Ičići Beach opens at 9 am and closes at 11 pm from Monday to Sunday.
It's best to visit during the spring and summer but you would still have a nice time just walking along its shore during the colder seasons.
St. Helen Church
Saint Helen Church which is Sv Jelena Križarica in Croatia is located in Lokvine Square in Kastav.
It's a 17th century structure, one of the few from that time that still stands today in the city.
Entrance Fee:
None.
Hours and Best Time to Visit:
It's best to visit during the weekends and the church does not get too crowded.
Krk island Top Attractions
There are plenty of places to explore and lots of things to do in Croatia's largest island – the Krk Island.
This destination is the last on our list but it should definitely be included in your Kvarner bay itinerary if you really want to experience Kvarner Croatia.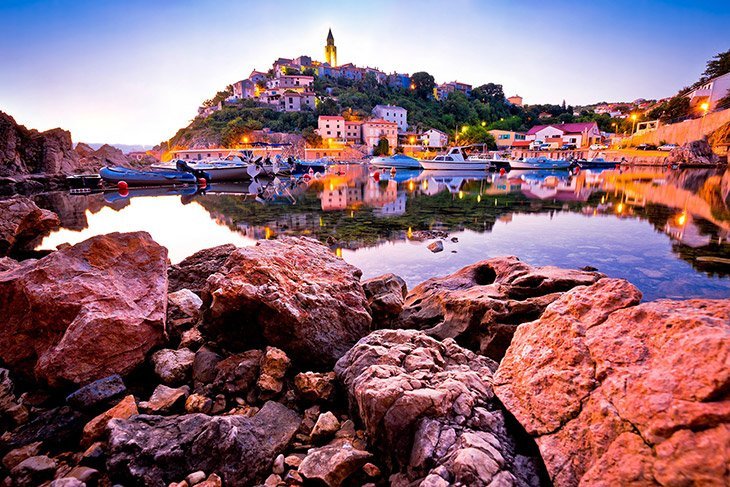 It's a great holiday spot for many reasons.
Aside from being the biggest island in the Adriatic, it is also the most accessible, most diverse, and definitely one of the most visited.
It is so convenient to get there and once you do, you will not run out of things to do and activities to try.
The island is connected to the mainland by a toll bridge.
It is not the most beautiful island in Kvarner Bay but it offers so much more than just sights and beaches.
Krk Island is well-loved for its varied landscape.
You will see forests, rocky areas, and steep hills. It offers a variety of attractions and experiences.
Here are the best ones that you should see.
Biserujka Cave
One of the most unique things you will see in Krk Island and in all of Croatia is the Biserujka Cave.
It's located in Rudine village and is hidden by an undistinguished stone house in the middle of a karst landscape.
It's not a super long cave and not too deep either but it will let you see and experience all that is characteristic of karst phenomena.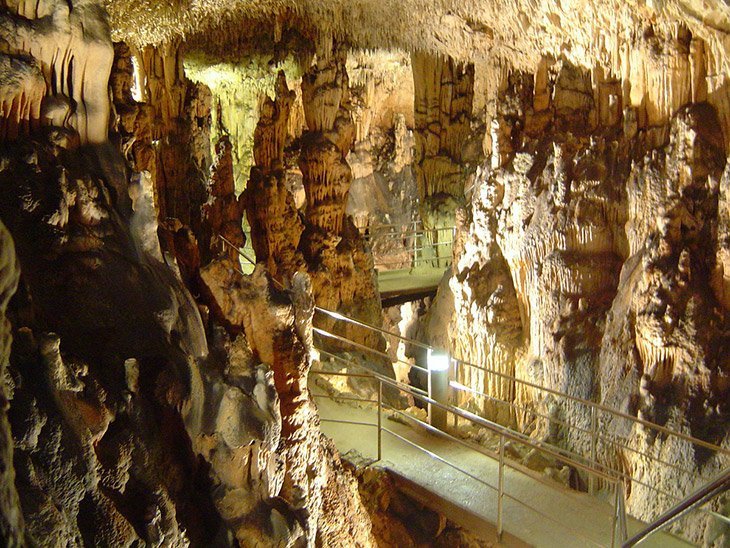 Typical features that you will see in this cave include stalactites and stalagmites but there are also some surprises like a gallery in the middle of it.
The gallery is big enough to hold events and concerts but of course, only short performances are doable because of the low temperatures inside.
It has been arranged specifically for sightseeing since 1998 though its existence has been known for over a hundred years.
Entrance Fee:
Entrance to the cave for individual visitors cost 30 kn for adults. You may get discounts if you're entering as a group.
How to Get There:
Biserujka cave is a little far from the city center and the churches which are part of the main attractions in Krk Island but it is not difficult to reach.
From St. Dunat's church, it is 27 mintues away by car going through D102. Drive to Cizici and head to Rudine.
Another option is to arrive by ferry from Cres or Lopar.
Other tourists bring their yachts or they organize their own trips in larger boats.
If you've decided to include Rijeka in your trip to Kvarner bay, you can also come there by bus.
Hours and Best Time to Visit:
It gets pretty cold inside the cave even during the warmer seasons so it's best to schedule your trip in this area before or after winter.
Krk Cathedral
Like many destinations in Croatia, you cannot leave Kvarner Bay without paying a visit to its churches.
The Krk Cathedral is the seat of the Roman Catholic Diocese of Krk. It lies north of the Adriatic and is quite an impressive structure.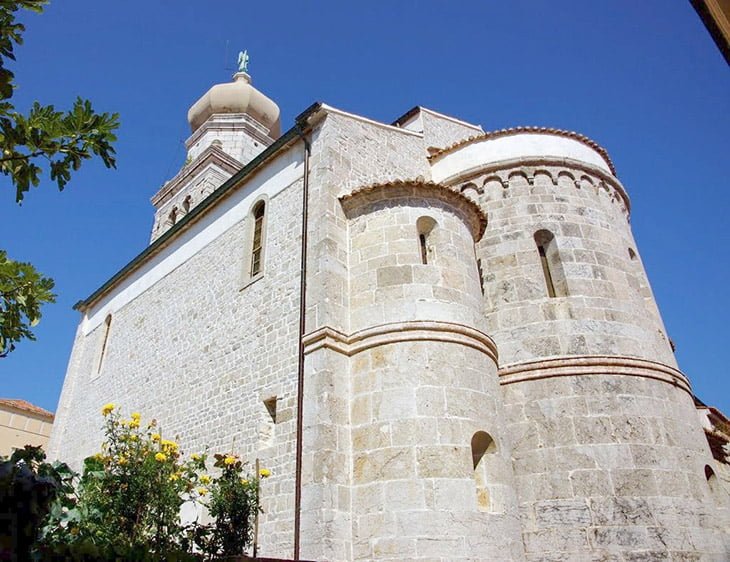 Compared to other old churches in Croatia, the Krk Cathedral's exterior is quite bright with lots of grayish white hues and amber.
It's not like those huge dark massive buildings but you can see that it was built in the same style and period, specifically between the 5th and 6th century.
It is also called the Cathedral of the Assumption of the Blessed Virgin Mary.
The church has three naves and is part of a larger complex where you will also find the Church of Saint Quirinus.
So, visiting this area would allow you a tour of two religious buildings as well as the bell tower and the town chapel.
Inside the cathedral, you will find lots of items of great historic and religious value to the Catholic Church.
There is the large marble altar, the Gothic statue of Mary and child Jesus, and a backdrop of the Madonna among others.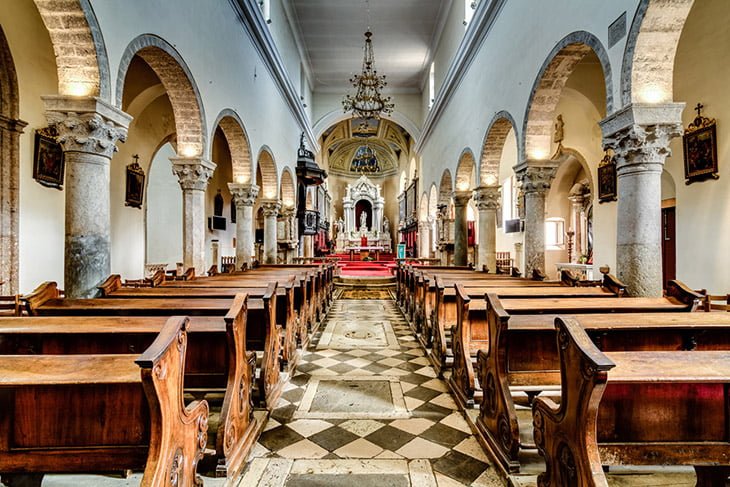 But it's not solely for worship. The cathedral also serves as a venue for various performances and concert events during the summer season.
Entrance Fee:
Entrance to the church is free but there is a fee to visit the treasury.
You would have to contact the Parish office to arrange your visit and inquire about the fee.
Tickets to the events held at the cathedral vary depending on the performers.
How to Get There:
You can follow the Krk Island Bridge from the city center to get to the Krk cathedral.
If you're not renting a car or don't want to take the taxi, you can also take the bus from Crikvenica going to Split then get off at Senj.
It will be a 9-minute walk to the cathedral from there.
Hours and Best Time to Visit:
If you want to witness the pilgrimages, they happen on June and August.
Otherwise, any Sunday is a good time to visit the cathedral.
It is open from 8:30 am to 12:30 pm then opens again from 3 pm to 6 pm.
St. Dunat Church – Island Of Krk Croatia
Another religious building that you should see on Krk Island as part of your Kvarner Croatia trip is the Church of St. Dunat.
Some may confuse it with the Church of St. Donatus which is in Zadar but these are two different churches in two different locations.
It's quite a unique structure being made mostly of stone and it looks a bit like a dungeon or even a prison if you don't know what you're looking at.
But it is one of the most important religious monuments in early Croatian architecture and design.
The church is dedicated to St. Dunat who is an early Christian martyr, persecuted by the Emperor Julian during the 4th century.
Entrance Fee:
None.
Getting There:
To go to the Church of St. Dunat, you need to head to the direction of Punat.
If you would be visiting the Krk Cathedral, it is not recommended that you do both at the same day because they are pretty far from each other.
If you do, be prepared to travel about an hour by car vie E65 and D102.
Just keep going straight on D102 till you get to Kornic.
Hours and Best Time to Visit:
It's best to visit the Church of St. Dunat during the day because its design is not quite visible during the night.
Nehaj Fortress – Senj Kvarner
The town of Senj is one of the most interesting towns in Kvarner Bay Croatia.
In this town, you will find two main attractions that you will absolutely love if you like history and nature, the Nehaj Fortress and Park Nehaj.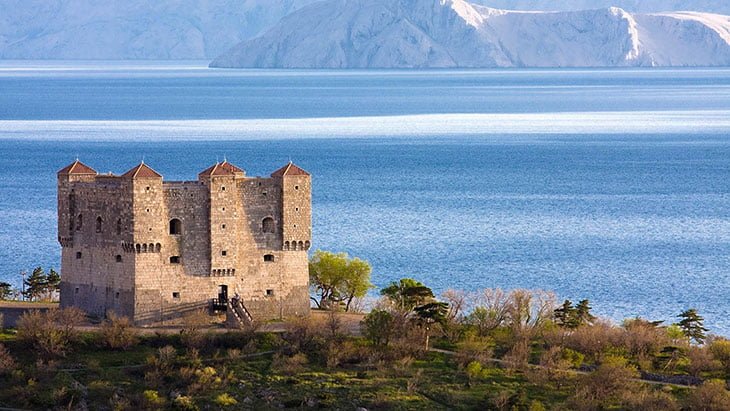 The fortress was built in 1558 on top of the Nehaj hill to serve as a defensive building against attacks from the Turks and Venetians when they were in the peak of their power.
Senj and its citizens were able to resist numerous attacks with the help of the fortress.
Nehaj fortress is located inside the Nehaj Park and there are plenty of activities you can do aside from seeing the fortress.
Park Nehaj spreads over 14 hectares and it offers a spectacular view of Senj and Kvarner Bay.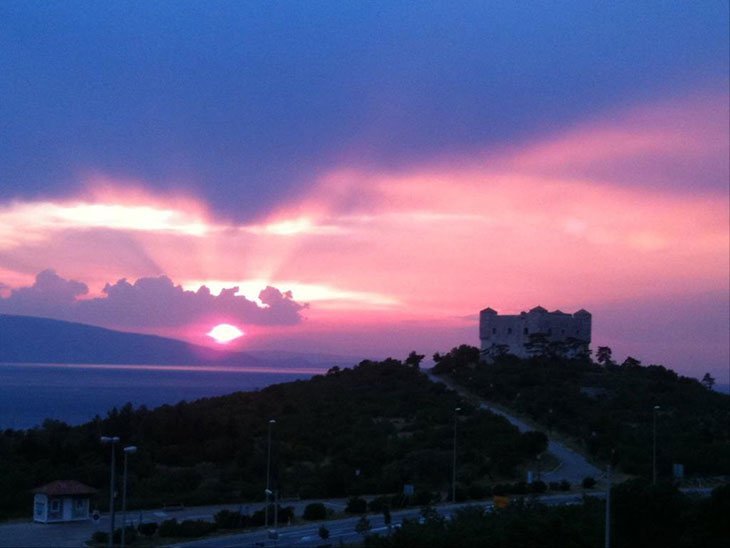 Nehaj Fortress and Park Nehaj in Senj Town are two of the most popular attractions around Kvarner Bay.
They're not as fancy as other destinations in other cities in Croatia but you will definitely have a great time enjoying nature and the sights.
Entrance Fee:
There is no fee to enter the park but a tour inside the Nehaj Fortress is 20 kn.
How to Get There:
The park is only 5 minutes away by car from the Krk Cathedral so you can visit both places in one day.
Just follow the Stara cesta (Old Road) or tell the driver if you're riding a taxi that you would like to go to the park in Senj Croatia.
Hours and Best Time to Visit:
The park is open 24 hours but the Nehaj fortress opens at 10 am and closes at 9 pm.
Nehaj fortress is open from Monday to Sunday.
It is best to visit the park and the Nehaj fortress in the weekend because you can watch people playing around and just relaxing on the grass.
Check other nearby holiday destinations: