Zadar Croatia: Great Things To Do, Attractions, Museums
Before you book your flights to the most popular and more crowded cities in Croatia, take a look at this guide and see why you should give Zadar more consideration in your cities to visit list.
It is true that it's a lesser-known historic port but when you see it, its beauty and story will stay with you.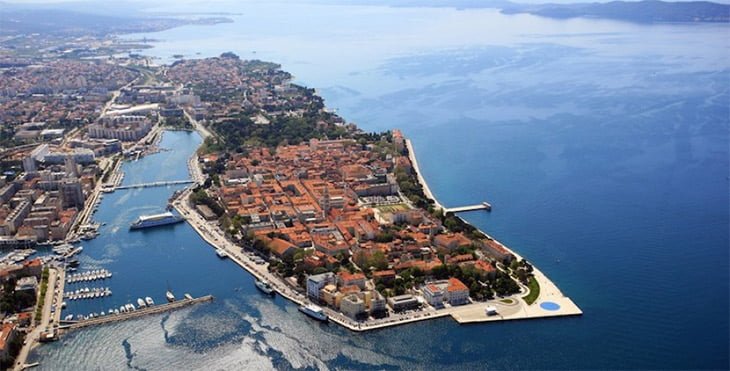 Zadar Croatia may not be for everyone but if you're one of those who want to enjoy beautiful Croatia without the crowds, this is definitely a perfect city for you.
Like other popular cities, Zadar also features many Roman ruins in its historic old town.
You can go to medieval churches and museums, and all these are located in just one small peninsula.
But best of all, its two main attractions, both by the sea, are truly unique and captivating.
An experience that you would not find in Croatia's other cities.
Zadar is not exactly the kind of image you would put on a postcard but the experience you get is the kind you will treasure in your heart.
Take a look at the list and see why you should visit Zadar.
Best Things To Do In Zadar Croatia
Choosing a less popular town in Croatia may be challenging because not a lot of travel guides and news feature the attractions here.
Fortunately, this Zadar itinerary guide will provide you with everything you need to know about the places you must see.
Here are the best Zadar attractions.
Church of St. Donatus
You may have been to circular churches before but you will not find one like this bizarre circular Byzantine church.
The Church of St. Donatus is one of the few structures that have survived after the Mongol invasion in the 13th century.
It holds a lot of stories about the city's culture that's why it's an important relic.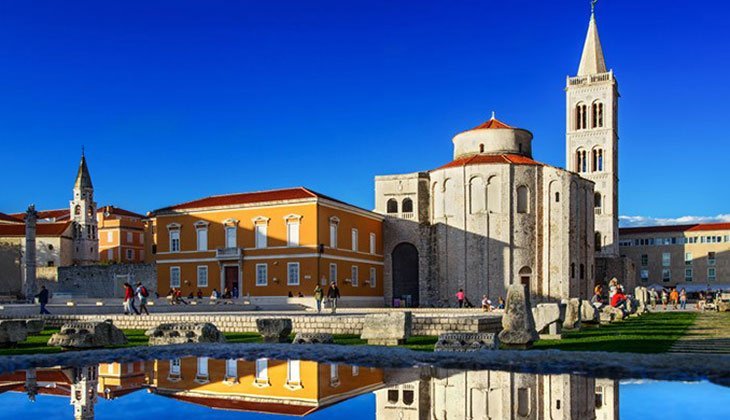 Compared to other old buildings and Byzantine structures in Croatia, the Church of St. Donatus has quite a simple design.
Its interiors are unadorned but it's a different feeling going inside its walls. Inside, you will find two Roman columns and paving slabs.
Though it's no longer being used for church services today, it serves as a venue for events and concerts in the city.
The church is considered as the symbol of the city of Zadar. It's also one of the most important unique churches in Europe.
It was named after the bishop who ordered its construction in the 9th century. It is also the largest pre-Romanesque building in the country.
Entrance Fee To St. Donatus Church
If you wish to attend the concerts and events being held inside, you would have to buy the tickets for the particular event.
Entrance to church only is 20kn for adults.
Children below 10 are free to enter.
Students and senior citizens get a discounted rate of 12kn.
There are also discounts for group tours which you would have to arrange in advance.
How to Get There:
The church is located near the other main attractions in the city. It is 5 minutes away from the People's Square by foot so you will not have a hard time locating it. Simply walk along Široka street and turn left on Borelli street.
Hours and Best Time to Visit:
Visitation hours to the church start at 9am and closing times vary per day so make sure to check or call before you go.
Cathedral Of St. Anastasia (Svete Stošije)
Another building of religious significance among the Zadar attractions is the St. Anastasia Cathedral.
It is called the Cathedral of St. Anastasia or on croatian language Sv. Stošije and it is the biggest cathedral in Dalmatia.
It was built between the 12th and 13th centuries.
The cathedral features a façade that is richly decorated. You will witness an excellent work of art.
It was badly destroyed after being bombed in the World War II but it has been reconstructed and is still close to the original.
Other things you will find inside are the marble sarcophagus that contains the relics of St. Anastasia and lavishly designed stalls in the choir.
You can take a peek inside the glass vestibule where you will see the interior of the cathedral when it's closed.
The cathedral's façade was completd in 1324. Its lower order has three portals with the center dedicated to the bas-relief of the Madonna and Child and the upper order culminates in a triangular pediment.
Look out through the Romanesque-style rose window for a tinted view of the town buildings. There is also a smaller window in Gothic style.
A thing that is not to miss in the Cathedral Of St. Anastasia is the bell tower.
People who have seen the top of it say that it's worth the climb.
It will give you a view of the old town.
Entrance Fee To Cathedral Of St. Anastasia
Entrance to cathedral is only 15kn for adults.
How to Get There:
The Zadar Cathedral is very near the Church of St. Donatus, along with other main attractions in the city.
It is a five-minute walk from the People Square via Široka ul.
You can just head straight going toward the archeological gallery.
Hours and Best Time to Visit:
The cathedral is open from 8 am to 9 am, then opens again at 6 pm to 7 pm from Monday to Sunday. Masses are held every Sunday so that may be a good time to visit if you want to observe or join their practices.
Sea Organs Zadar Croatia
Perhaps, the most amazingly unique thing you will ever do in your trip to Croatia among all the Zadar attractions is to go to the beach and listen to the ground playing music as it is activated by the waves on the shore!
How cool is that?!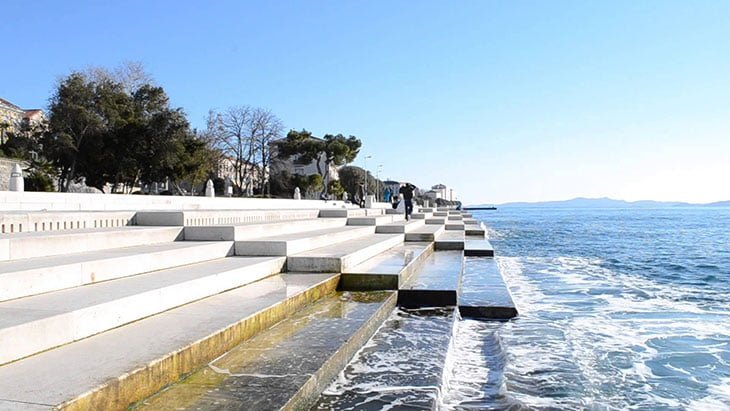 You may have seen videos of this fantastic place being shared all over social media and you may have thought for a bit that it would be a great thing to experience.
Well, it's in Zadar!
And if you're Croatia-bound and you're a lover of music and novel things, there's no reason why you shouldn't include this one in your Zadar itinerary.
It is called the Zadar sea organ, for obvious reasons.
It is a 230-foot long structure on the coast of Zadar Croatia.
The organ plays unbelievably harmonic sounds that are being triggered by the movements of the sea.
It was built by the architect Nikola Bašić after the construction of the jetty that would accommodate cruise ships and tourists into the port back in 2005.
So, this is a relatively new attraction.
How it works is that the waves of the sea push go through its channels and as the waters move, the melody pours through the organ pipes toward the surface of the ground.
The organ produces these sounds based on the wave energy's random distribution of time and space.
Entrance Fee:
None! The Sea Organ is free for the public both tourists and locals alike to enjoy.
Just go to the beach, hang out or sun bathe and enjoy the music!
How to Get There:
The beach or the port where the Sea Organ is located is very near the other popular Zadar attractions.
It's an 11-minute walk from the People's Square, just follow the shoreline to the edge leading to the port.
You will not miss it.
Hours and Best Time to Visit:
There are no restrictions on when you can visit the Sea Organ.
It is open to the public 24 hours. Of course, it's best to go during the summer or the spring season when it is not yet too hot.
Greetings to the Sun
Also by the sea is the Monument to the Sun in Zadar Croatia.
This is another unique experience that you will really remember when you visit Zadar.
It is also called Greeting to the Sun and you will find out why below.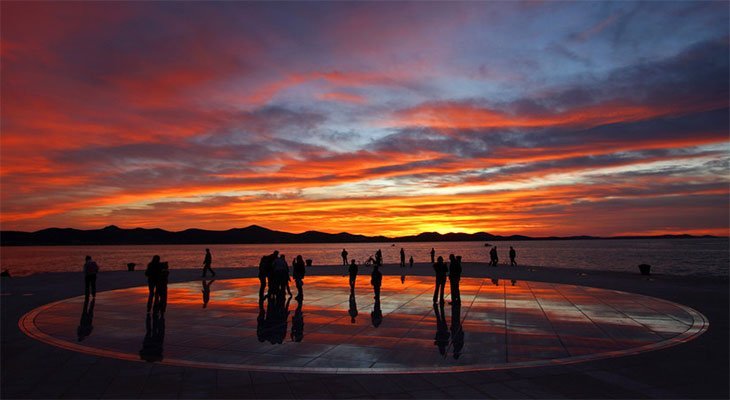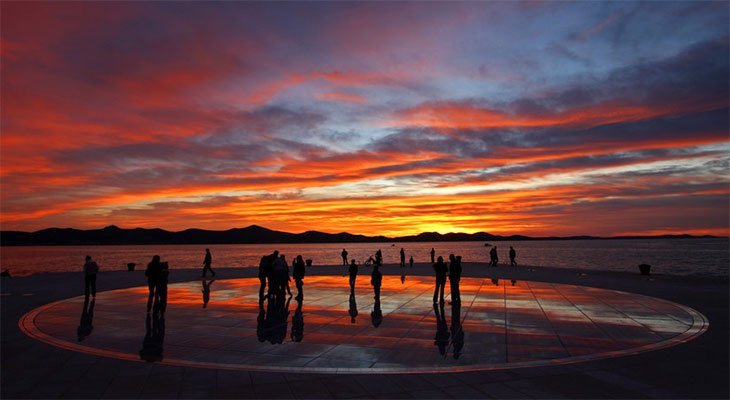 This monument as the name suggests is dedicated to the Sun.
But it's not the typical old structure you will see in many European nations.
It is a collection of 300 multi-layered glass plates placed on the ground in the waterfront paved with stones.
The structure is round and is 22 meters in diameter.
These glass plates have photo voltage solar modules beneath them. It has elements that make lights turn on during the evening which produces a magnificent show of light!
The best part is, you can enjoy this light show along with what people who have been to Zadar call, the most beautiful sunset in the world.
How this works is that light energy is absorbed through the solar modules and then transforms it into electrical energy that allows the glass plates to create a show of colorful lights.
The monument symbolizes the interaction of the people with the sun.
So, make sure you get there before sundown and when the sun sets beautifully on that coast, be ready to take it all in.
Entrance Fee:
None. People can go to the waterfront, enjoy the beach, watch the sunset and wait for the light show to start. All at no extra cost.
How to Get There:
The Monument to the Sun is on the same location of the Sea Organ.
The beach or the port is located is very near the other popular Zadar attractions.
It's an 11-minute walk from the People's Square, just follow the shoreline to the edge leading to the port.
Hours and Best Time to Visit:
Be at the location at least an hour before sundown.
You can download a weather application in your mobile device or check the internet before you leave for the day.
It's ideal to sit around the Sea Organ then head to the monument to enjoy the light show.
People's Square
The People's Square in Zadar Croatia, as the name suggests, is traditionally the center of public life in the city.
Today, the many cafés and bars around it keep it alive day and night. There are many things to see in the square from all directions.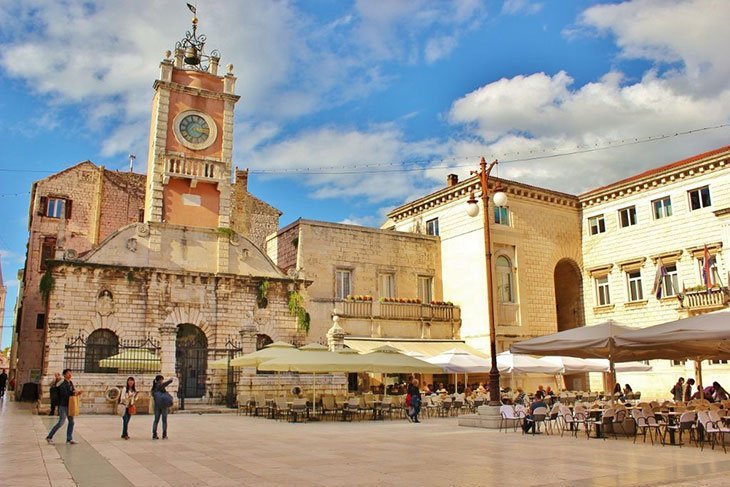 To the west, there is the late-Renaissance City Guard building and other old structures with historical significance like the clock tower.
Opposite it is the loggia where many important proclamations were announced.
Today, it serves as a space for various art exhibits. The place looks and feels old but its surrounding shops give it a modern feel.
Other buildings that have been erected in the square are the City Lodge and the Church of St. Peter the New but they have been destroyed in the Venetian regime.
There is also the pre-Romanesque church of St. Lawrence that you can still see today.
The church is the oldest preserved on the square and simple but architecturally complex.
There used to be a palace called the Pedrini Baroque Palace but it was destroyed by the fascist rulers during the Roman period.
What still stands is the City Hall that was built in 1935.
Today, it is a large piazza where you can enjoy the sight of these huge old structures while sitting down at one of the cafes or bars.
Entrance Fee:
None. The People's Square is an open space, not enclosed in any gate.
It is free to the public but the surrounding buildings may require entrance fees to access.
How to Get There:
People's Square is really at the center of the town. It is 4 minutes away from the Market Zadar and the Museum of Illusion by foot.
Hours and Places to Visit:
The square is open 24 hours but the Zadar attractions around it have their own opening and closing times.
Museum of Illusion
While you are exploring all the historical sights and learning everything you can about this great city and about Croatia, it's always good to mix it up with something more modern like the Museum of Illusion.
It's a small place compared to many Zadar attractions but it's one that is worth adding to your Zadar Croatia itinerary when you visit Zadar.
It is a great enjoyable and educational experience for adults and kids alike.
This is an ideal destination if you're traveling with the family but it's also a fun place for couples or those traveling alone because there is much to see.
This place will allow you to test the limits of your perception.
Its psychedelic centerpiece would remind you of the children's tale Alice in Wonderland because it plays with your perception of size.
There are plenty of exhibits that would boggle your mind but in a really good way.
There is a room that distorts mirrors and a vortex tunnel that would make you hear sounds that would make you feel like you're inside some weird movie.
After a trip to the Museum of Illusion, it would not be surprising if you have a weird feeling in your head.
There are puzzles that would entertain visitors of all ages. It's really a thrilling experience that is unique in all the world.
One of its aims is to deceive your eyes while entertaining your mind.
Entrance Fee To Museum of Illusion
Tickets to the Museum of Illusion cost 60 kn for adults and 40 kn for children up to 15 years old.
You will also get a discount if you buy a family ticket for 150 kn which is good for two adults plus two children.
How to Get There:
The museum is right in the city center, a short 3-minute walk from the People's Square.
Hours and Best Time to Visit:
It is open from 9am to midnight every day.
Closing times change depending on the season so check their website for accurate hours of operation.
The museum closes a little earlier from fall to winter.
Zadar Green Market
Like other cities in Croatia, Zadar has its own green market that is bursting with colors, chatter, and a lot of cheap finds!
This type of fresh market is quite common in Croatia so it's only natural that you will find one when you visit Zadar Croatia.
This is one of those Zadar attractions that you definitely must do if you really want to experience Croatia's culture.
Going to the market is not just about getting produce and finding good stuff to buy, although there are plenty!
It's about immersing yourself with the locals and having a chat with one or two.
Shopping at the Market Zadar is really a great way to get to know what these people are like and appreciate the many ways we are different and alike at the same time.
When you visit the market, you don't actually have to buy anything.
Just seeing how the stalls sell their products and how the people both locals and tourists interact with them is already a rich experience that is priceless.
But if you want to take a piece of Zadar Croatia home with you, you will also find lots of souvenir items that you can add to your travel collection.
The market features seasonal and local produce at really cheap prices. There are watermelons, cured ham, and various cheeses.
The quality of the produce is good and you will enjoy its surrounding fertile plain.
You will see home-pressed olive oil, country produce, and hand-strung figs.
Entrance Fee:
None. The market is free for anyone to access and the items for sale are very affordable.
You are not required to buy anything when you visit Market Zadar although you may not be able to help yourself.
How to Get There:
Green Market Zadar is right in the center of the many other main attractions in the city. It is a 3 minute walk from the People's Square.
Hours and Best Time to Visit:
The market opens very early in the morning at 6 am and most stalls usually close by 1 pm so make sure to be early.
If you want to catch the freshest produce, head out as early as you can.
But if you are aiming to get even more discounted prices, you can go later when stalls are about to close and are selling at lower prices.
Church Of St. Mary's
Yes, by now you should realize that you will not run out of old churches to see in Zadar Croatia.
This is another historical site among Zadar attractions and if you're a fan of history and old towns, you should really include this in your Zadar itinerary. St. Mary's Church, Zadar is considered to be the jewel of this town.
This Benedictine convent has been restored after it has suffered the bombing in Zadar.
A noble woman from Zadar is said to have founded the convent. It was founded in 1066.
The remake of the church was designed in Romanesque spirit but it still shows its Dalmatian aspect to this day. Its interior features fine Baroque style.
Inside, you will see the Permanent Exhibition of Religious Acts which you will appreciate even if you're not religious because of its history.
There is a pretty cloistered garden that you will see only from the inside of the museum.
The nuns in this convent are the ones responsible for caring for the Treasury that you will find next to the church.
The treasury contains Zadar's finest collection of ecclesiastical artifacts.
There are superb items of Byzantine ornamentation as well as artworks representing Venetian religions. All the exhibits are beautifully presented and illuminated.
Entrance Fee:
Entrance to the St. Mary's Church, Zadar is 30kn for adults. Students pay a discounted price of 10kn.
There is also a special discount for group tours or 20kn per person instead of 30kn. Professors, no matter of what field, are free to enter!
How to Get There:
The church is a few blocks away from the city center. You can walk to it in only 4 minutes coming from the People's Square.
It is located in Ul. Jurja Dalmatinca and Ul. Braće Vranjana.
Hours and Best Time to Visit:
It is open from 10am to 1pm then opens again from 5pm to 7pm from Monday to Saturday.
On Sundays, it opens at 10am and closes at 1pm.
Closing times and afternoon hours change depending on the season.
It is best to visit during mass days or Sundays if you want to observe mass or join their practices.
Musapstan Forest Park
You cannot say you've visited Croatia if you haven't been to its nature parks!
Musapstan Forest Park is one of the best Zadar attractions especially if you love nature and the outdoors.
But even if you're not a very active person, it would be fun to just enjoy the greenery and the fresh air on a nice morning or afternoon stroll.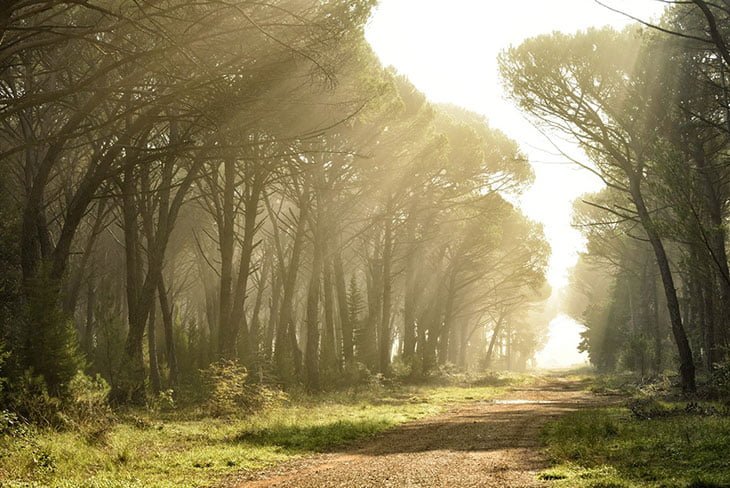 The Musapstan Forest Park draws you to really walk down its paths.
Tourists who have been here say that they were captivated by the sights and were inspired to trek so they can view the rugged scenery.
There are many trails to hike and jog so this will be a good workout for you.
Aside from the green surroundings, you will also have a nice dramatic sea view.
Just take note that the trails can be steep with loose rocks so wear the appropriate shoes and take caution especially if you're not an experienced hiker.
You may also want to take advantage of a guided tour.
One thing that might surprise others, especially those who haven't been around much in Europe, is a nudist beach that you will find at the end of the trail.
So, that's one thing to consider adding to your Zadar itinerary if you're already traversing this park.
The paths are not polished so try not to wear your sandals or flipflops when you visit the Musapstan Forest Park.
If you don't feel like doing those sporty activities, the park is also good for just a nice walk to clear your mind.
A walk will also help if you've had a bit too many to drink the night before and need to get rid of your hangover.
Pet owners will love bringing their fur babies to this place as well.
Entrance Fee:
None. You can access the park for free but there are guided tours that you can take for a fee.
How to Get There:
Among the Zadar attractions, the Musapstan Forest Park is a bit farther from the city center.
The park is a 17-minute drive from the People's Square and other main attractions.
Hours and Best Time to Visit:
It is open 24 hours a day so you can access it at any time.
If you want to hike or jog around, you should go in the morning when it's not yet too hot.
Salt Museum & Saltwork in Nin
You may think you've seen all of what Zadar Croatia has to offer but little surprises such as the Solana Nin Salt Museum will make you think again.
How much do you really know about salt?
This everyday condiment is so commonly used and consumed but a lot of people don't realize that they know very little about it.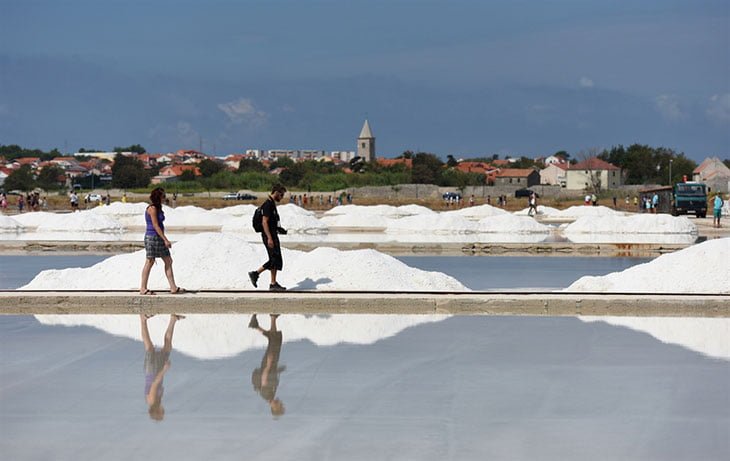 In the Solana Nin Salt Museum, you will learn about how salt is processed and gain more insights on how you should use it in your daily life.
It's a remarkable one among Zadar attractions because of its many exhibits.
Some of the equipment featured here are still being used by some companies in traditional salt manufacturing and collecting.
You will see the tools that are most valuable that are used for collecting salt.
There are wagons, wooden devices for packing, and of course, it educates visitors about the hardworking hands that really do most of the work when it comes to producing salt.
The museum also calls itself Nin Saltworks.
They are also a manufacturer and seller of salt.
It has been in operation for many generations and they are all about traditional manual production of salt.
The Solana Nin Salt Museum will make you find yourself through a long tradition. The smell of salt will stir memories you thought you have forgotten.
Inside the museum is a gift shop where you can find both pretty and functional things that you can display in your home or use in your own kitchen!
Entrance Fee To Salt Museum
A group tour to the Solana Nin Salt Museum costs 300kn for a minimum of 5 people.
If you don't have a big group, you can also buy individual tickets.
Entrance to the museum costs 65kn per person for adults.
There is also a family ticket for 170kn.
Students pay a discounted price of 20kn.
How to Get There:
The museum is a bit far from the other main attractions in the city center but it is easily accessible by car.
It's a 25-minute drive from the People's Square area.
Hours and Best Time to Visit:
The Solana Nin Salt Museum opens at 8am and closes at 9pm from Monday to Friday.
It closes a little earlier, at 8pm on Saturdays and Sundays.
National Parks or island hopping ?
Croatia is best known for its natural beauty so if you want to maximize your nature-tripping in this beautiful country when you visit Zadar Croatia, try to take a tour of some if not all of these nearby national parks and islands.
Croatians take pride in preserving nature so their national parks and islands are always top notch.
Aside from its calming effects on your mind and body, these parks are absolutely perfect for photo-taking so be sure to have your camera handy.
Here are the best national parks and islands near the Zadar region that you should include in your Zadar itinerary.
Paklenica National Park
This park is set against the Velebit Mountains – the largest mountain massif in Croatia, and it's quite the most suitable place for those who love adventure.
Whether you love rock climbing or hiking, Paklenica National Park would not disappoint your thirst for nature and outdoor activities.
During the summer when it's a lot warmer, you can cool down by the seaside under the shade of trees.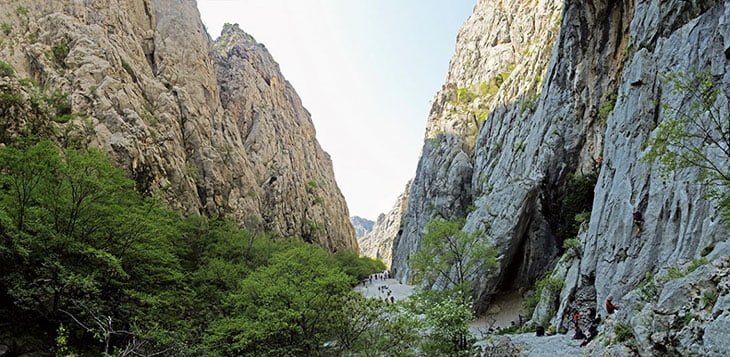 This park offers visitors an insight into the untouched wilderness across the beaches.
The sights here rank among the most attractive natural attractions through the Mediterranean.
Trek through forests dense with black pine, play water sports in the nearby springs below the peaks, and explore the cave.
Just beware that you must be a relatively experienced hiker to explore this area or go with someone who is.
Paklenica National Park is 47 minutes away by car from the city center of Zadar Croatia. Just Jadranska Magistrala. Take E65/E71 to Put Jukića in Seline.
Island Hopping In National Park Kornati
Irish playwrite George Bernard Shaw once said the God crowned his work with the Kornati Islands made from tears, stars, and breath.
You will know what he means by these words if you take a trip to the islands.
You can start with a flyover tour and once you're down there, you will see its beauty up close.
Make sure to explore its unbelievably spectacular reefs and the rich island life. If you're a diver, you should definitely try diving into its waters.
Sailing and kayaking are also popular activities in Kornati Islands. The picturesque parks in this region will definitely make any nature lover happy.
Day Trip To Krka National park
Another natural beauty to explore near Zadar attractions is the NP Krka Waterfalls.
Many will agree with very little resistance that it is the most beautiful river in Croatia.
There is not one but plenty of waterfalls around, rising near the town of Knin.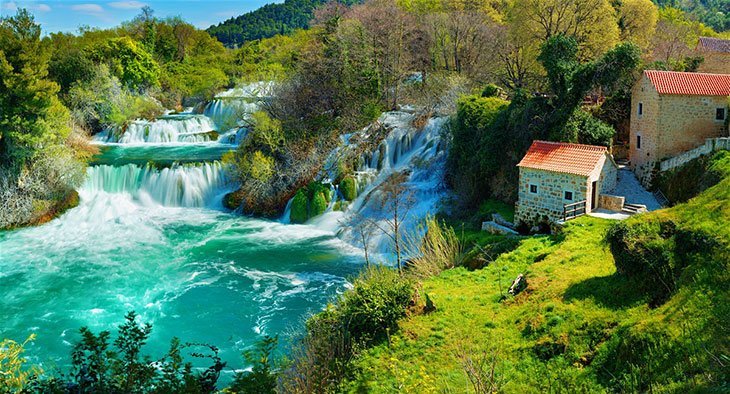 This area is flourishing with its unique flora and fauna and boasts of at least 200 types of bird.
You will see watermills as well as ruins of defensive structures above the canyons.
There is also a monastery on the site so if you may want to make some time to stop by.
Best of all, you can take a swim underneath the falls so make sure to pack your swimsuits!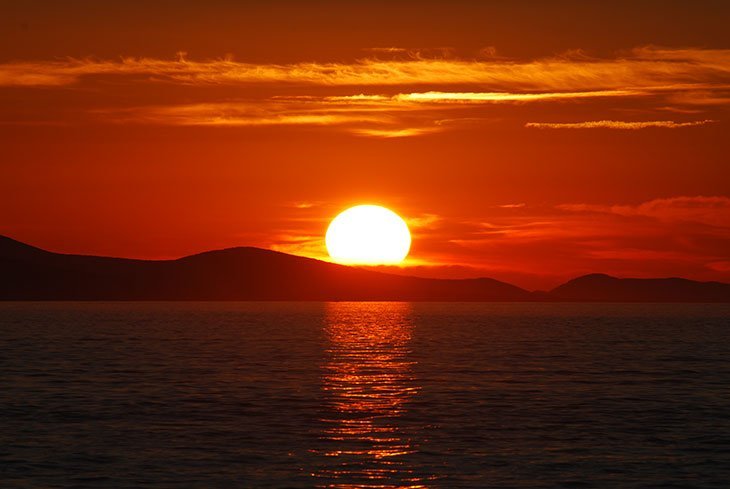 Sunset in Zadar
As a final note, Zadar is the city where it is said you will see the most beautiful sunset in the world, so keep that in mind and try to catch it when you're out.
Check other holiday destinations near Zadar Croatia