Best Beaches In Dubrovnik Croatia
Published: January 10th, 2020
Located off the Dalmatian coast, Dubrovnik was once considered to be a centerpiece of trade and commerce, which rivaled that of Venice.
With islands that featured lots of Pine and Cypresses and mountains that offered a spectacular view of the Old City, Dubrovnik has built a solid reputation as a tourist spot that provides visitors with plenty of attractions to check out.
However, out of all the great reasons why you should pay Dubrovnik a visit, one stands out above all the rest: its beaches.
The beaches in Dubrovnik have this subtle beauty that draws in a robust mix of people composed of locals who would like to log in some time under the sun, and tourists that have come from various parts of the world to partake in this European paradise.
Dubrovnik beaches are varied in their appeal, with some featuring a lively array of cafes, restaurants, and bars while others are tranquil and fuss-free bays that you'll have all to yourself.
In any case, a trip to Dubrovnik should definitely be on your list of places to go in your lifetime.
Speaking of lists, we have rounded up the top beaches for you to take in if ever you will find yourself in Dubrovnik.
List of best Dubrovnik beaches
1) Lapad Bay Beach (Sunset Beach Dubrovnik)
Lapad features a public beach that you can safely bring the entire family to. With shallow waters being overseen by lifeguards, showers to wash the sand and salt off and sun loungers to relax in, Lapad is as benign as any public beach can possibly be.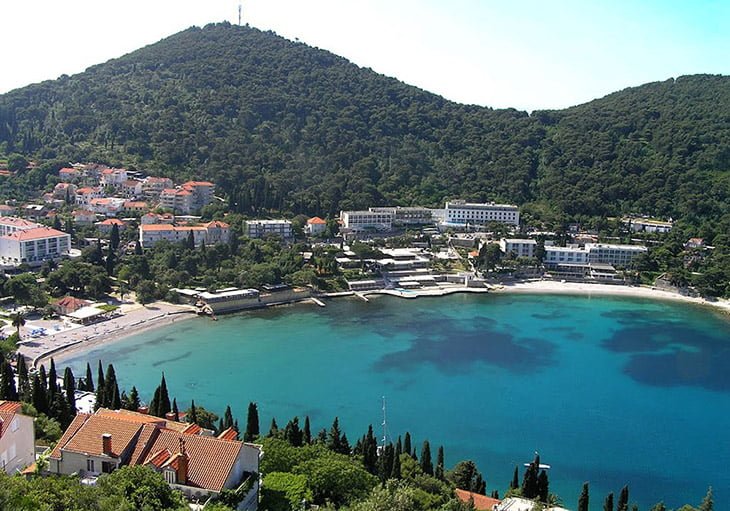 If wading in the water is not your cup of tea, you have nothing to worry about as right behind the beach, you will find Šetalište kralja Tomislava, which has a playpen and a number of tennis courts for you to get a game or two on.
To the west of that are rocks right beside the Niki i Meda Pucića promenade where you can safely take in some rays sans your bathing suit.
The Lapad region of Dubrovnik is also home to Uvala Beach, which has gained a reputation for being one of the most popular beach hubs in town.
There, you will find a fun water slide, several bars, and restaurants to park yourself in and even paths that lead to cozy coves and small beaches.
The crowd here is a beat mix of vacationing families, sweet couples and friends trying to have a great time at the beach, making it an ideal spot to meet people from different walks of life.
How to Get To Lapad Bay Beach
If you want to make your way to this beach, ride bus no. 2 all the way to Uvala Lapad. Then, get off the bus stop at Hotel Park and ride the no. 6 to Ulica Kralja Tomislava.
You should then make a left on the first street, take a 10-minute stroll after which you'll find yourself at the shore of Lapad Bay Beach.
2) Copacabana Beach Dubrovnik
Copacabana Beach is one of the very best beaches Dubrovnik has to offer.
A half-moon bay where you will find loungers, deckchairs, watersports activities and all things that offer aquatic fun for you and the rest of the family.
Copacabana is without a doubt, a must-visit place in this part of Dubrovnik.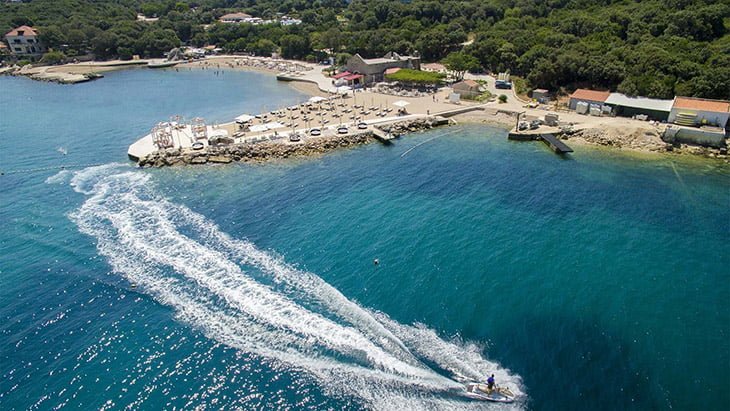 There is also a restaurant by the beach to satisfy your growling tummy after all the fun you'll be having in the water.
As a matter of fact, you just might end up spending the entire day in Copacabana without worrying about nourishment as the restaurant serves breakfast, lunch and dinner!
Don't want to binge eat but want a detox instead?
You can also order fresh juices and smoothies. Just want to lounge by the water and watch the world go by with a drink in your hand? Copacabana has got you covered with a refreshment menu that has your favorite cocktail.
If you are worried that the kids might get bored or antsy, Copacabana has a long coastline for them to explore and discover, leaving you with ample time to enjoy a glass or five of Croatian wine or have a relaxing massage.
If you are looking to party and sip cocktails inside your very own cabana, Copacabana is the place to be. It brings in a fair mix of both locals and tourists that want to have a great time.
There is always some sort of party going on, usually presided over by a great DJ that is adept at setting the festive mood.
The Babin Kuk sector where Copacabana is located is considered to be one of the more opulent sections of town.
If you fancy a lavish time, then head over to the Valamar Lacroma Resort, which is a stone's throw away from Copacabana Beach.
How to Get To Copacabana beach in Dubrovnik:
Getting to Copacabana is a breeze! Simply take the no. 6 bus to Lapad, take off at the Orsan Sailing Club and enjoy a pleasant 15-minute stroll by the beachside before ending up at Copacabana.
Another way is to take the same no. 6 bus, get off at the last stop at Babin Kuk and reach the beach from there.
3) Banje Beach Dubrovnik
Another beach to check out whenever you find yourself in Dubrovnik is Banje.
Long considered one of the finest ones the city has to offer, Banje is the beach that is usually featured on postcards and for good reason.
Located next to the East of the entrance of the famous Old Town, Banje gives visitors a fantastic opportunity to see the walls and battlements, the Lokrum islands, as well as the Adriatic coast.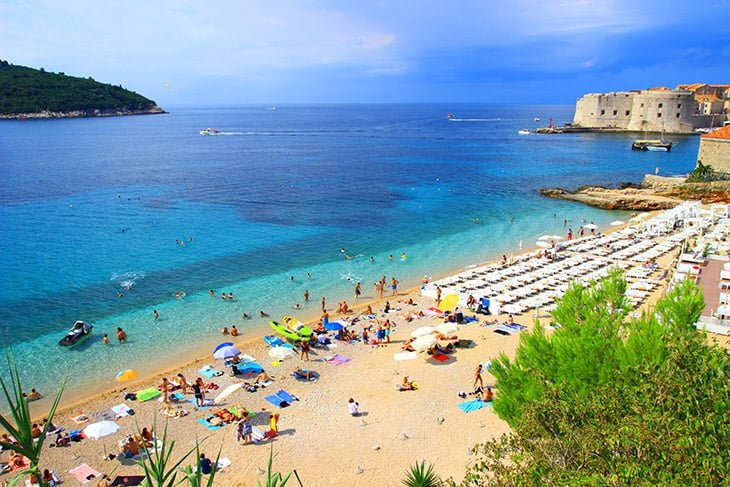 Upon arriving at Banje, you will see that the beach itself has its very own reception area along with a restaurant and a hip café bar out on the waterfront.
Plop yourself down on a deckchair, or have some fun out on the water aboard a jet ski or a speedboat or one of the many exciting activities that are available.
However, you have to take note that Banje Beach gets a sizable crowd during the summer season so it is strongly recommended that you come here in September before winter rolls in.
If you are keen on staying near Old Town, you can check out the area near Banje which is called Ploče. There are a lot of apartments that you can rent there, each one offering a magnificent view of Old Town and Banje.
How to Get To Banje Beach in Dubrovnik
If you are coming from Old Town, you can simply take a stroll from the walled town and make your way through the Ploce Gate. Keep on walking east for a few hundred meters and make a right down some wide stairs.
From there, it is a five-minute walk to reach Banje Beach.
But if you are coming from either Lapad or Babin Kuk, you can just take either bus no. 4 or 6 all the way to the Pile gate, and then, walk to Old Town and go out through the Ploče Gate.
Keep on walking for a few more minutes and you'll eventually reach Banje Beach.
4) Bellevue Beach Dubrovnik
Bellevue Beach, which is situated in Miramare Bay, is a pebble beach that signifies the beginning of the Lapad Peninsula.
This picturesque beach is enclosed by water on one side while steep cliffs can be seen on the other.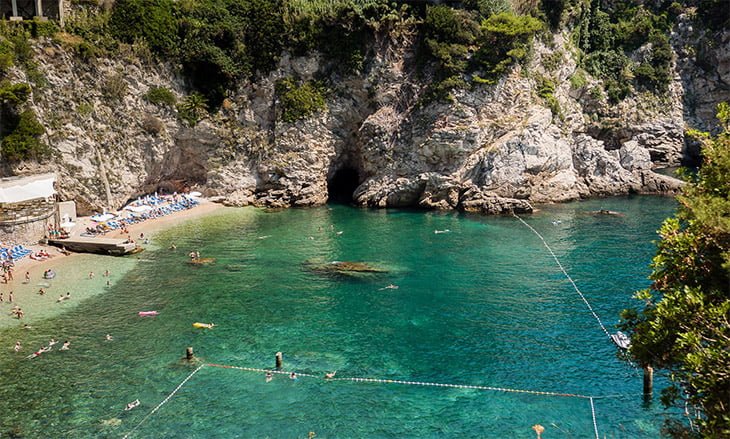 Because of its locale, which faces the southeast, you can enjoy plenty of shade from the sun during the early afternoon, making it an ideal time if you want to stay cool while also enjoying the water.
However, if you want to get a tan, go to Bellevue Beach in the early morning. Do note that the water can get very rough around these parts during windy days so it is best to check the weather conditions before heading there.
You also do not have to worry about nourishment since there is a restaurant nearby where you can park yourself and partake in your food or beverage of choice.
When it comes to fun activities, you'll find Bellevue Beach to be quite popular with cliff jumping enthusiasts.
This area is also popular with water polo players with locals flocking to this spot for many recreational or competitive games since the 1920s.
How to Get To Bellevue Beach:
If you are coming from the Old Town, you can just walk through the Pile Gate and keep strolling heading west for 15 minutes until you pass Boninovo. Then, you should turn left on Put Pera Cingrije Street.
The moment you pass by the Hotel Bellevue, make a left to Liechtensteinov and soon you will see the stairs that will lead you to the beach.
But if you are coming from Lapad and Babin Kuk, just take bus no. 4 to the Hotel Bellevue and then, go down the aforementioned stairs.
5) Lokrum Island Beach
Lokrum is a fine retreat for nature-lovers that would like a respite from the summer heat by dipping in the cool waters of this island.
Named after a Latin word that translates to "bitter fruit," Lokrum is a fascinating place that features a natural wonder called the Dead Sea, which is a small pond that has been produced by many centuries of strong storms.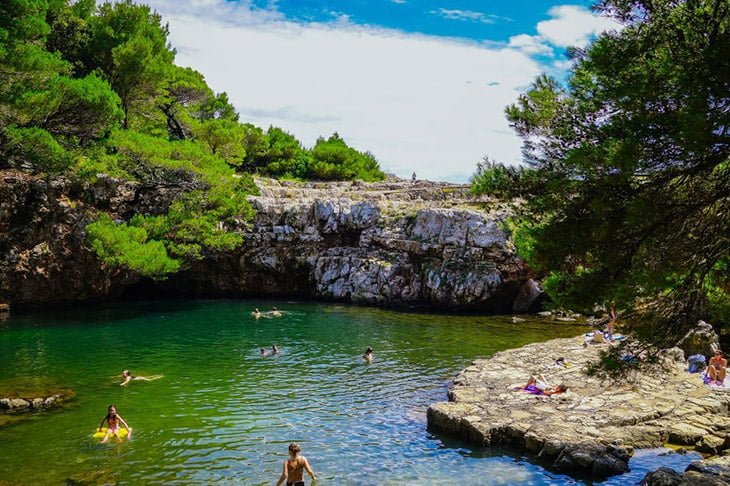 While the entire island is considered to be one huge beach, the southeastern part is where you should let yourself go. There, you will find a nude beach where you can just shed your suit and get an even tan.
And because of the specific layout of this rocky beach, there usually aren't a whole lot of people around, giving you peace, quiet and the privacy you need to just relax and leave the world behind for a while.
There are other beaches that you can check out on Lokrum Island although most of these are comprised of large rocks that lead right to the water.
How to Get There:
Head to the old harbor in Dubrovnik and you'll find boats that make regular trips to Lokrum Island. The boat trip usually takes around 15 minutes.
6) Cava Beach Dubrovnik
Cava Beach over in Babin Kuk is a wonderful spot to relax sip your favorite drink at, all while enjoying a majestic view of Daksa Island. In Cava, you will find everything a vacationer would need to have a great time.
On the beach, you will find the Coral Beach Club, which provides guests with some light tunes in the afternoon and some party beats at night.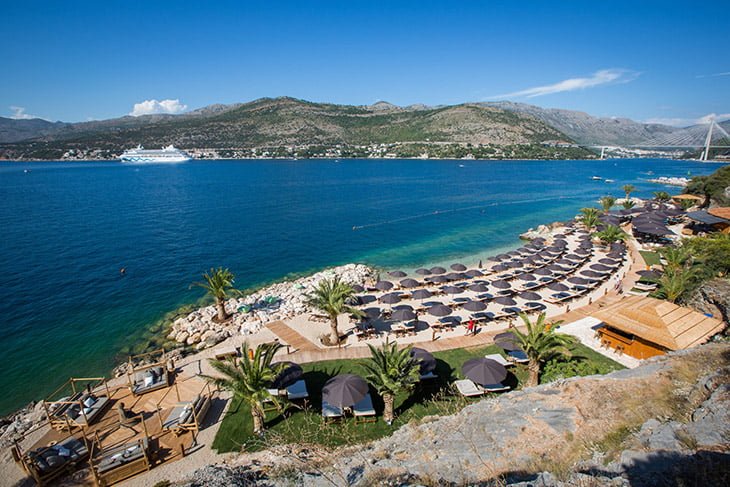 It also has a robust menu where you can order your favorite dishes, both local and international.
The Coral Beach Club also offers two different beaches to suit your mood. One is a smaller, more private one that caters to those that just want some peace and quiet by the water.
The other is a larger one that is tailored to the younger generation, with parties being held there when the sun goes down. The beaches vary as well with rocky, sandy and pebbly parts.
Nudists are particularly fond of this beach because the sandy bays are enclosed with rocks, which makes guests feel like they have the beach all to themselves.
However, you must be wary of people that hire boats out on Copacabana Beach passing by, thereby encroaching on your privacy.
Because of that, it is strongly recommended that you come to visit Cava during the early morning hours of the summer, spring or autumn when the peak season has already passed.
How to Get To Cava beach & Coral Beach Club in Dubrovnik:
Just take the no. 6 bus, ride until the very last stop, take a leisurely stroll down the park and head towards the sea where you will eventually make it to Cava Beach.
7) St. Jacobs Beach Dubrovnik
St. Jacobs Beach, which is also known as Sveti Jakov Beach, is considered to be one of the most impressive beaches in all of Dubrovnik.
Located in the eastern region of Dubrovnik, this small bay offers visitors a gorgeous view of Lokrum and the Old Town.
A favorite of locals and tourists alike, this scenic beach features towering cliffs, dense forests and plush villas highlighted by the lavish Villa Dubrovnik.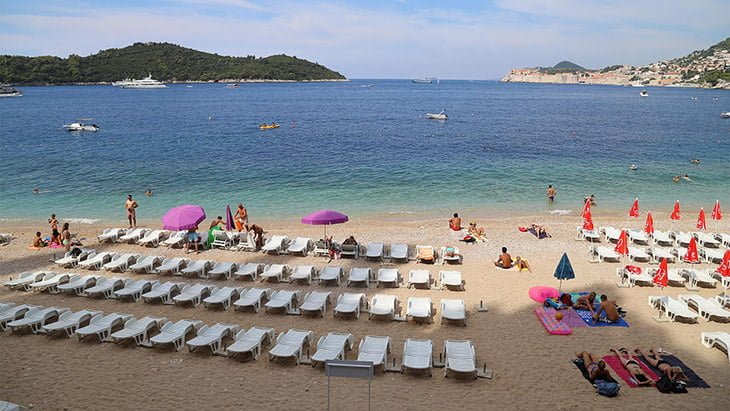 Not only is St. Jacobs one of the most picturesque spots in town, but it is also one of the most family-friendly beaches, the pebbled beaches offering little tykes the opportunity to enjoy the water or learn how to swim.
Take note, though: there is no lifeguard on this beach so you must keep a close eye on your children.
You can also pack a picnic out on the beachfront. But if you are not in the mood, you can also bring yourself to the nearby beach bar and restaurant, which offers sumptuous fare.
Once you have regained your energy, you can try taking a kayaking tour and visit one of the many hidden cave beaches littered around the bay.
You can also parasail, ride a jet ski or even play volleyball out on the beach.
This incredible beach has not escaped the eye of locals and tourists alike, which means it is a very populated beach come the summer months so be wary of the time when you plan to visit.
How to Get To Dubrovnik St. Jacob Beach:
You can make your way to this fabulous beach by making your way down from the Jakov Church that can be found sitting on top of a cliff that looks over the beach.
To get there, you can ride a bus — either no. 5 or 8 — from the Ploče Gate.
8) Buža Beach Dubrovnik
One popular spot to take a dip in or soak up some rays while visiting Dubrovnik is Buža Beach.
Situated in the middle of Old Town with access being limited to a hole found in the City Walls, Buža Beach is a rocky beach that has a number of concrete platforms where people come to bask in the sun.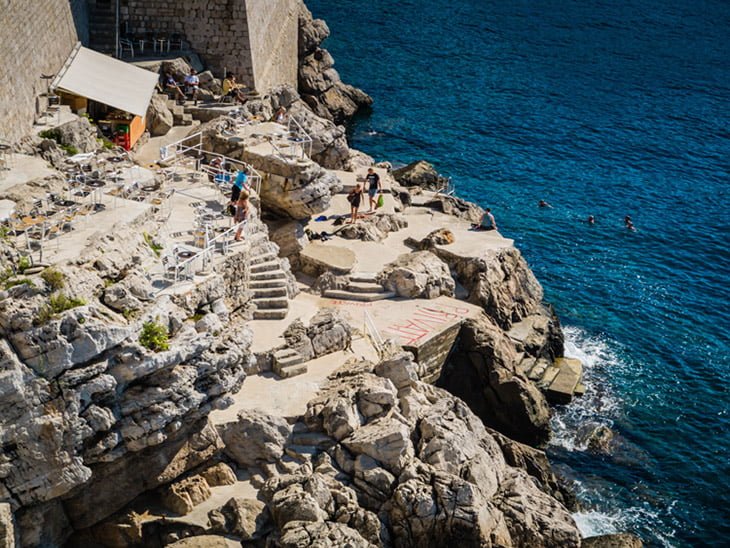 Buža Beach has gained a lot of popularity in recent times because it is unlike any of the beaches that are on this list.
An unconventional spot that is found next to the edge of the massive Town Walls, Buža Beach provides locals and tourists alike with a magnificent view of both Lokrum Island and the Adriatic Sea.
There are some tips that you have to remember though. Because of where it is located, Buža Beach can get very windy at times. So, during the summertime, it is highly recommended that you take a dip in the water during the morning right before the Maestral wind starts.
During that time, the sea is pretty tranquil. In the afternoon, the wind picks up making the sea choppy and less fun for a swim.
If ever the hunger pangs hit or you're in the mood for some drinks, there is a cozy café-bar, which has gained a lot of popularity of late.
You can just plop yourself on a seat, enjoy some refreshments as well as a superb view of the sunset when the entire horizon turns bright orange.
All told, Buža Beach is one ideal spot for a relaxing day at the beach. You can even enjoy both sightseeing as well as swimming, all in one day because of its close proximity to the Old Town.
How to get to Buža beach Dubrovnik
If you are in Old Town, you can just take a walk from Stradun and go to Gundulić Square, walk up the Jesuit Stairs, make a left to Ulica Ispod Mira, and then, walk some 50 meters before going through the entrance to Buža.
9) Pasjača Beach Dubrovnik
There used to be a time when Pasjača Beach was one of Croatia's best-kept secrets. However, ever since it was deemed the best European beach of 2019 by the European Best Destinations portal, the secret is out!
Pasjača Beach can be found near Konavle, right below the village of Popovići, and an estimated 30 kilometers south of Dubrovnik.
While the beach will not wow you with its size, it will, however, take your breath away with the amazing scenery that can be witnessed at this splendid spot.
Simply put, locals and tourists alike will not find a spot like Pasjača Beach anywhere else in Croatia.
The beach's history is a curious one and you will be surprised to find out that the beach is not natural.
Rather, it was made at the height of World War 2, when tunnels were created in nearby villages, and the stones eventually led to the creation of the beach.
The sea eventually played a role in its creation as it wore down the rocks and in its place lay a stunning beach that slowly rose from the massive cliffs of Konavle.
However, it is unfortunate that the beach is slowly fading away because of erosion caused by the sea. So, it's strongly recommended that you pay a visit very soon or there might not be much of the beach left unless someone unloads a whole lot of stone on it.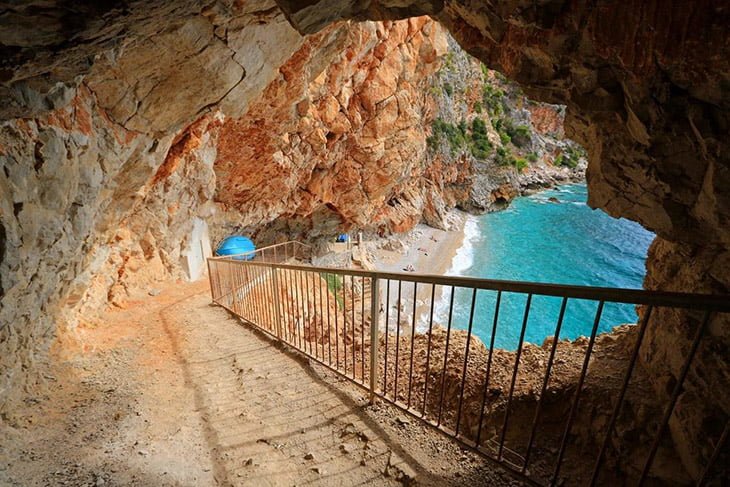 One thing to know before you head out to Pasjača Beach is that you will not find any amenities there, making it suitable for visitors who are out for some peace and a quiet commune with nature in all its glory.
The unparalleled and stunning beauty of Pasjača Beach brings in a nifty mix of families and couples since the absence of any bars, restaurants, and cafes pave the way for some meaningful bonding time.
The lack of any structures can be a bane for others but most have embraced Pasjača Beach for its bare beauty.
Getting to Pasjača Beach is an adventure in itself as you have to go down a steep pathway and carefully walk down steps that have been carved into the cliffs.
For this reason, it is highly recommended that you don't bring the elderly or anyone that has a hard time walking down to this spot for their safety.
Those that brave the steep trek down are rewarded with an oasis highlighted by an azure sea that is beckoning you to come and take a dip.
Another important tip to remember is to come early to secure a place that has some shade since most of the beachfront are exposed to the sun. If you don't plan on getting a serious tan, it would serve you well to remember this.
How to Get To Pasjača beach Konavle:
This spectacular beach is situated in Konavle, which is some 30 kilometers away from Dubrovnik and near the border of Montenegro.
If you have plans to visit the Balkans, head over to the beach on the way back from Montenegro for a more efficient trip. You will see a sign at the beach entrance that indicates free parking.
From there, follow a trail down a very steep staircase and make your way through a tunnel before emerging into your piece of heaven on earth!
10) Šunj Beach on Lopud Island
If you are longing to make sandcastles and haven't gotten the chance to on the rocky beaches of Dubrovnik, then you'll be happy to know that there is a great place for you to do that: Šunj Beach on Lopud Island!
This unassuming beach can be found on the southeastern side of Lopud Island. You can paddle your way into this sublime crescent-shaped bay or take a leisurely 30-minute stroll from the island's port.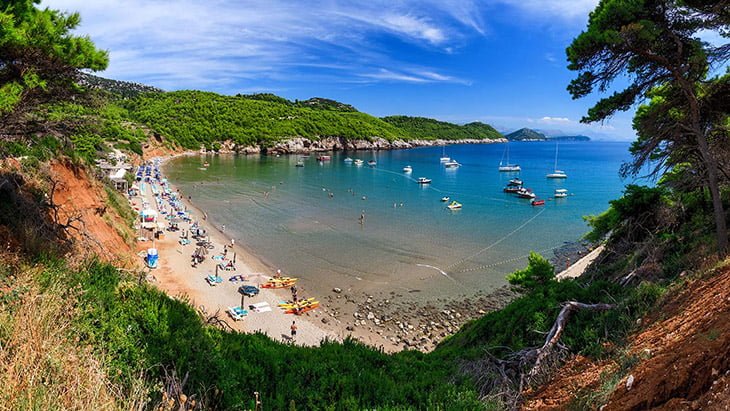 The walk itself is a treat onto itself as you get to commune with Mother Nature herself amidst the lush, pine tree-laced Mediterranean countryside.
Šunj Beach is arguably the only beach you'll find in Dubrovnik that features a lot of fine sand and is the most popular of the Elaphiti Islands.
This is the place where you and your family want to be if you'd like to get away from all the hustle and bustle of the city. The beach is particularly ideal for small children with its shallow waters giving them the chance to just splash around the water.
In addition, people that flock to this beach often play Picigin, which is a traditional ball game derived from Split, Croatia.
If you are an adventure junkie, you can also try kayaking the Elaphiti Islands and explore the many hidden gems off of Croatia's coast.
Alternatively, you can also take a boat tour — don't miss out on the legendary Karaka — which is a relaxing recreational activity for you and the entire family.
How to Get To Šunj beach on Lopud island:
You can take a ferry from Gruž ferry port to Lopud Island and from the island's port, take either a golf cart or just walk your way to the beach.
11) Betina Cave Beach
Betina Cave Beach is a cozy, cool spot that will offer you a respite from the summer crowd that is usually hanging out at Dubrovnik's popular beach haunts.
A cave that will leave you in awe of its natural beauty, Betina rewards visitors that make the effort to reach it, with a gorgeous pebble beach.
This hidden beach and cave have been a preferred relaxation spot amongst locals and tourists alike, as it gives them a safe haven from the sometimes maddening summer crowd and the heat during summer.
Because the cave faces the southeastern side, visitors will enjoy a lot of shade during the afternoon.
Here is a fun fact: this place was actually named after great scientist Marina Getaldić who used the cave to conduct optical experiments that include the very first parabolic mirror.
His nickname was Bete, which eventually led to the beach being called Betina.
How to Get To Betina Cave beach in Dubrovnik:
The beach cannot be reached by land. And so, you can rent a kayak and then, just paddle your way there.
The nearest beach is Gjivovići, which you can use as a jump-off point.