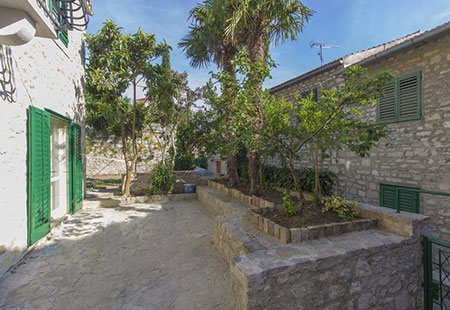 Villa Šibenik
Facilities:
Sun terrace
Outdoor furniture
Terrace
Garden
Features
No parking available
Gift shop
Pets are not allowed
landmarks
Monastery of St. Laurence

0.1 km

Fortress of St. Michael

0.1 km

Subicevac Fortress

0.6 km

Water Park Solaris

4.2 km
services
WiFi is available in all areas and is free of charge.
Daily maid service (Additional charge)
Massage (Additional charge)
Dry cleaning (Additional charge)
Villa Šibenik is a holiday home that is in close proximity to the beach. You can walk to the powdery white sand and deep blue waters in just six minutes from the villa.
This home away from home is truly in the heart of Šibenik.
It is highly rated not just because of its ideal location but also because of the comfort and unique experience that guests get inside the home.
The wonderful thing about this villa is that you don't just get spectacular views of nature, you also have great city views. You get the best of both worlds and you can walk to most of the popular destinations in the city.
Villa Šibenik Features
The villa Šibenik is practically an old stone house that will give you an authentic feel of Sibenik.
Experience what it's like to be living like one of the locals and take home memories that are sure to last a lifetime.
The raw colors of the stones look truly captivating and the green doors and windows are warm and inviting.
It features barbecue facilities perfect for small gatherings with friends and family who are with you on your special trip. There are three air-conditioned rooms so it's comfortable even in the summer.
The living area is equipped with dainty furniture and a flat screen TV so you can relax and watch your favorite shows after a day of seeing the city.
The dining room and kitchen of villa Šibenik have everything you need to prepare a nice home cooked meal for days that you prefer not to eat out.
When you are not out exploring the city, you and your loved ones can relax in the garden.
It's nice to just sit on the stone benches under the shade of the trees. The balcony provides a nice view of the neighborhood and the beach not too far away.
Though the holiday home is just a minute away from the main streets in the old town, it is still a quiet and peaceful place.
Everything is walkable and almost just 5 minutes away. You can get to the beach in just 15 minutes by foot.
It is charming and comfortably furnished to make you feel rejuvenated at the start of each adventurous day. Other stone houses also surround the villa so the neighborhood has that cozy warm feel.
Nearby Landmarks
Villa Šibenik is less than a mile away from the Monastery of St. Lawrence as well as the Fortress of St. Michael.
These two structures are great sights to behold and you definitely should try to visit.
They will take you back in time and you will learn the story about Sibenik's rich past.
The Sibenik Town Hall is also nearby. Make sure to check for events that might be happening during your stay.
There is the Cathedral of St. James and the Church of St. Barbara Sibenik for those who would like to observe the locals' religious practices.
The Sibenik Town Museum is a great place for both kids and adults.