Paklenica National Park is the one that is truly suitable for the extreme outdoor adventurer compared to other national parks in Croatia.
The best thing that outdoor lovers can do in this part is Paklenica climbing.
It is literally a mountain by the sea and not just any mountain, it is a massive natural rock tower interlaced by two large canyons so imagine all the outdoor activities you can do!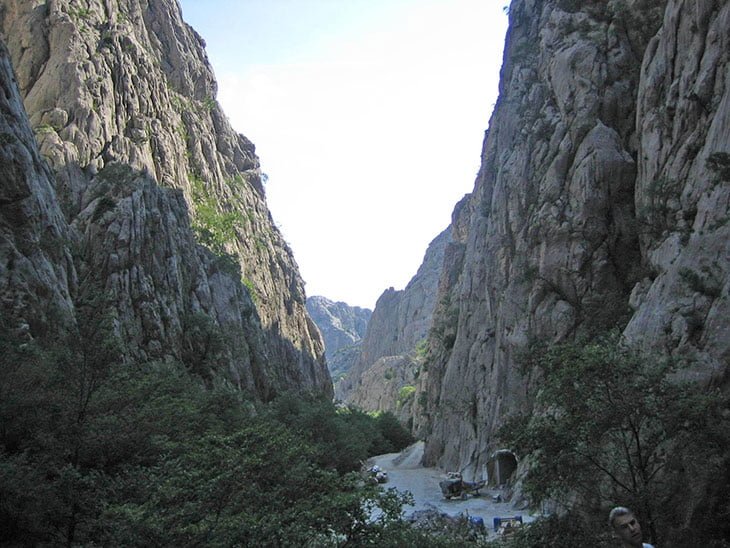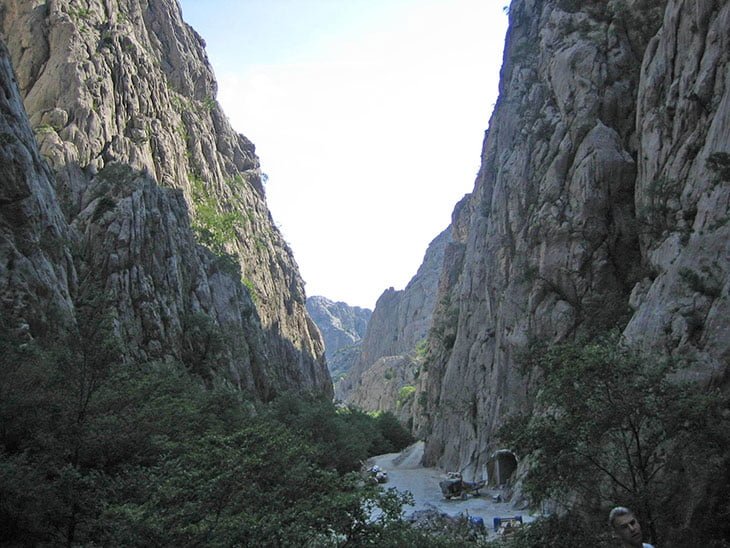 If you are a rock climber or a serious hiking enthusiast, this is the best place you can visit in Croatia. But there are other activities available for all types of nature lovers and adventure seekers.
And all around the mountains are the lush vegetation and a flora and fauna that is bursting with color and life so even the more laid-back personalities will have a great time just hanging around here.
Climbing Paklenica is suitable for different levels of hikers and rock climbers because of its numerous trails.
Even if you have never climbed before, exploring this park will be an exciting endeavor.
Paklenica National Park is an ideal place to challenge yourself to new heights and test out your outdoor skills. But it is also a great place to relax and just enjoy the beauty of nature.
Location Of Paklenica
Paklenica National Park is south of the Velebit range of mountains, its highest peak standing majestic and tall just outside the seaside village of Starigrad.
It is the largest mountain in Croatia, covering an area of 92 square kilometers.
Its limestone cliffs are perfect for climbs of varying levels.
The park acquired its national park status in 1949. It was named after the local black pine called Paklina which has several medicinal properties.
The mountains inside the park include the two highest peaks of Velebit.
Paklenica National Park
This area and the national park itself in Paklenica is the heart of Croatian rock climbing.
In fact, it is one of the most preferred rock climbing sites in Europe among climbing enthusiasts.
This place is an ideal spot for rock climbers because of the variety of routes available but it is also a great site to witness outstanding natural beauty.
Rock climbing here is quite diverse from single pitch routes to massive rocks and multi pitch options.
Some rocks can go up to 350 meters long. So, Paklenica climbing is suitable for beginners to the most experienced rock climbers.
There are a total of 590 hiking and climbing routes in the park and majority of them are bolted.
More than 300 single pitch routes are available for those who are looking for moderate climbs.
You can easily reach them by walking a few minutes away from the entrance. One of the two main peaks, the Anika kuk features a huge wall multi pitch Paklenica climbing.
Paklenica Climbing
Paklenica climbing is the most popular activity in Paklenica National Park, next to hiking.
You may need a little bit of climbing experience to tackle some of the climbing spots but some of them are relatively easy.
It is the largest rock climbing site in Croatia.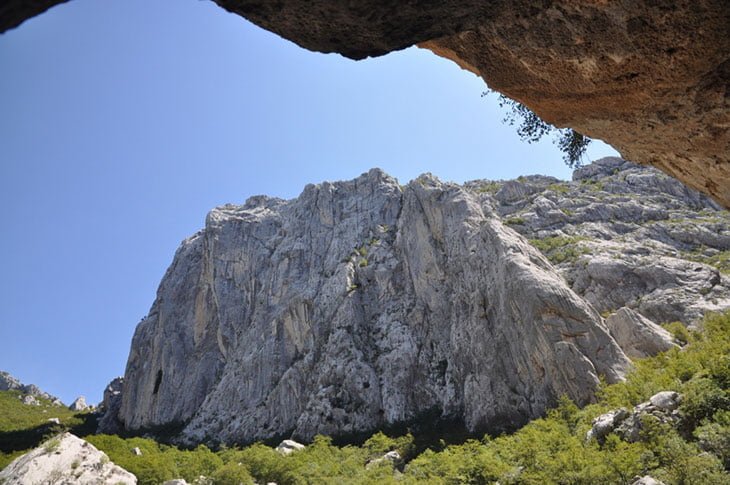 You can take on the single-pitch climbs that stand atop flat and well-maintained paths.
If you are an experienced rock climber, you can choose to climb the multi-pitch ones.
These climbs are well-bolted so you wouldn't usually need any supplemental trad gear. You can bring your own climbing gear or use some from the park's facilities when you go Paklenica climbing.
There are over 400 climbing routes with varying difficulties and lengths, including the famous rock Anica kuk which goes up to 350 meters.
Those who really want to challenge themselves dare to climb this rock since it is one of the most difficult in the world and the best climbers are attracted to this site.
Every year, the park holds a competition in rock climbing called Big Wall Speed Climbing which happens every 1st of May.
But Paklenica climbing season goes all way throughout late fall from early spring.
Climbing Grade Range
The climbing grades range from 5.5 to mid 5.13 and one that reached a full 5.14a. 25% of the grades are between 5.5 to 5.9, 40% are graded between 5.10 to 5.12, and the other 30% is between 5.11 to 5.12.
There is only 5% of climbing grades that are 5.13 and above.
These Paklenica climbing routes can be stiff in comparison to other climbing sites in Europe that is why a lot of highly experienced climbers are attracted to Paklenica National Park.
But even if you have good climbing experience, it is still recommended for you to choose a grade that is one or two times lower than what you are used to. Then if you feel really comfortable, you can choose a higher grade route.
Paklenica Climbing Routes
These are the top climbs in Paklenica National Park.
Multi-Pitch routes in Paklenica
The Centralni Kamin is graded 5a and 5.8. It is a full 6-pitch route that goes up to the Veliki Cuk. You can enjoy this moderately difficult climb and finish off with a nice view at the top.
The Slovenski, graded 6a and 5.10b is a classic route on the Debeli Kuk rock face. It is known to hold some of the more sandbagged pitches so take caution in these parts. Your climb will have a mix of stemming and a touch of crack climbing in this surprisingly varied climb.
The Velebitski is graded 6a+ and 5.10c and is also a popular climb in Paklenica National Park. It rises to the Anika kuk rock face and all the way up to the center of the wall.
The interesting thing about this climb is that it ends on a cave-like feature on the Klin which is a renowned wedge-shaped formation.
This climb has 11 pitches and goes up to an estimated 1,100 feet.
Single-Pitch
The HSV single pitch climb has a grade of 5a and 5.8 and is a combination of easy to moderate routes like many of its nearby pitches.
It's a great warmup pitch for the experienced climbers and a good and challenging enough start for beginners. But take caution when treading.
The Kanjon Special is 6a and 5.10b and is an exciting climb in Klanci region.
It is one of the most-used pitches so beware of the slippery characteristic of the rocks but some find this to be a lot more fun.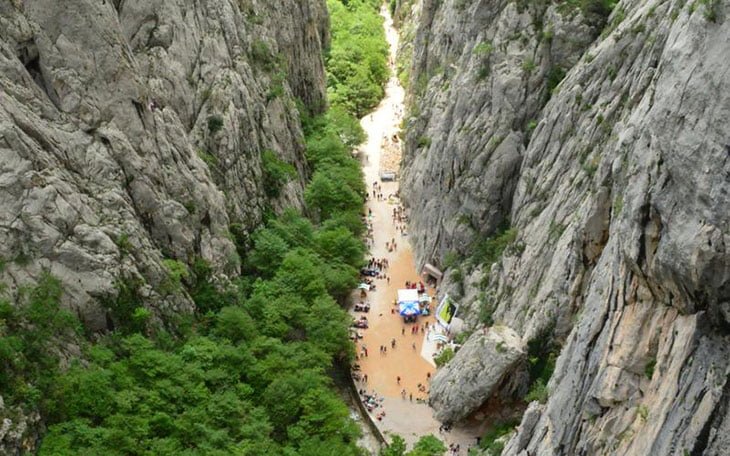 There is also the Flash Back which is a good 6c and 5.11b. It is great for technical climbing.
There are cruxes where you will find some time to rest in between ascends and it is nearly an 80-foot climb.
Those are just some of the single pitch and multi-pitch climbs when you go Paklenica climbing in Paklenica National Park.
You will be surprised that there are many more and all information are provided to you in the trail map that you can purchase when you enter.
Climbing Safety Measures in Paklenica
Paklenica climbing, especially on some of the more extreme routes, is truly for the adventurous souls.
You can also do a lot of other heavy outdoor activities in here and some of them are only for the highly experienced athletes.
If you ever get in any trouble while you are inside, wherever you are and whatever activity you are engaging in, you can always dial 112 for emergency. But it's best to just avoid that from happening.
Wear appropriate clothing and footwear specifically for rock climbing.
It is best to go light so choose lightweight clothing and fabric that does not absorb moisture to repel sweat from all the walking and the sun's heat.
Hiking or climbing shoes are a must or at least a pair of very comfortable and at the same time, durable walking shoes.
Bring plenty of water to keep hydrated. You may also want to bring and apply some sunscreen all over your exposed skin before you go Paklenica climbing.
The sun can get oppressive especially during the summer so it's best to be protected. Another good thing to apply is a mosquito repellent.
Getting to Paklenica National Park
The two nearest cities to Paklenica National Park are Zadar and Split.
If you are coming directly from Starigrad, riding a bus is your only option.
Everything you might need is just walking-distance from the park like restaurants and shops.
There is also a post office and a bank nearby.
The entrance of the Paklenica National Park is about 1 kilometer away from the main coastal road.
You will already see many signs leading to the park as you drive along.
Once you reach the entrance and pay the entrance fee, you can drive a little more to save some walking.